Little River and Campsite #24, March 7-8, 2009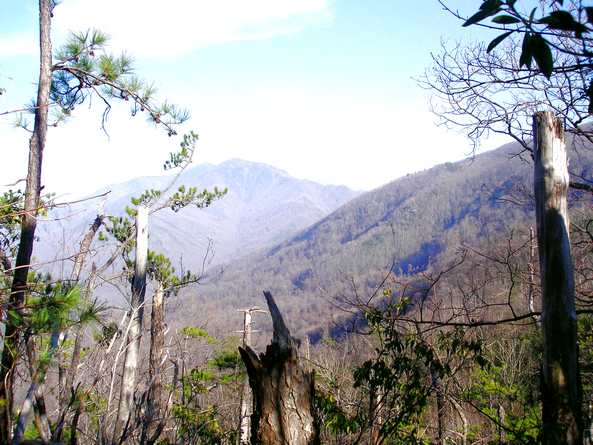 Can you appreciate this view from the Sugarland Mountain Trail on Saturday afternoon. Wow! Do you know what that is? First person to correctly identify might get a piece of official Highlander gear!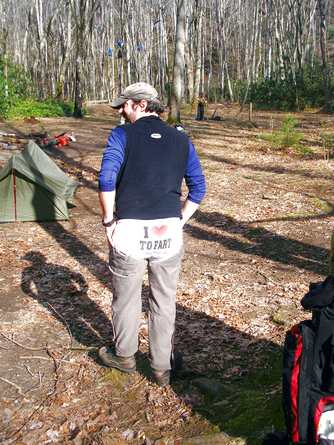 At least he's honest.
We had more than sixteen folks at Campsite #24 Saturday evening. That's not including the Elwood driveby with his kids and new girlfriend that I missed because I came in later on a different trail. I don't have a group photo. It was like herding cats and I had to hitch a ride back to my car. A quick rundown is as follows:
Grady, JQ, Skid, Rick Bobby, Bradley Fisher, CJ Outlaw, Deidra, Judy, George, Sapply Dumplin, Hollie, Cindy, Danny, Billy, William Alexander.

That's all I can remember right now. The temperature was ideal and we enjoyed a pleasant, star filled evening. There were feats of strength, display of raw flesh eating bacteria and Hugh no showed, again. We missed Jerky Mike, but understand he had Jerky Jake duty. I'll let you see the pictures below. It was a nice reward after the past few weekends of dreariness.
Trail Stats: for me, it was Sugarland mtn to Husky Gap to Little River to #24. Mileage was about 6.8. Dave, CJ, Cindy, Hollie also preceded me on that trail. Geo and Judi came in via Huskey Gap, hope their car was okay. Deidra did some ridiculuous 12 mile loop so she gets the Eagle Scout award, mainly for shuttling me back to my car. A quick shout out to the Muir Faction, and our other trail friends. We have a great Lakeshore Trail trip upcoming in April and Leconte is looming on the Easter horizon. We would also like to extend a SouthernHighlander Howdy to Scooter Hunley who is stationed in Alabama fighting the Talibroads.
Click for enlargement