Three Forks cs 30 with Kool and the Gang
March 3, 2012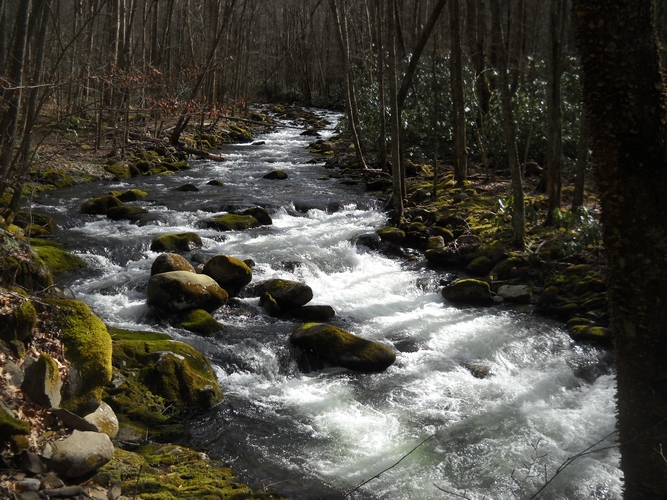 Friday night brought storms of great magnitude that made the Little River pretty darned big Saturday.
It all started when our good friend Deidre contacted us to find out the weekend plan. Well, when seeing our old friend that we haven't hiked with in a couple of years was involved, the plan was hers to make. She threw out cs 30 and it was on. One of our reservations was this crossing seen right outside of camp. (We first met Deidre several years ago HERE.) I was certain it would deter most folks and we were right. At 6.8 miles to the campsite, 3 Forks sits in the shadow of Clingman's Dome, the end of the road, as it were on the Little River Trail. It is a charming spot.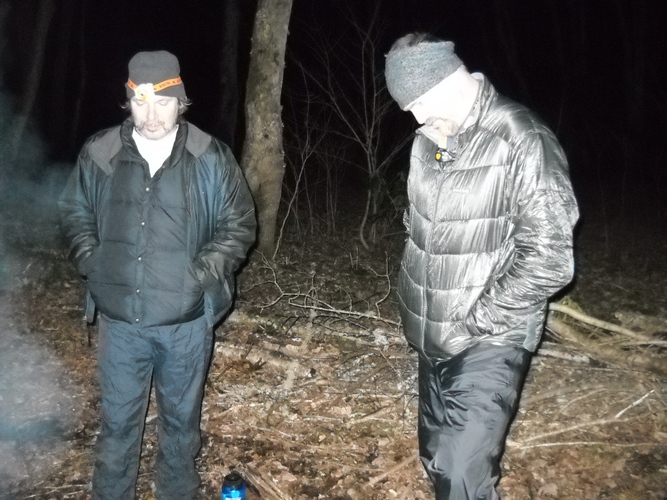 The guy to the right of Grady is Frank. Frank is an old friend of ours and fellow FEE FIGHTER. He is also another friend we met on the trail and who had the unfortunate luck to share the shelter with us the night of GD Jack's earning of trail name. Frank's diligence in helping fight the backcountry fee proposal in the Smokies has been integral in spreading the word and making alliances in important corridors. Frank resides outside Nashville and makes quite a few weekend trips to the Smokies so he knows the backcountry.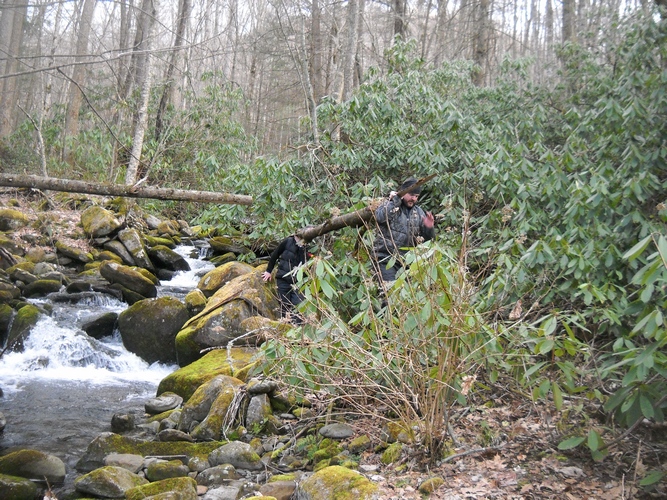 We immediately put Frank to work on wood duty. It was later that the Kool and the Gang reference was made. Don't ask me in what context. It just happened. Here Grady and Frank are seen having "Big Fun" (track #11)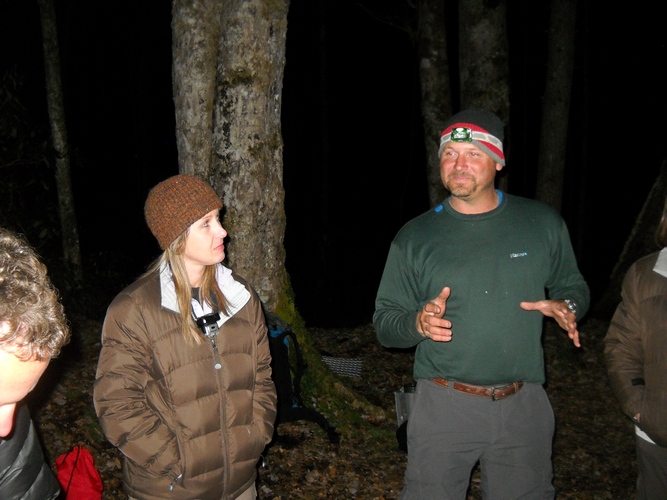 Slapnuts arrived dark thirty with big tales of high rolling in Vegas recently. You could say that he was "Hollywood Swinging". Although Deidre wasn't thinking "Too Hot" (track 9)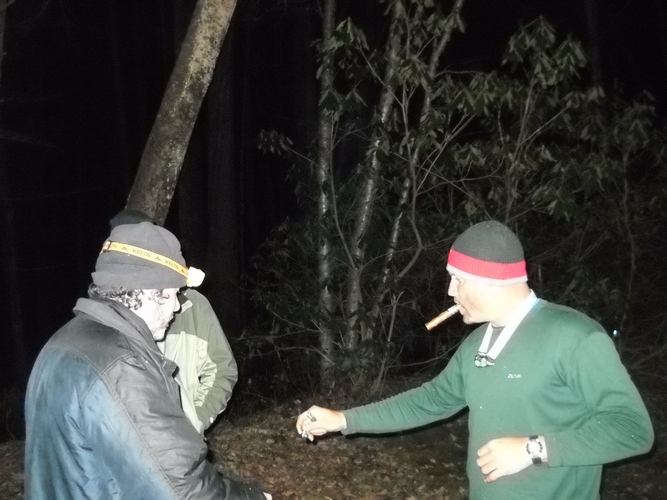 Either way, Slapnuts was into "Celebration" and the cigars were on him. It was great to have him and Will and Jenny back from their Western States tour. Slap won a great deal of dough, apparently.
Before you know it, Slap has Sally D singing a good old Kool and the Gang spiritual hymn. In this stanza, they were definitely getting "Fresh"!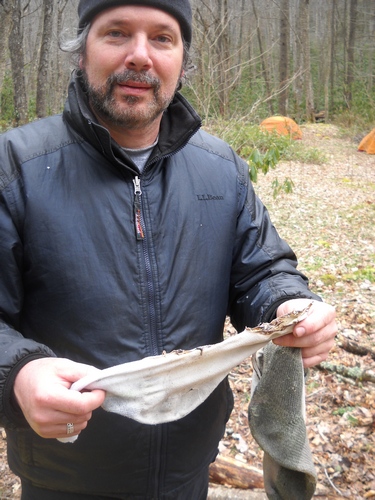 As a matter of fact the uproar was such a barn burner, Grady scorched his stockings on a rousing rendition of "Ladies Night" Let's just say, the feeling was right. Oh what a Night.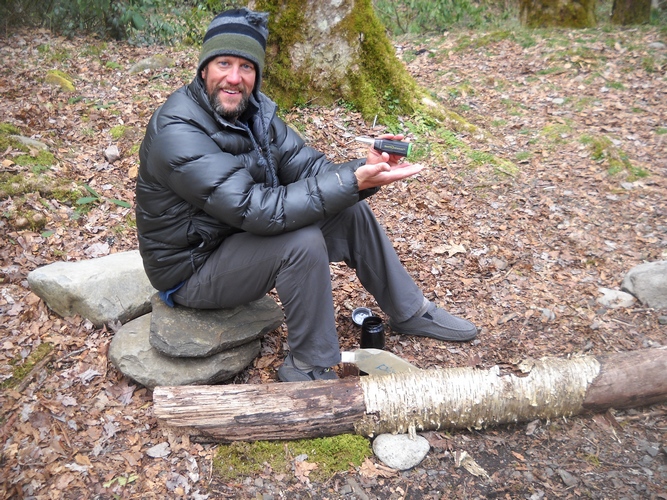 I was pretending to photograph Will and his proud purchase of the steri pen. In actuality, the camp house shoes were my object which entitles this picture, "Joanna".
Next frigid morning, it was time for me to "Jungle Boogie" my way back on down the little river trail with some snow chasing me out of the valley. I managed to make the crossings in the dry with no booting off. I "scooched" across a dead tree then strategically rock hopped the other two. Because I am smooth.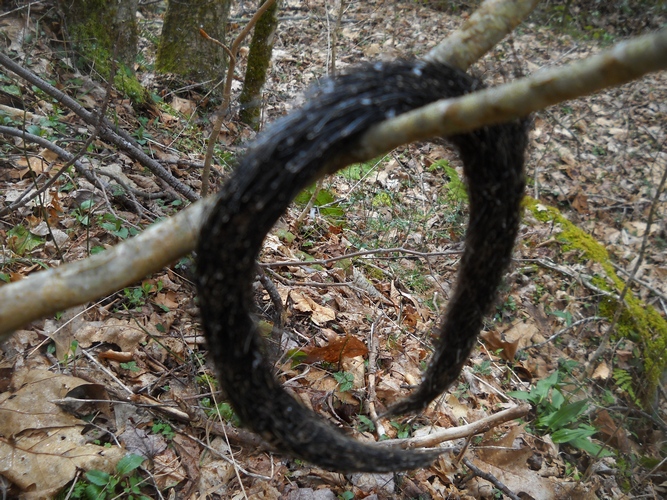 Don't ask me what this is. It looks like a tail made of bear fur. I found in on the ground.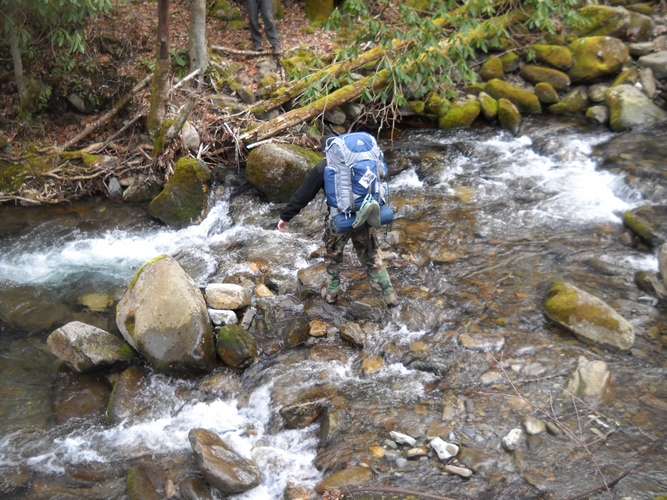 Grady "Cherish's" this moment.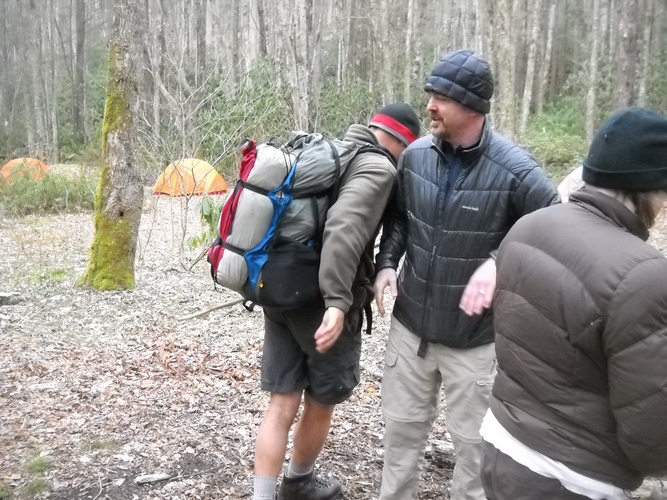 But not as much as Frank will "cherish" this one. He learned "FIRST HAND" how Slap came about his trail name in the Highlander fold.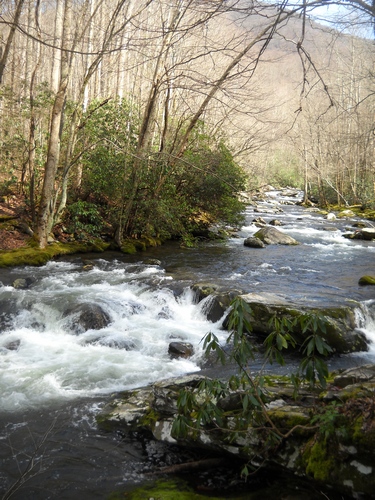 And Sunday morning, coming down. "Take my Heart, You can Have it if You Want it."
It was a good time in the solitary backcountry of the Smokies with friends old and new. It was great to see Deidre again and reunite with Frank. Having Slap and the Howes back was a bonus. Good stuff.
I would also like to congratulate my friend and climbing partner, Neil Murphy, who summited Aconcagua last week. In addition, some of you may remember my friend Asu from Mustagata. He was like our guardian angel on the climb. Asu's selflessness makes me especially proud of this accomplishment. He and a mixed team made the first ascent of Yangmalong in China. Check out the article, it is a really big deal!