5 Days of Autumn
October 2-6, 2008
George, Dave and I took off when the weather forecasted a crisp cool stretch for about a week. We never looked back. Our trip was incredible, we amassed some good mileage and circumnavigated two significant drainages in the Smokies, the Noland Creek and Deep Creek watersheds and then moving over to Cataloochee to knock out some trails over there. Friday we were joined by Grady and Deidra and Saturday night, by nine Highlanders and Associates at backcountry site #41.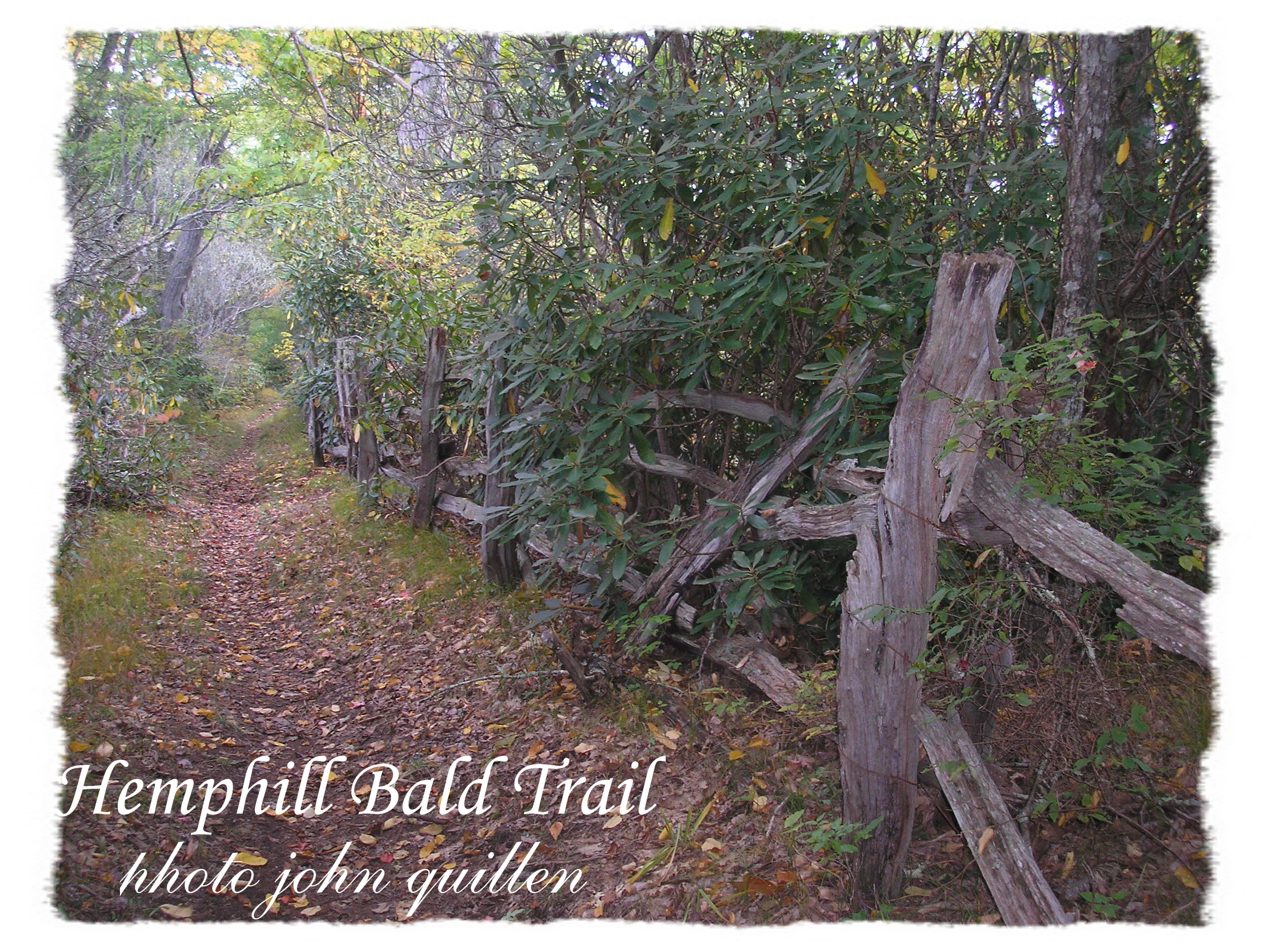 This shot is from the Hemphill Bald trail about 3 miles in. I rather like it.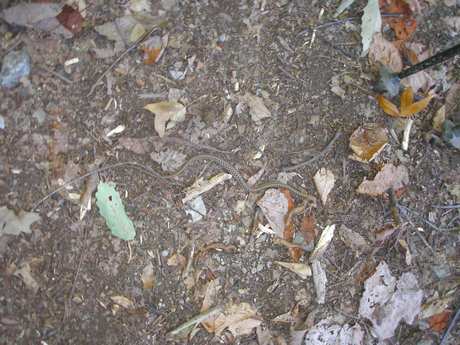 Couple of miles up Noland Divide. It's mister garter snake in our stride.
Bloody Knife men are ready to cut the culprits that left the bacon.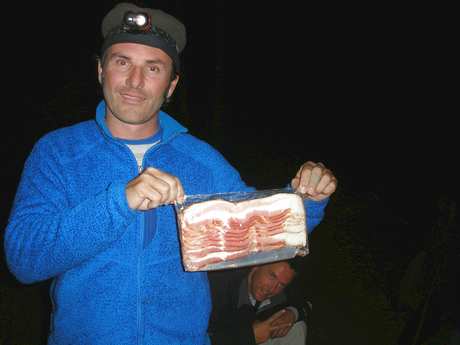 In addition to the bacon in the fire pit, there were tarps, cups, eggs and all the trimmings. It seemed to have a lot of horse dung there too. I appreciate their attempts to hide the bacon so discreetly underneath a rock in the fire pit. Classy Horse people.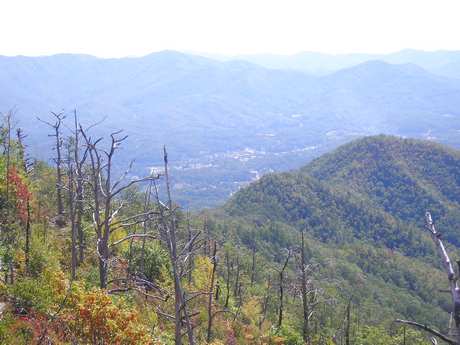 All of these shots are from the first part of our hike on Thursday up to campsite #61. This is looking down to Bryson City.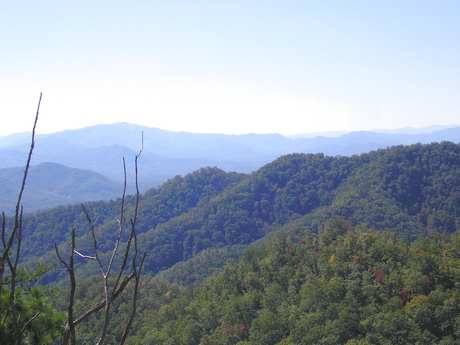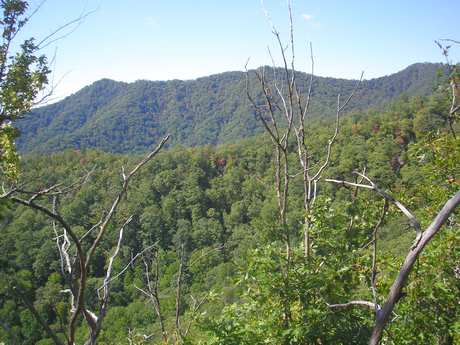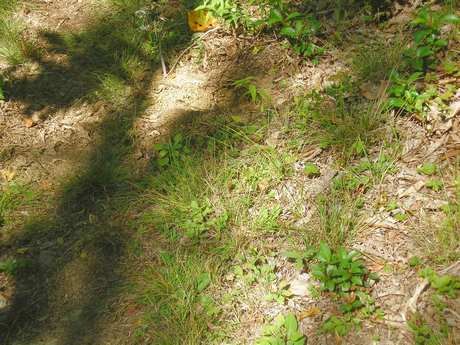 This is a yellow jacket nest on the trail. Man, those things were everywhere but we dodged the bullets this time. Didn't see a sole on the trail that day.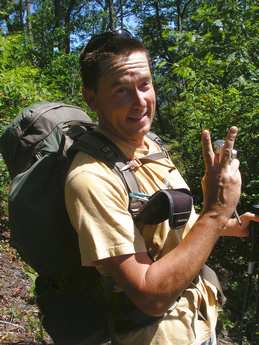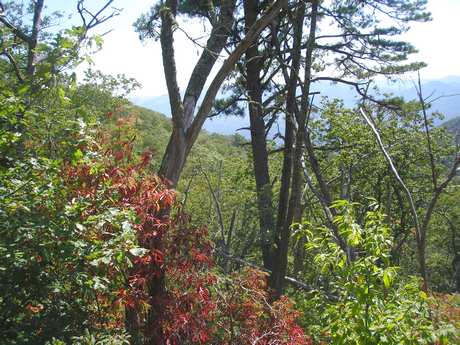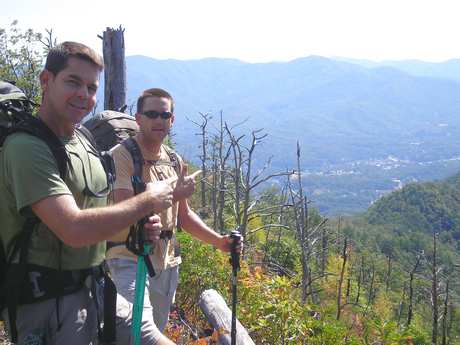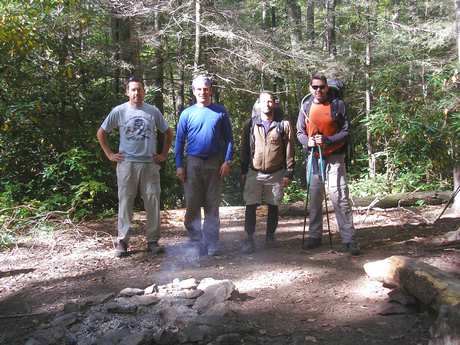 Friday morning we were joined by "Worldwide", AT hiker extraordinaire.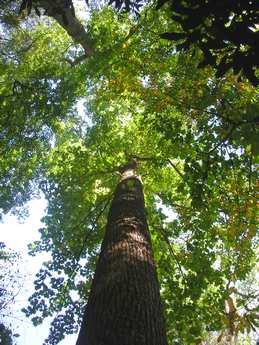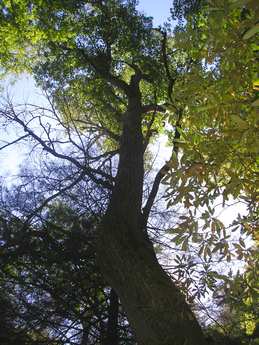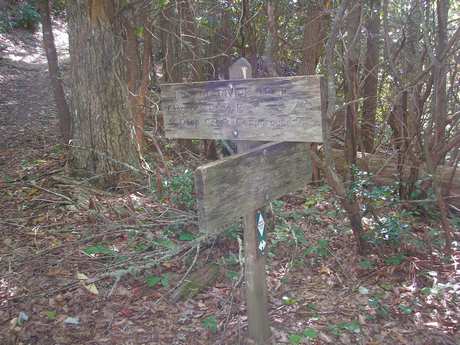 It was now time to depart down Pole Road Creek Trail to Deep Creek. Pole Road Creek Trail is very nice with some big trees.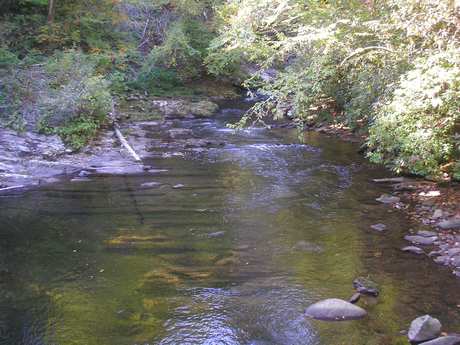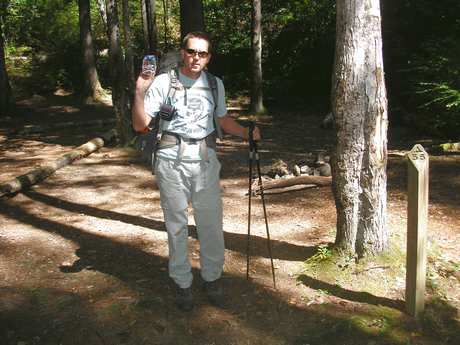 More refuse found on the horse camps along Deep Creek.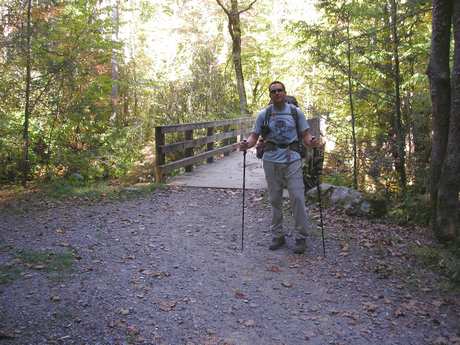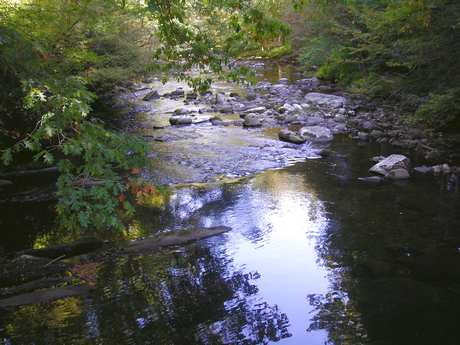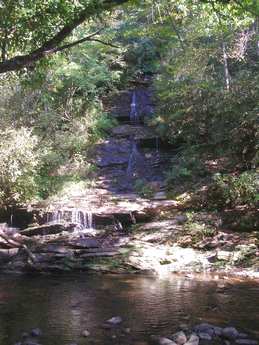 Indian Creek Falls. (and I'm not just pulling your Juney Whank)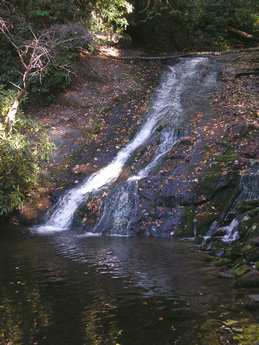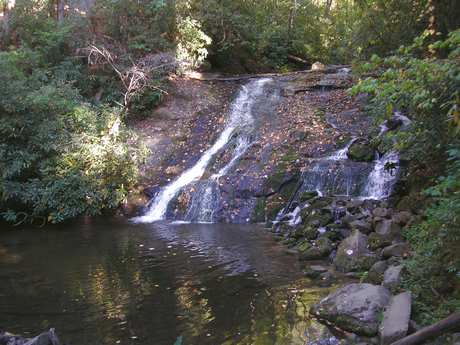 On Friday we had hiked about twelve miles back to the Deep Creek Campground and our vehicle and were ready for the second part of the journey.
CATALOOCHEE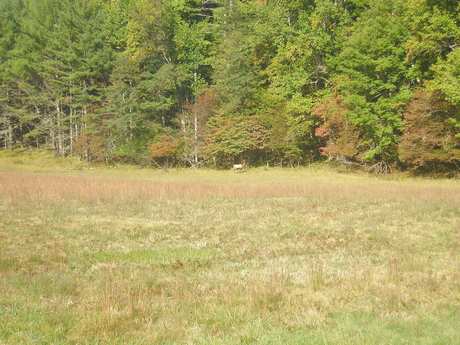 See the elk in a rut.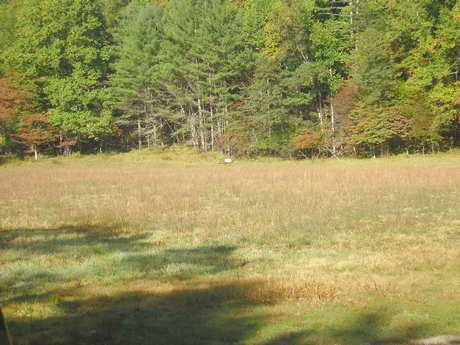 See the elk doing his strut.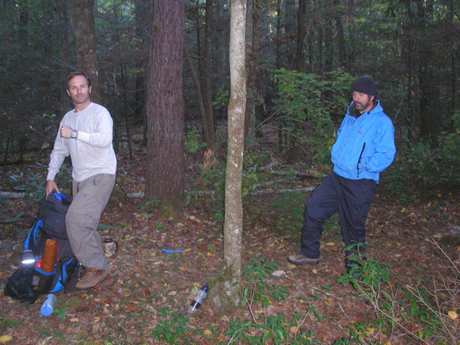 Campsite 39.5. Never heard of it? Well, it's there and here are a couple of Pirates to prove it.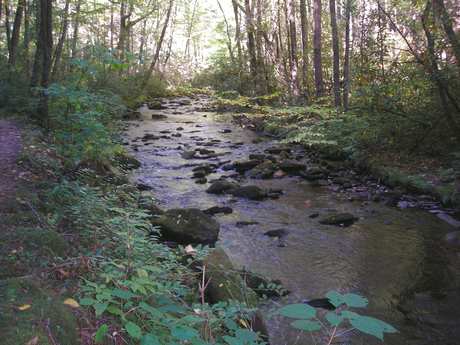 Caldwell Fork was Sally D and my destination en route to #41. It is a horse trail and there are problems associated with that shown below.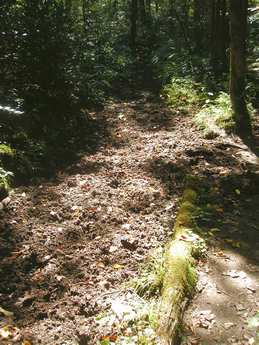 Muckety Muck. This is Horse Yuck.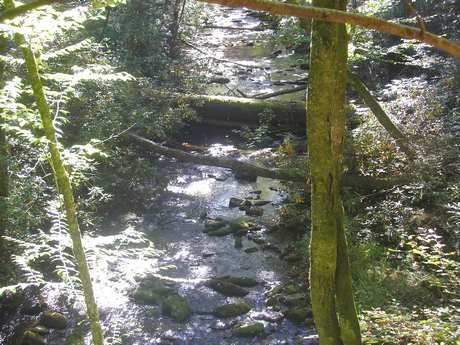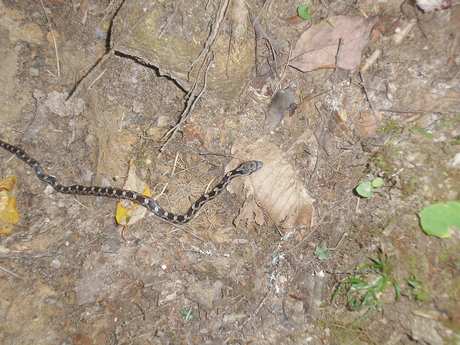 Before you ask, I'll tell you. It's a corn snake, not a copperhead or anything poisonous. Many people kill these fellers but remember, it is illegal to kill anything in the National Park and bad luck to kill a snake period.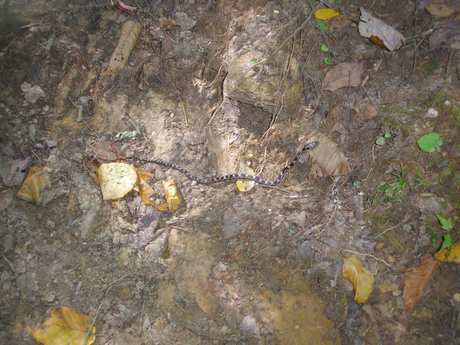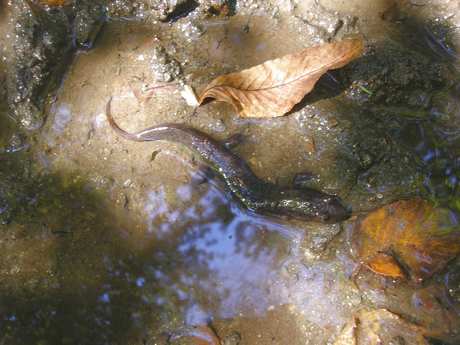 Monster Salamander.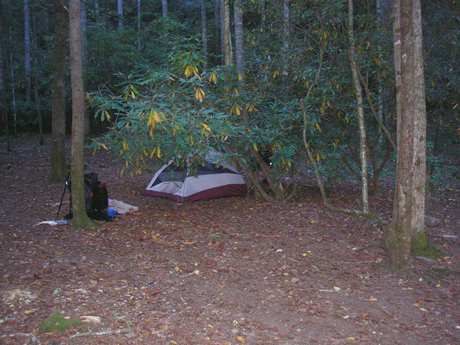 Grady prefers the solace of the rhododendron.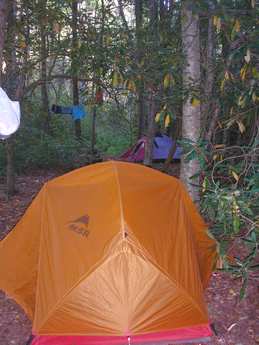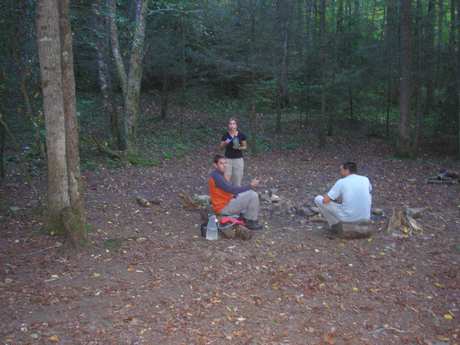 Saturday night after our respective hikes. Here, Deidra rests after she, George and Grady took the Cataloochee Divide Trail to camp whilst Sally D and me did the easier Caldwell Fork trail. I had some bad blister/callouses and wanted to have an easier day so we shuttled them up to the park boundary. President Dumplin just wanted to sit on his Dumplin.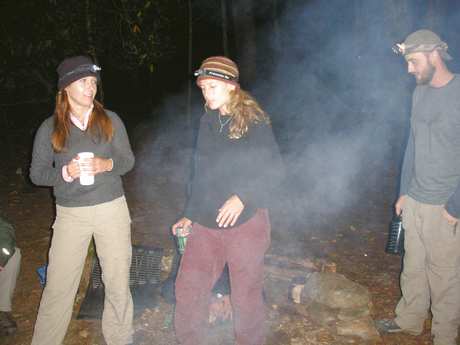 Again with the left foot in and the left foot out, C'mon Deidra, its a hokey pokey thing, we let it all hang out. Bradley the lurker watches before taking his turn.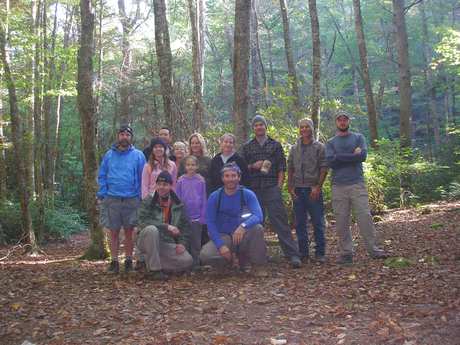 This is the gang of 8 plus 4 that joined forces at Caldwell Fork.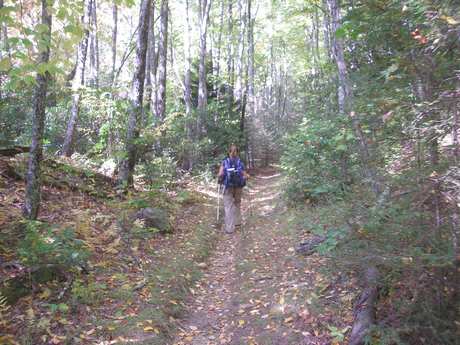 We said goodbye to Judy, Holly, Cindy and Beth, Brad, Ricky Bobby and Doug. Deidra, Grady and myself departed for the Rough Fork, Hemphill Bald and Double Gap trails. I say Double Gap, that's what it was called last time I did it. It is now just a part of the Hemphill Bald trail. We ascended a couple thousand feet and ridge walked along the Hemphill Bald trail. We saw some unusual sights. A group of Ginseng Hunters, a group that stayed at campsite #40 that had their complete backpack stolen from the bear cable. The woman was carrying what was left of the belongings in her hand. Couldn't ascertain whether it was human or a bear. A bear can rattle the cables and knock something down but I think they would have heard something. I don't like the idea of someone sneaking into a campsite to steal a backpack.
This is a record poplar tree on the Caldwell Fork. It's a big one.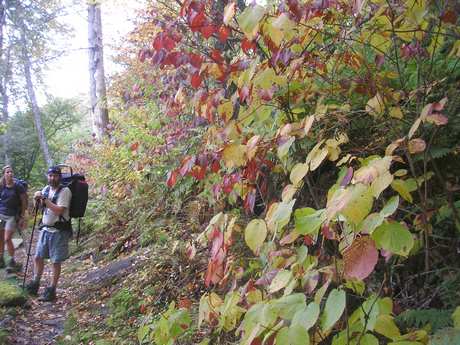 Grady and Deidra enjoy the changing colors up high.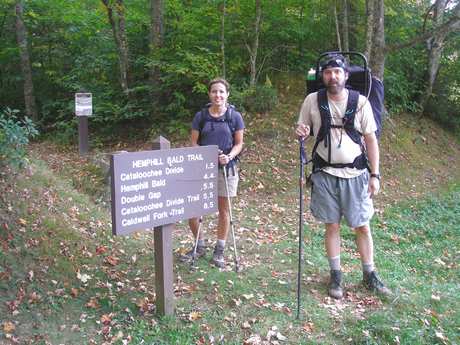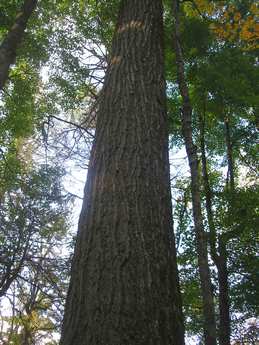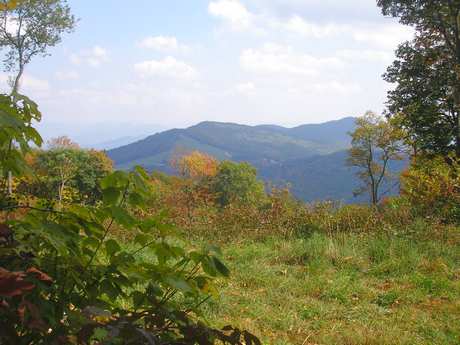 Hemphill Bald looking back towards Cataloochee Divide.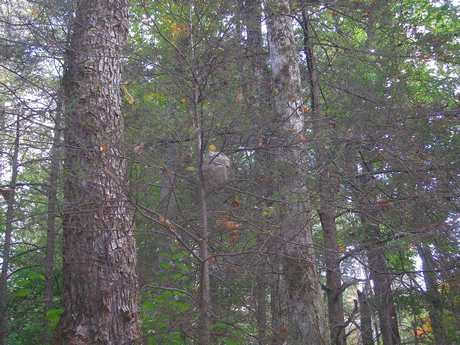 Hornets nesting about 11 feet this year.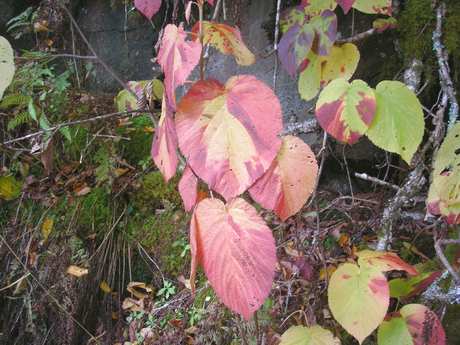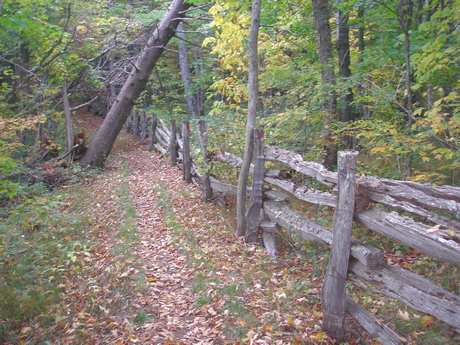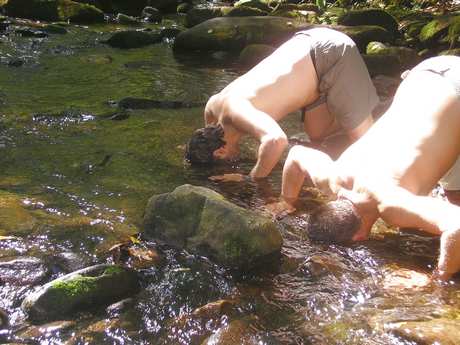 We are Smokies scuba diving in hopes that it might lure Mr. High Speed Alexander back into the Hiking Highlander Fold. Sorry we don't have a ScubaOMeter, Bill Alexander. We are kind of low rent.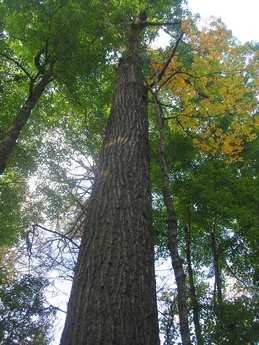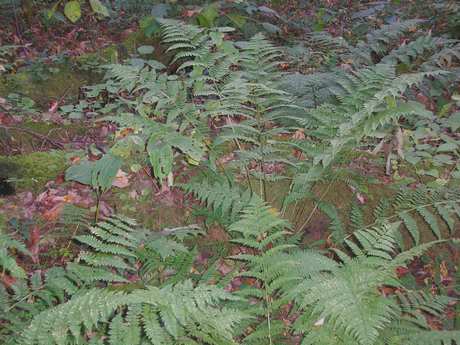 FernAnDo.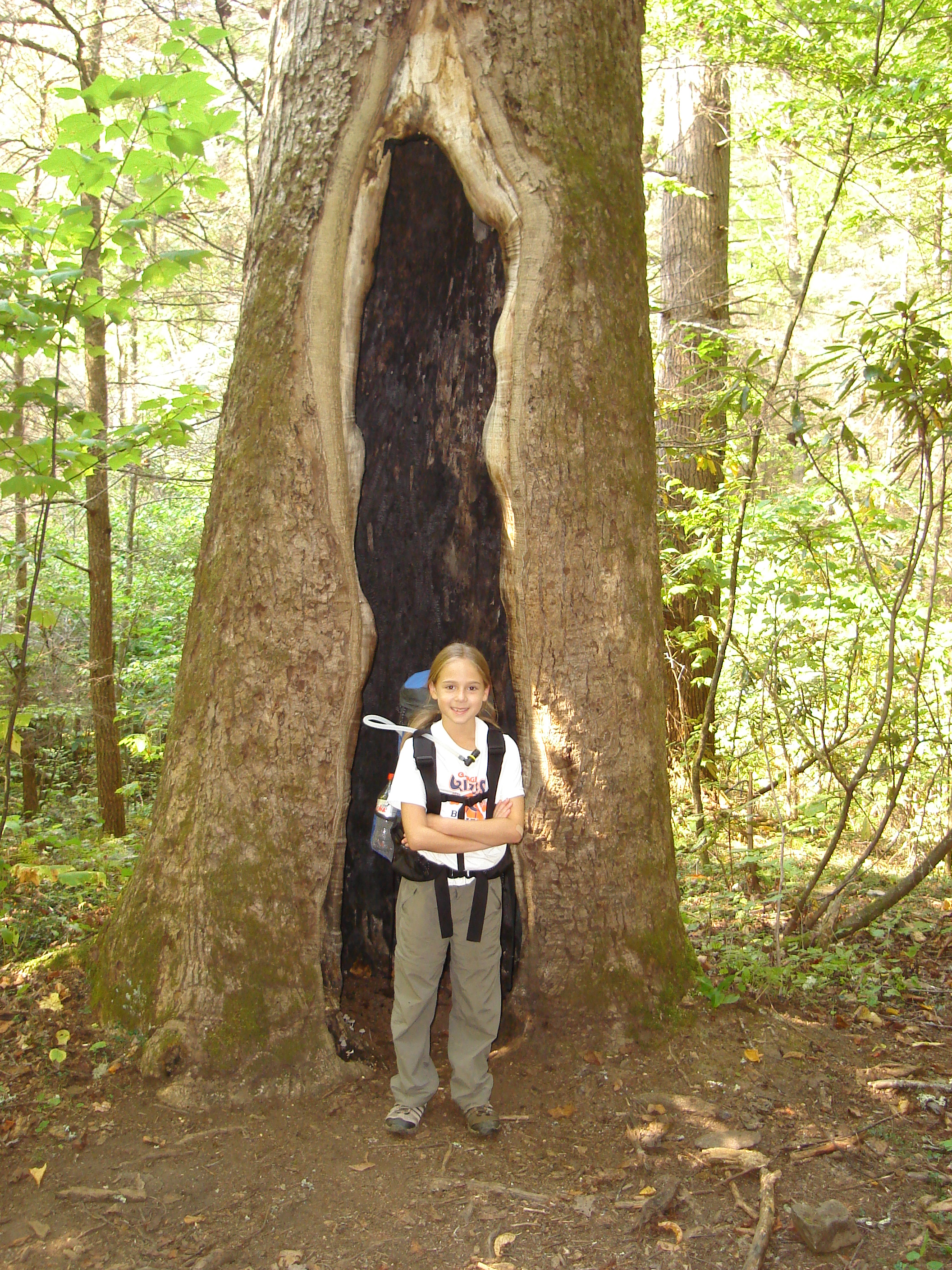 Something about the Keebler Factory. We definitely found an elfette.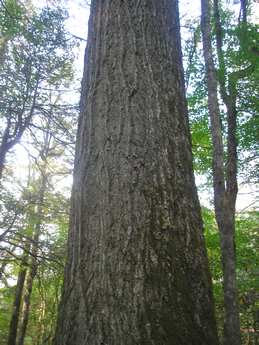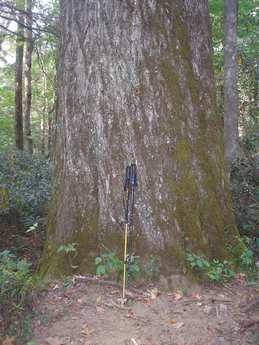 This tree down the old Double Gap trail is gigantic.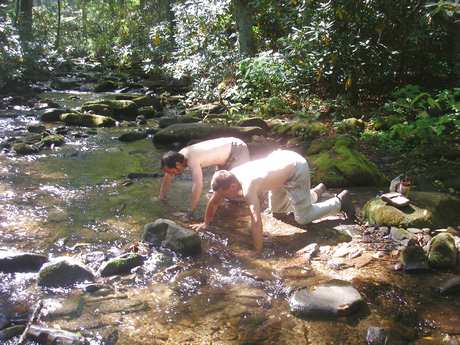 Thank you forest for a beautiful 5 days, om, om.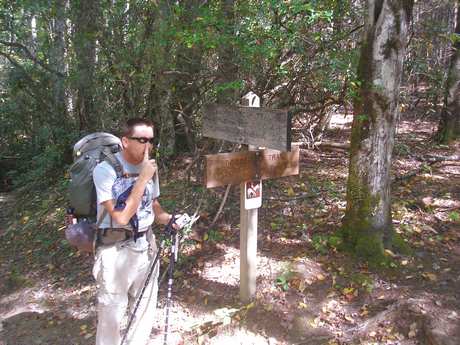 I can't remember the name of this trail, oh yea, Boogerman.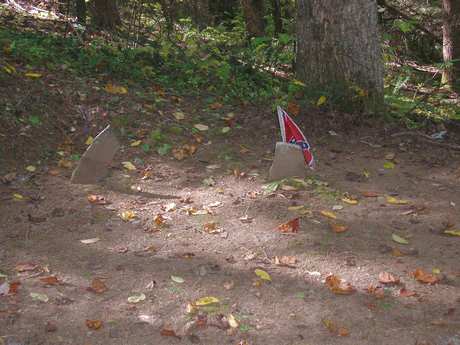 Couple of dead Confederate soldiers, killed by Union Raiders who pillaged the Cataloochee Valley. Kind of reminds me of the Bailout package recently passed by Union Raiders.
Trail Stats: Noland Divide to #61- 9 miles. Pole Road Creek to Deep Creek to Campground-12 miles
Cataloochee to 39.5 .8 miles, next day back out and Cataloochee Divide Trail-12 miles. To Caldwell Fork 4.7 miles.
Day Loop from Caldwell Fork to Rough Fork to Hemphill Bald back down to Caldwell Fork-14 miles. George and I probably did about 45 each, give or take a mile. Deidra and Grady did a great amount for a short time and Sally Dumplin had a great time on his dumplin.