The Abrams Experience
Friday-Sunday, November 13-15, 2009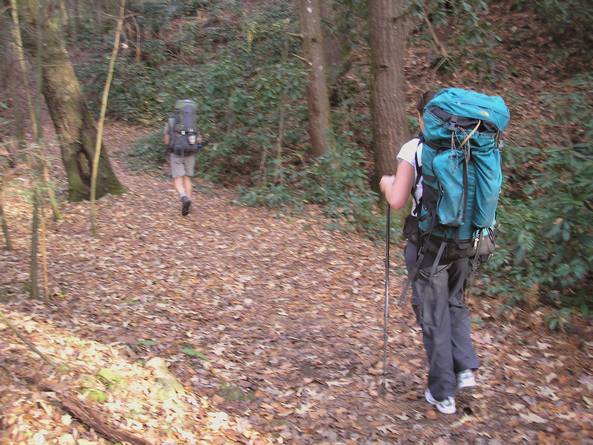 Our spate of great weather continued this weekend and we were off to the races. We all left work early Friday to arrive at Abrams Creek from the back side and make a walk out to one of our favorite and now, reserved, sites, #17 at Little Bottoms.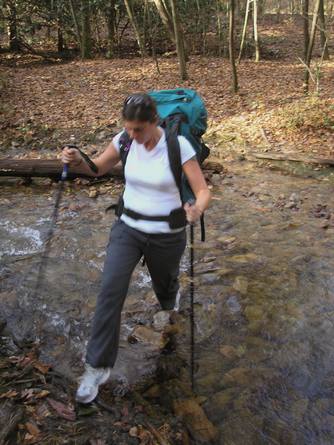 There were some creeks where creeks did not exist before.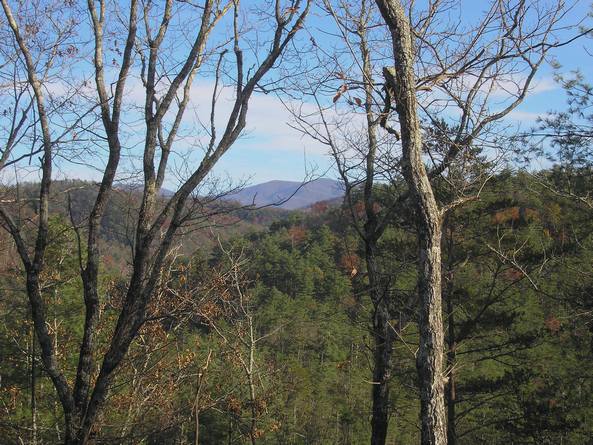 On top of the pine nob there were views of Gregory's Bald.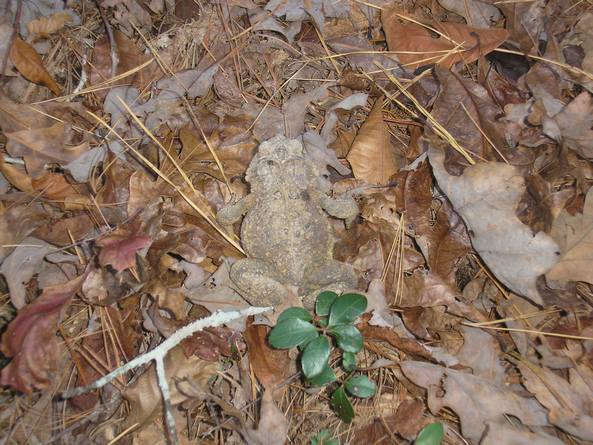 Sally D once again, comes across his power animal at Little Bottoms.
The water was raging from the three inch rain festival on Tuesday and Wednesday. Our original plan, to hike up to Rabbit Creek, was thwarted by an uncrossable Abrams creek so we decided to return to the parking lot on Saturday and ascend the Rabbit Creek Trail.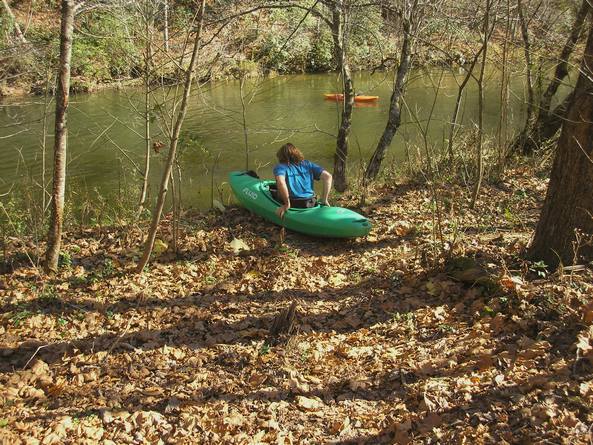 We run in to Patrick and Wesley who were engaging in a different sport.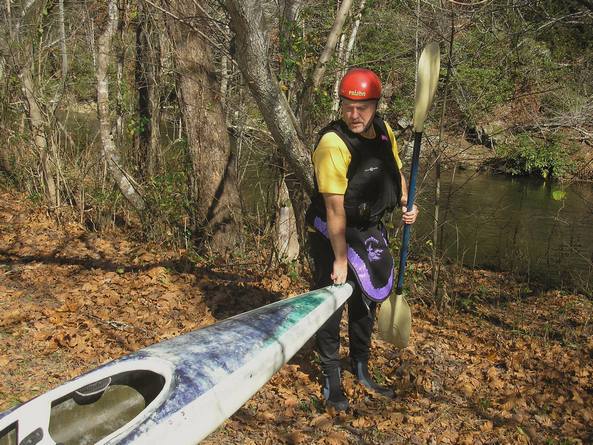 Wesley and his new product line, available at the ultra low internet only price of $1400. Contact Jack for details.
We are greeted by Jerky Mike and Kevin and Jack at the trailhead. Dave and Kevin head towards the bridge at Rabbit creek only to return and inform us that it is washed out by the big rain and that the creek is not in crossing condition. We devise a plan B. Jerky Mike suggests we mosey over to campsite #2 up Cooper Road. We agree. Leslie, Jack and myself decide to drive up to the Goldmine entrance so we can call Bobby, Grady and George to let them know of the change in plans. We also leave a note on Jerky Mikes' car. We were able to reach everyone but Grady. George opted out as he wanted to watch the UT football game.
Mr. Kevin is certainly happy that he chose to get out this weekend. No game watching for him. His game is on!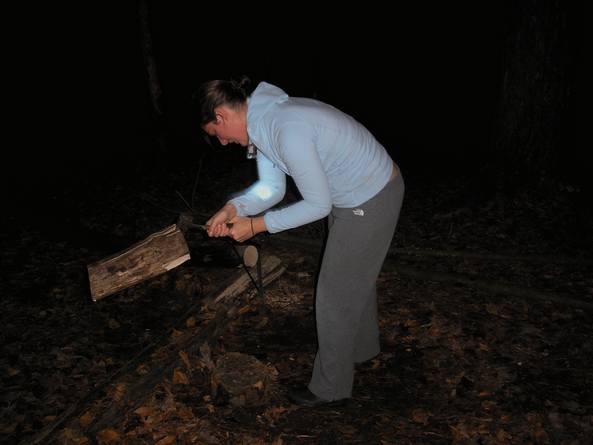 We taught Leslie how to manhandle the log and described that all newbies must perform camp duties.
This is Sally D's new tent configuration. It is designed to shave weight and allow for easy entry. I think he calls it fudgepacking or something like that.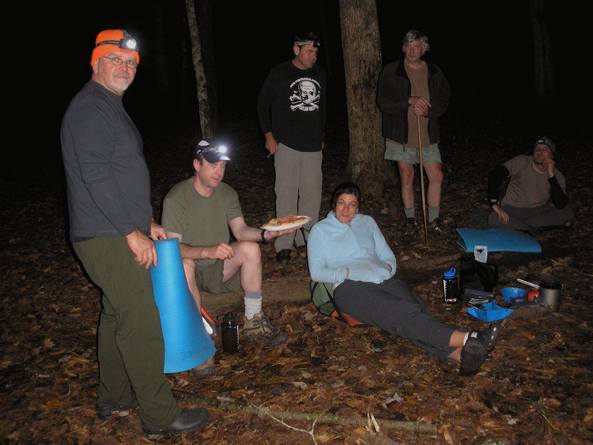 The gathering was festive at campsite #2 with the arrival of Ricky Bobby, we were almost complete. At any time, we expected to see Reverend Grady cresting the hill.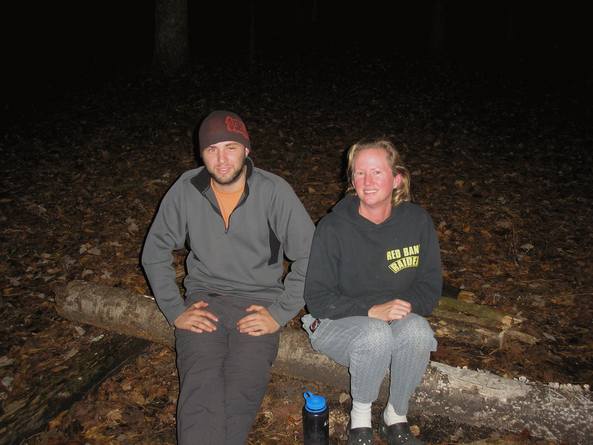 They, however, were not Grady, although we enjoyed Brian and Barbara's company over the fire. Apparently we Highlanders are in a pattern of "Take your local Veterinarian to the Woods" program as we have entertained three of them in the past month at our camps.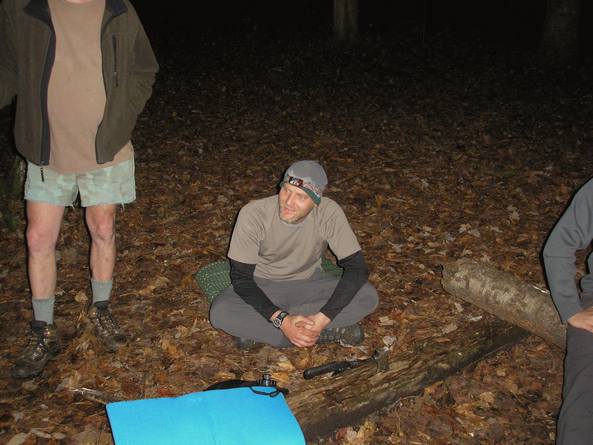 Bobby tries not to stare at Jacks shorts, lest he turn into Magnum P.I.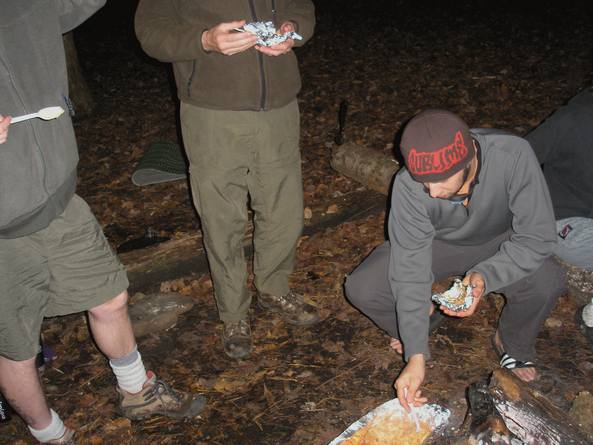 Baked Ziti anyone?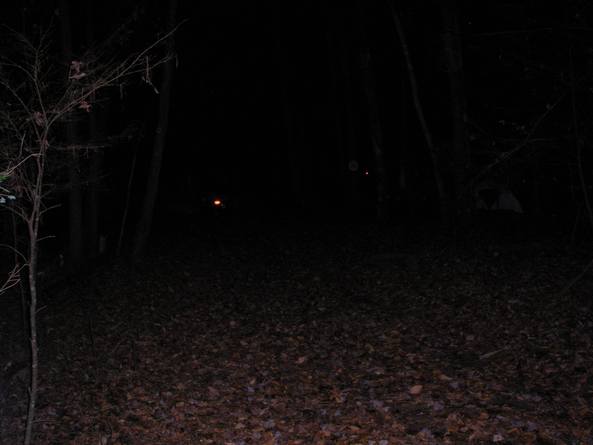 We heard something crest the hill from behind camp and were certain it was not Grady. Next we heard a chain saw. Spooky stuff!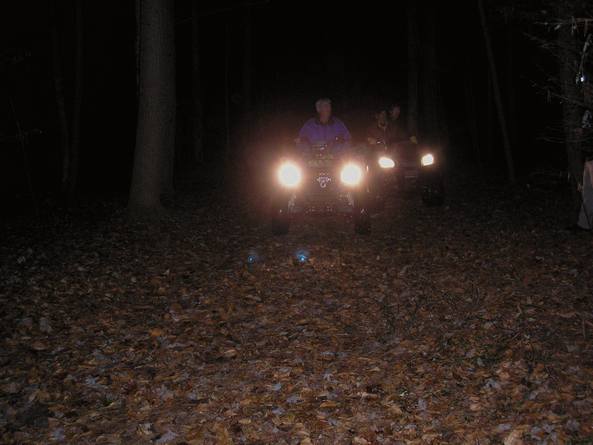 Isn't this what you love to see out in the backcountry? Two ATV's. Man, I didn't think we would have to deal with that. These guys came in from the Blackberry Farm to "look for lost hikers". Lovely! Our Park is your playground. Play on.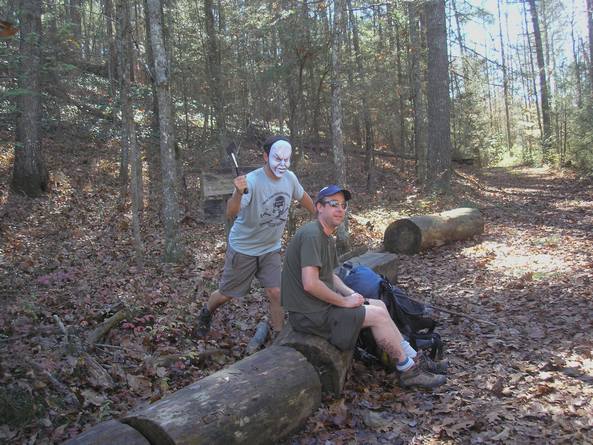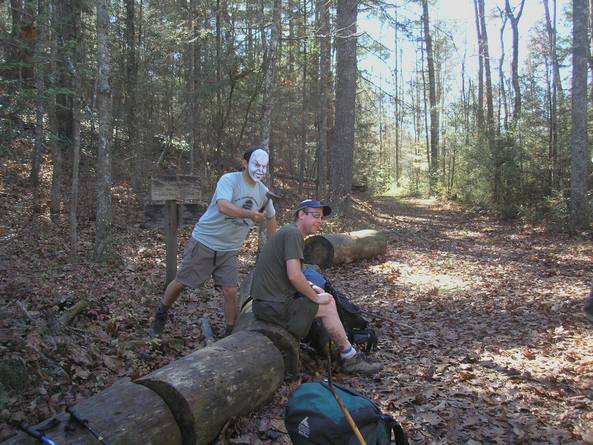 When Grady never showed, we feared the worst, knowing that a psycho killer was on the loose.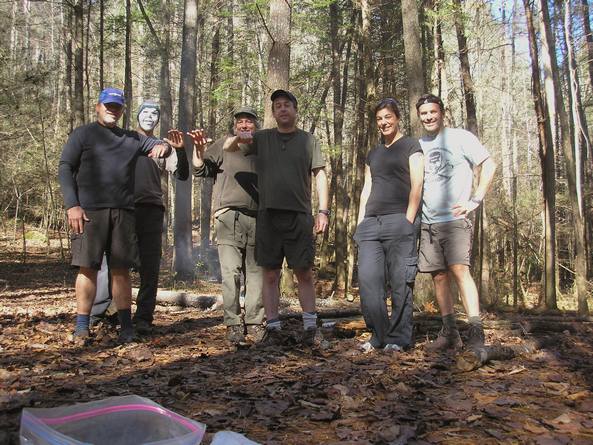 You see, Grady is one of those who does what he says. Since he says he would show up, we expected him to do so. He was raised properly. The truth of the matter is, that Grady manned up and crossed Rabbit creek with his companion and proceeded to #15 as planned. We missed him, apparently on the road, although I don't know how. Therefore, he got to have a very special night in the backcountry with his companion. Huzzah! From now on, we will have to do a little better recon, sorry Grady. This is the missing Grady formation. We did miss you.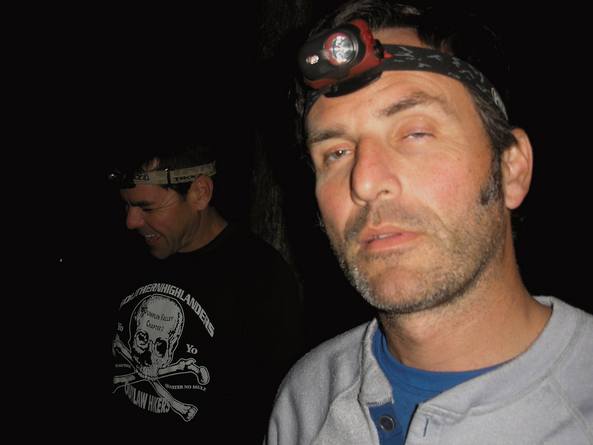 Here's to you, Grady. (Wink)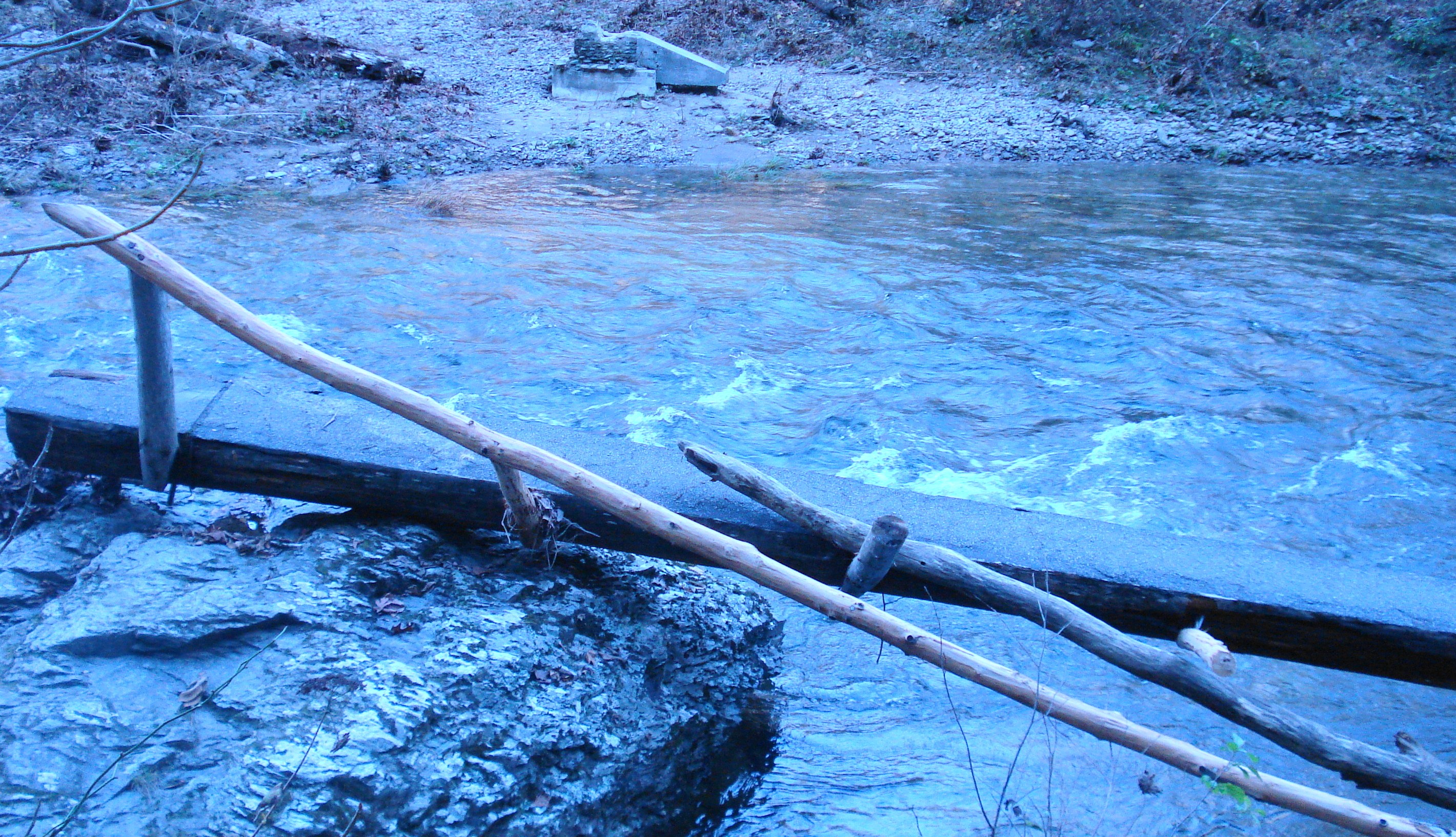 This is a picture of the bridge washed out taken by Jerky Mike.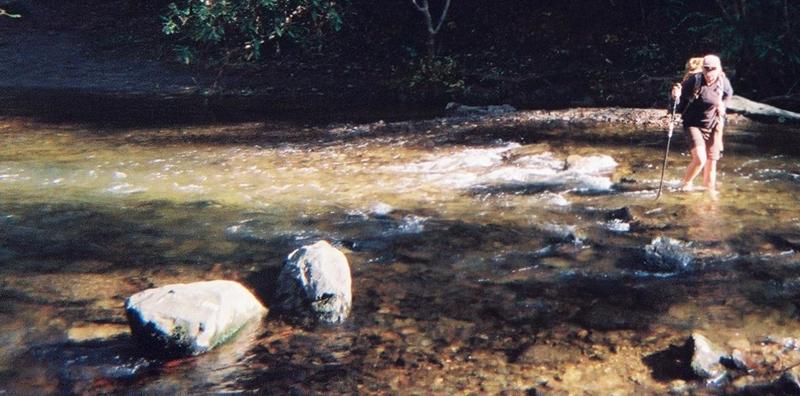 Here is a picture of Candace crossing rabbit creek. Grady forwarded this to show the water level. I'd say we all have to eat some humble pie on this one. Good work guiding through the water, Grady. You are a real trailblazer.
Trail Stats: Out to Little Bottoms, 3 miles or so, then back on saturday. Out to camp 2 for us was a 2.2 mile venture, for the others it was about 4 up cooper road.
For Grady, his trip: Priceless.