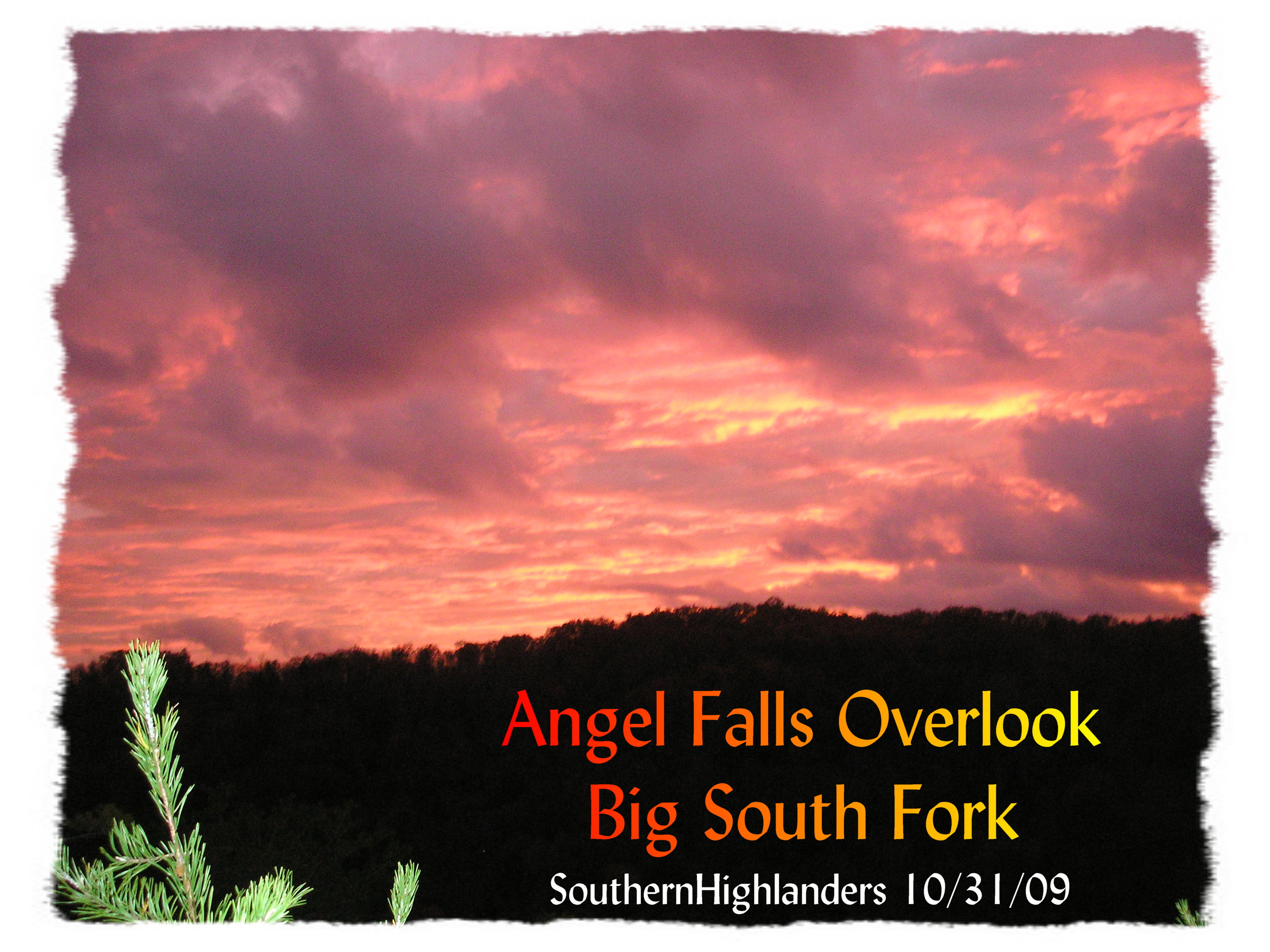 Though difficult to believe, we out thunk the rain this weekend, heeding that sage advice, "Head West, young man", so we did.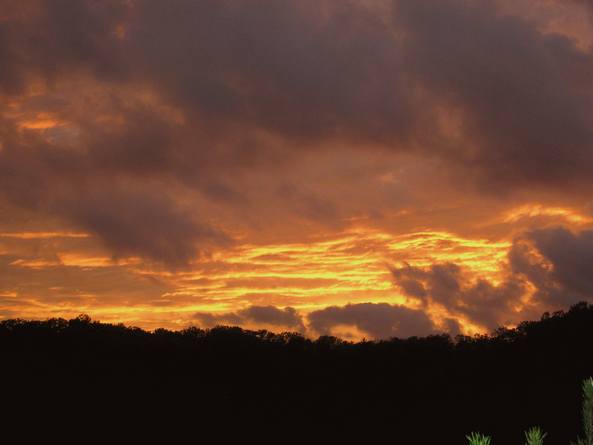 We made it to the top in time for such spectacular sunsets, I couldn't photograph them quickly enough.
The river was raging.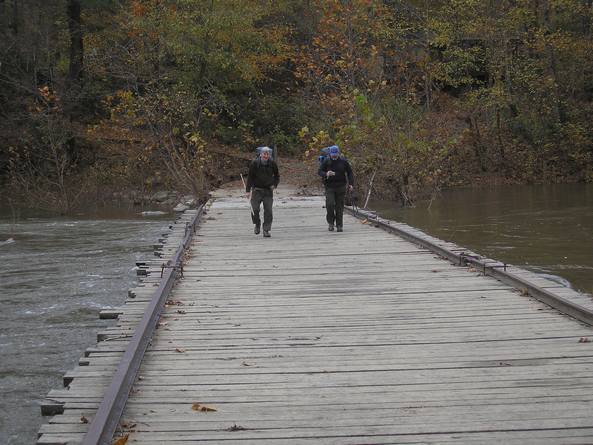 Jack and Mike crossed in the dry Saturday.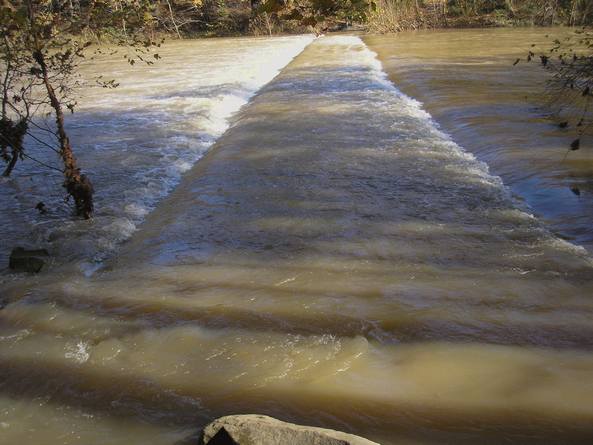 Sunday was a little more, uh, tricky, you might say. It didn't rain on us but the river crested at 5000 cfm forcing us to retreat to plan B. (Yes, that bridge is under there somewhere)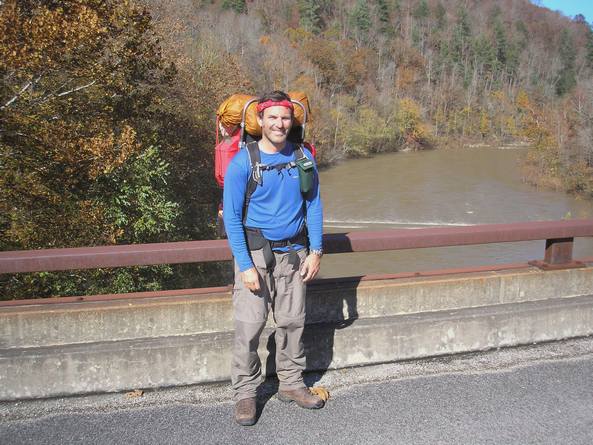 This was plan B. (Plan a in background)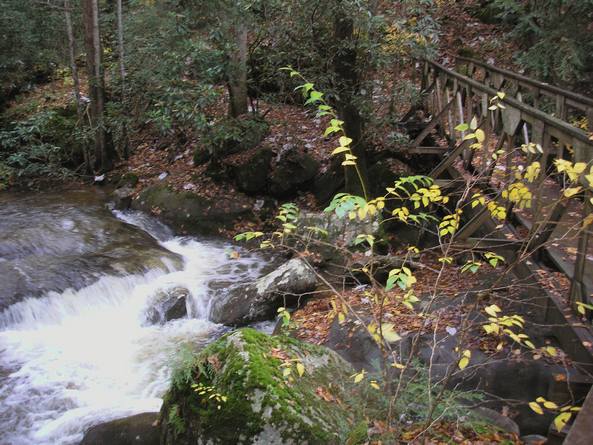 We had plenty of great H20 scenery.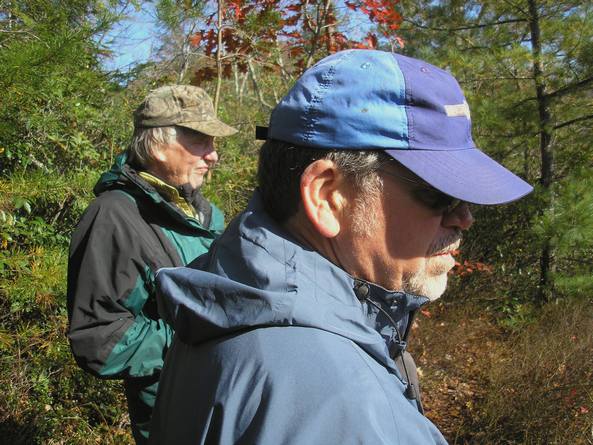 "I reckon that's some high water there,"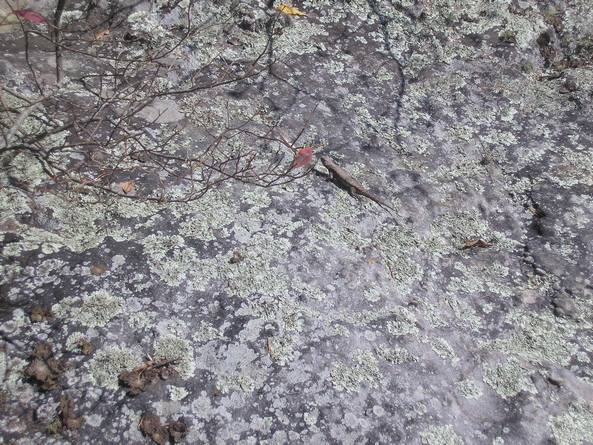 This guy knew where to find the dry.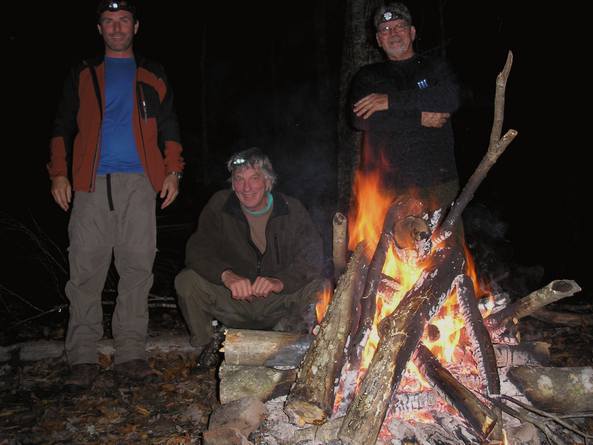 Yes, it was Halloween and again, we're unable to make a decent fire to scare off the ghouls.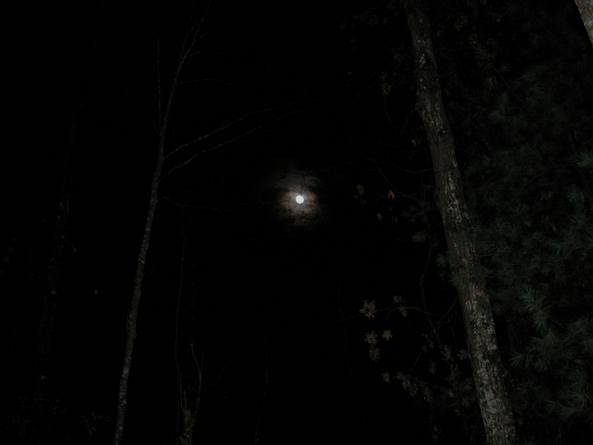 That full moon must have been the reason, because all of a sudden, the Haint was upon us.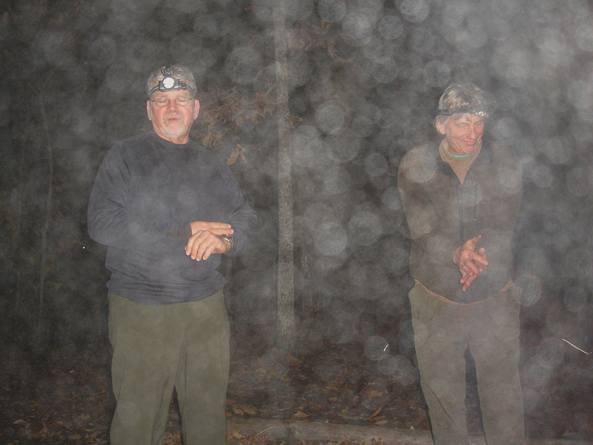 You see, these two started singing a sacrilegious Hymn. Jerky Mike is deciding to croon for the Haints and Jack is egging him on. I told them, you can't mess with Haints, not on Halloween night in the Big South Fork National Recreation Area. But they wouldn't listen to old John. Oh No, Buff doesn't know of what he speaks. "We laugh at Haints, Aint' no Haints, Jack says." "If there be a Haint, let his presence be made known. See, I say, there is no such thing................................................"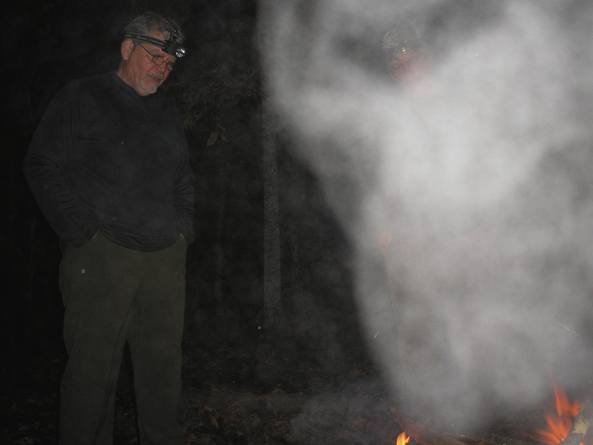 And away Jack is swept by a phantom mist, like a memory.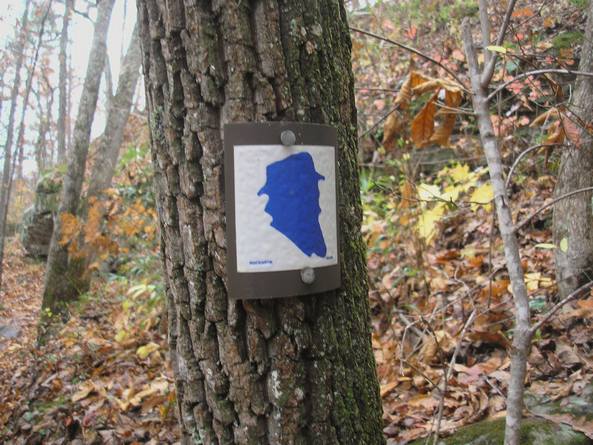 I was protected by the spirit of this guy on his trail. We will join those guys next weekend at an undisclosed location in the Smokies so as to avoid the dangers of the Spotted Woods Tattler, Jeff the Woods Snitch. Jeff is a rare variety of Smokies creature. He lurks in the shadows waiting for someone to have fun without him so he can call the park service and find an excuse to ruin the fun. SouthernHighlanders have found ways to deal with that breed, although it is fun to sometimes agitate those Spotted woods Snitches. Snitches occasionally get stitches. We will suffer no fools but just might quarter us a Woods Snitch.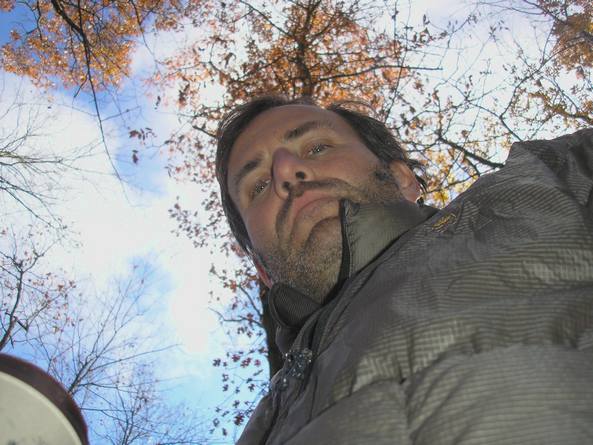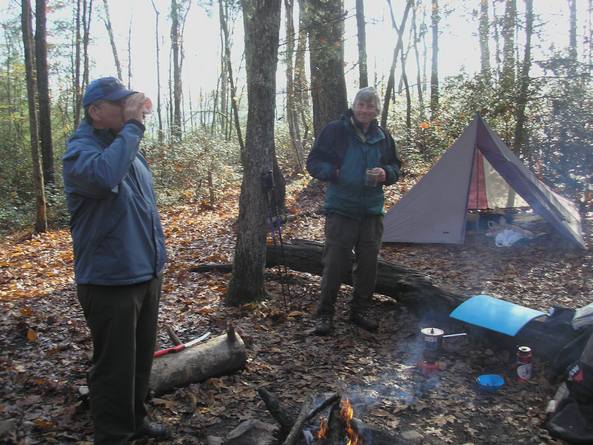 All in good fun as the fog burns off and the morning dew clears. Temps rise from the low 40s to eventually upper 50s. Bean up! Jack declares that his alien abduction implanted a microchip into his finger, the middle one.
I keep going back to the sunsets. If you want a copy of any of these pictures, please feel free to email me and I will send you a high res shot. Enjoy the progression we witnessed within 20 minutes on the overlook at Angel Falls.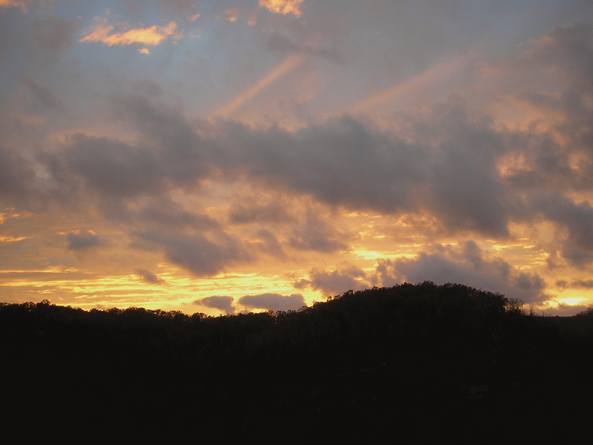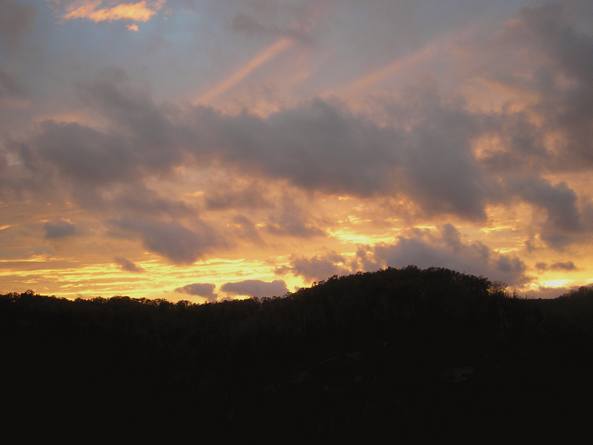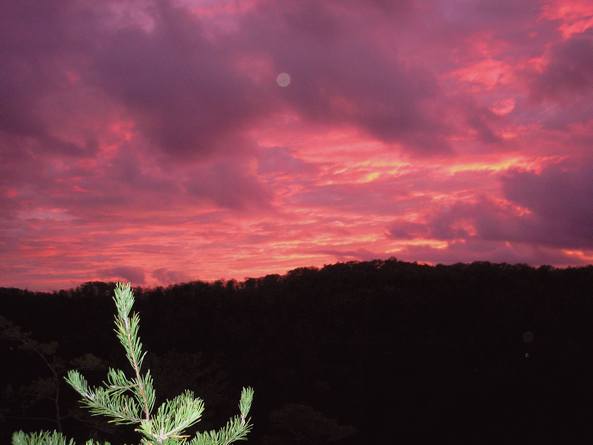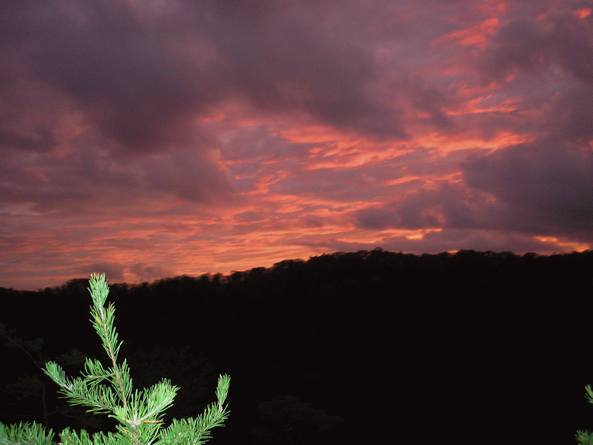 We truly had a wonderful 3 mile walk. The campsite belonged to the SouthernHighlanders, I suppose everyone else expected rain as well. When we returned, the clouds had still enveloped the Smokies, reinforcing our decision to get over on the plateau this weekend.
Just a reminder, the talk at the Howard Baker Jr. Center for Public Policy is on Thursday, please join us in making our views known about the equestrian issues we have encountered. 7 pm Wear your colors!