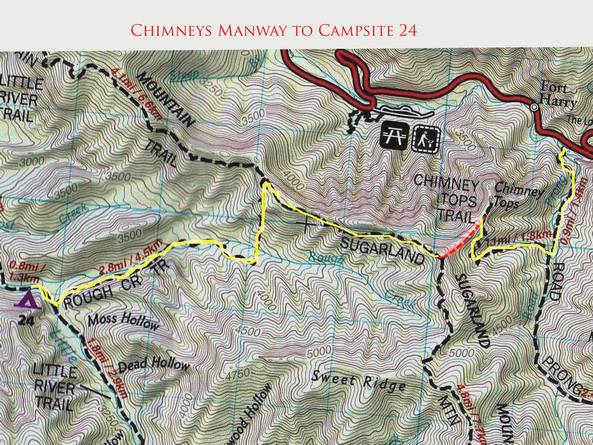 1/24/10
Our route is outlined in yellow. The manway from the Chimney Tops to Sugarland Mountain is in red. Red signifies blood, concertina barbed wire and rhodo surfing.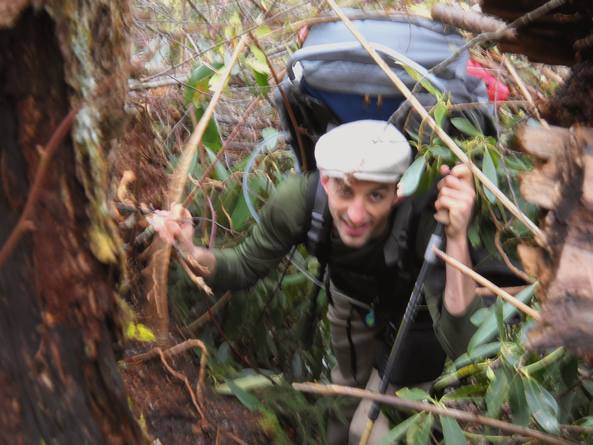 Andrew is loving it. If he looks a bit happier it is because his load is a tad lighter.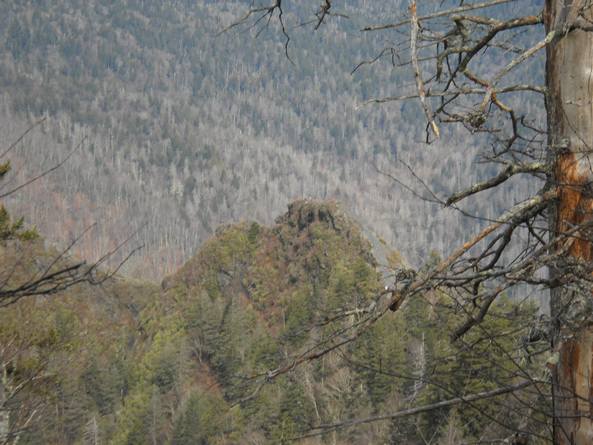 You climb above the Chimneys, see the little people there?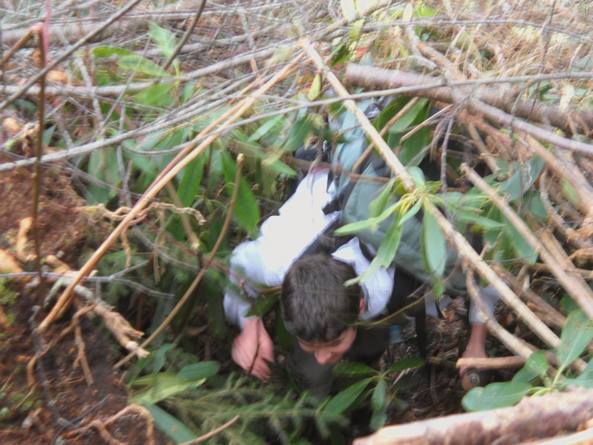 Similarly, Jacqui loved the rhodo surfing so much she burst out with a proclamation.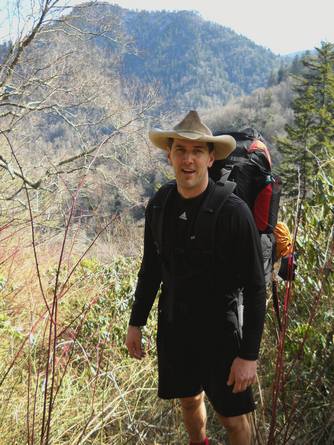 Jon just wishes he had a horse to ride now!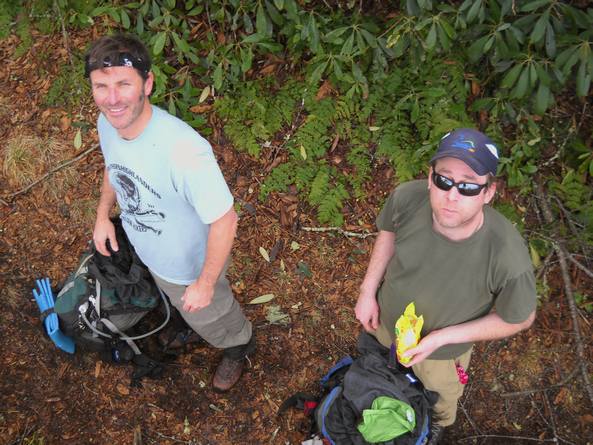 We await her manway inspired declaration as she pontificates like Moses. "I have good news and bad news." she asserts. "The good news is, I make a lot of money. The bad news is we lost your tent poles" Well, I guess that explains the turn around on the manway. We thought they were having a private moment but unfortunately it was an unsuccessful hunt for my tent poles. If anyone finds a blue bag with plastic and two easton aluminum poles on the Chimney tops trail or manway above, please let us know. I really can't think of a better place to lose them though. That first section involved a bit of slithering.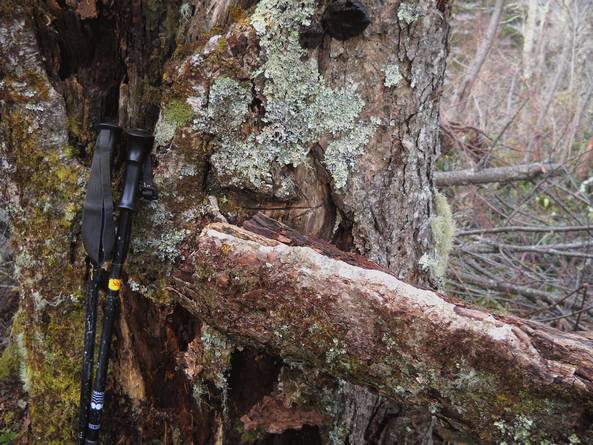 The little offtrail section we did ends up on Sugarland mountain but this arrow is all but obscured nowadays. This is our last trip up there. http://www.southernhighlanders.com/Chimneyscan.htm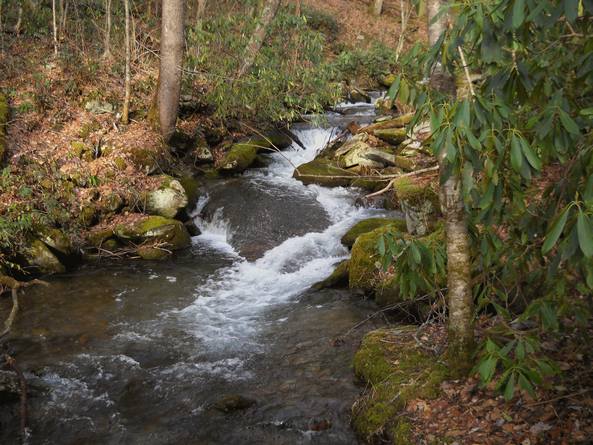 We had plenty of big creek water to enjoy.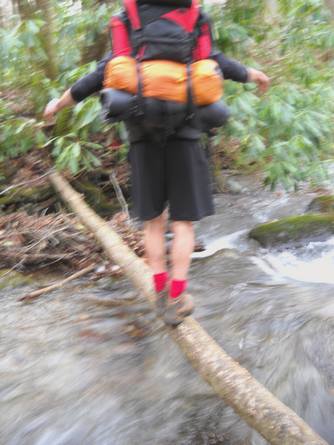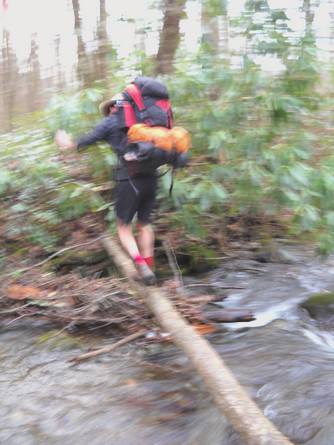 It sometimes necessitated creative crossings performed here by Comrade Chambers. Love those red stockings!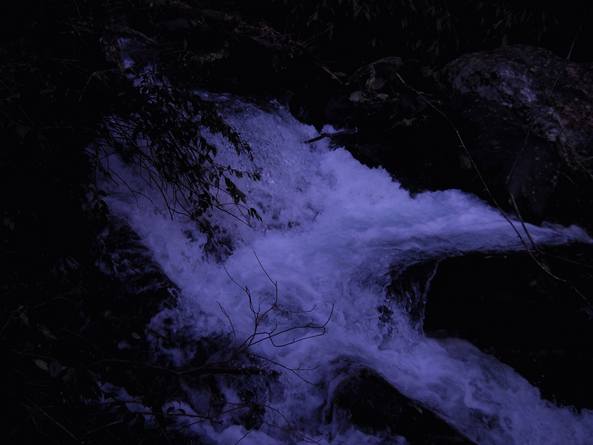 Big water all the way around. The weather was mixed. Big winds were the name of the game and through the night we had periods of rain.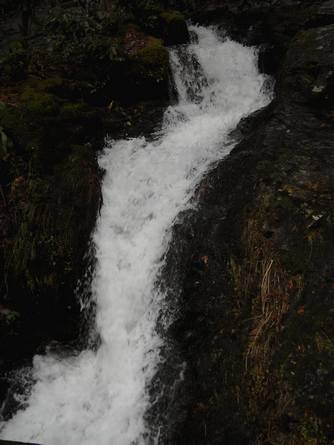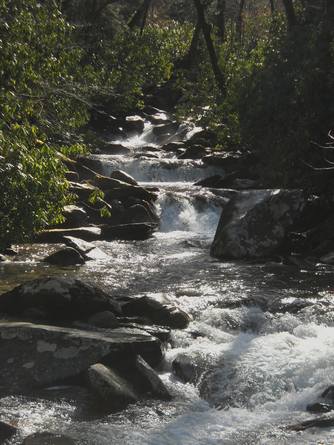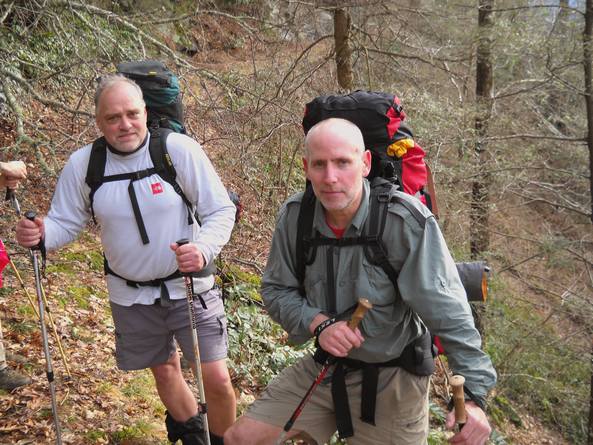 Along the Sugarland Mountain trail we run into an old friend from a Mt. Cammerer trip who helped us solve a great Highlander mystery of late. These guys pulled off an ambitious trek beginning at Elkmont and finishing for the night at Mt. Collins. I was told that the Park service suspended reservations for all shelters that night due to high winds. I have never heard of this before and as the night progressed imagined what it might be like at the top. We definitely saw some 40mph gusts.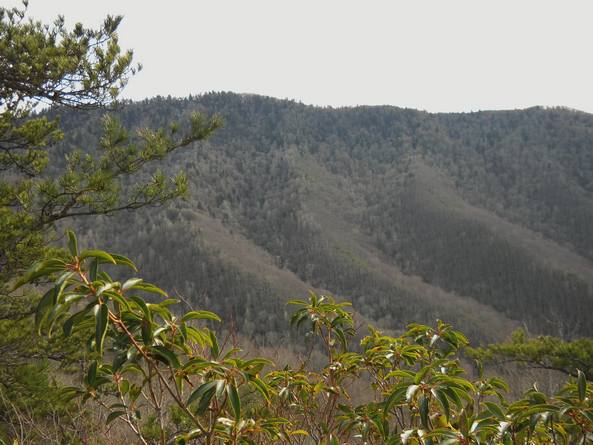 It took us two hours to reach the Sugarland mountain trail, this is looking across the top of the Elkmont valley. These three prongs are part of the Peawood Hollow and the drainage is known as Sweet Ridge. Sweet creek drains to the bottom of the far right rib and likely connects to Meigs Post Prong which eventually empties into the Little River.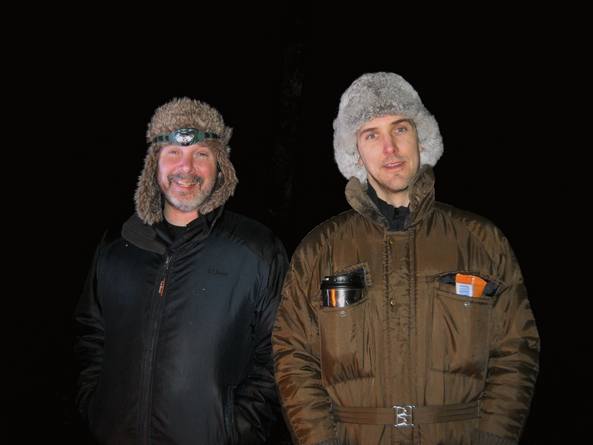 There was a reunion of sorts. Chambers and Licklog the Eskimo.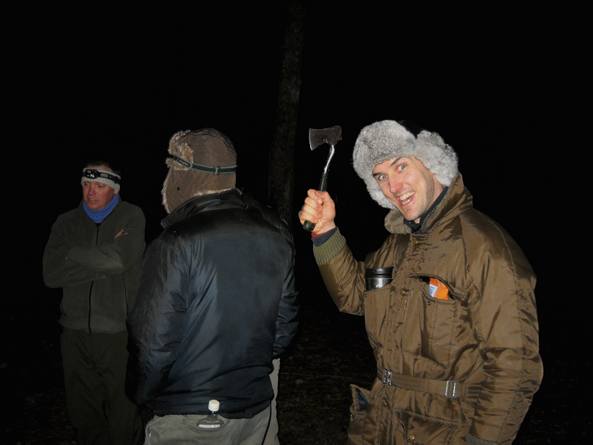 Chambers has waited years to get even with Licklog and end the hiking competition permanently.
I think it was uncle Dryfoot who belched about us not being able to have a fire. Yeah, it is kind of shabby by Highlander standards. Too bad he was not there to see it. He was probably napping in the dry. Did he not know that Jerky Mike was in attendance?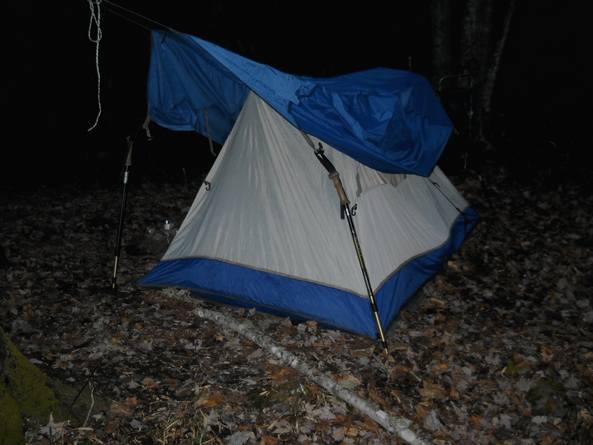 I'd say that Jacqui and Andrew did pretty well rigging up the old Hotel Q. Considering the winds that night, it was feat of engineering.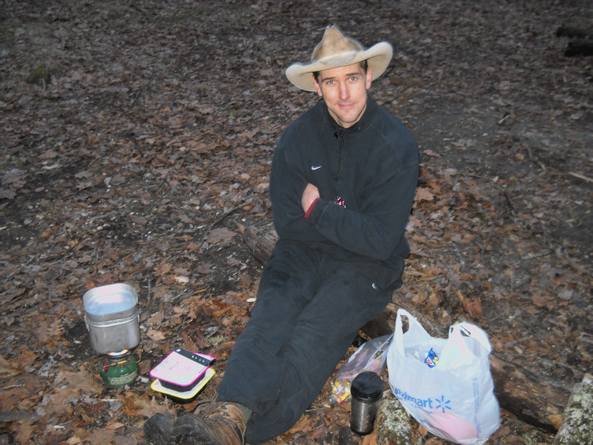 That stove should be in a backpacking museum somewhere.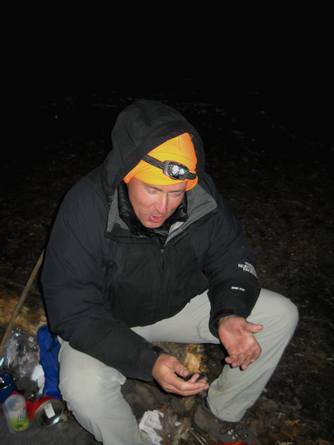 BC asks what is wrong with sitting down on occasion. George and Dave came in the night before and knocked off some mileage. As of present count, they are both in the low digits and closing in on their 900 miles.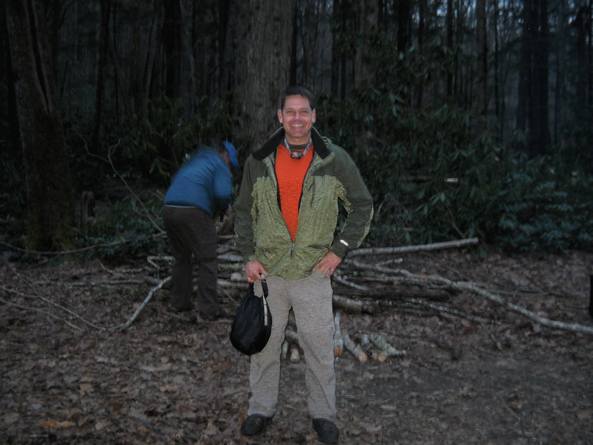 President Dumplin grins like a possum eating jerky from Mikes vestibule as he proclaims that he hiked 15 miles. A debate ensued. (jerky Mike prepares wood in a rare background sighting picture)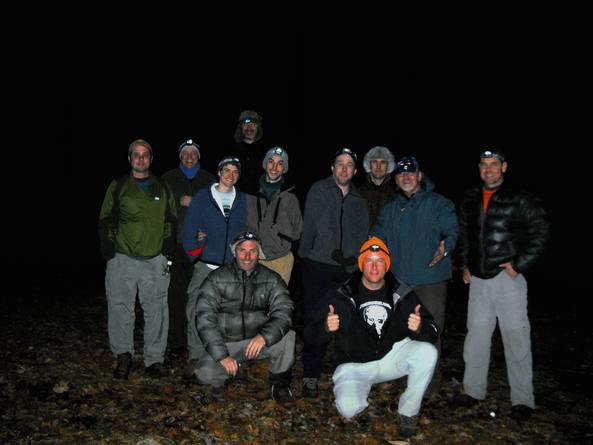 Here is your campsite #24 crew. Not a bad turnout for a weather filled event. Yes, that is Bill Alexander and Matt Roach.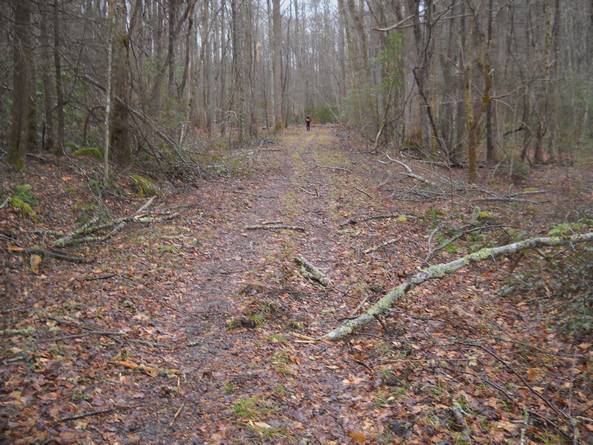 We departed via the Little River trail for about 4 miles and shuttled back to the Chimneys with Dave. Jacqui and Andrew did Huskey Gap for new miles.
Great time. Trail Stats: Chimneys trail to manway to rough creek to 24: 6 miles or so
Out: Little River: 4 or so.
Below is a high def movie of our ice climbing trip from last week that Dan made. He has a good camera and did a little creative number with the video. It is a large file and requires the updated quicktime but if you are bored and would like to watch, he did a good job. It takes a couple of minutes with a cable or high speed connection.
http://gallery.me.com/danielhwaltersmd/100014
I just received an dispatch from Brian's Aconcaguq attempt. It appears as if his team summited and is finishing their descent. Congratulations, Brian! http://www.fieldtouring.com/?page_id=710