The Road to Damascus May 26-30 2012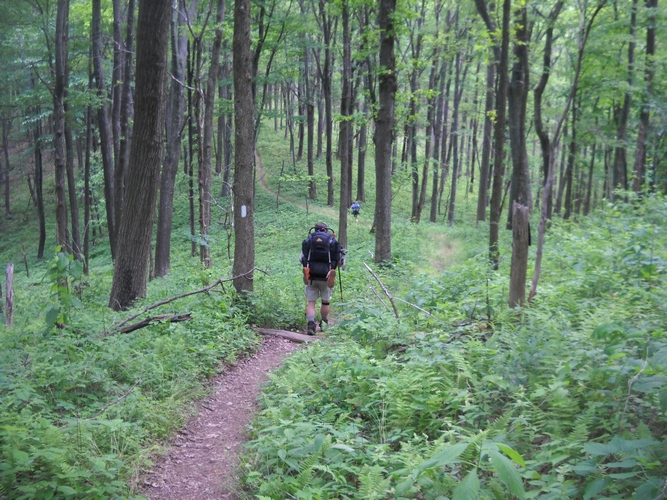 Grady and I had been anticipating the completion of our Appalachian Trail miles in Tennessee. Little did we realize that we would be joined by Martin, aka Scooter and Will Howe.
Since we began at Dennis Cove, it was appropriate that Dennis (aka John Muir) shuttle us to and fro.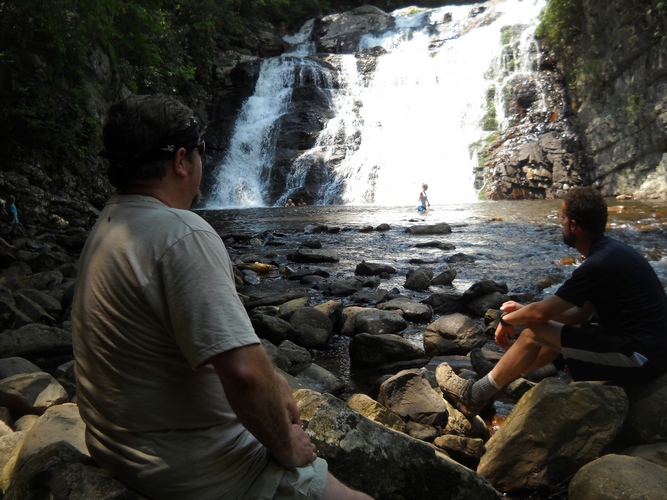 Right off the bat, less than a mile in was beautiful Laurel Falls.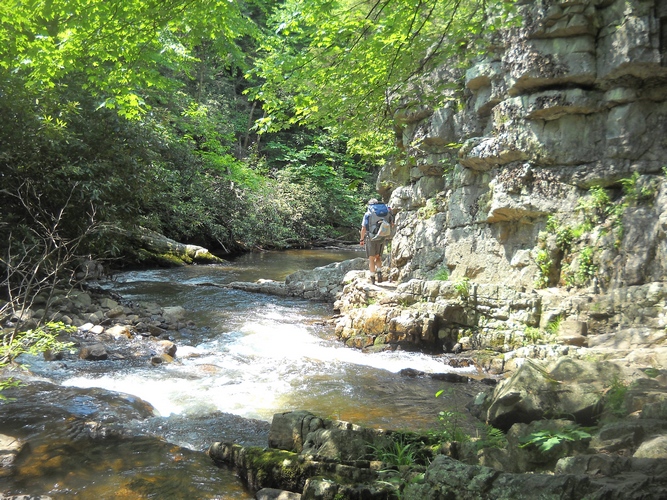 We followed the river gorge until the big climb.
This is where we parted ways with Dennis for our big climb up to Pond Flats.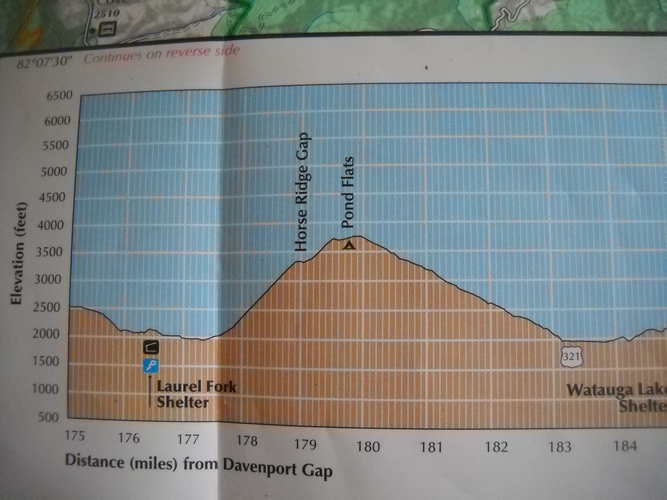 As you can see, it was one good pull to that first campsite. Day one, Saturday, saw us doing a short 6 miles but a super tough climb for our tenting at Pond Flats.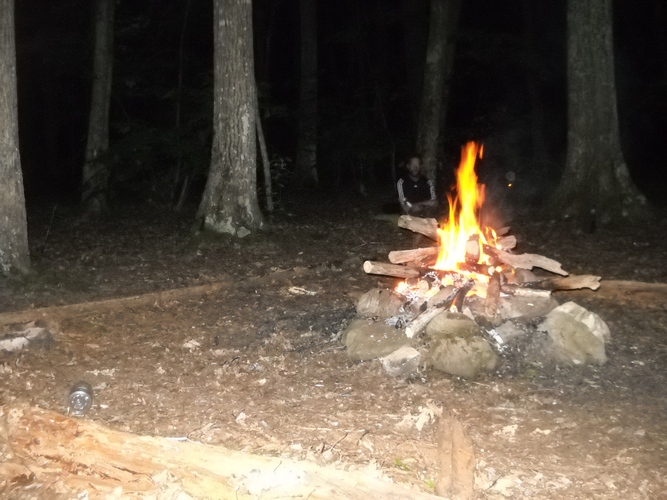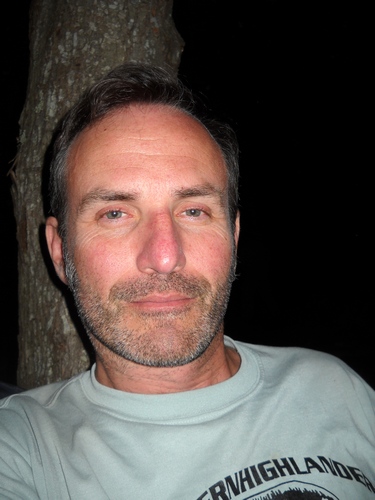 It was nice to arrive in the camp, allow Will to start a fire and relax. We had four days and 44 miles left on the map.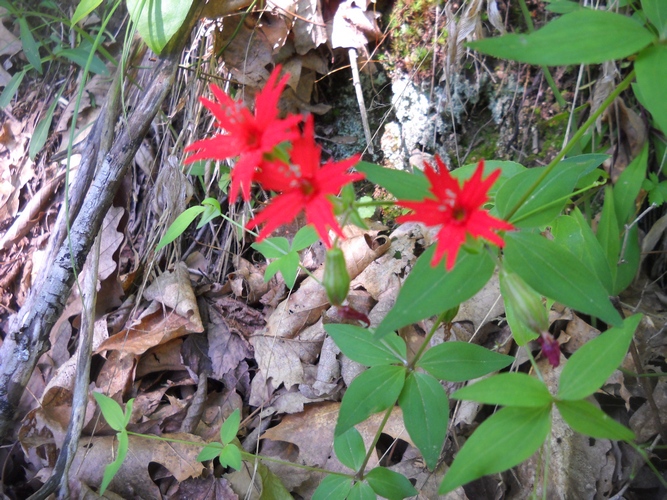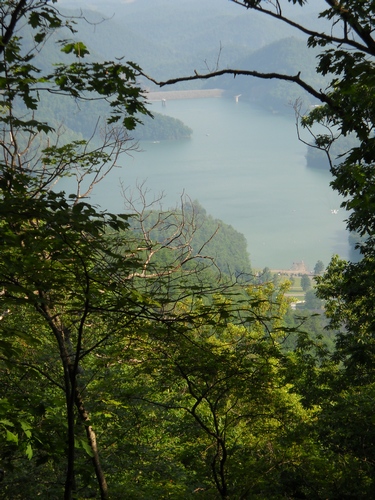 Take a look at the bottom. That little swimming area was our destination for day two. Now look at the top of the photo. We would cross Watauga Dam later in the afternoon. Sunday was to be a 12 mile day. We would drop down and lose all the elevation gained the previous day.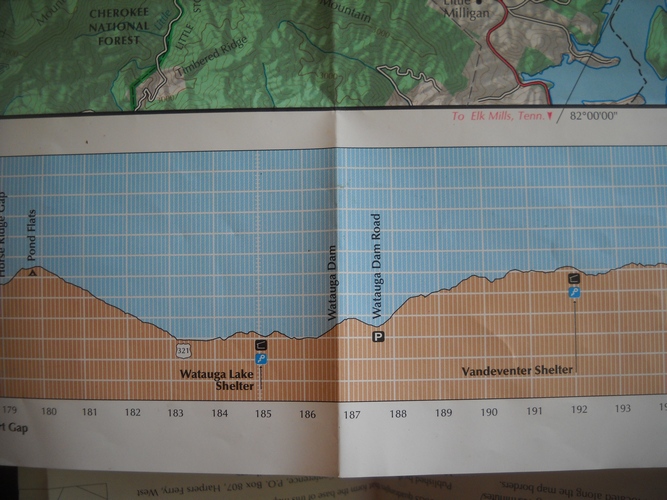 Vandeventer Shelter was our destination for night two.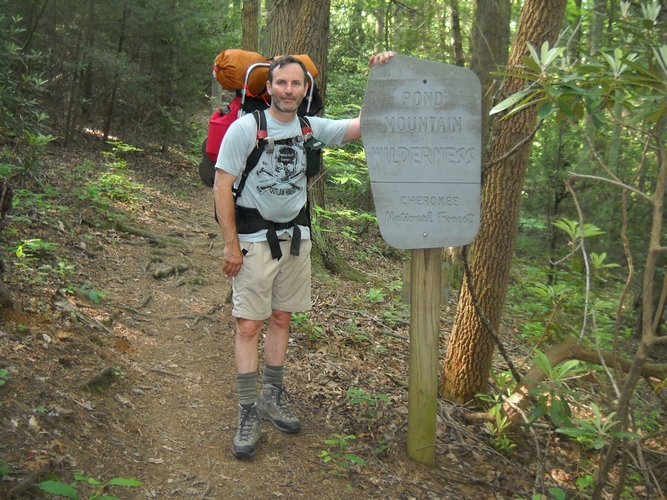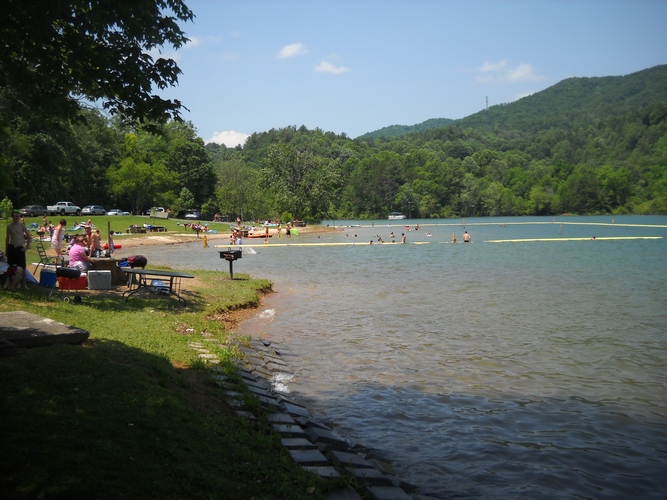 That swimming area was pure heaven. We did like the Europeans, dropped the packs, stripped down to skivvies and hit the water. After dropping off the big hill, the cool water of Watauga lake was refreshing, to say the least.
I wouldn't call this picture of Grady refreshing. He thought they looked like swimming trunks. I knew better.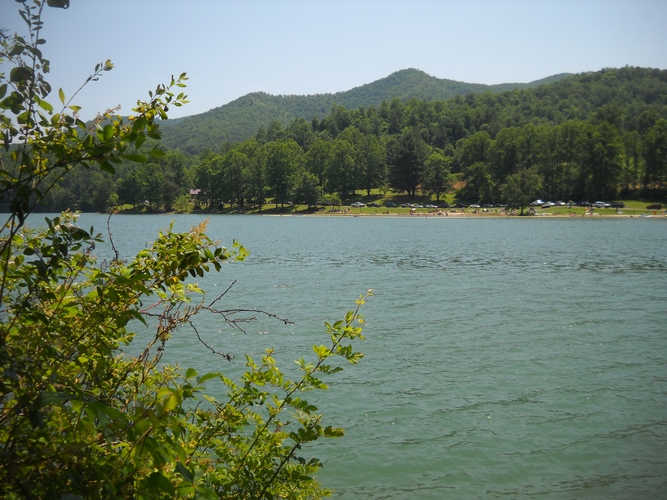 We circled the lake and crossed the dam.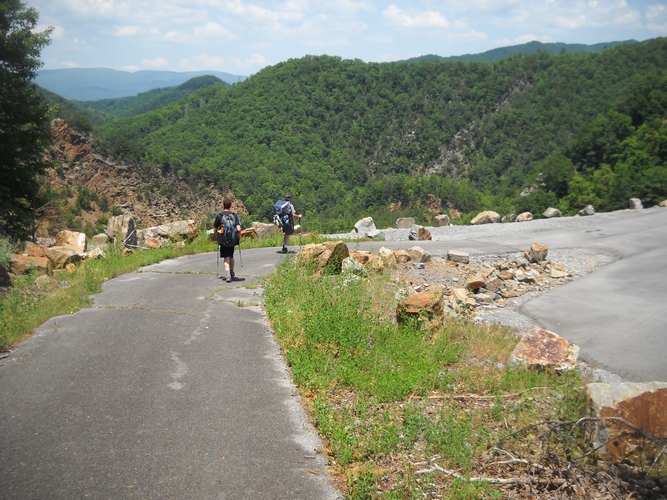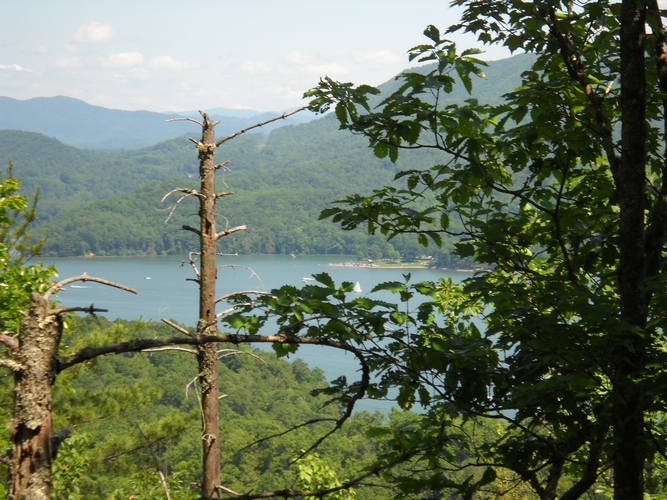 Then resumed our climbing.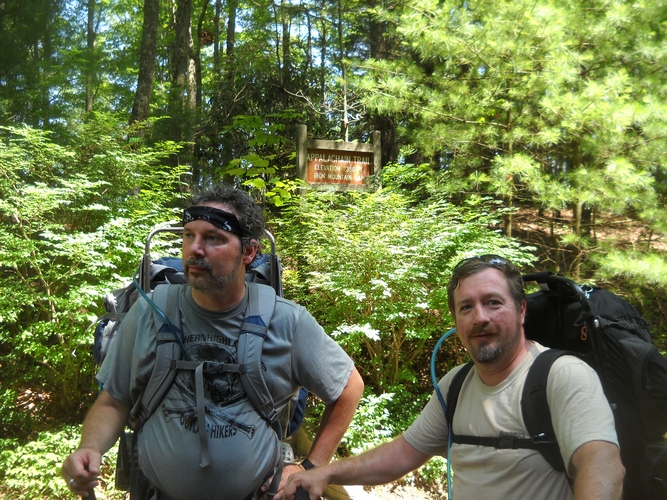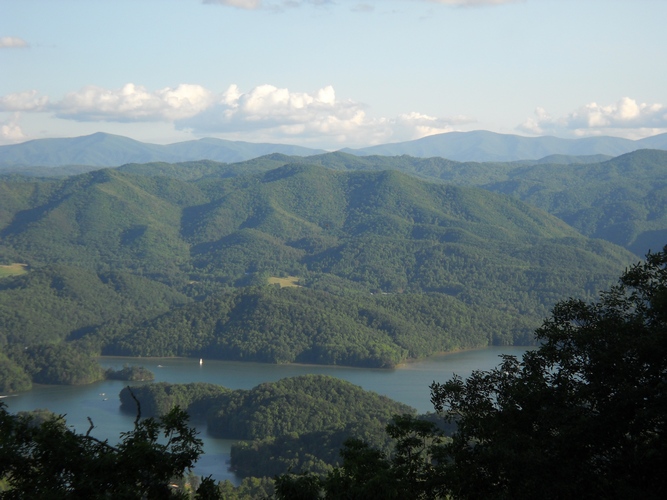 The ascent to Vandeventer Shelter was reminiscent of day one but the view from this camping spot was unequaled. I have never seen a panorama on the AT that compares.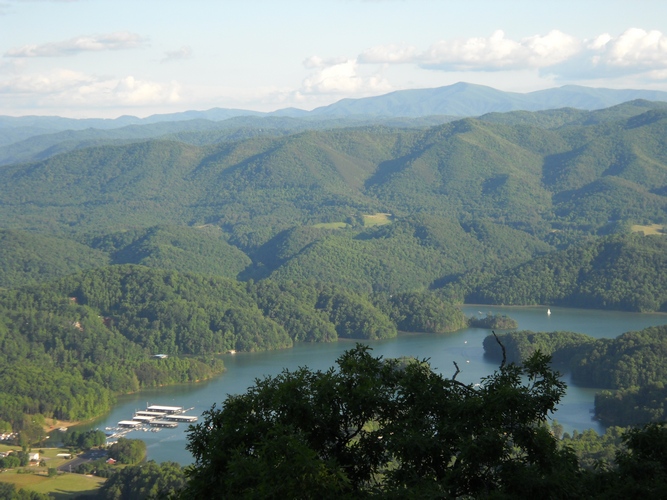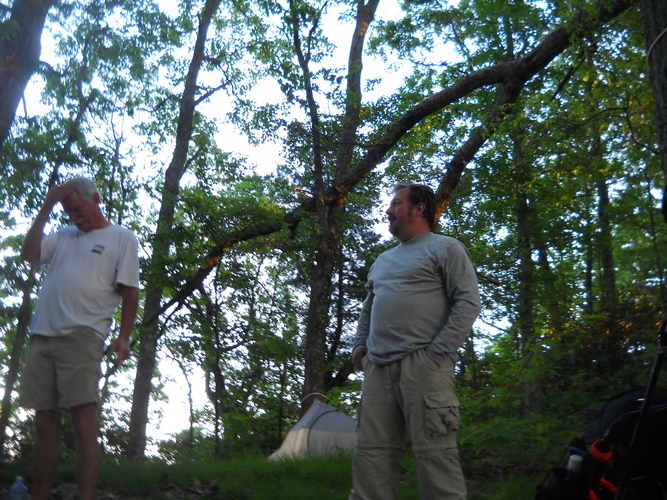 Since I can't stand shelters, we tent camp nearby. You are rather tied to the shelter system on the AT because of their proximity to water. We met some great new friends.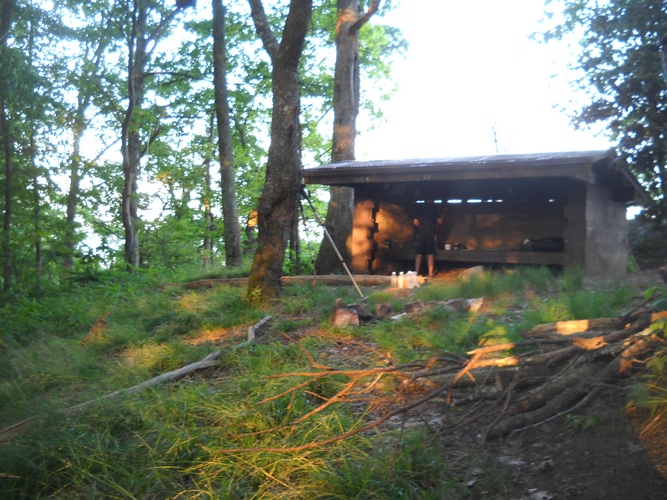 That is the famed Vandeventer Shelter. As beautiful a spot, it was once the scene of a grisly murder. April 1975, Thru-hiker Janice Balza, 22, of Madison, Wisconsin was killed by a hatchet at Vandeventer shelter in northeast Tennessee. Hiker/tree surgeon Paul Bigley, 51, was convicted of her murder and died in prison . Word on the trail was that he strewn her butchered body all over the place after chopping the woman to bits. That taints this beautiful spot.
I managed to rise with the sun before leaving Vandeventer and catch this picture.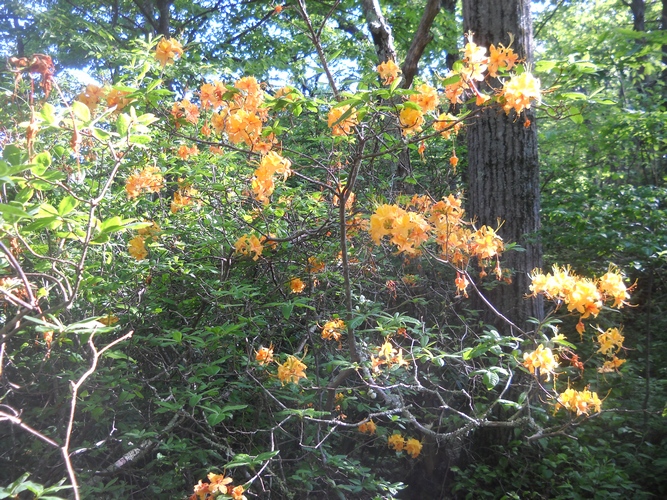 Day 3 Continued Here.
.