(the following bushwhack was completed Thanksgiving, 2010. I only recently finished the story.)
Ekaneetlee Trace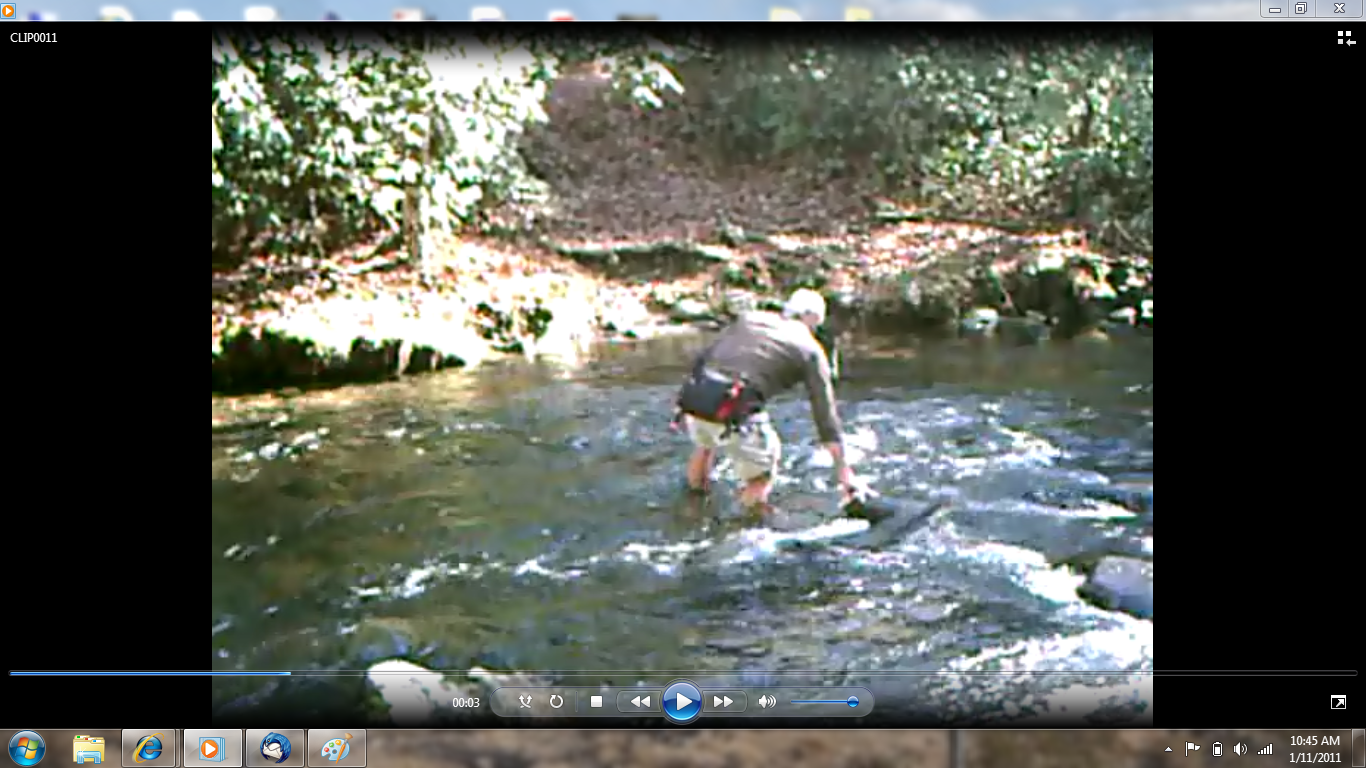 By John Quillen
The first crossing out of campsite 90 was wet so we booted off and waded up to our knees. Frigid post Thanksgiving air was offset by a bright late morning sun. It was still in the thirties, though and I was walking on a bed of frozen needles by my second step into the broil. I decided to walk barefoot till the next turn of this spiny river since my feet were numb anyway, unable to remember how many more crossings we had before campsite #89. It was spring when I last climbed Eagle Creek; after sixteen knee deepers you tend to forget where they start. Crossing number two did it for me; I went all in with the boots that time. It was a big mistake that I would pay for over the course of our remaining ten hours in the backcountry.
An hour beyond base camp at the mouth of this creek and three good wet stretches found us perched on a log at the lower Ekaneetlee backcountry campsite in the Great Smoky Mountains National Park. I wrung water from socks while cohort Steve perused the yellow "campsite closed due to bear activity" sign. Scattered about were hundreds of small paper shards. Whatever went to town on that book must have not cared much for Tolkien and his first installment in the Lord of the Rings trilogy. Somewhere here, our own quest would begin. I dispatched my Frodo to the north bank of this new watershed while scouting the south. We were heading up the Ekaneetlee creek drainage towards that notch, Ekaneetlee gap, the ring of gold. We were invisible and following an invisible trail.
They call it a trace and anyone who has been briar bit and rhodo slapped chasing manways understands why. Having followed similar traces through abandoned routes before, you begin to realize the supreme accuracy of that word in relation to this path. In these places you feel for traces of the people who crossed and their reasons for passing. There is nothing else to indicate human beings ever stepped into this drainage. I am told that the Cherokee regarded Cades Cove as a place of commerce and were no strangers to that Tennessee valley. Pro Union sympathizers fled the Carolina borders across this trail into Tennessee as well. They say at one time you could have driven a wagon from the Cove into Indian land.
Cradled between Little Grill ridge and Round Mountain ridge we were funneled by a pull of that gap which was occasionally visible at the head of Ekaneetlee creek a couple of thousand feet above. Miles away, though, that magical V would glisten with the lowering sun. An hour passed and our goat paths would end. Steve would hug the north shore and I would slither the southern bank, occasionally with success. At one point, I was on all fours ducking saw briers when I spied Steve fifteen feet to my right standing in the open, laughing. We would change position many times pulling through these rhododendron tunnels characteristically referred to as Hells.
It didn't matter though. The late fall chill was perfect for our quest. There are manways and there are bushwhacks. This was feeling more like a bushwhack. There is really only a short window of optimal bushwhacking time in the Smokies. It's the month of November when the leaves are down and timber rattlers have denned. Any fool who crawls these parts in the summer will have some kind of snake story. You need a few days of dry weather too; these creeks also take some time to slither back to the confines of their banks.
As is sometimes the case when things seem darkest a sign appears. It must have been our second hour of creek hopping when we simultaneously spied something man made attached to a small hemlock tree. It was a thin ribbon of plastic; just enough to reinforce our upward slog. We would find but three on both sides of Ekaneetlee creek within a half hour time period. I secretly hoped we would not be using them for a descent. On the north shore of the creek was an occasional abandoned trench that was overhung badly with rhododendron. The south shore was a steeped bank. How many hops? I lost count. The roaring creek drowned all but my thoughts.
My strategy for Smokies Manways is to listen and feel with my feet. Involving brain confuses matters. Of course it makes sense to follow the path of least resistance but that's what gets you into trouble. It requires absolute focus and concentration to bushwhack an occasionally traveled manway in the Smokies, let alone an ostensibly extinct one. You look for upturned leaves. The animals know the way. Steadily, sometimes on your hands and knees, put your face to the ground and smell the way. Having Steve meant we could parallel the trace. When a path played out, we spread apart, making careful your buddy doesn't get far from your periphery. Imagine walking arm in arm except you have twenty feet and can still see each other. Keep walking till one of you hits something. That is the best method for success in the backcountry. It got me and a buddy off Porter's Creek in the dark last year, now it was leading us up and away.
My obsession with Ekaneetlee runs as long as the creek. Since first reading of this secret passage from Carolina into Tennessee, I was consumed with a desire to follow it's genesis from Fontana Lake. Online research was relatively futile. Many had heard or done the shorter Tennessee section but no one would claim any successful attempts of the longer Carolina "trace". There are good reasons for that. These beloved bushwhacking routes are coveted and well guarded secrets. Those who play on them might make you swear an oath of secrecy. I know people who have their own paths in different parts of the park and would just as soon have you pull laurel leaves elsewhere. I could relate. It wasn't looking as if anyone had passed through here in quite a while, though and following one stretch during which I was simultaneously ensnared in saw briers and dog hobble, I convinced myself of the minimal likelihood of popularizing this walk.
Another contributing factor to the obscurity of this particular manway is its geographic remoteness. Unlike more popular Tennessee side bushwhacks such as Porter's Creek, to access Ekaneetlee, you first have to make it to that drainage. For us, it meant a two hour drive to Fontana marina across the notorious dragon of US 120. If a couple hundred curves in eleven miles doesn't do it then a one and a half hour canoe paddle across the frigid channel into the headwaters of Eagle Creek might. Assuming the former didn't turn you around, a quarter mile backpack to base camp and all the creek crossings I've already mentioned could. It's not really a day hike.
Hour three found us at the confluence of a creek running in from the north which appeared to be a drainage off Little Grill Ridge. From what I remembered of the topo map, climbing would start here for certain. In the shadow of Hurricane Mountain I crawled through rhododendron following hog wallows. Sometimes a bear scratched tree would pop up along with other signs of their passing. How those Indians knew it was a low point along the spine of what now is the Appalachian Trail, I will never know. Ekaneetlee is hick for Egwanulti, which in Cherokee means "by the river". We were by their river, in their river and climbing their river. Frodo, er Steve, was unaffected.
We pulled ourselves through tunnels of rhodo and dog hobble. At hour four we paused to measure the lowering sun. Steve gave me that look of desperate times. The AT ran one of the ridges ahead; did it circle around this hill to our right? It was worth a shot. We hunkered down and lunged up, pulling small saplings from their roots. A few more feet and that blessed trail would have to appear, like the ring. As I crested that razor ridge it was obviously not to be. I've been guilty of magical thinking before. Descend we must. Get back into the creek and hop and surf rhodo. Muscle our way into the setting sun.
A month earlier I had found myself in a similar epic over on Beard Cane trail, also in the Smokies. We found an unmarked manway that looked as if it might circle around back to our campsite via private land. We inadvertently did 22 miles that day as our gamble resulted in a complete 180 and retracing of steps back to Cane Creek. Later consultation of the maps indicated we were off by a quarter mile from the "magic" shortcut we sought which would have eliminated eleven miles of walking. A one pm return to camp awaited us where friends were laughing about how much longer they could keep their fingers off the cell phone before contacting the media. (which is more amusing than say, the Park Service)
Hour five was grim. It was 5.20 pm and our creek was but a trickle that I waded with squishy boots. Steve hopped back and forth. For once, I had the advantage since abandoning any notion of staying dry six hours ago. That V in the gap was suddenly upon us as we rushed forward pulled by the promise of a trail. As the gap eventually leveled and ultimately began to drop across the invisible state line, so did our spirits. Sunset was fading into the lights of Maryville as we descended a bit more. We were now in a patch of mixed hardwoods having entered another dimension of mystical forest. Fanning out to hit that trail in the remaining light, we simultaneously stumbled into a flat stretch. We were on the A.T. The ring was ours for good. Steve resisted the urge to kiss the ground as the winds from this height took my breath. It was cold and my boots weren't getting any drier. We had miles to climb up to Doe Knob so we could immediately lose all that elevation by then descending back to camp, eight to be exact. Our elevation here was 3842 feet. We began that morning at Lake Fontana, 1760 feet and none of the climbing was done on any real trail.
Our return was best described as dark, undulating until the Gregory Bald trail trail terminus, and interspersed with mirages. Steve spied a campfire that was nothing more than a visual created by alpenglow filtering through beeches and birch. I would have mine a few miles later after we dropped back down into Lost Cove via one of the steepest maintained trails in the Great Smoky Mountains National Park. It was a gigantic lizard on a log when we resumed our crossings back on the Carolina side. Steve reassured me that it was just a broken piece of bark. It could have just as easily been Gollum. I was strung out in the hills again.
Pausing after the gigantic drop off Lost Cove, we took our only break of the 11 hour day. I asked to sit on a log for a minute at campsite #91 where Coldspring Branch met the larger portion of Lost Cove creek. It would be our first break of the ten plus hours. Something about that spot has always given me the creeps. It has an eerie feel even during the daylight, which we had run out of five hours ago. (Later, as I related our adventure to fellow backcountry enthusiasts, everyone seemed to mirror my sentiment and relate their own sensations of being watched there) I sat for only a minute and rose to finish our last mile into campsite 90.
A warm fire and pleasant company heralded our late return. A cadre of Southern Highlanders circled the fire pit replete with stone recliners of Eagle Creek we named Sithenge years ago. The temperature was in the high thirties here in stark contrast to our frigid time along the state line of the A.T. Ekaneetlee had worked us into a fifteen mile epic that in this case ended successfully. Ten hours and 5000 feet of total elevation gain and loss left us hungry. My feet were stripped and all clothes abandoned as I dove headlong into a sleeping bag and the promise of dry socks I had fantasized about all evening. Those 20 minutes were heaven. I was in my Kingdom, relishing the smell of dry wool in the evening.
Steve hobbled out to the fire while I lay naked in my bag rubbing the wrinkled skin of my feet together. We hadn't taken any significant break in over eleven hours. This was worth it all.
Needless to say, our group was less concerned this time. They have grown to accept my late arrivals. As "Frodo" drug himself over to the warmth of the fire, I stumbled over a bit ragged and, as Mike McMurray commented, "as beat as I ever saw John." He was right. We were dog whooped and happy as hobbits back in our shire.