The Big Fodderstack Quest
Feb 7-8, 2009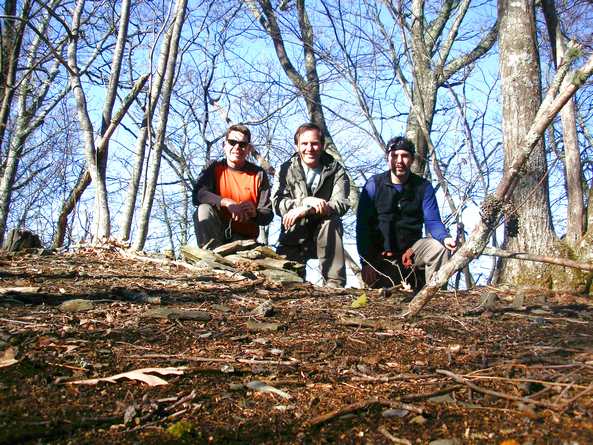 The three summiteers atop the Big Fodderstack.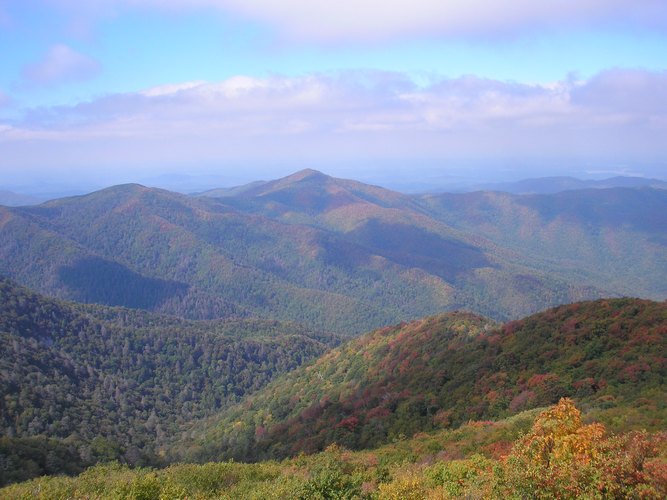 In case you are wondering what the Big Fodderstack is, here is a picture of the mountain from the Hangover Overlook two years ago. It is the prominent peak in the center. It became a quest for us after staring at it for all these years. Sally Dumplin plotted our course which took us up through Citico creek. We turned off the Doublecamp road and began our ascent of the Mill Creek Trail and its 2500 feet of altitude gain.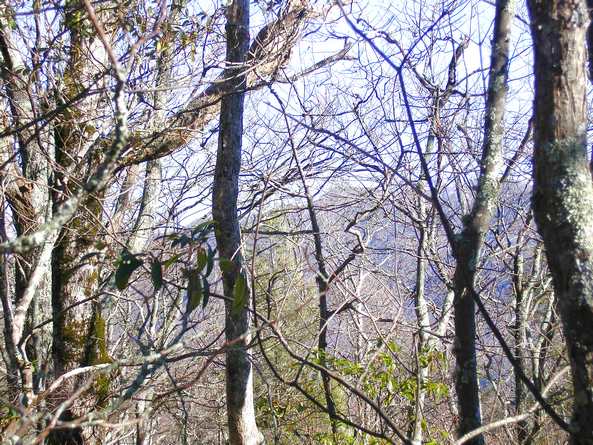 This is the Hangover from the Fodderstack Summit. It is the faint outline of a nose in the middle of the picture.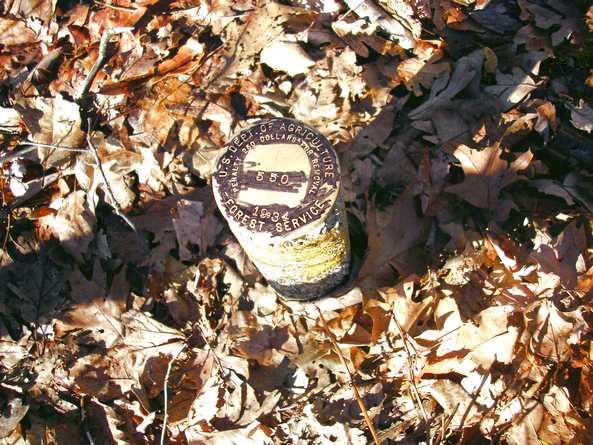 The Summit Marker. It is almost 4900 feet, about the same as Gregory's Bald.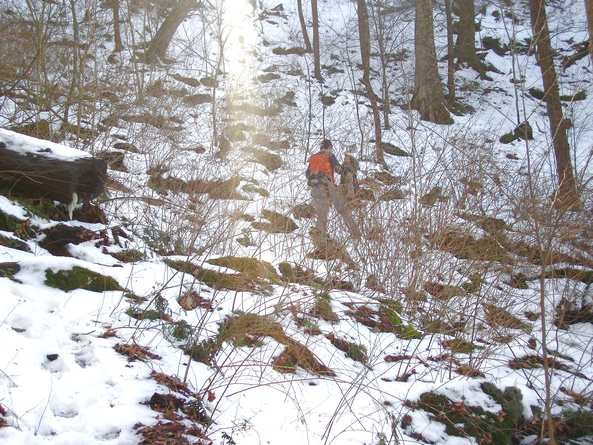 Dave ascends from camp the extra mile to bag the summit.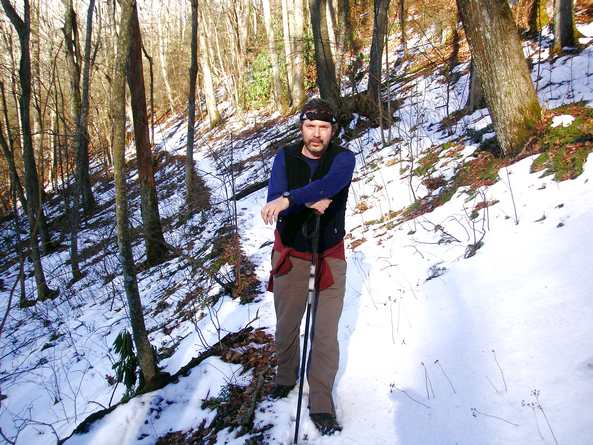 Grady wonders if this trip is really necessary.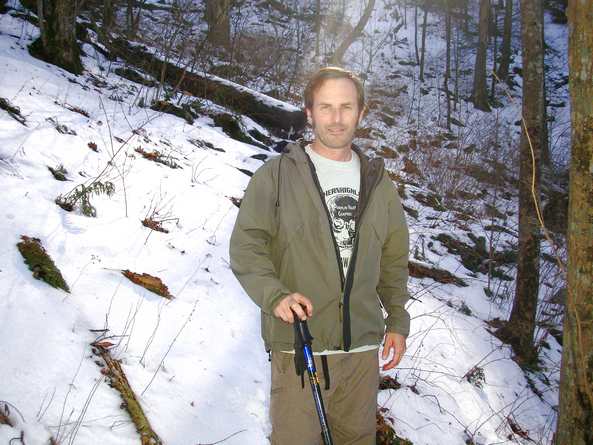 I assure him that it is and will use this Grady Prod to shock him onward and upward despite his protestations about lack of mountaineering and self arrest training.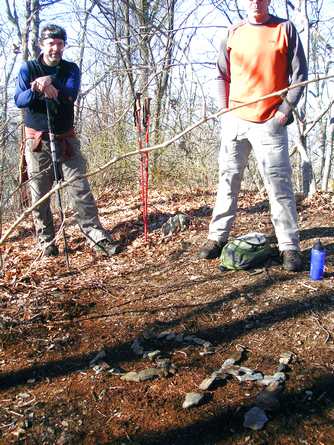 The summit was on the sunny side so we built a rock cairn to memorialize the event. Here, Sir Edmund Dumplin allows Tensing Grady a few minutes respite before hauling his daypack down through the bushwhack that deposited each of us there at approximately the same time. The actual summit was off trail, so we each ascended respective routes and converged (almost) simultaneously.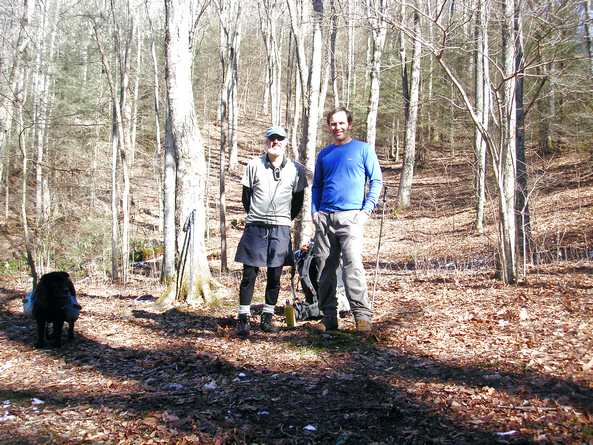 This, ladies and gentlemen, is Mr. Tipi Walter. Let me tell you a little story. Last year, when the Hangover Massacre was discovered, it was largely due to this man. Ricky Bobby met him on the Hangover in spring. Tipi is a living Nantahala/Citico/Joyce Kilmer legend. This man spends more time in the backcountry than any human being I have ever known. We had corresponded via email several times about legislative and beauracratic action. Tipi spends 12 days or more out hiking with his dog, Shonto, I think. He ran into us as we were setting camp and decided to spend the night with us. He says that he hadn't taken the Mill Creek Trail in years. What a coincidence. I knew immediately it was Tipi. He hadn't seen people in days and was likely starved for company. He recognized the Outlaw Hiker logo. We really enjoyed his company. He is a wealth of information. Considering that we rarely range outside of the Smokies and he rarely takes this off path trail, pretty cool deal.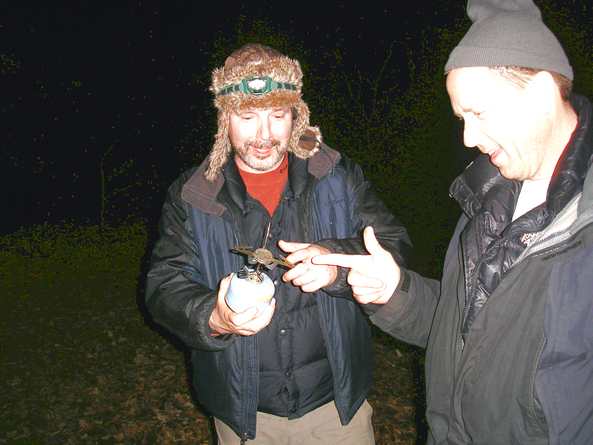 Grady got a new stove. He let us know about it every ten minutes or so. It is a nice stove, primus, in fact. George showed up at Dark thirty, by the way. It is a rare out of Smokies sighting of this creature. Glad BC George could attend a Citico Creek watershed event despite not being able to summit the Fodderstack.
Somehow, it looked better on my camera than here. The moon was full, though.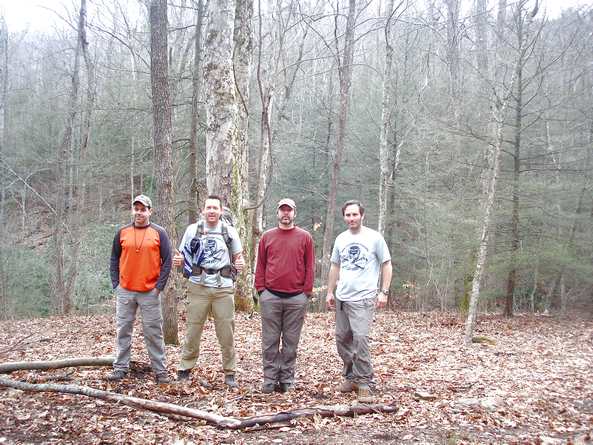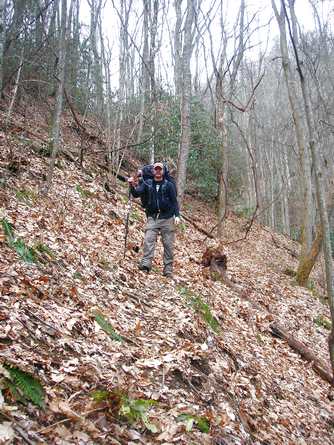 This is the goat trail we descended to complete our loop. It is called Crowder Branch and goes through the creek as it descended sharply to Doublecamp Creek Road.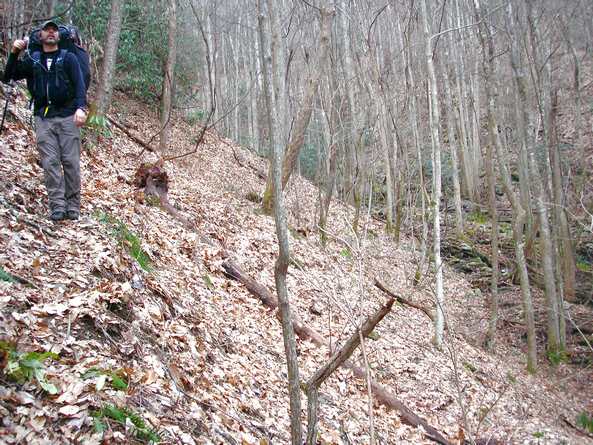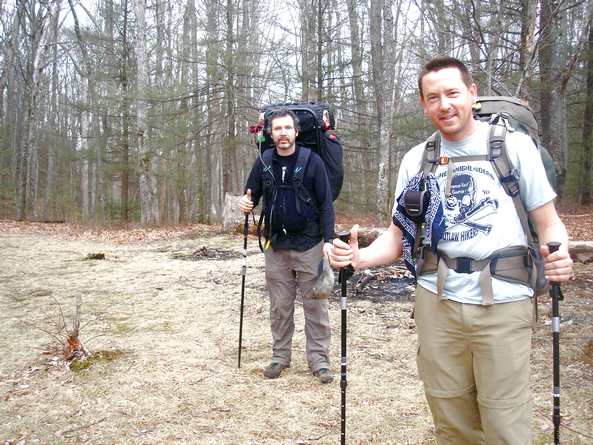 This is a nice new campsite atop Crowder branch that will be revisited, I assure you. It is at the junction of Crowder branch and the Big Stack Trail.
Trail Stats: 3 miles and 2500 feet up to Big Stack Gap. 1 mile and a bit of bushwhacking to the Big Fodderstack. Sunday, Big Stack Gap to Crowder Branch for a total of about 4 miles, give or take. The Crowder branch is quite narrow and more like a creek walking bushwhack. Then when you arrive at the road, there is a 3/4 mile walk back to the vehicle. Well worth the effort. A superb Southernhighlander experience topped off with a victory luncheon at Panchos in Maryville. (Does this get us a discount on food in the future?) Ole!