Good, Good Friday 3/29/13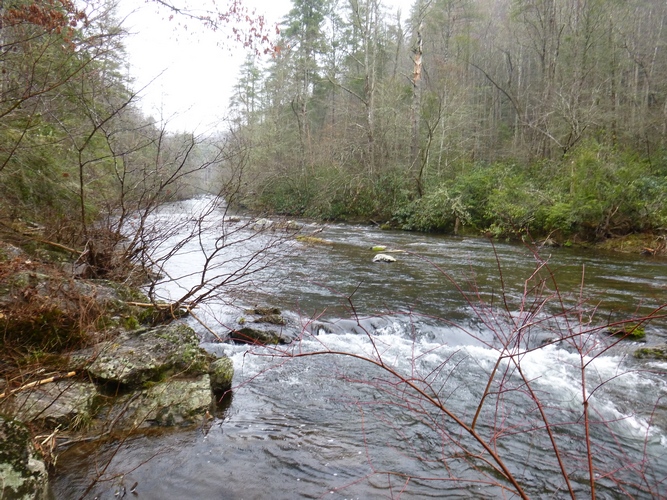 Okay, so I am back in the Smokies. How did it happen? Simple. Jerky Mike and Dave paid my fee because they didn't want to be dragged all over the world to avoid paying the fee. And I relented.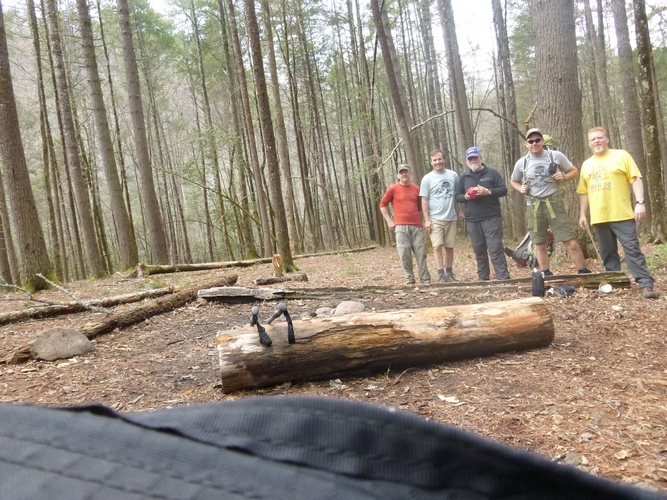 Who was there? Super Dave, John the Red, Sally Dumplin, Jerky Mike and yours truly. Little Bottoms was a popular place. Why? Because quite a few backpackers couldn't make the crossing at Hannah Mountain. The new fee system didn't mention that it is likely the most treacherous crossing in the park and the result was a lot of people camping at 17 who weren't registered for that spot. So much for their implications that the new fee will somehow increase safety and trip planning.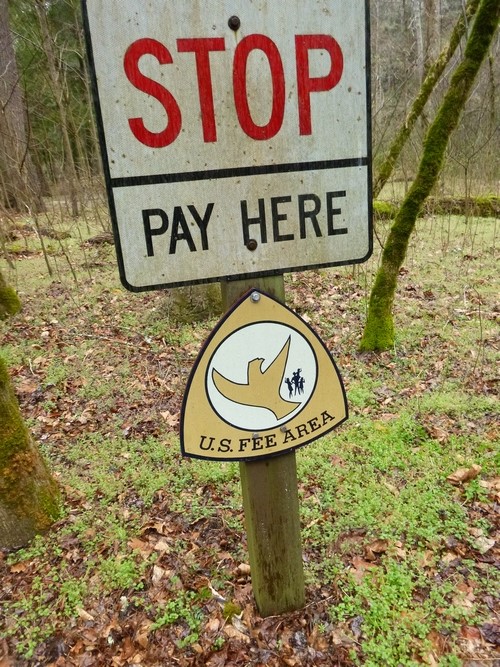 Tell you what else this new fee didn't stop.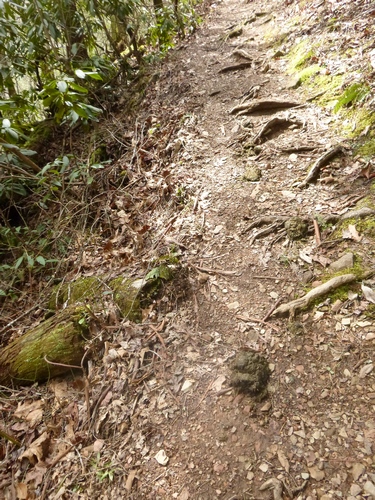 ....Horses on Little Bottoms Trail. That trail is a hiker only trail. So much for the fee stopping backcountry abuse by equestrian traffic that doesn't have to pay a fee.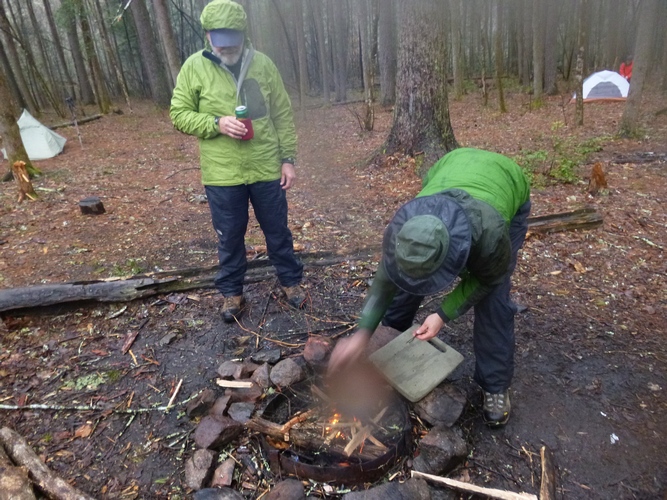 We prevailed and managed to have a small Highlander style fire despite the persistent drizzle.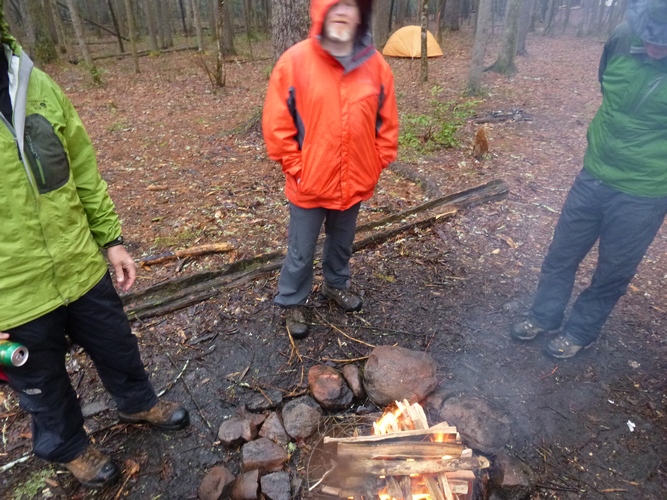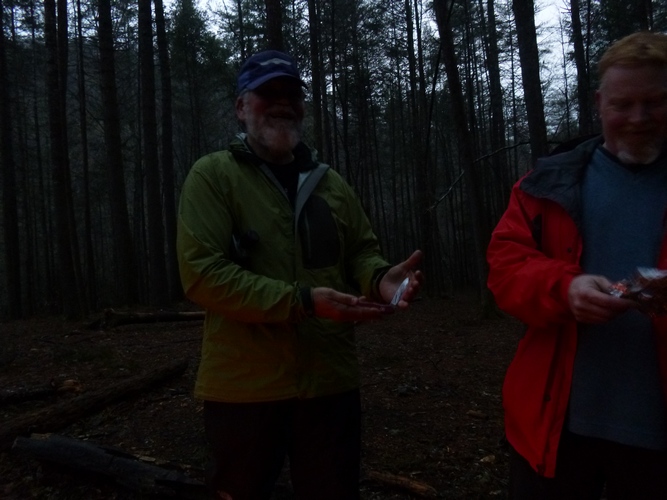 Something lost was returned to its rightful owner after two years in absentia. It is Jerky Mike's knife that I dropped at Eagle Creek. It made the rounds vis a vie Jeff County and Danno finally ending up in the hands of Red who delivered it to a relieved Jerky Mike.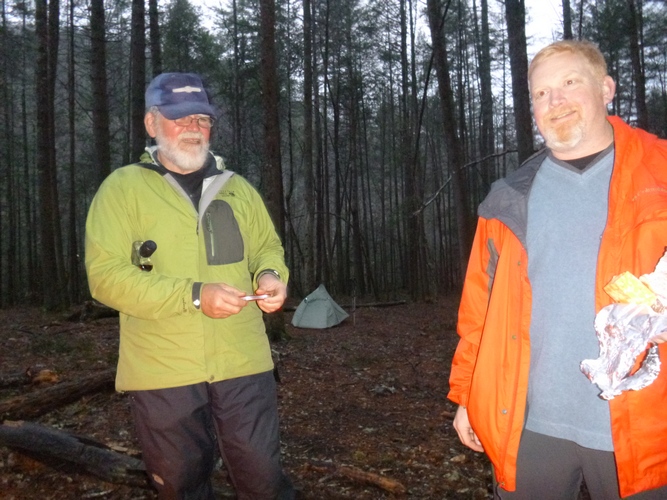 Red says, "I'm just tired of carrying that heavy thing around all the time!"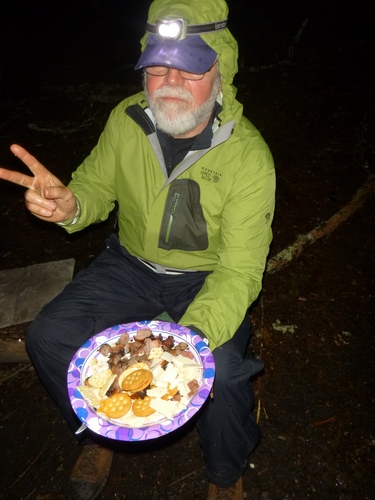 We soon put it to work on the meat and cheese board. How delicious were those filets and cheese!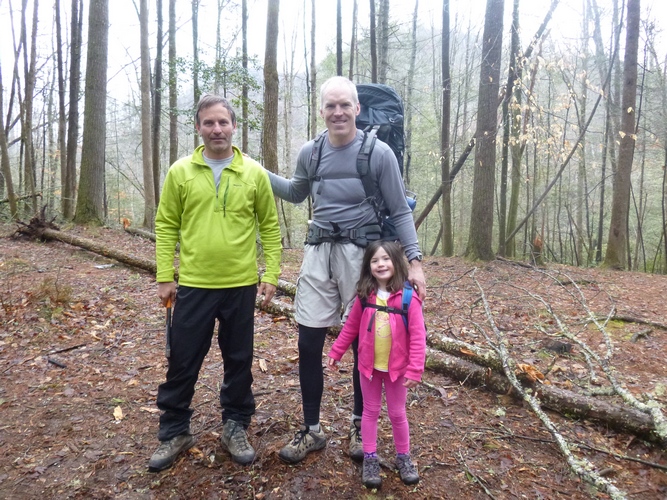 And who do I encounter the following morning camped not far from us? Its none other than Southern Forest Watch member and financial contributor, Tom Johnson. Tom was up from Georgia with his daughter. It was great to see them both. That little gal is a real trooper to keep such a good attitude out there in dubious weather. Tom and I had never met but corresponded frequently. He is an active participant in our daily discussion on the www.gotsmokies.ning.com blog.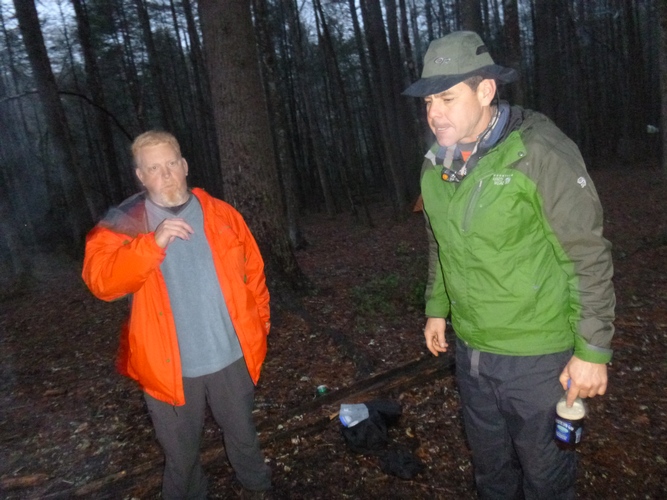 This is Sally Dumplin. That is the side of Sally Dumplin's head. A hatchet grazed the side of Sally Dumplin's head. I had to go upside Sally's head with the hatchet. I hated to have to do it. You wouldn't believe the story if I told you what happened with the hatched going upside Sally's head. But a hatchet did go upside Sally's head at a high rate of speed, I kid you not. Good thing Sally has good reflexes. I am now banned from hatchetry for a while. I am glad that Sally still has the side of his head. It could have turned Good Friday into an ugly Friday real quickly. Just thinking about the hatchet whizzing by his head gives me the shivers. It was an accident. I was not trying to get even for the time he cut my femoral artery with the hatchet. I promise. Dave was unharmed.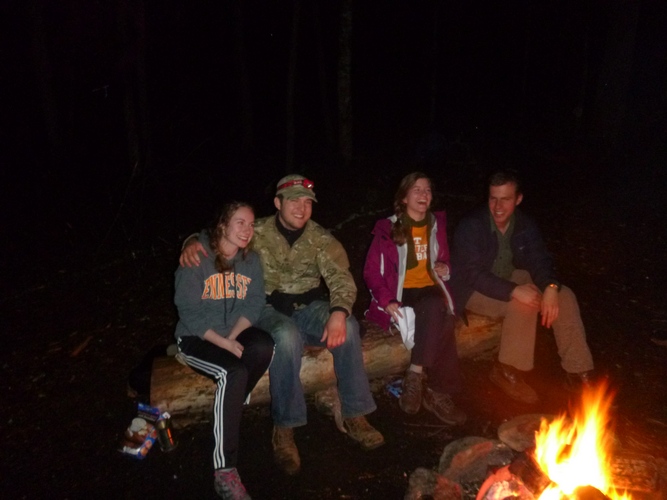 These are our new coed friends from UT. They joined our fire and festivities. We enjoyed their company.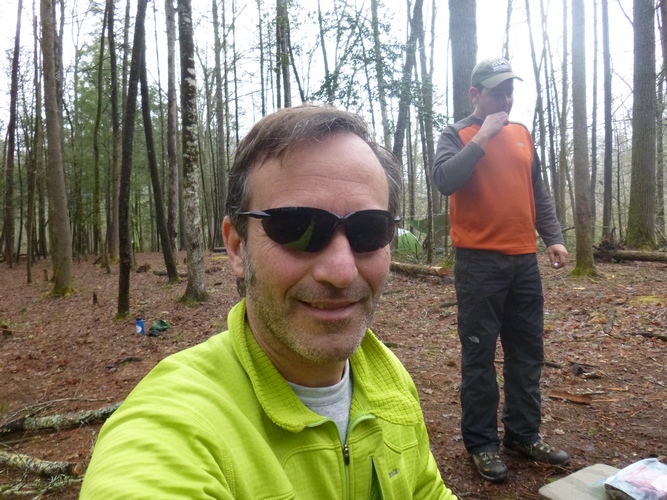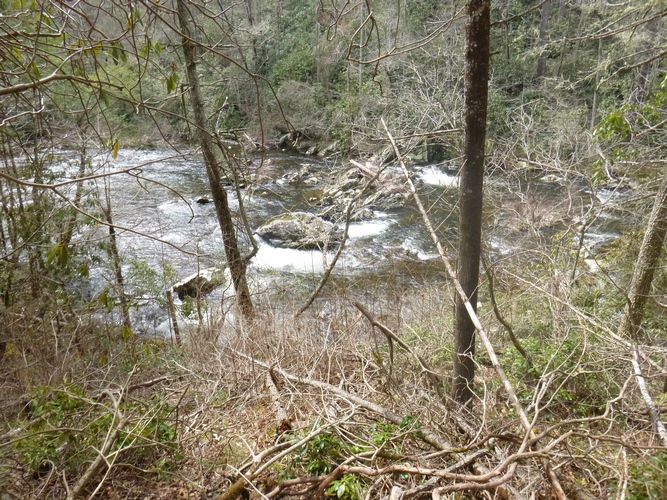 We departed Saturday in much better weather. I had more miles to do on my adopted trails.
After reaching the car at Abram's Creek and passing the 2 uniformed law enforcement rangers who walked to the start of the trail to make sure it was locked and no one was car camping without paying the fee, I embarked for Goldmine Trail and Cane Creek.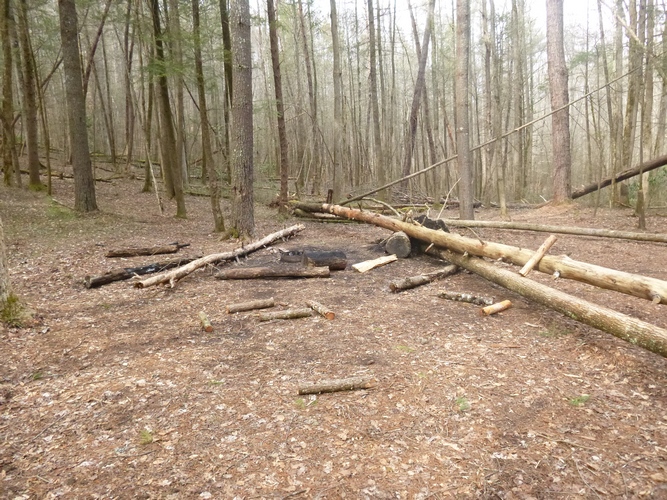 Take a look at campsite 2 on Cane Creek. Recognize this spot? Where those trees lay is where I lay my tent in that spot. The blowdowns in this area are significant. I ran down to the park boundary at the end of Cane Creek and ran back, trying to work in some training with my volunteer work.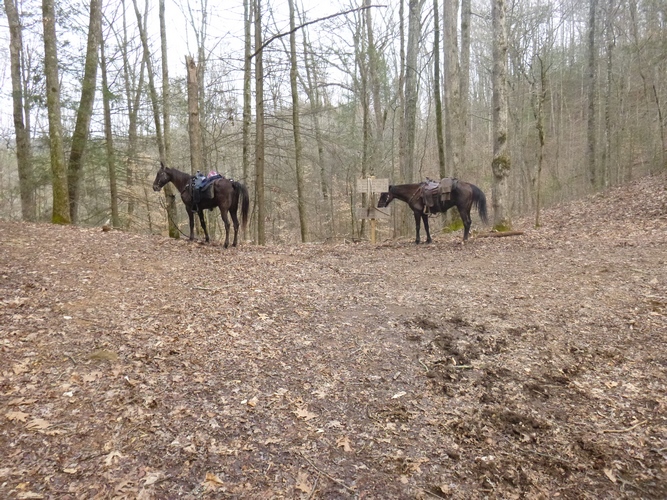 Again, a picture is worth a thousand words, here.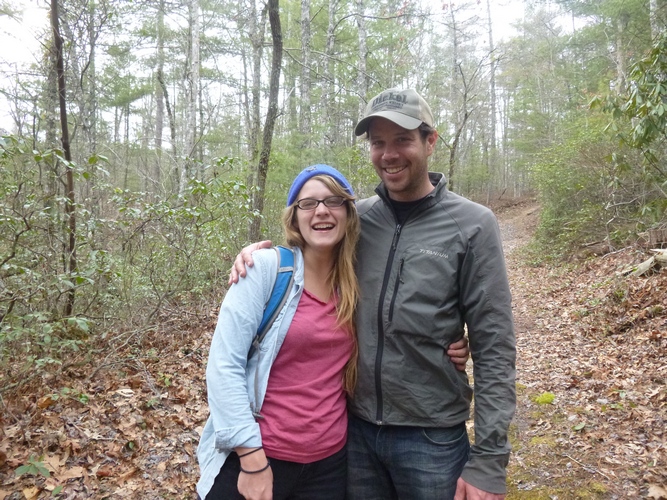 As I came running back up Goldmine trail, whom do I encounter but these two lovebirds, AGAIN! It is Micah and Caitlyn. The strange coincidence here is that I know them, and they were hiking this trail as a result of the map I had given them two months ago after seeing them on the trail HERE. (their pic is at bottom of the page) I was quite sweaty and nasty but we enjoyed some conversation before they continued downhill and I was out to the car. That gave me 10 miles for the day and I was content with my Smokies time.
One last missive before dismissing you for the week. Last Monday, the Knox County Commission in an almost unanimous vote, passed a resolution condemning and calling for a repeal of the Smokies Backcountry Fee. I was proud to be there to speak along with fellow fee fighters, Wendi LesMerisches, Myers Morton, Adam Beal, Erik Gerhardt, Rob Cameron, Dave Skidmore, Blount County Commissioner Gordon Wright and James Locke. You probably are unaware of this because the Knoxville News Sentinel refused to give it any news coverage along with WBIR. Our friends at WATE and National Parks Traveler did cover this because it is news. Not only has Knox News refused to cover this controversy any more, they have removed online comments from people, multiple people, who questioned why they have not covered the story. As a matter of fact, there have been letters to the editor of the KNS asking why that are similarly not published. Do you think that there may be some behind the scenes maneuvering on part of the Sugarlands and and unnamed Maryville Senator? Naaah. Of course not.
Here are links from the real media that gives this movement ear. Be sure to patronize them and let those other media know what you think of their suppression of this message. So far we have Swain County, NC, Bradley County TN, Blount Co TN and now Knox County Tn who condemn this fee. And Knox news doesn't think that is a story worth telling. Don't even get me started about WBIR and the Sevier county rag.
Great Smoky Mountains National Park | National Parks Traveler
Knox Co. commission supports banning Smokies backcountry fee
Oh, and it appears as if our own Will and Jenny Howe were involved in an Appalachian Trail rescue of some sort. I am awaiting the complete story but here is a picture they forwarded.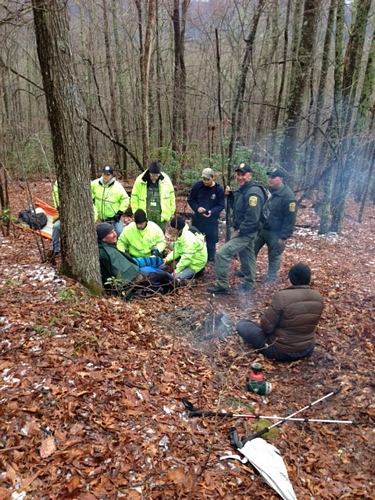 Can't wait to hear the rest of this one. It has something to do with someone breaking their shins in the National Forest.