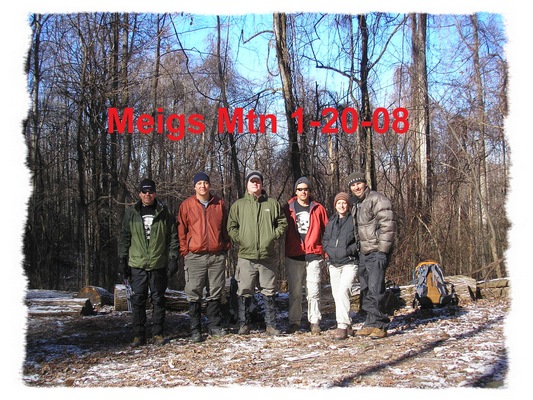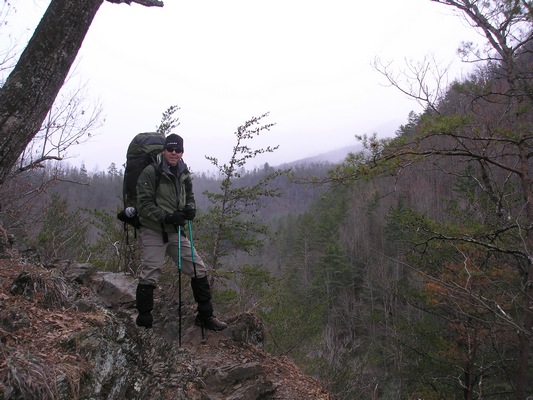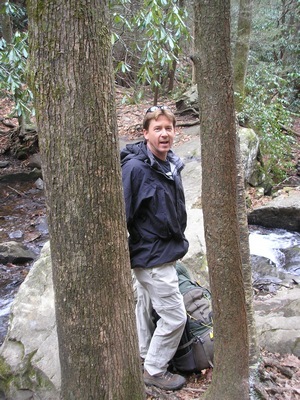 It all started as a simple hike up to Meigs Mtn.
We wanted to see the Falls, maybe even frozen.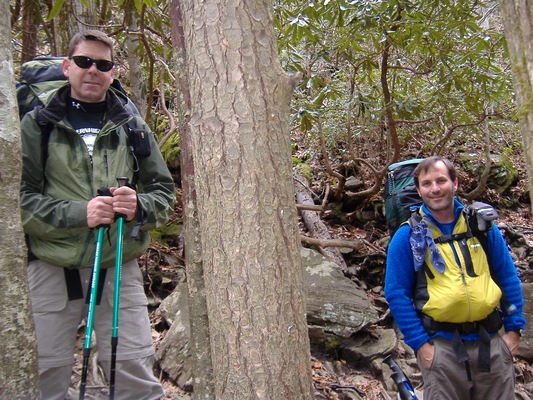 Someone decides to undertake a bushwhack up to Campsite 19 at Meigs Mountain. Dave and George do not argue at first.
Then, their attitudes change somewhat.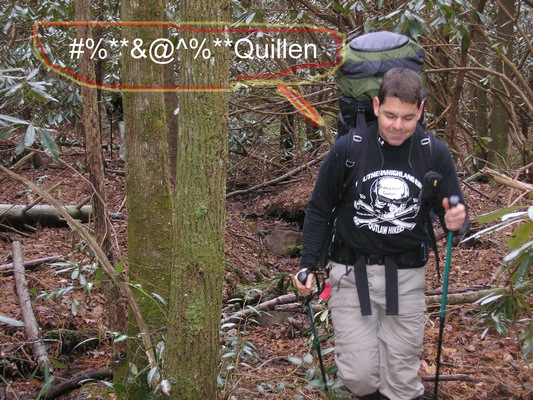 After another hour or two, their attitudes change dramatically.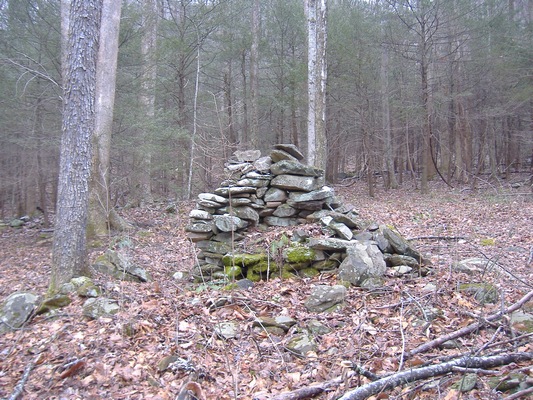 Somewhere way off in the middle of nowhere, someone homesteaded, most likely because they were bushwhacking and veered off trail. Dave begins to think this is a good place to camp for the night.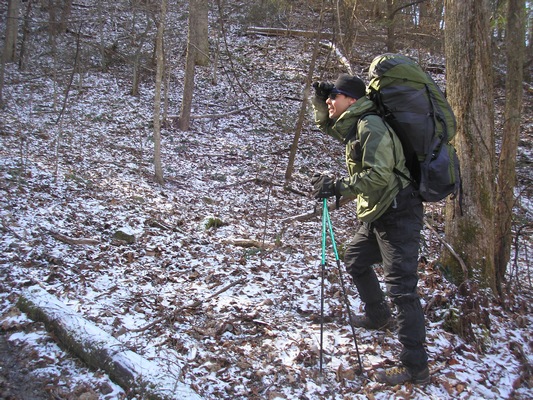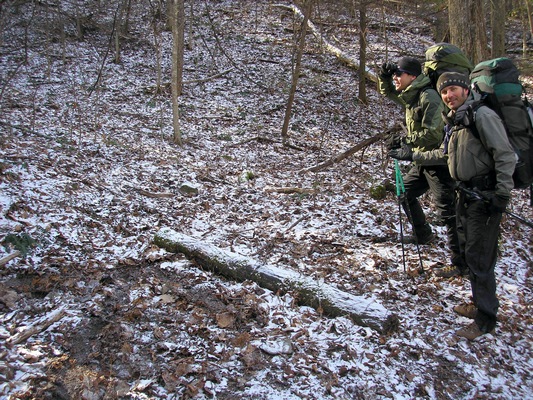 He continues to look for a "real" trail. I show up to reassure him that we will find a "real trail", the signs look promising.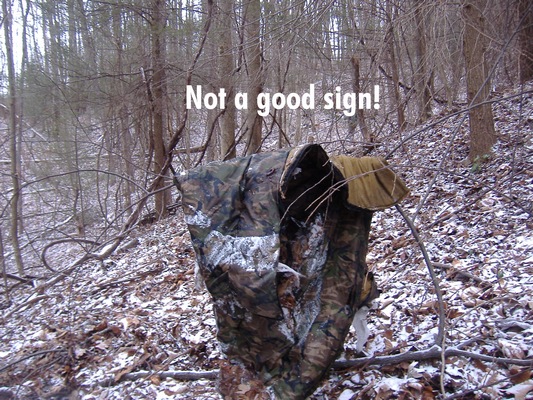 But then I found this, minus the frozen body.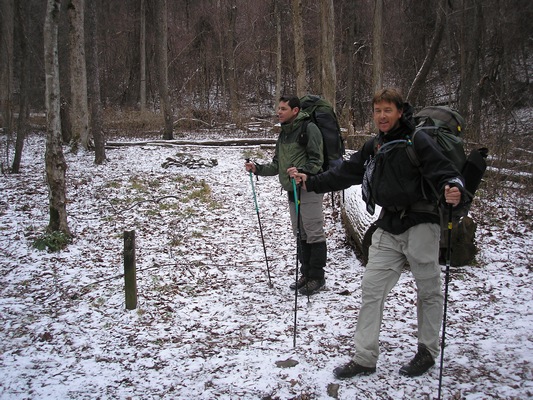 George cusses Dave, then me. Eventually, after only about 4.5 hours we intersect the established trail but aren't exactly sure where we have popped out.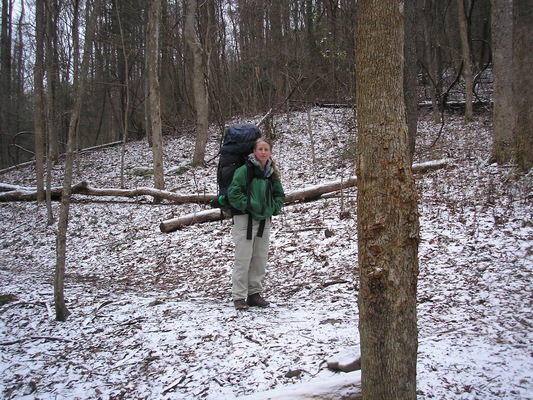 Then, look who we run in to. I think we will live.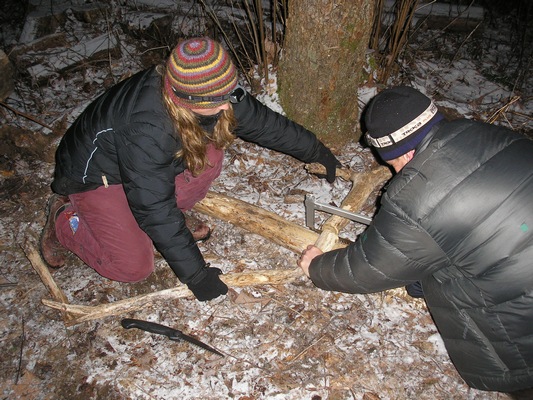 Now it is time to warm ourselves, the temp is dropping.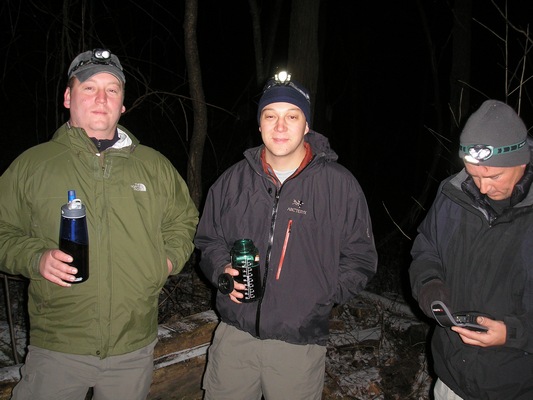 Then about 8.30, the brothers Loveday arrive.George consults his Global Positioning System to make sure he doesn't get lost wandering from the fire.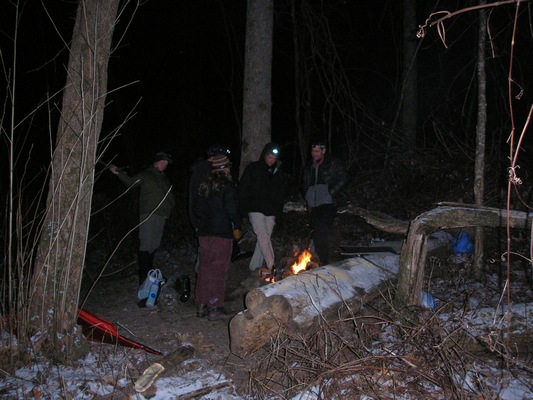 George is so happy to be in a real campsite instead of pirate camping by that old homestead he starts doing the Hokey Pokey, trying to get the group to join in without success. Luke considers punching him like a donkey.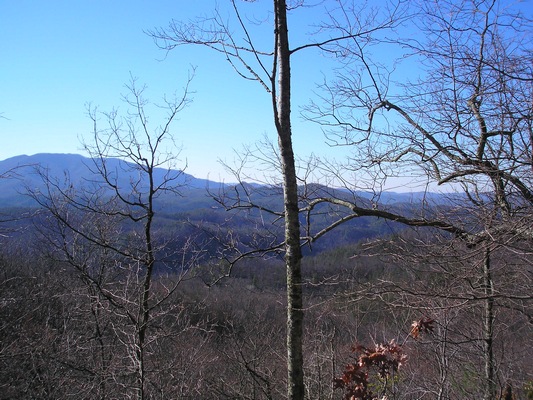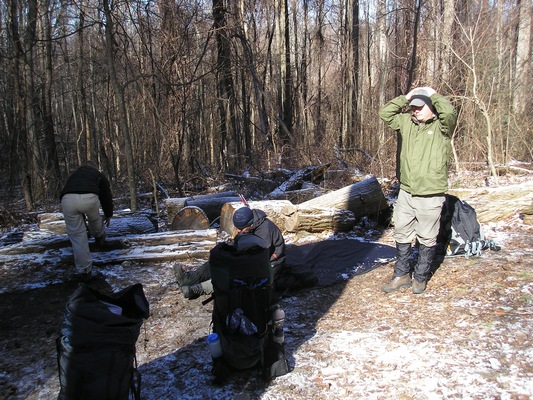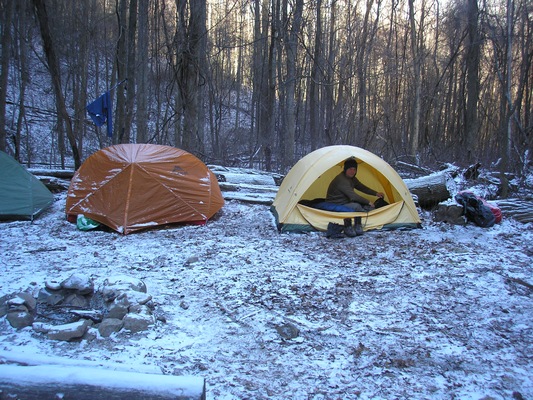 After a night of single digits, they feel like frozen donkeys.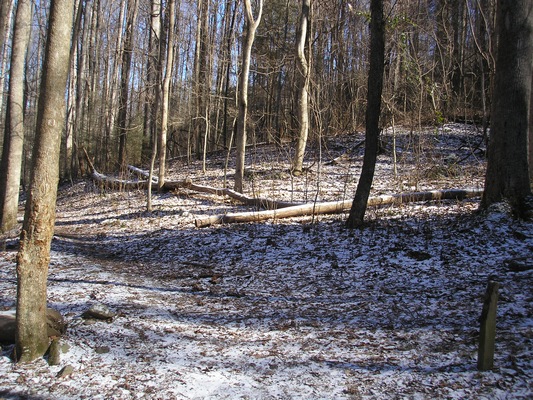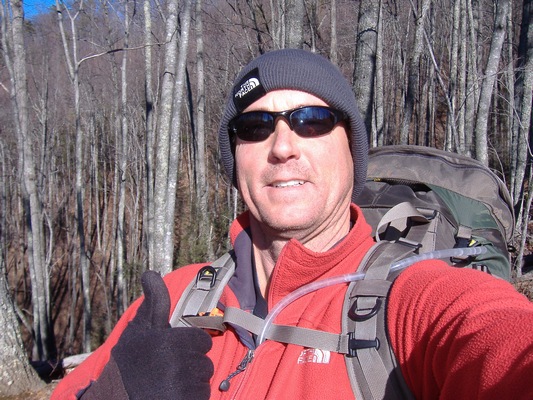 "I am so thankful that John Quillen saved our lives."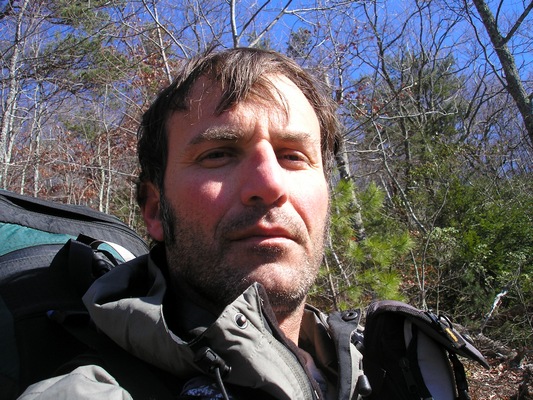 "Don't mention it George, all in a day's work."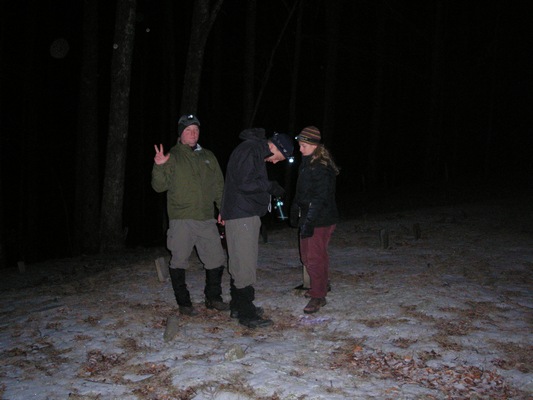 Side trip night hikes to the graveside of Polly Huskey.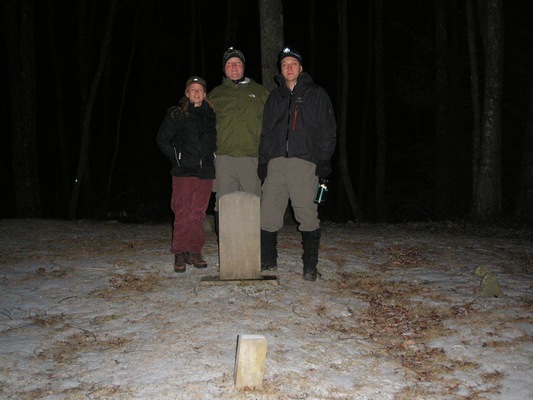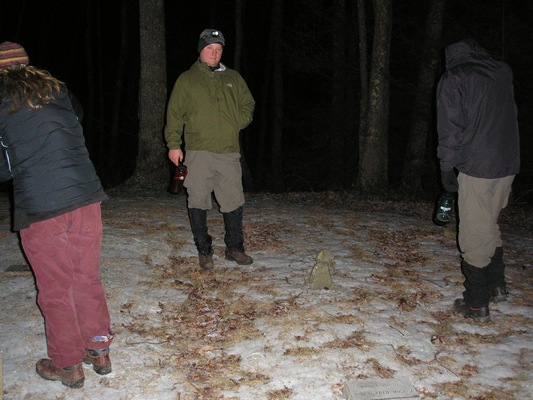 Clint realizes we are standing in a cemetery in the middle of winter in 9 degree weather.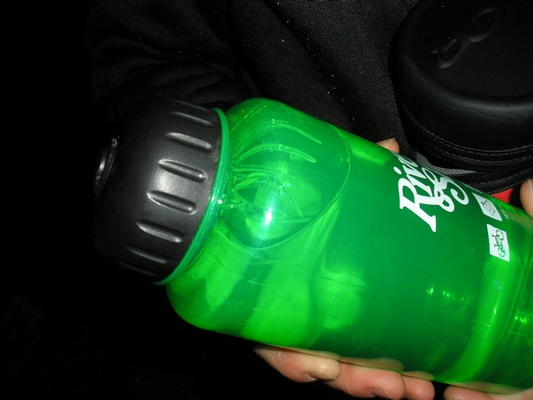 Frozen water, not waterfall.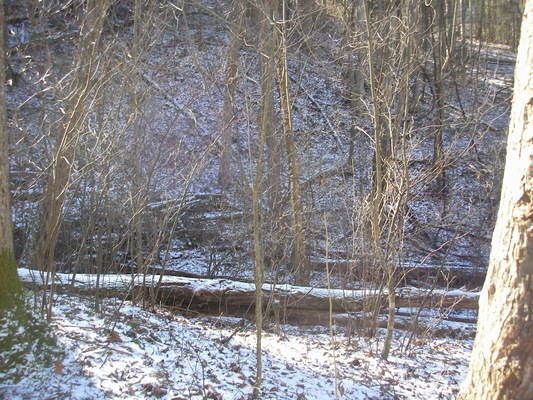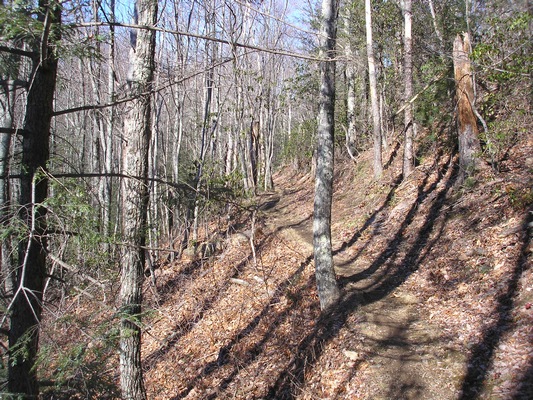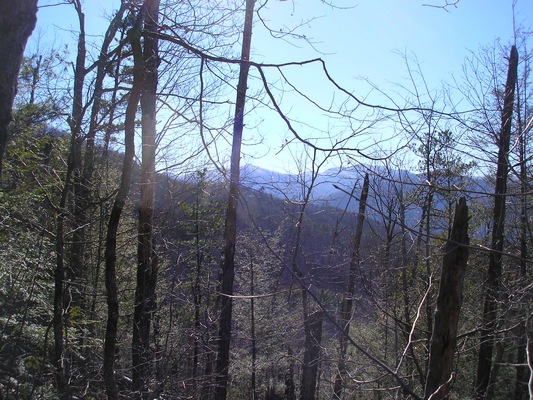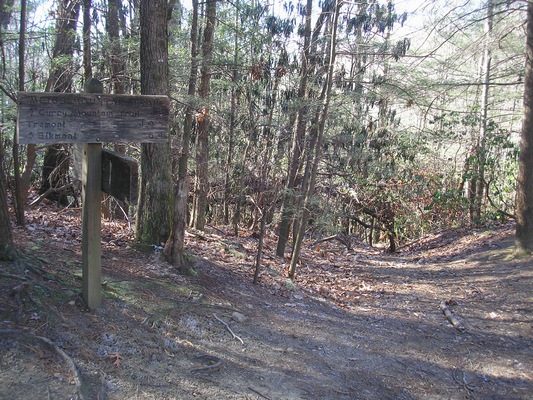 We didn't come out here like we were supposed to but made it about 15 minutes from the campsite as opposed to 1.9 miles. Not bad, huh?
Trail Stats: Spruce Flats Falls manway to God Knows Where. 4.5 hours of uphill bushwhacking through pine thickets so dense you couldn't get through with a chainsaw, rhododendron and laurel slicks, dog hobble and snow, hidden creeks and rocks and George's objections. I'd say we did 6 or 7 miles. We found a great old Homestead, a sleeping bag and new route to campsite 19. It was nice to have Clint and Luke arrive and even a surprise visit from Smooch. Highlanders conquered the Honey Branch manway, criss crossing between it and Spruce Flats sections, I refer to as the 3 sisters as the branch breaks into 3 sections. I'm certain that we crossed them all. It was the coldest night of the year so far and we hiked out via the Lumber Ridge Trail back to Tremont and shuttled back around to Curry Mtn. trails.