Shining Rock, Pisgah National Forest
May 7-8 2011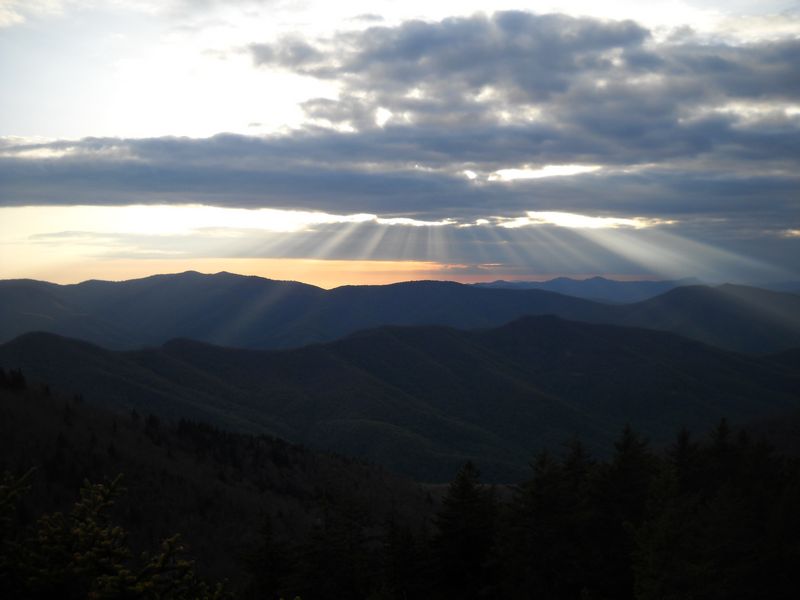 I want to call this one, "Spaceship over Shining Rock"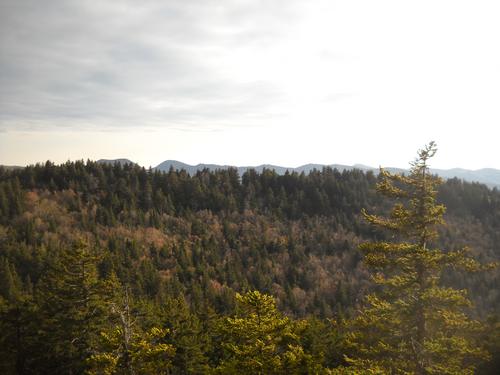 Will doesn't mind what we call it. He is just glad to be here. So is Kevin. Will does think that the Highlanders are a bunch of Momma's boys, though. That's why none of them are here.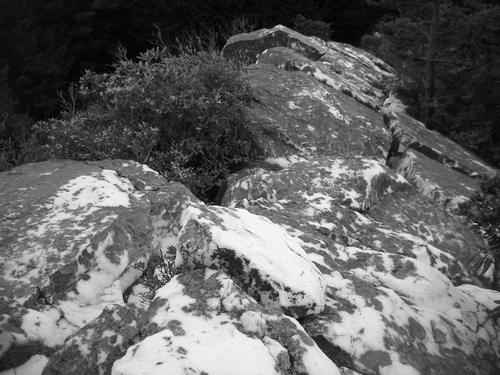 The quartz on the Shining Rock is dramatic, thus giving the name. In the shadow of the famed Cold Mountain, which is less than six miles from this spot, we soaked in the waning sun.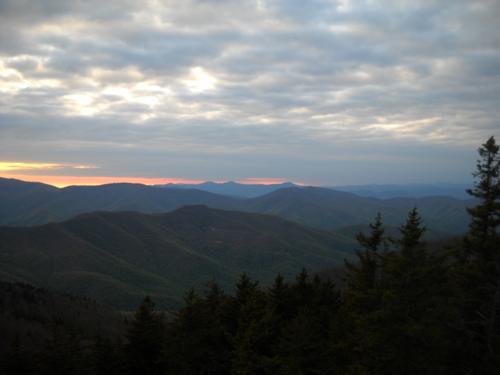 They got tired of me going on and on about the sunsets here. Probably the best I have ever seen outside of a few nice ones on Hangover. The Shining Rock never disappoints.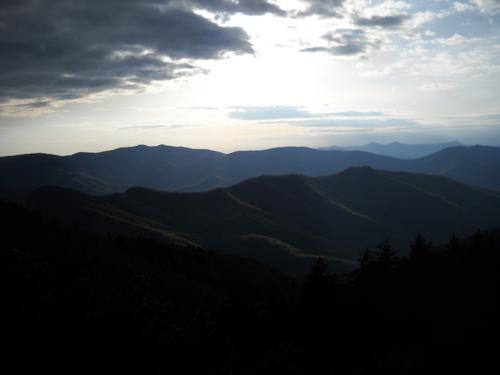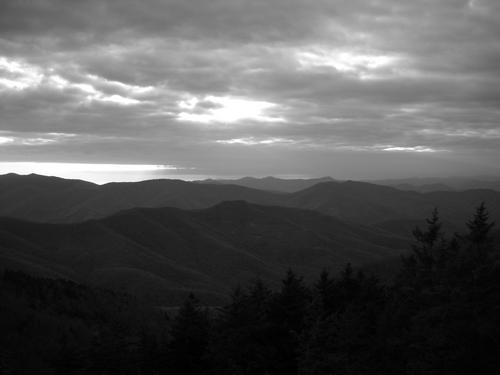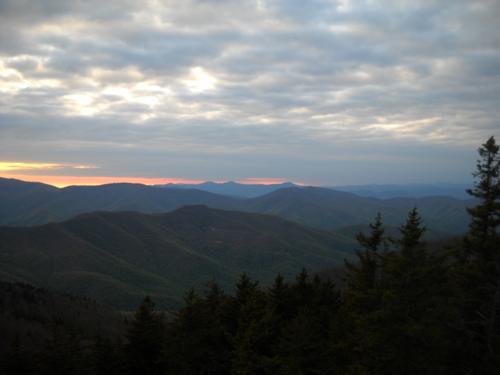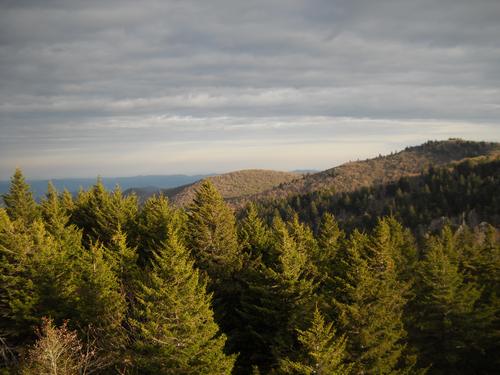 The Balsams seem to be in fine shape. We walked five miles out to the rock, set up camp and busted out to the overlook for hours of ever changing Highlander Television. We were there four at least two hours watching the dramatic scenery unfold before us as the moving clouds cast shadows across the Blue Ridge, alternating between sun and darker hues as the gentle wind swept the skyscape.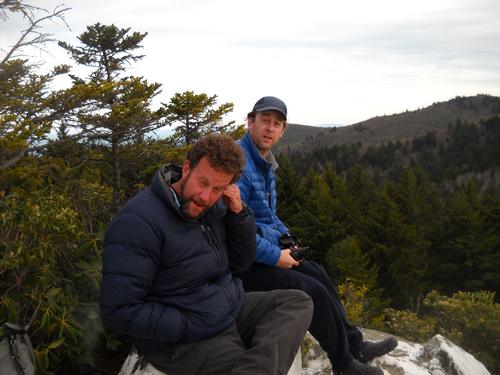 Will gets tired Kevin howling in his ear.
Kevin was acting sort of like a Frankenstein Monster.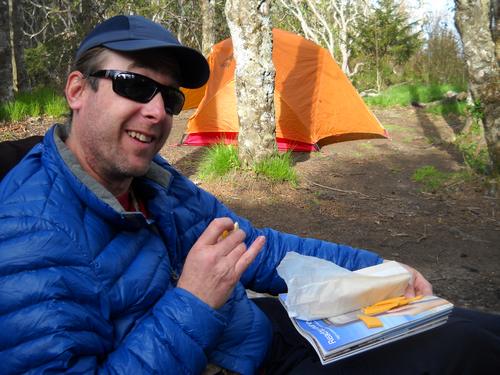 It must have been the Cheese Board. (That is code for a Muir Faction Shout out.) As a matter of fact, last time I was here was to meet the Muir Boys.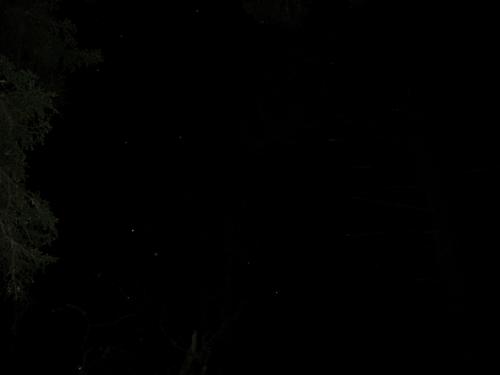 Know what those specs are? Yes, it's SNOW! We had SNOW Saturday night. Cool for May 7th, huh?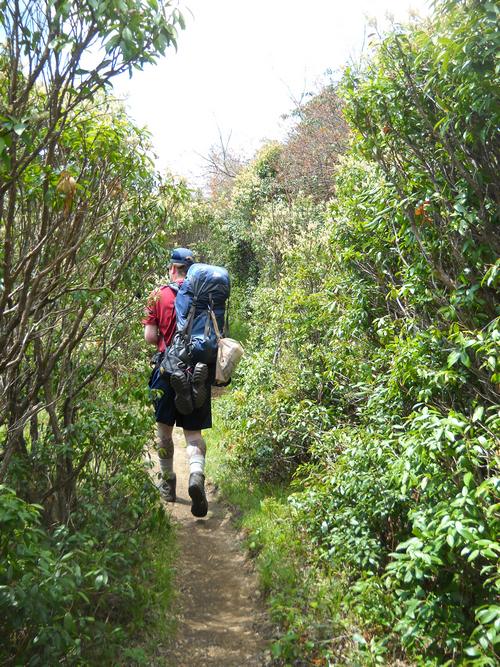 Sunday we departed via the Art Loeb Trail. It is much more scenic and dramatic, crossing the high balds, many over 6000 feet.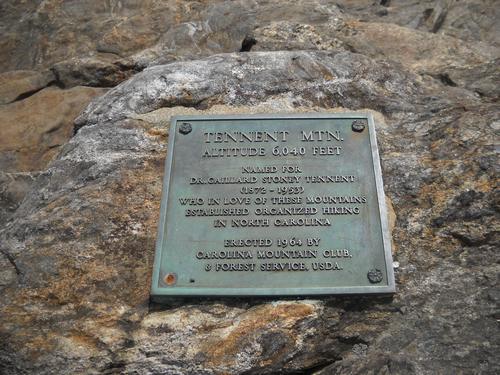 Like this one.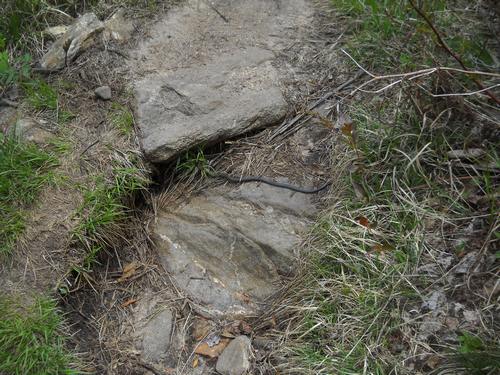 And of course, Stephanie, your weekly snake shot. This particular one appears to be ring necked variety.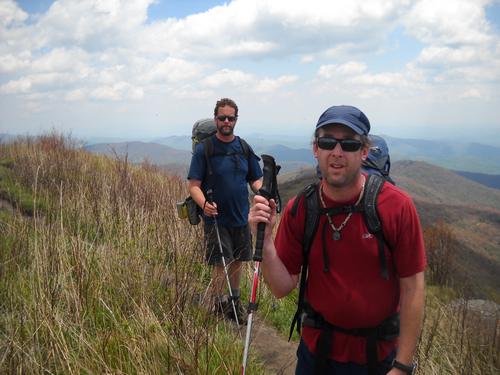 "But do we HAVE to take the hard trail?"
Looking Glass Rock, a popular climbing spot off the Blue Ridge.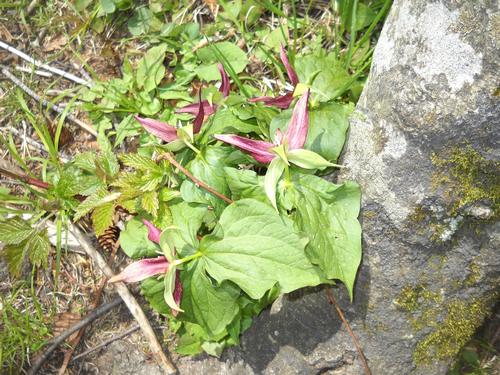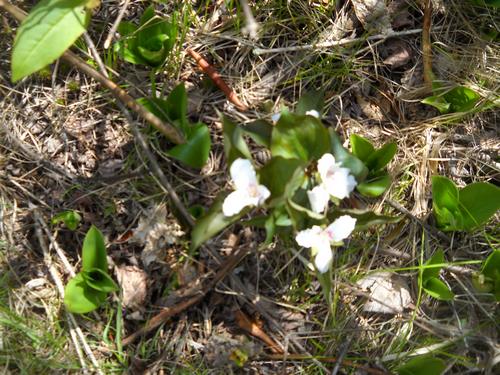 Weekly Sticker shot. Name em and you will claim a free SouthernHighlander bumper sticker.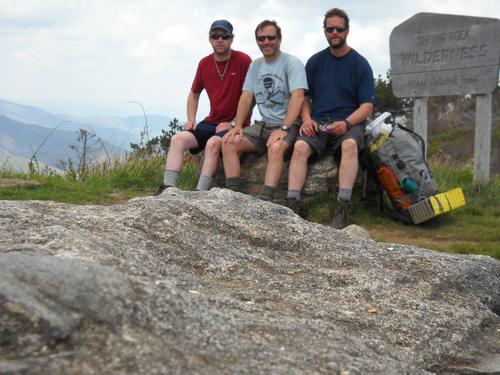 Close sitters, I reckon. Overall, we had an exceptional time in the North Carolina wilderness. The weather was again ideal. I'll take snow over rain any day. Someone suggested starting a facebook page to see if we couldn't talk BC George out of spelunking for a weekend to hit the woods with his old Highlander Brethren. I told them that I don't do Facebook but he could get a nice warm cup of In your Face next time he comes out next Fall. Sally D is cooking up something, I'm certain for next weekend and Jerky Mike promises to get out when we find a place where he can cut something.