Porter's Creek/Dry Sluice Gap Manway
October 21-23, 2011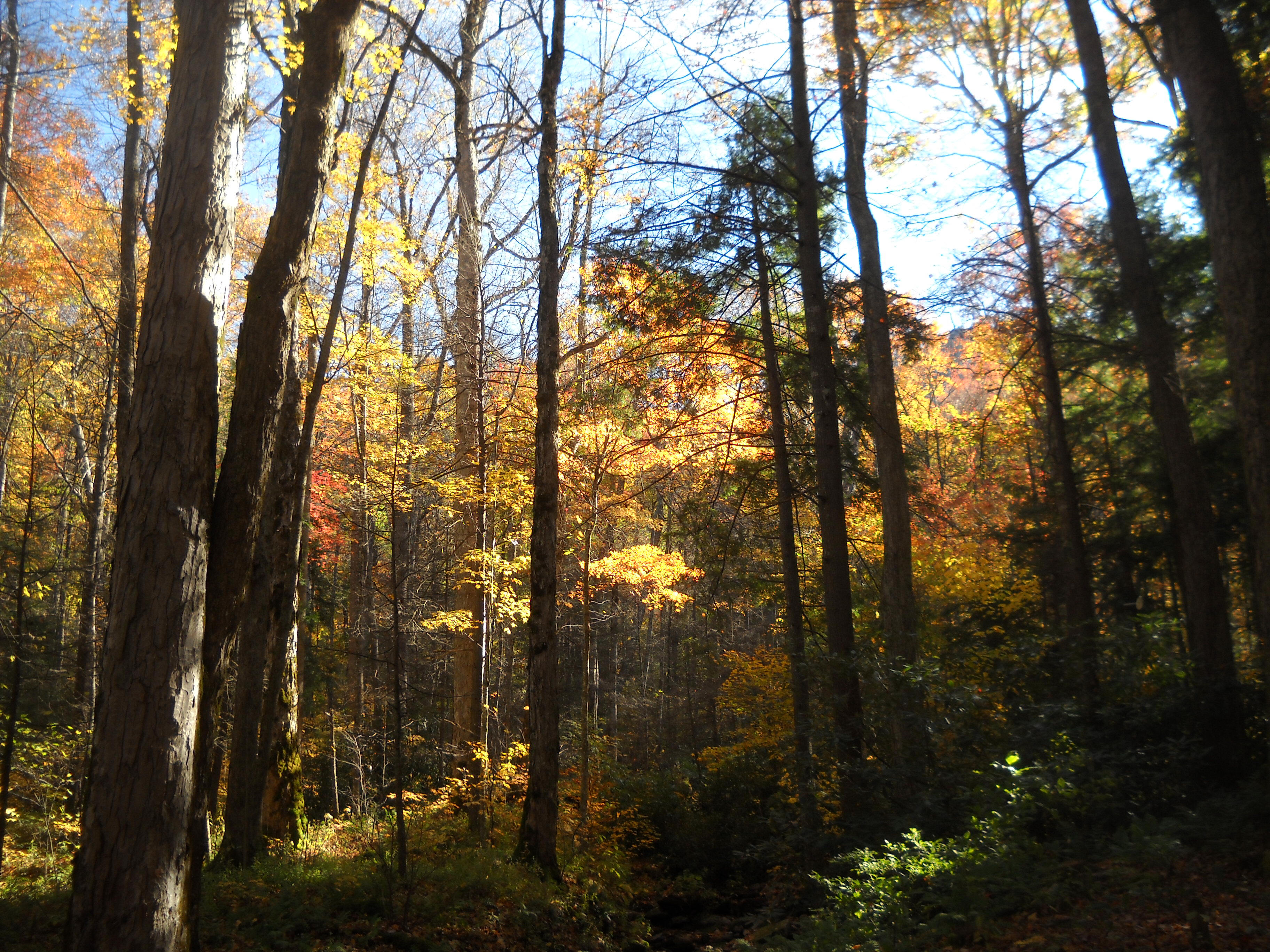 The majesty of Fall in all her Smokies splendor.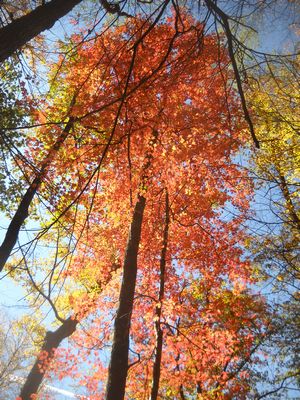 Here in the drainage of Porters Creek watershed we converged this pristine Autumn weekend.
But for one primary purpose, and multiple secondary ones.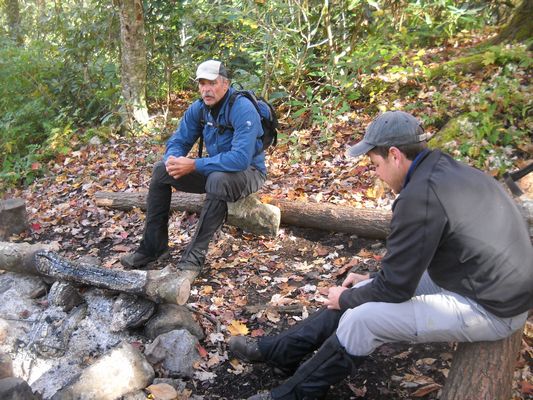 Ascending Dry Sluice Gap to the Appalachian Trail was one of our goals. Quothe Joey as I sauntered into camp well after dark Friday evening, "I love seeing you guys because it means we are doing what we all love." Here we prepare for the rhodo slapping.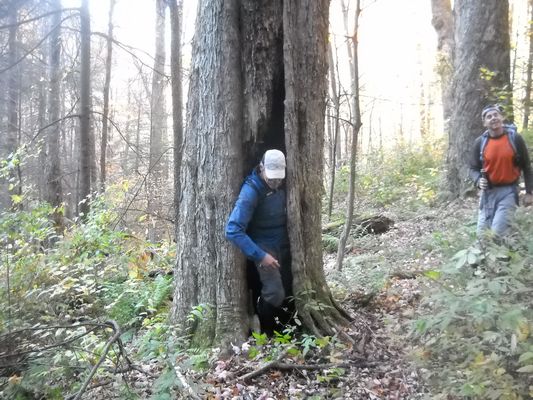 You come across some strange sights offtrail on our bushwhacks.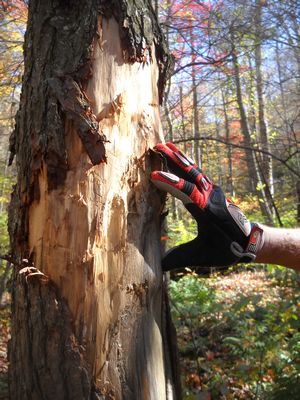 It makes you scratch your head, or a tree, or maybe a bear scratched tree.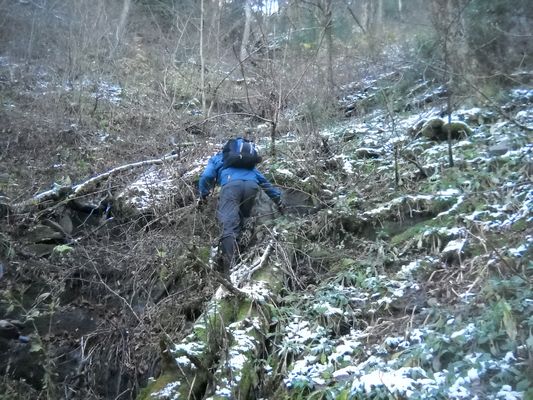 Is that snow you spy? 5000 feet or so is when we got into the white stuff. Dry Sluice Manway is a fairly intense piece of offtrail action when conditions are great, like the last time BC George and I topped out. This year, the midweek rains and snow factor gave Porter's a 9 plus rating on the Buff O Meter. Add endless sawbriers and no handholds for the last 800 feet of ascent and I might consider some type of ice axe next go around. The perfect situation to complete recovery of my frostbitten fingers and toes.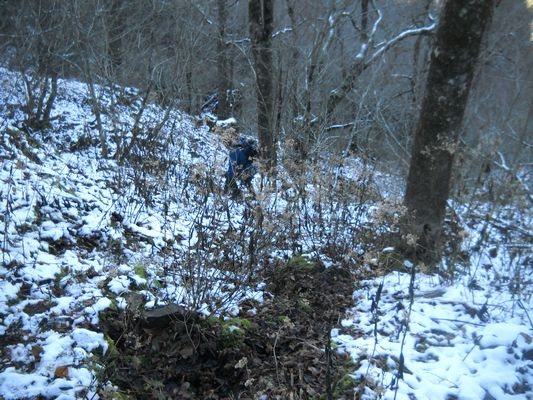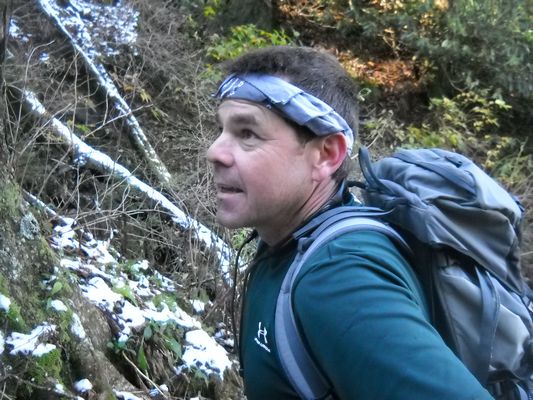 Sally D was pumped. On our last go around, he busted a knee and had to descend. This time, he was a Dumplin on a mission.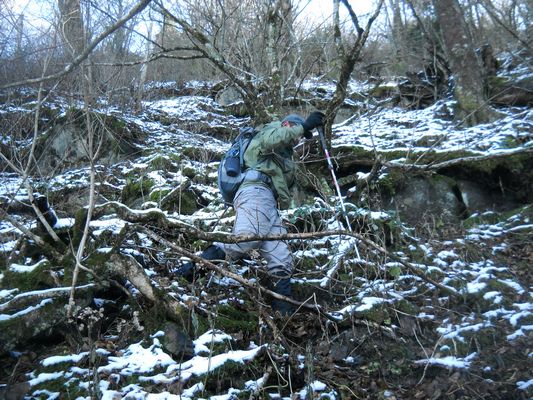 Climbing like a super Sherpa he did. Why? "Because he Liiiked it!" None of us really liked the last part. Okay, it was a bit of a challenge. Coming down was a very different tale. I descended in the dark last time but the slick factor made this trip far more "interesting".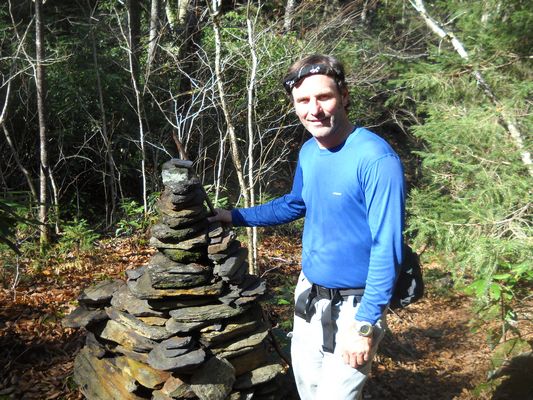 This is but one of the many landmarks lower on the bushwhack. Cairns denote your progress, or lack thereof. Up higher, they are not so frequent. It's difficult to attach level structures to unlevel ground.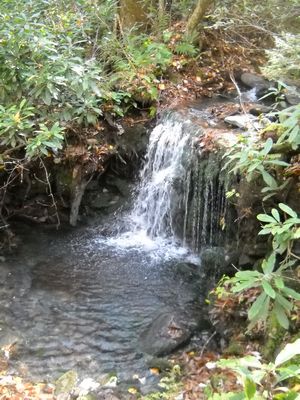 Little pieces of Heaven await in the true Appalachian Backcountry.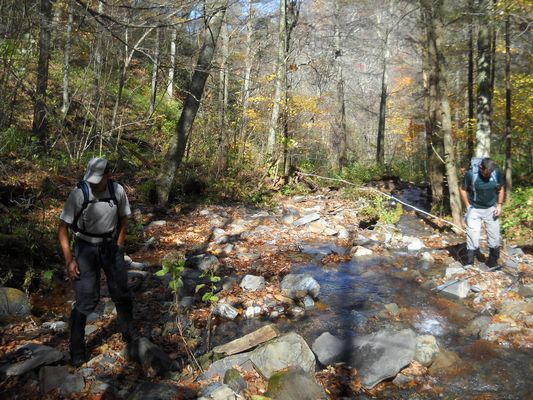 Don't ask how many stream crossings. Several dozen. Just accept this as your entry fee.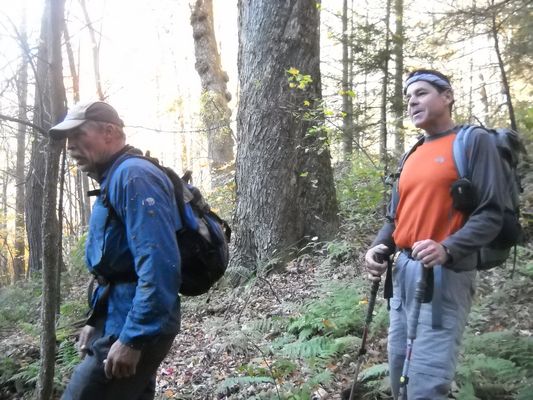 And sometimes you just have to exhale!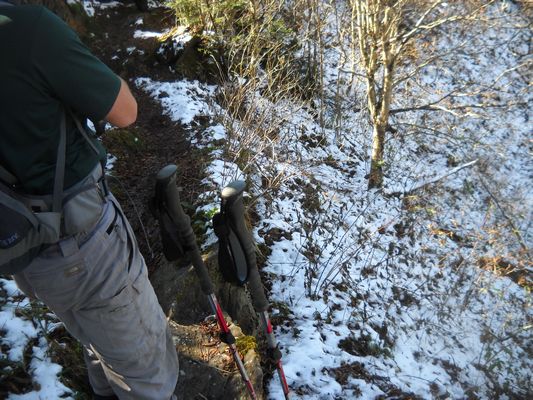 The work is hard but the pay is good. Here Dave stands on the A.T. looking back down the "Dry" Sluice Manway. It was definitely a wet sluice for this SouthernHighlander and his crew.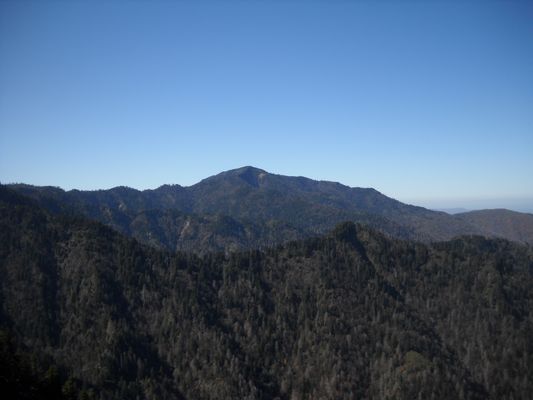 The blazin beautful sunshine awaited our moist souls and we were left with nothing more to do than head out to the tallest peak and sunbathe for a while. You can imagine the looks of our new friends when we intersected the AT at the Sawteeth. You would think they had encountered a pack of skunk apes.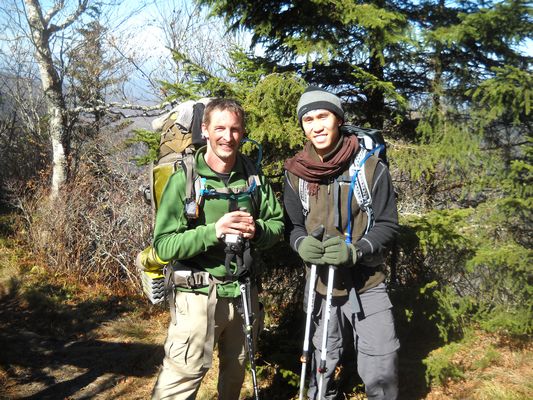 These guys had their hike on for sure.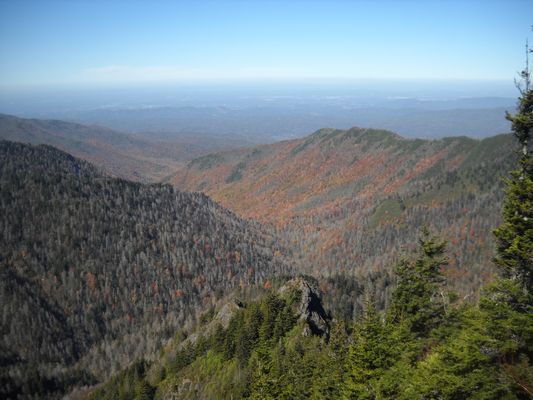 This is the drainage we ascended. From the bottom nose of the left spine, our initial campsite was in the valley about three miles down hill.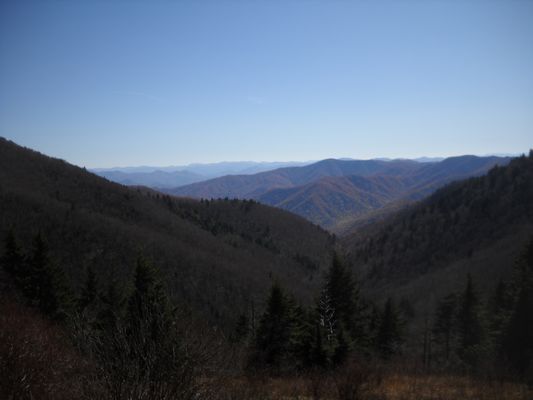 This is the other side, down Dry Sluice looking into Smokemont.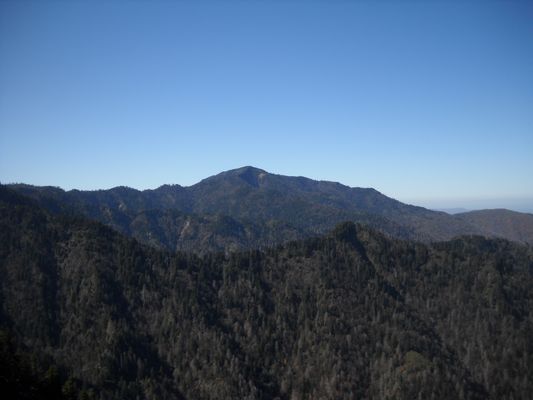 Who can identify this mountain?
Proud of our accomplishment, Joey reckons.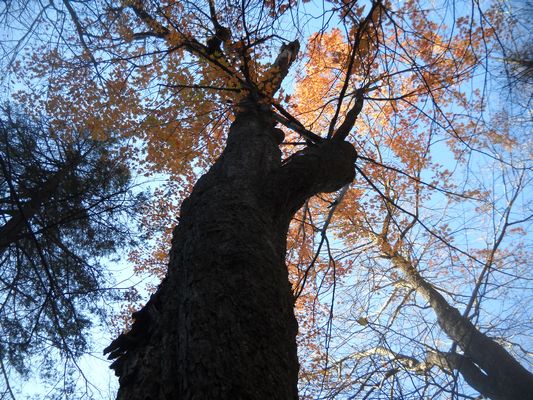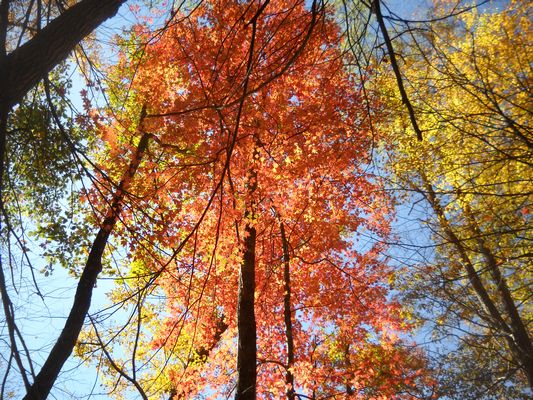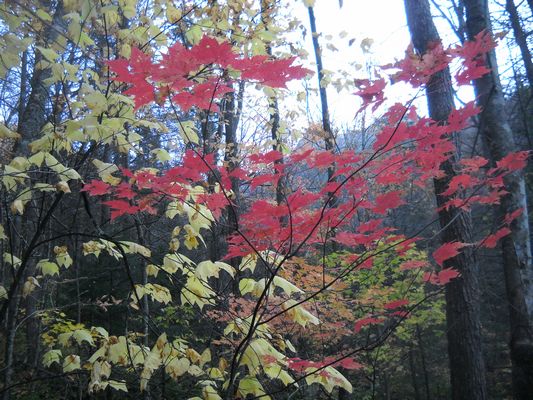 We basecamped at Porter Flats in the overcrowded campsite of 3. Night number two saw a party of three young folks enjoying the foliage and still no overcrowding. I don't suggest attempting Porter's Creek unless you are with someone who has already been. That is because there are a few spots where the trace plays out. A mistake could get you stuck up on the wrong drainage and finding the beginning of Dry Sluice is also quite difficult. We had a tremendous weekend. I would like to share a video of the last time we ascended Porter's creek to give you a little idea of what to expect.
From the "What Buff forgot category", I will add potato chips and hot dog buns. Not too bad for me. Had most of my gear. Get out and see the leaves, they will be one wind storm away from gone.