Raven Fork October 1-2, 2011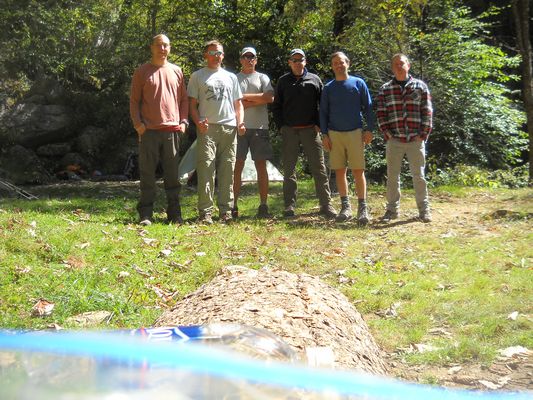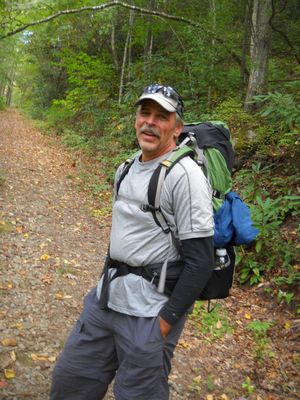 Joey joined the Highlander crew at our convergence on Enloe Creek. Beginning out of Smokemont, we climbed Chasteen creek to pass two empty campsites in route to #47. A very crisp cold air blew through the valley as we climbed up and back down into the big river.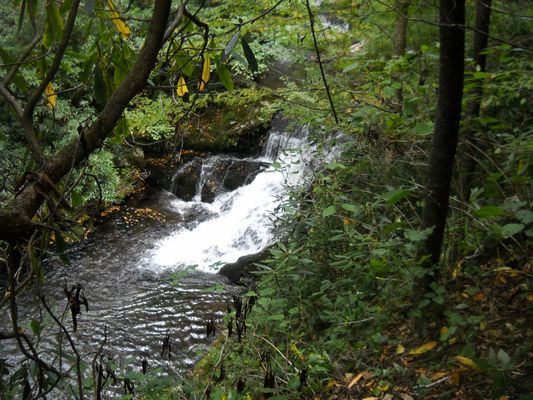 We didn't see but two other hikers.
This bridge remains washed out over Enloe Creek. I was informed by Jenny Bennett that the park has been notified. Normally it's not that bad of a crossing but in high water, it could be an issue.
Talk about some night hiking, how about night bouldering?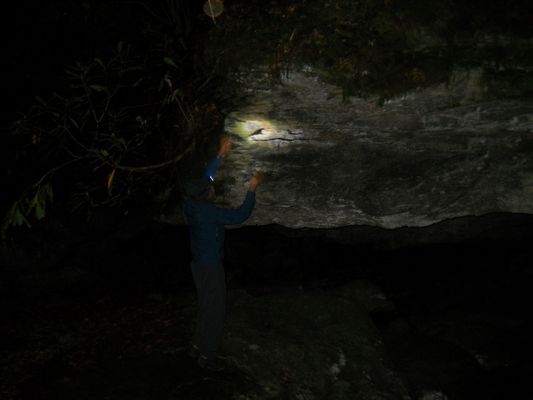 Raven fork is strewn with large rock formations conducive to all sorts of climbing activity.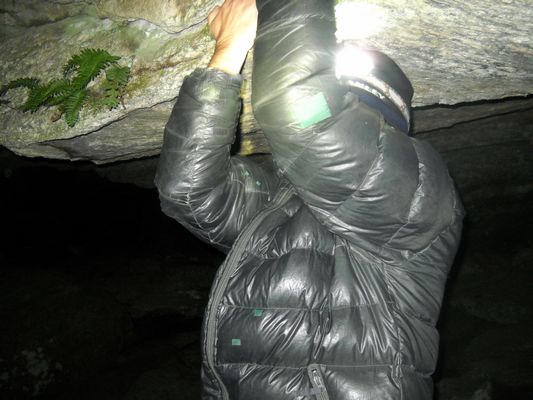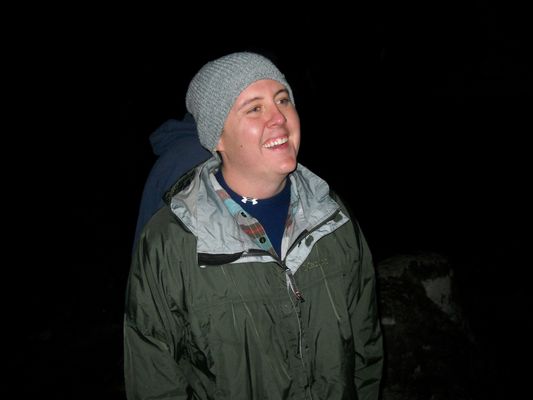 Cody's first backpacking trip makes him sing "Unto these Hills". Here in the shadow of the Cherokee Reservation, this young man croons for a squaw.
And is obviously disappointed with the result.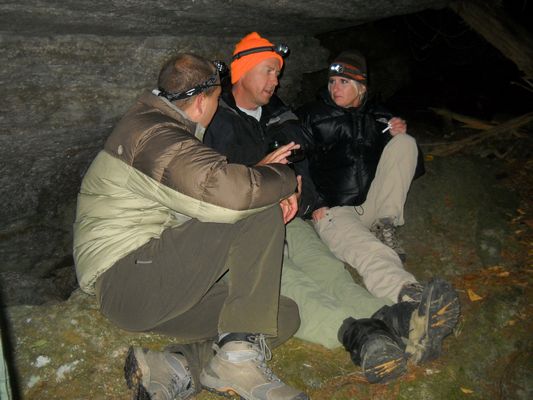 Here, BC George holds court in the cave, spinning tales of his recent Smokies 900.5 challenge completion. "Now you first must clear your mind and become one with the forest. As for me, it was a walk in the park, young Grasshoppers. By the way blondie, how YOU doing?"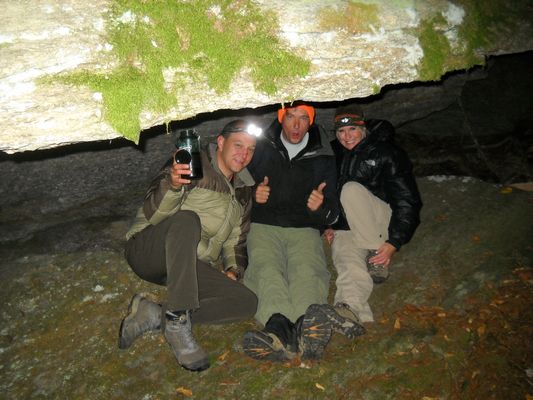 Cult of personality, the BC Georgers, now permanently known as the Georgetourage.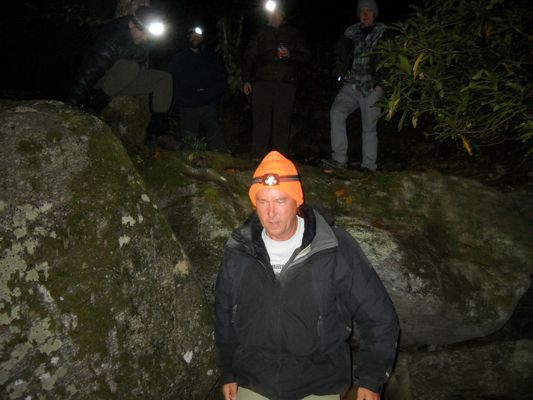 Then he departs like a rock star, exiting stage left as Dave makes an embarrassing gesture relating to scouting the area's future toilet potential.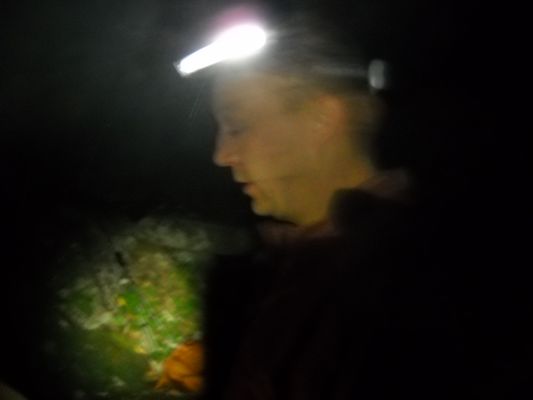 Whiskerdoodled, I reckon. How's that for a hiking cameo. Two years since we have seen this ghost of a figure.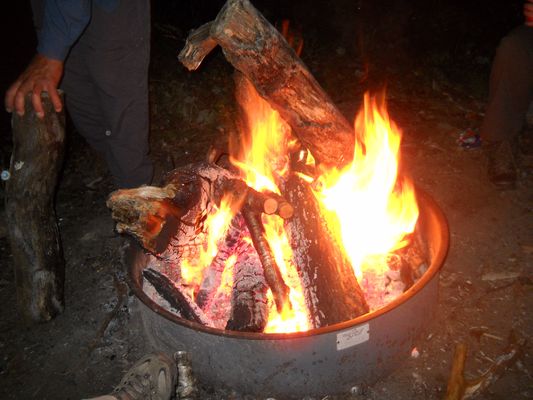 We rarely have a fire. SouthernHighlanders are generally opposed to that sort of activity.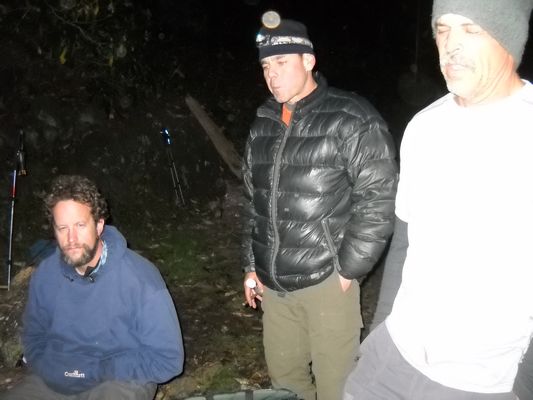 Joey is likely wondering what he got himself into with this clan. Will is looking to gather up his helmet and crayons.
It snowed on us Saturday night, October 1, 2011. What a back country blessing. Nothing significant but it was snow. I hadn't seen any snow since, er uh, July.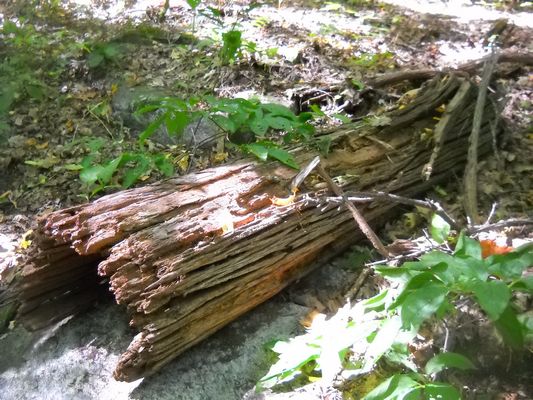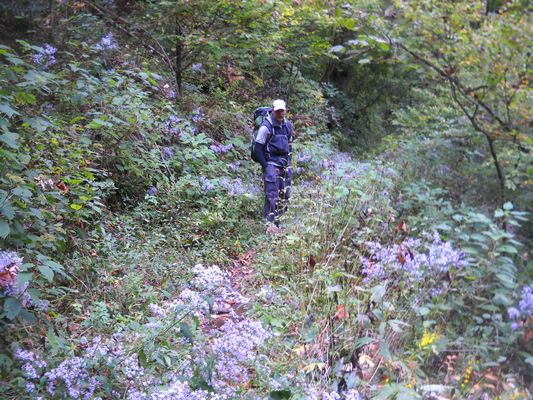 We departed the short way doing a key swap with Will and Jenny. Unbeknownst to us, Will gave me the Sucker car. The tie rod broke at Oconaluftee. Fortunately, Luke and Cody pulled in there to get a map. We were able to coax the lame vehicle into a slot after shooting it with a pistol and caught a ride up to Smokemont to deliver the bad news. Regardless of what Will says, I do not owe him a new vehicle. All mountain worthy automobiles should be able to take straight fork road at 95 miles per hour, regardless of potholes.
I'm adding a new section to the weekly hike report since it seems to be such a recurring theme. It's called, the "What Buff Forgot" category. This week's forgotten piece of backpacking gear? Zip on legs to the hiking pants. Stay tuned for next week's chapter, there is something every time. Maybe when I get a little more seasoned, I will learn. Maybe I will have some sort of checklist. Maybe it doesn't matter since I do have a checklist and still forget stuff.