Mt. Rogers with the Muir Faction May 29-June 2 2013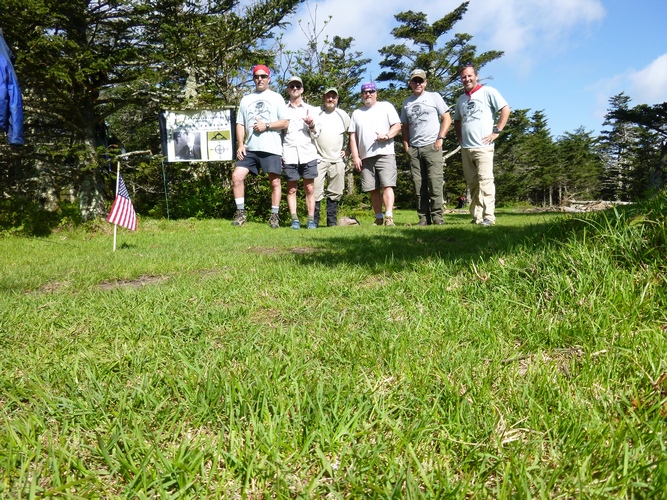 It had been quite a while since these Highlander clans were reunited but Chapter 3 brings it on strong and this time the game was Mt. Rogers in Virginia.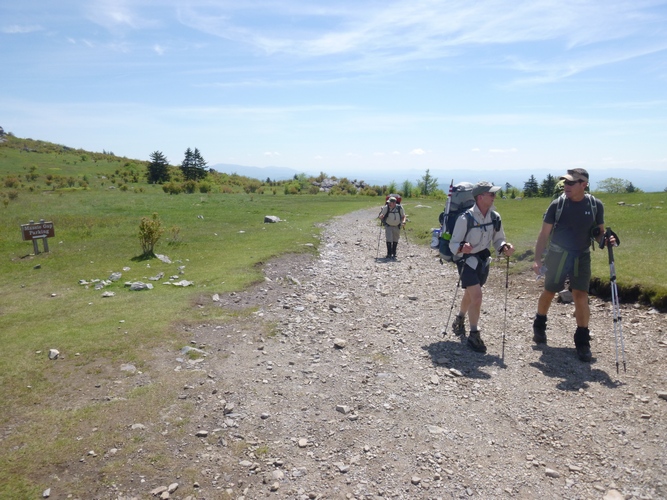 Sally D, AJ and myself first joined them at the Sunrise Cabin, a forest service rental property prior to our embarkation upon the Massie Gap terminus.
An interesting note about the Sunrise Cabin is in order. Graciously the Muir Faction allowed us to bunk in this most scenic and comfortable abode during which they prepared food and merriment for all of us, in addition to Sally D's hors d'oeurves. We enjoyed the most pleasant of evenings in glorious weather and retired around midnight to a our respective bunks with the windows open to enjoy the crisp springtime breezes that flowed through the pines.
About 1 pm a whippoorwill landed on a rhododendron bush outside of the upstairs window and began a cacophonous volley that ran unabated until sunrise. Now I know why they call it sunrise cabin. You pray for the sun to rise to quiet this freakish whippoorwill that ensured NONE of us slept a wink except AJ, who snored through it all. I do not kill animals anymore but would have shot this bird from hell without hesitation as would the rest of us. I have decided that this bird was the spirit of the former cabin inhabitants who made sure no one enjoyed the spot upon which they were probably displaced. I am not kidding, it was the loudest, non stop car alarm type of nuisance you could ever imagine. How one small animal can make that type of noise without stopping for 7 hours is a mystery to me.
As we were hiking up the trail the next morning, Chuck adams was remarking how the whippoorwill story would become the tale that marked this particular trip. He stopped to point out some geographic feature and unbeknownst to him, was standing atop a copperhead. I tried to get Chuck to move and that snake was trying its best to get out from underneath Chucks foot. So now we had two stories that define the trip.
Until we got to the ponies.
They are cute at first.
AJ had quite a way with them.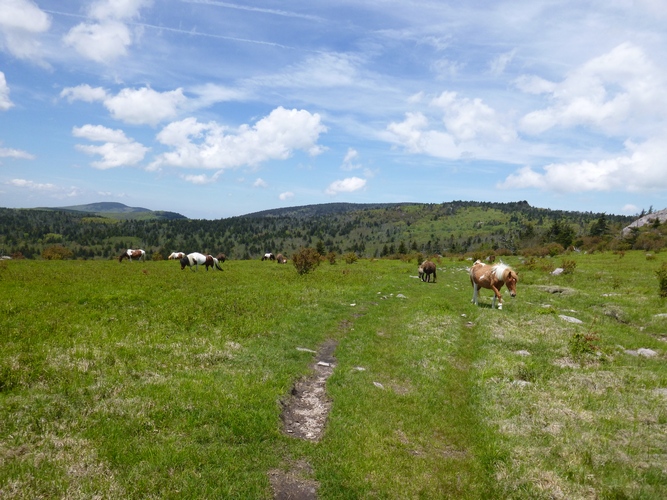 But then they ran their course, becoming food beggars and trying to upend my tent. That is when I became a wrangler and ran them out of camp.
Speaking of animal encounters, the stories just continue.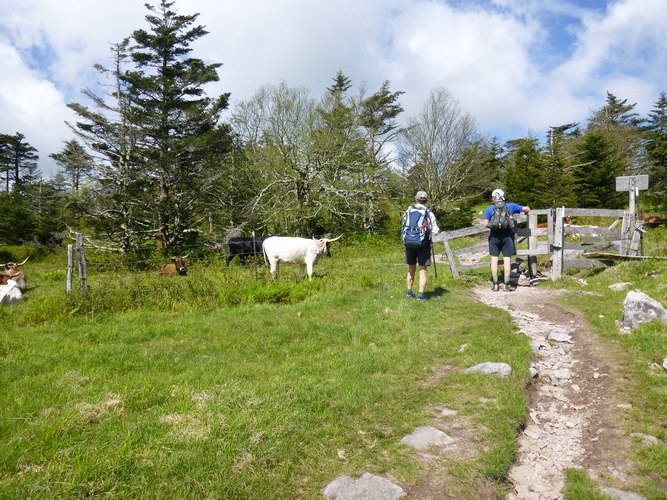 Yep,. they were all over the place as well.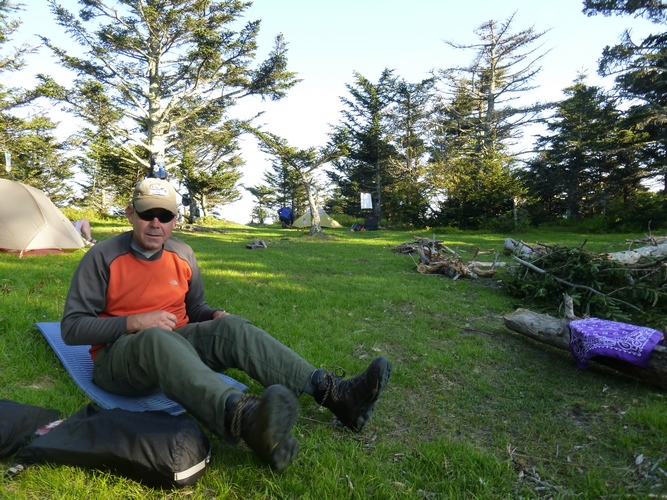 Dave says that he didn't go backpacking to herd any animals. Herding Highlanders is bad enough for this President.
Bunyan and Chuck strategize about making filets. It could be done. We had a fire and all.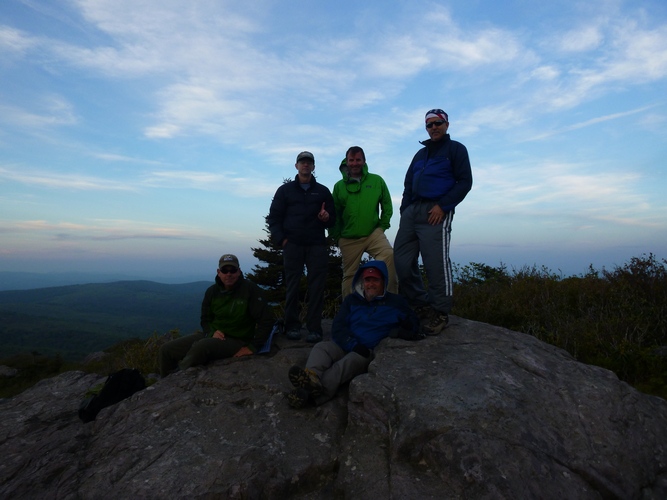 There were the obligatory sunset on the rock pics.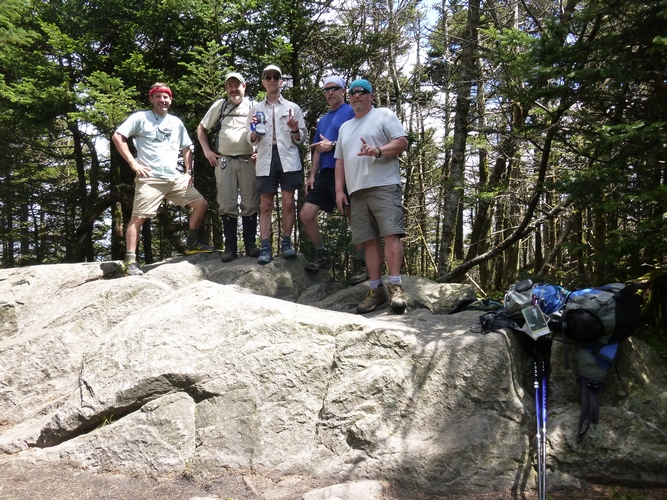 Summit of Mt. Rogers pictures, highest point in Virginia.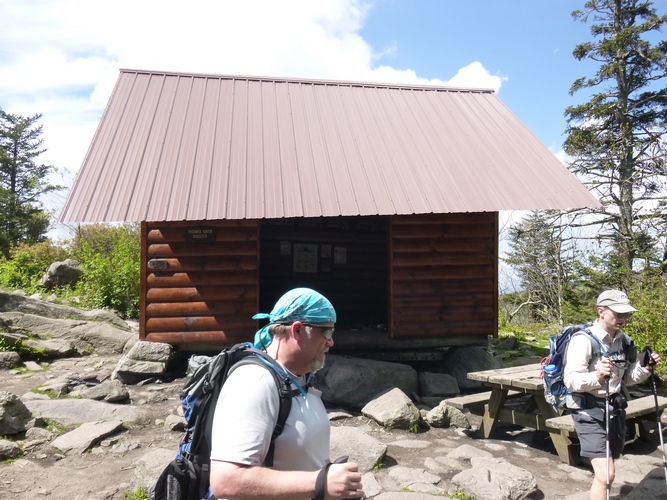 Shelter pics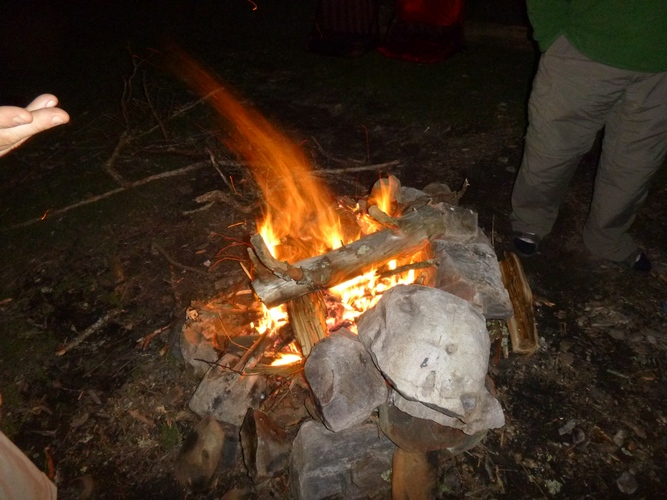 Hunley campfire pictures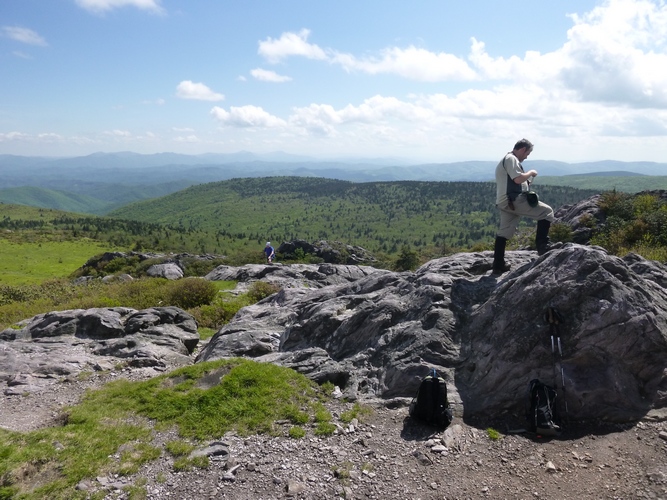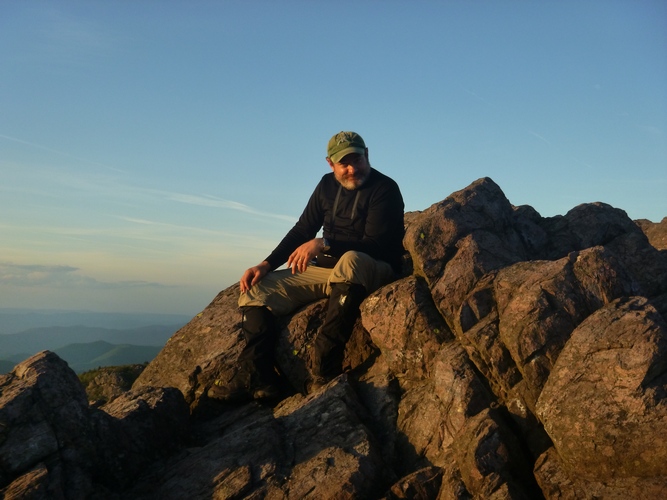 That's a good pic of AJ, huh?
There's me and Chuck, my sponsee.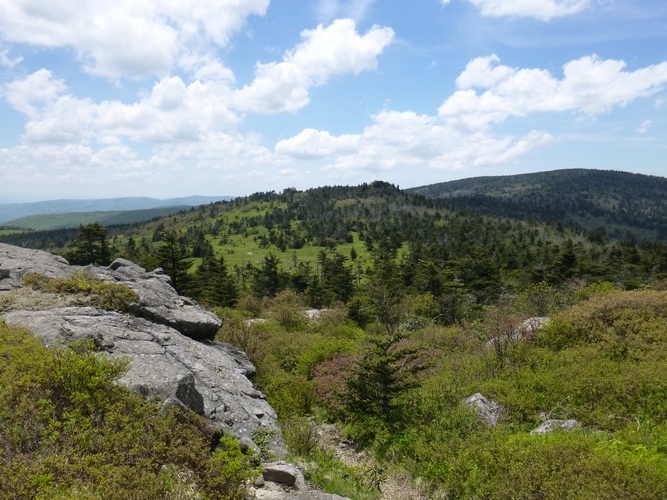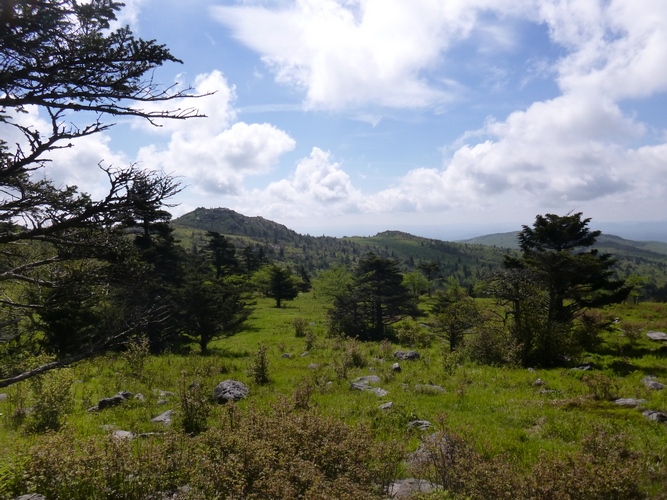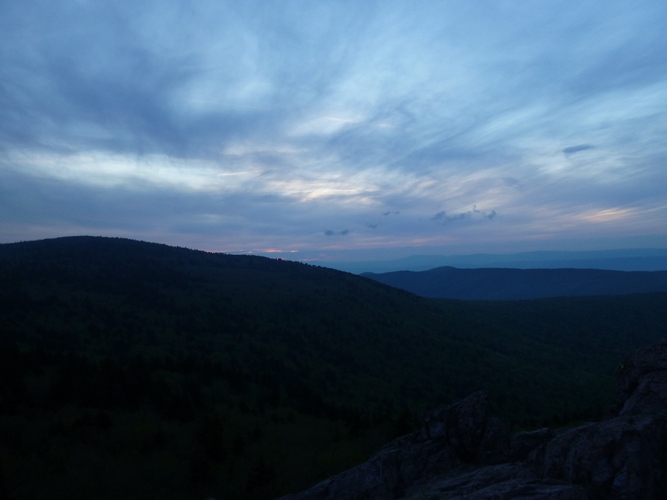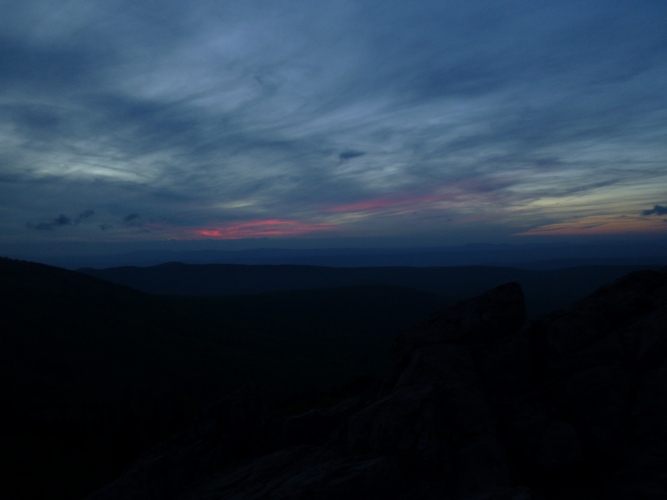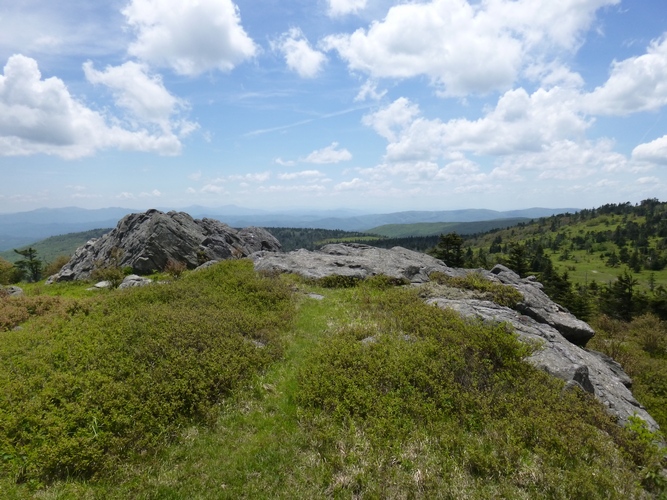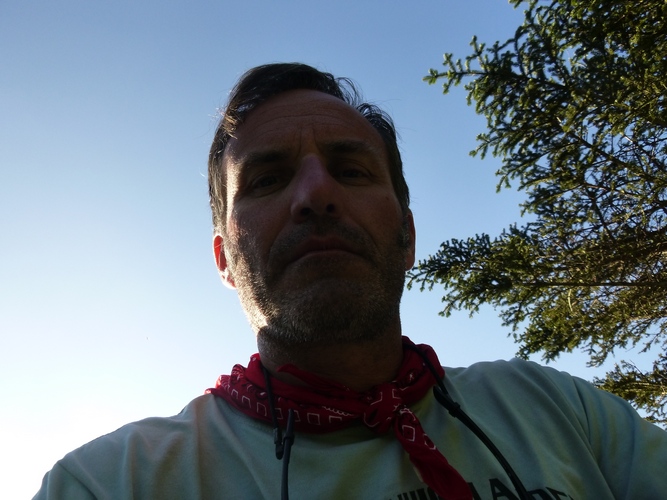 self photos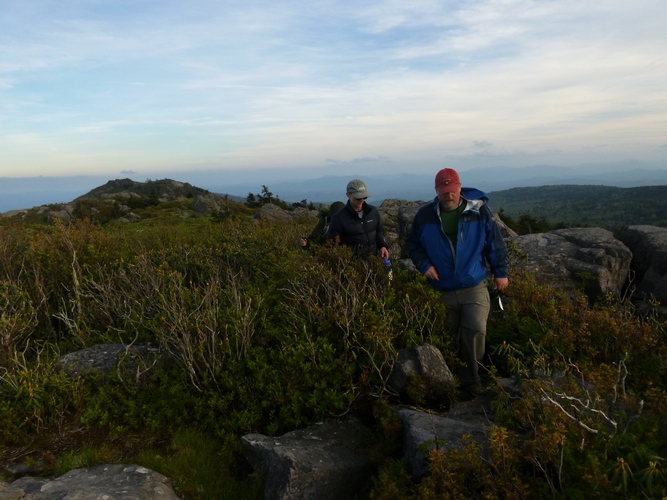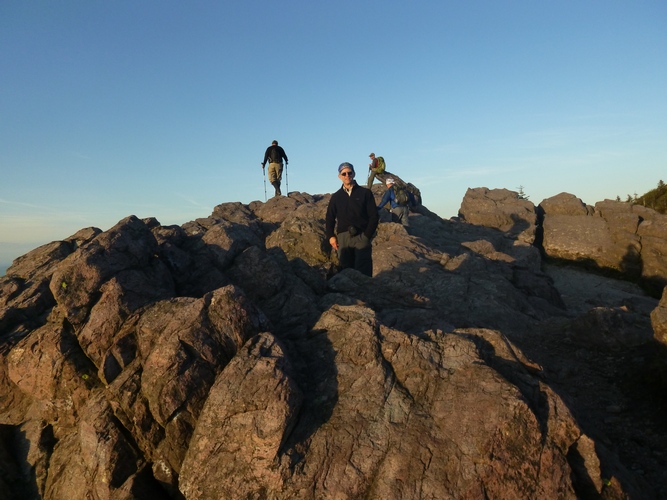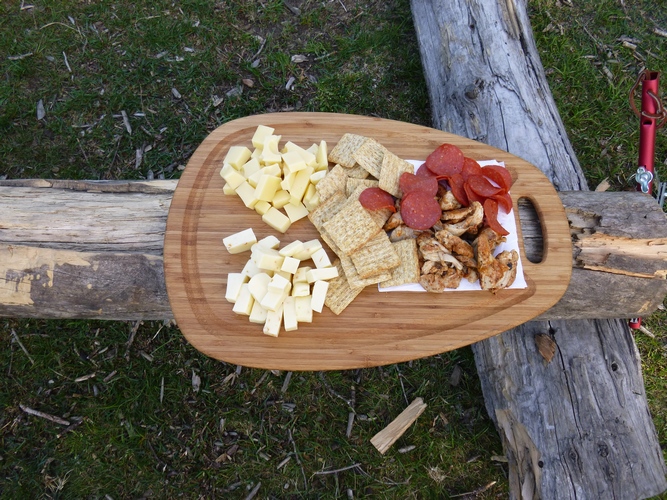 It wouldn't be a Muir Trip without a Muir Cheeseboard. This one had grilled chicken. What a backcountry delicacy. Those Muir guys are gosh darned backcountry gourmets!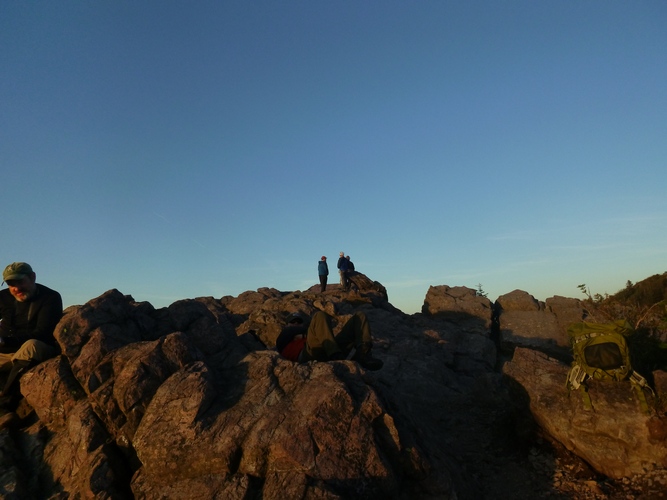 And perfect ending photos. I couldn't get Rocky Ledge to do his wildflower dance but he definitely found some on this trip.
It was great to see our brothers in the Muir Faction. They bring good karma and great weather on their outings. I wish we could spend more time with them but quality trumps quantity any day. John Muir would be proud of the legacy protected by Marty Bunyan, Chuck Adams and Rocky Ledge.
We had an excellent time as usual in the Grayson Highlands of Virginia.
As for me, I depart for Islamabad on Friday. You may follow expedition dispatches on this link.
I also wish to congratulate my friend and fellow Muztagh Ata climber, Christian Konow for his summit of Mt. Everest recently and am enclosing a summit pic and few more he sent to me. Christian says he enjoyed perfect Summit weather for Everest and judging by the photo, he made great time from camp 4 as the sun had yet to rise. Congratulations, Christian, you are a strong and dedicated mountaineer. His photography is astounding, you may remember he shared many of the photos from Muztagh Ata.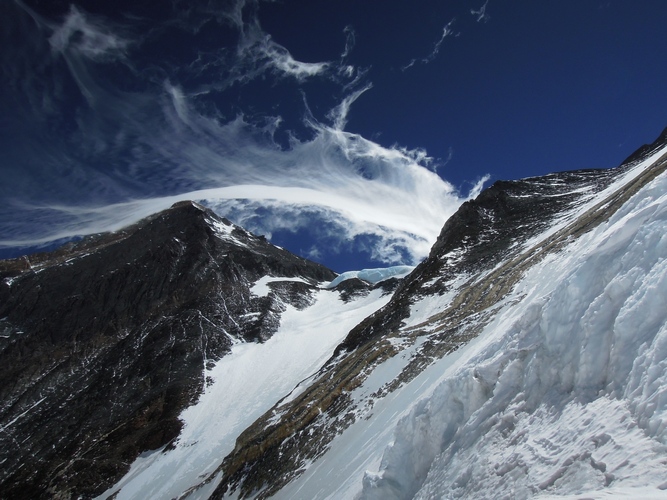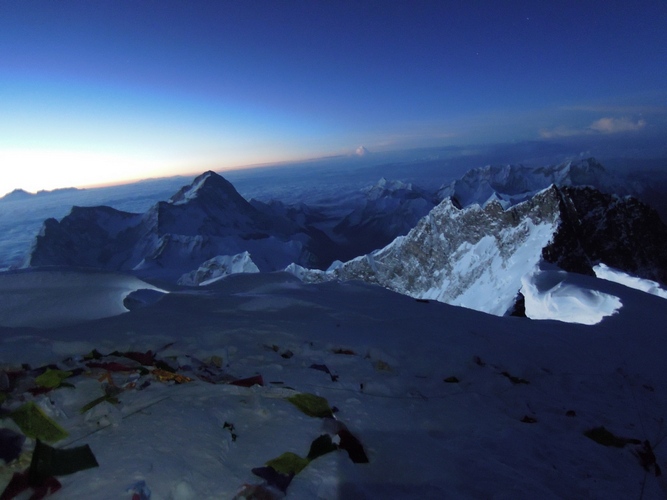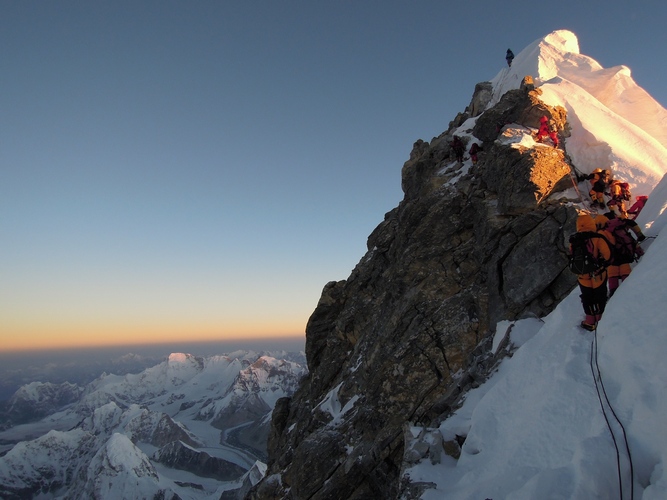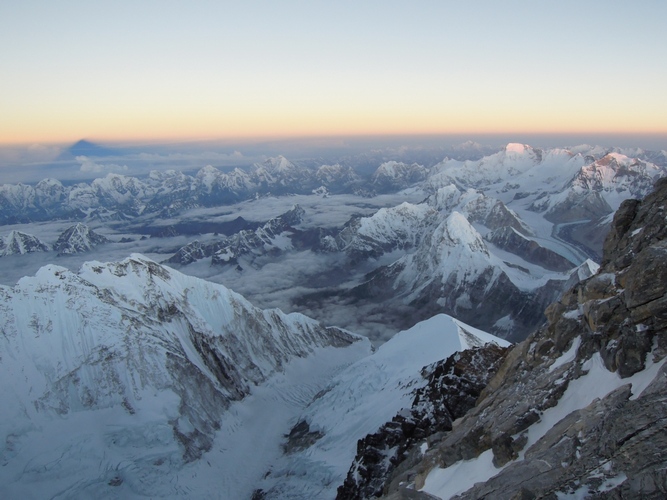 In my absence, there will be no posted hikes published. You will have to contact Dave or Mike or someone to find out what the plan is. If you don't know them, then you have waited too long. I hope to return to the States by August 1st.