Spence Field/Russell Field and Campsites #9 and #10
March 1-2, 2008
On Sunday we made it to Spence and the snow.
But we started on Saturday in the dry.
I think I can camp right in there and not have to pitch a tent.
.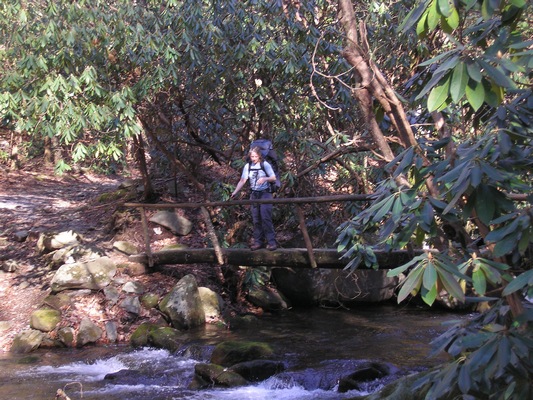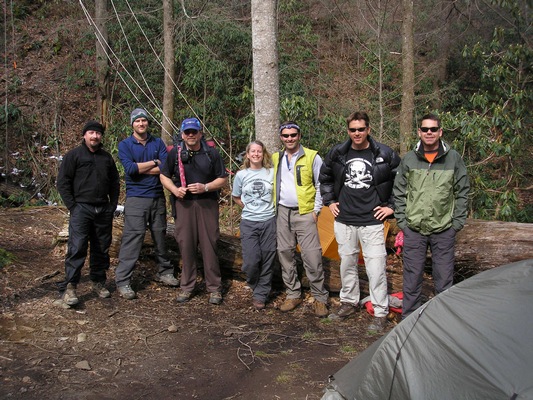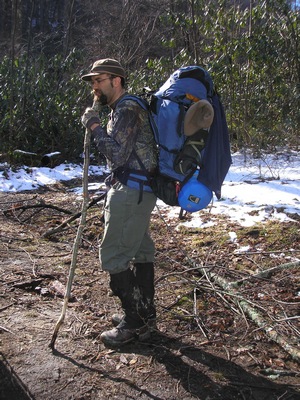 That's Alex who thought we were Outlaw Bikers.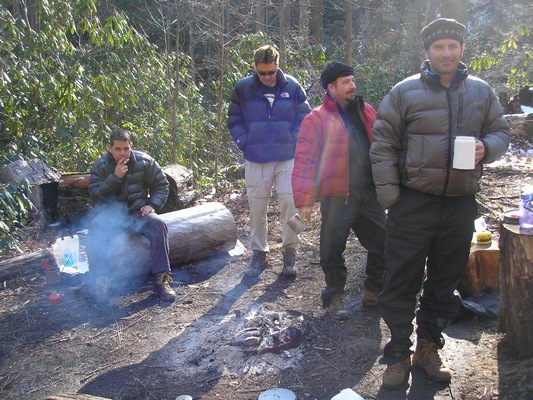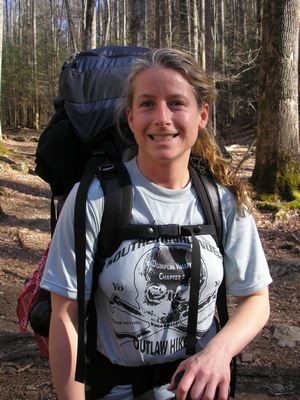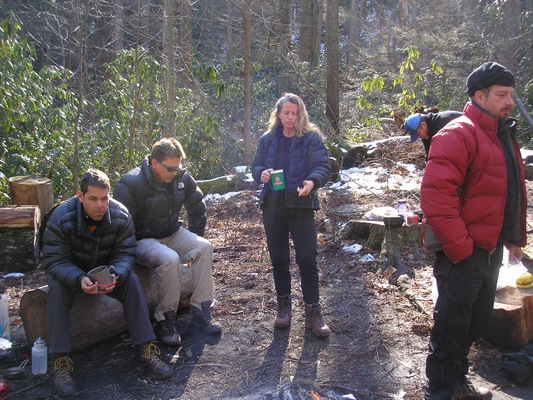 Smooch begins the morning with a song.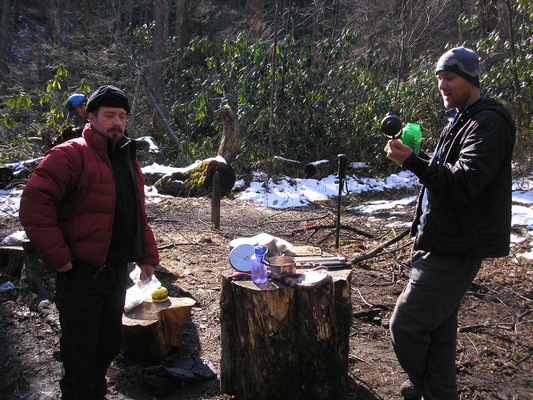 Then Ricky Bobby joins in with a metal tune. Martin thinks
"..I'm going to my happy place."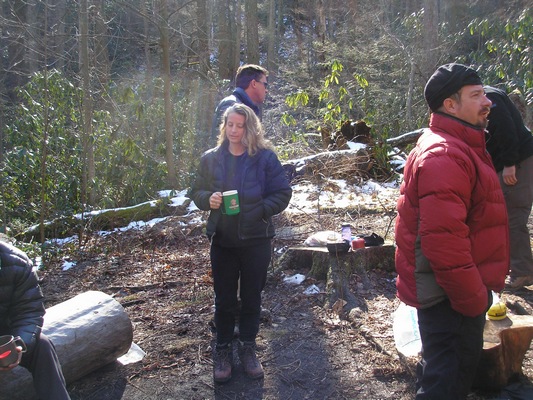 Beth feels it in her head.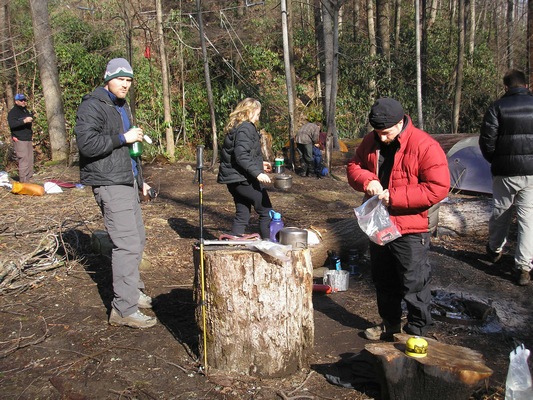 Then in her feet.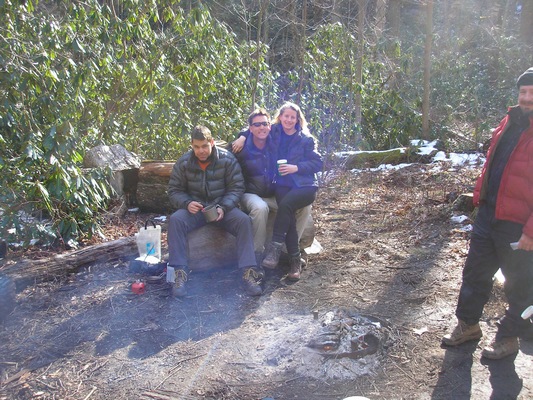 Then completes the cabaret with a lap dance.
Martin leaves, disappointed that he can't afford one.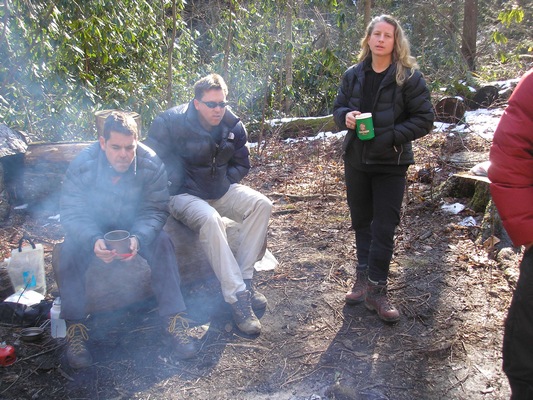 Beth says, "I take all currency". George gives himself a hemorrhoid. Dave just wants to be left alone, it's too early for this activity.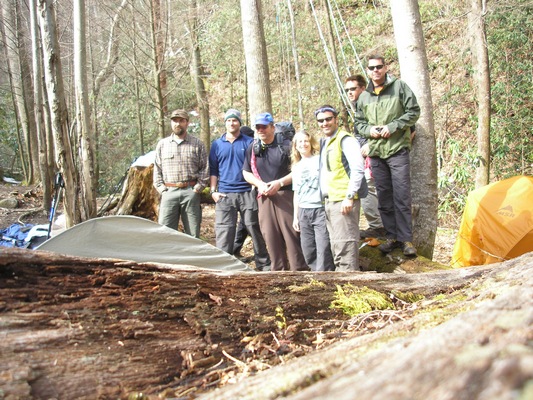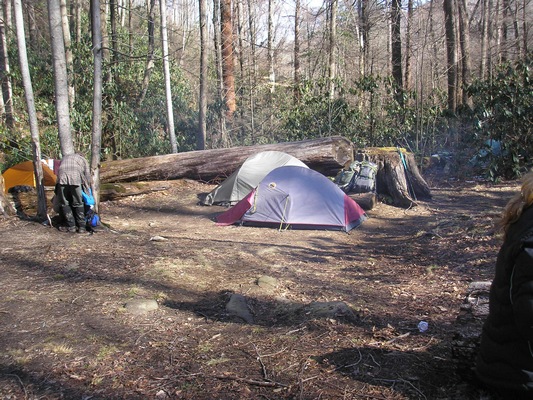 George and Dave seemed to like each other's company.
So we hatched a scheme to hike from campsite 10 to #9, stash our packs and bag the summit of Spence Field.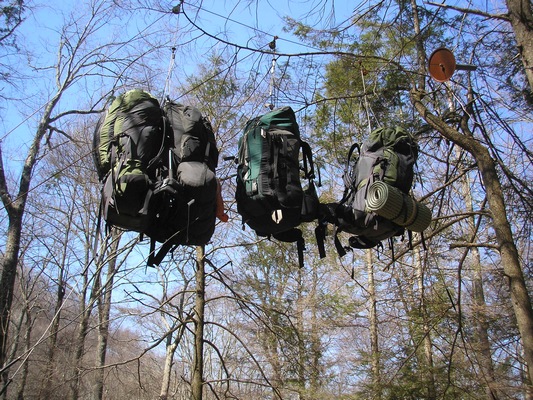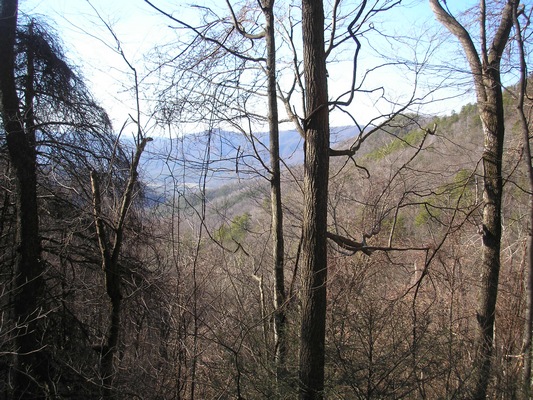 (This is Cades Cove from Anthony Creek Trail.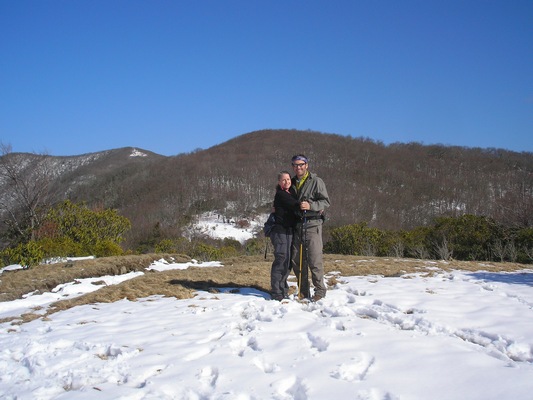 And it worked. We got into the snow line at 3500 feet. That's Rocky Top and Spence Field over our shoulders.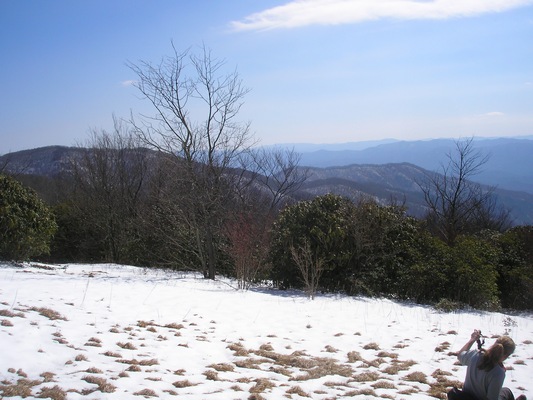 You are looking down towards Bryson City here.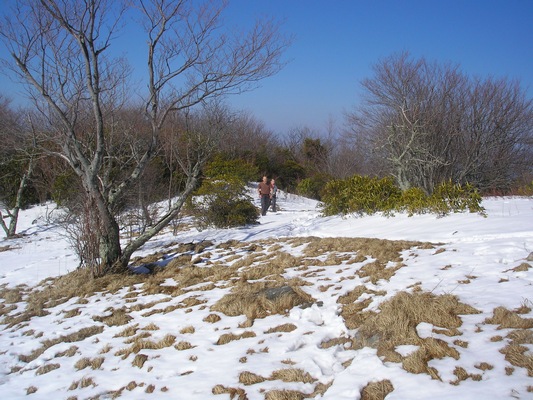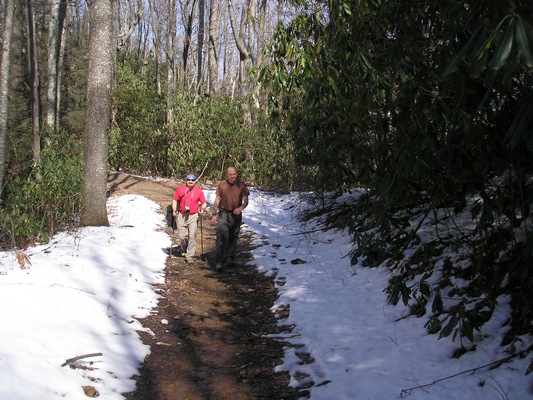 Scooter teaches Bobby the art of snow scootery.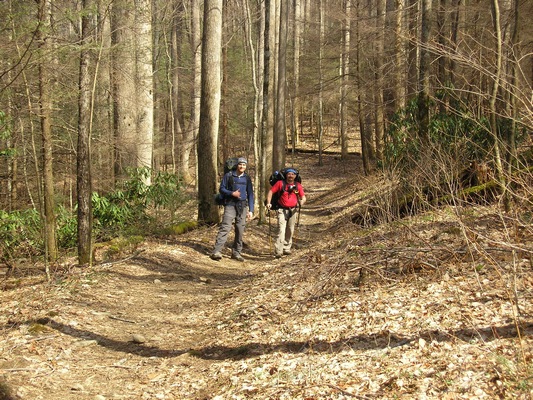 Martin says, "Sometimes you have to lean to the right!"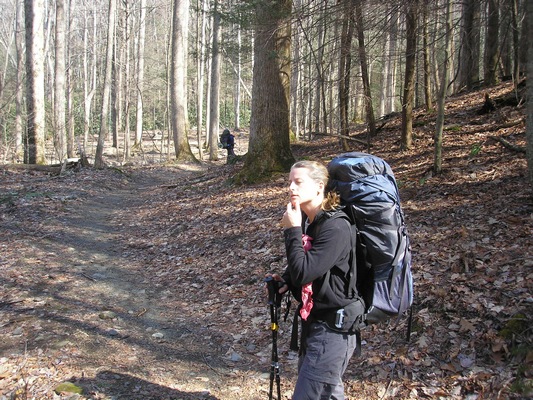 That could work for me as well, she thinks.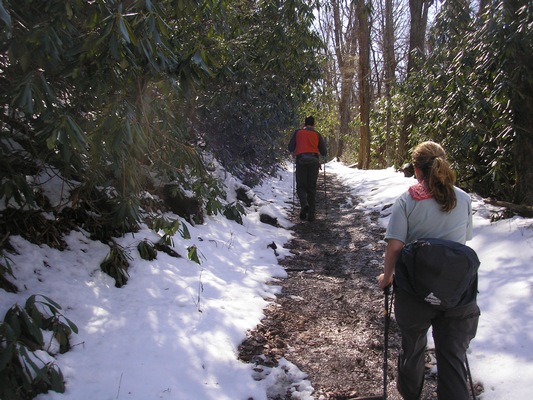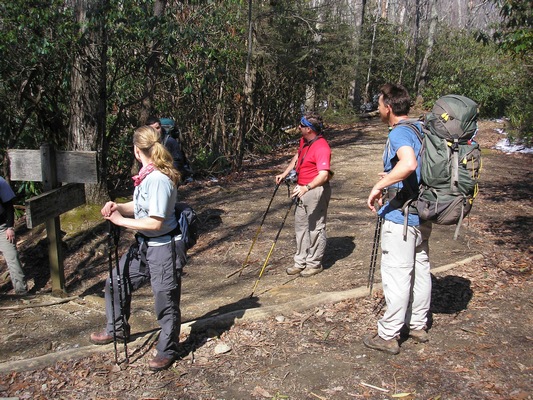 This is BC George before bailing on the summit.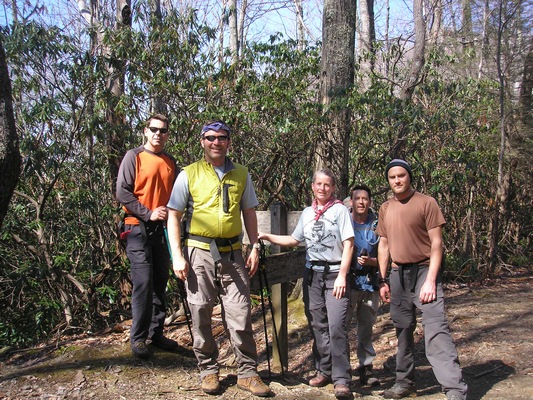 We wanted to get a pic of him before he left.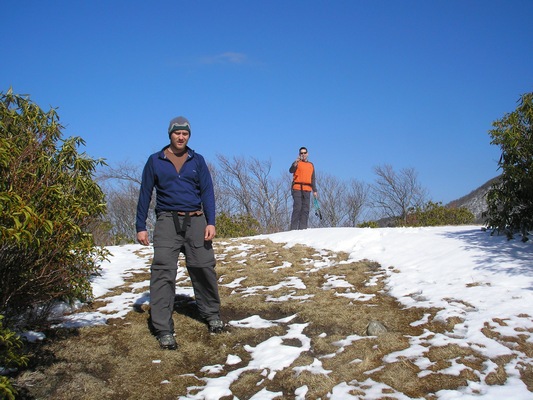 Ricky Bobby has decided to march down the hill and whip some hind end because, as usual, he's mad as hell and not going to take any more of this crap. I have yet to figure what angers him so.
Fontana Lake from Spence Field.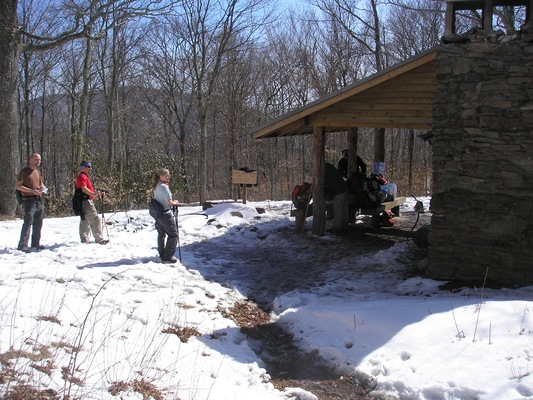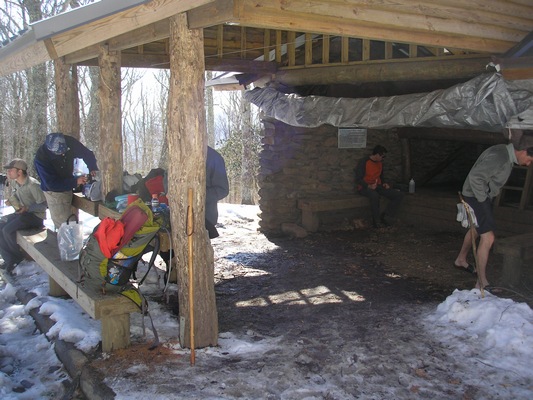 Shelter Shenanigans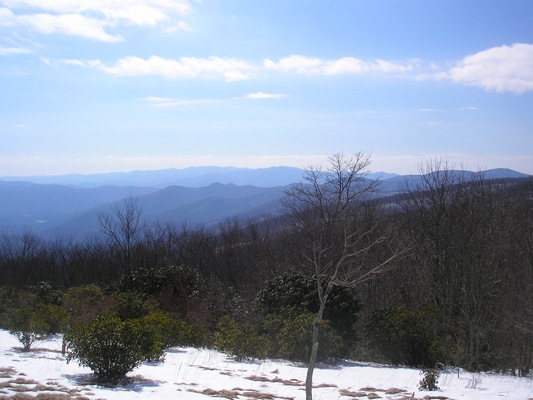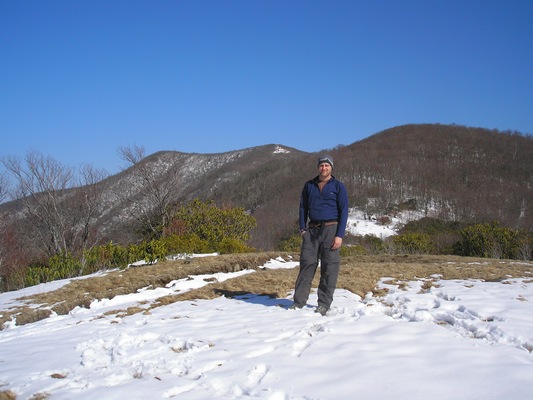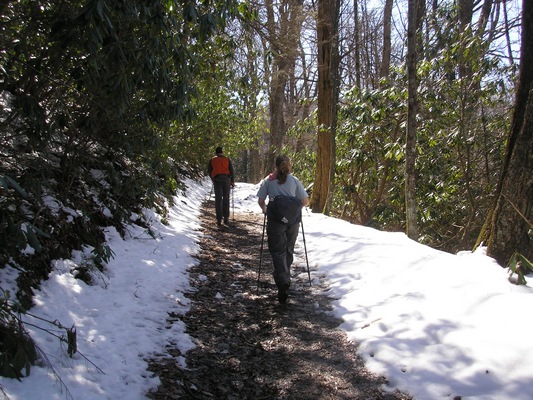 And back down we go!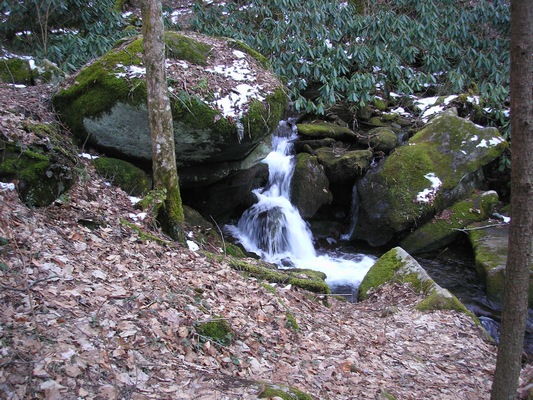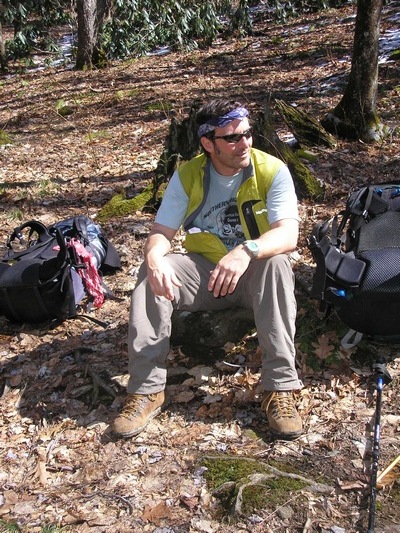 All in a day's work for the SouthernHighlander crew. Trail Stats: 2.6 miles to campsite 10. Sunday, 10.5 miles to the Spence Field summit and back to Cades Cove for a 13 mile weekend. Pretty good for having no gaiters or crampons or Preparation H.
(A special shout out to Carlton and Trey from Alabama. We would have liked for you to join us on this trip but it was last minute and reservations are hard to get anymore at the lowcountry sites)