Winter Happenings Jan 19, 2016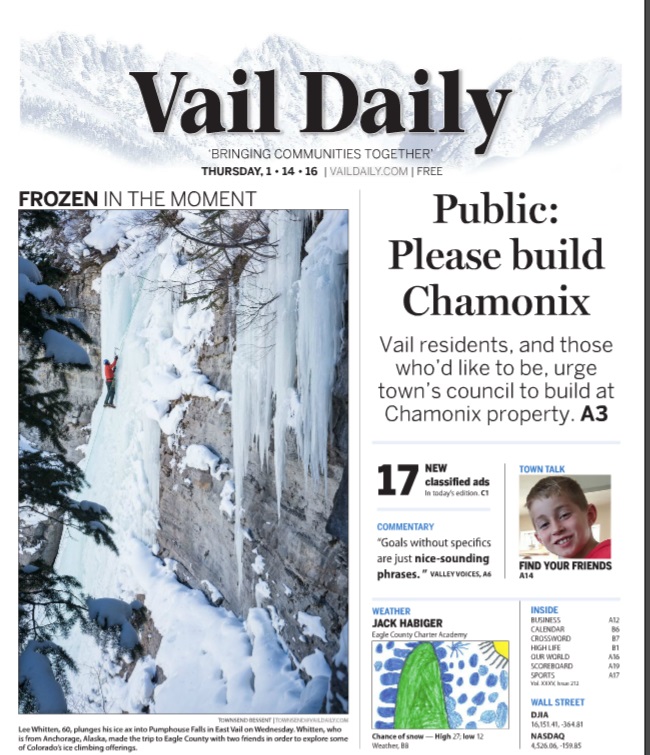 My buddy Lee makes a good showing in my absence this past week in Vail.

A good deal has been happening since we returned from Europe. But let's get down to business. I was slated to join Carlton and Trey on an outing to Lower Anthony Creek this weekend. But life conspired against me. A student dropped a table on my foot and nearly broke it, so hiking, running and most impact stuff has been put on hiatus. That is uncomfortable since I am reaching a point where my training for the "Turquoise Goddess", aka Cho Oyu in the Spring should be escalating and I was getting quite regular with work outs. As a result, I have had to modify my gym time with activities that allow the foot to heal properly. Such is the nature of life.
Cho Oyu 26,907 feet Tibet

Speaking of expeditions, it seems as if Slapnuts and Red have finished their hike across Scotland. I am anxious to hear about their adventure and congratulate them on a worthy accomplishment.
This is the week that usually finds me in Colorado joining my friends on the waterfall ice of Breck and Vail. Due to the Tibet plan I had to forgo this venture. One can only afford so many excursions. In my absence, it appears as if my colleagues made the local news and above here is a pic of Lee dancing on the ice with which I am so familiar. I truly missed their company this winter. They are solid dudes and great friends.

And speaking of my ice pals, Mr. Neil Murphy, with whom we climbed in the Alaska Range last spring is also to be congratulated for his recent double header in Antarctica. As if climbing Mt. Vinson weren't sufficiently impressive, Dr. Murphy went the whole nine yards and decided to ski to the South Pole. That is a feat only a true Alaskan could dust off with such little fanfare.


And the book. Ah, the book. For years I have worked on the upcoming Father of Ice Mountains. There is so little time in life to do it all and then document details. But I whittle away little by little. It isn't forgone or forgotten. I am in the illustration phase, then off to the printer. I hope within a month but who knows. Many thanks go to my patient girlfriend who has assisted in editing along with Uncle Larry. A couple of chapters have been proofed by my friend Jim Casada as well.

And last the latest on Cho Oyu. Our team consists of Andrea Rigotti and Freddie Johannson of Sweden. Both have solid 8 thousand meter experience and Andrea has made a go on Cho Oyu before. These past few months have involved coordinating logistics and it looks as if I have been tasked as the ersatz expedition coordinator. We will be using the services of Dan Mazur, an old friend from the Muztagh Ata days. If the name sounds familiar, below is a video that will remind you why I choose to deal with Dan in the high mountains.
As I rewatched this story it reminded me of the word integrity. Integrity is what you find someone doing behind a tree when no one is looking. My recovering friend Randy says, "I was the kind of addict who would steal your dope and help you look for it." I've learned a great deal about integrity this past year. Some has been surprisingly good and a few have offered to help me find their dope. So be careful about the folks with whom you share a rope. They may be a dope. That has been my life lesson for the past year. No more dopes on my rope.
Peace to all.