Citico/Slickrock Wilderness/ Yellowhammer Gap and Nichols Cove
3/09/14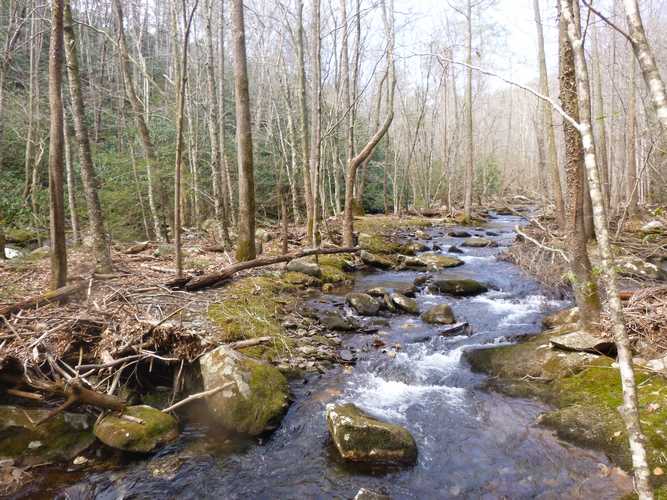 Another dreamy weekend in the wilderness and fee free zone was experienced by myself, Jerky Mike and Slapnuts, although separately.
What happened? Well, Mike and Slap went in Friday to camp down low on Slickrock. I hit the trail Saturday, rather late in the afternoon. Parking at Tapoco, I hiked up to Ike's Branch, then hit Yellowhammer Gap and intersected Nichols Cove, where I thought to find these boys since Slap's instructions were rather "vague".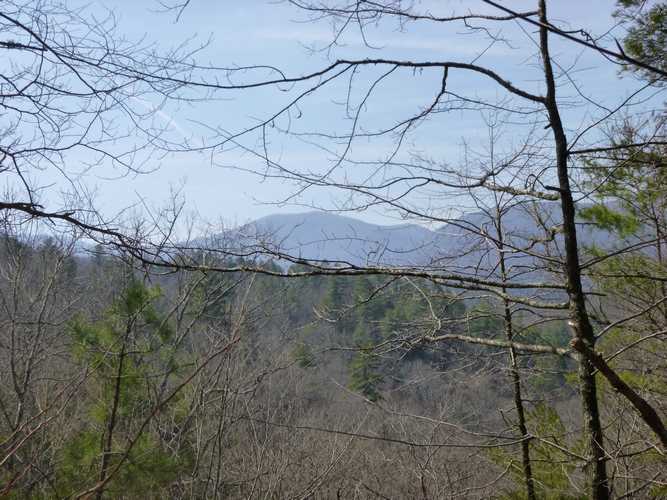 It was one of those days of which you can only dream in early March. These were new miles for me in Citico/Slickrock. Ascending YellowHammer I was confronted with an entire absence of people and a surfeit of my favorite trees in the world. Beech. Some of the largest specimens in the South are observed here. This particular one reached into the heavens.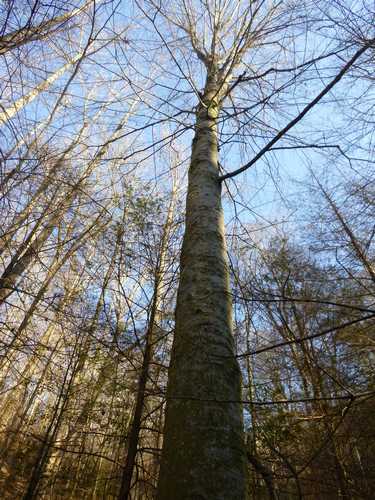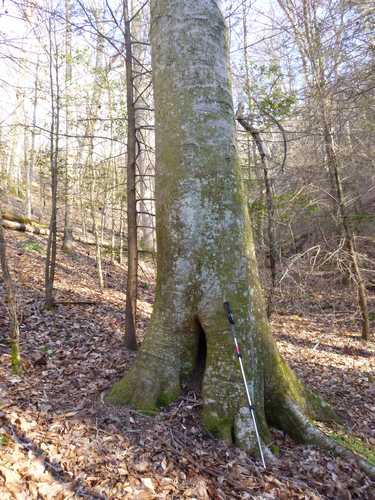 I developed an affinity for the Yellowhammer trail, perhaps in part due to its association with the woodpeckers for which it is named.
Slickrock and Citco are to me, what the Smokies represented before the fee.
Alliteration aside, the freedom experienced here is a continuing breath of fresh air. There are endless streams and forests, mountain vistas and no jack booted tent rousters. No Kojaks with the backpacks are roaming these parts. The camping is undefined.
When I ascended up and over Yellowhammer and reached the intersection of Nichol's Cove, I tried to imagine what Slap was thinking. At first I thought he was going to the top at the base of Big Fat Gap trail. But when I saw their cars at the dam, I figured that may not be the plan since I knew that would be an extra long day out and Jerky Mike wouldn't probably be interested in that. So I split the difference hoping they would be at this intersection. They were not.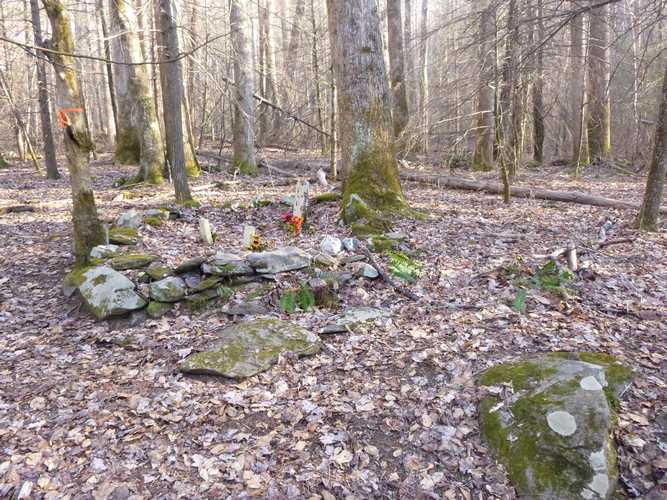 In fact, no one was there at all. Just some great camping spots and this little cemetery. I then hiked a quarter mile up Nichols' Cove and hollered. Then I returned and descended back towards Slickrock creek. A couple of miles later and a few stream crossings, I smell campfire smoke. Encouraged, I leapfrogged downstream hoping to soon encounter my buddies. I chased that smoke for 20 minutes in the fading daylight. I passed one of the best campsites on earth with wood stacked and graded in three separate piles. My last rock hop showed a plume of white smoke but no tents. I first think it a fisherman or moonshiner. As I approach the figure in recline against the small tree it is none other than an exasperated Jerky Mike.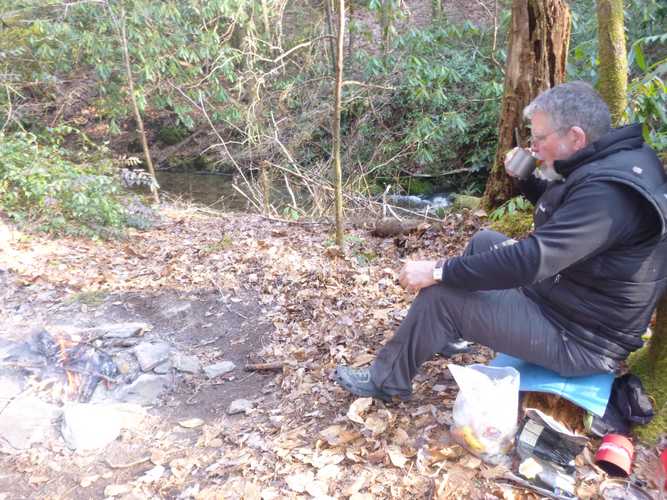 His trail to Slap had grown cold and he had been roaming Nichols Cove up and down in frustration. So we had that in common. It was decided to camp here, in the middle of the trail, where Mike had started the fire. And it worked out fine. We abandoned hope of finding Slap. I presumed he was at the top of Nichols Cove.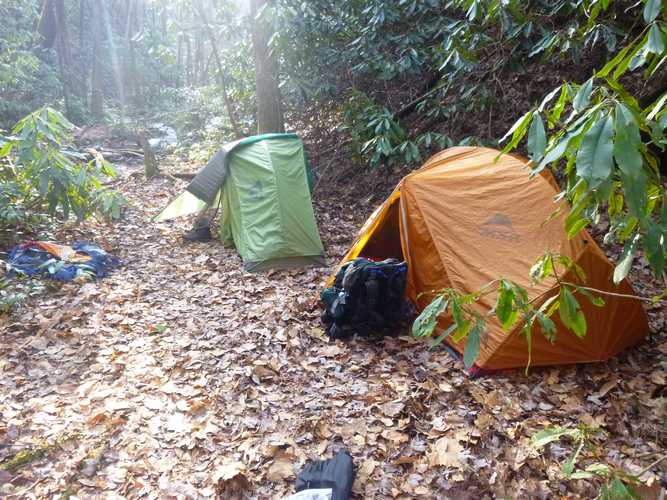 Mike then decided that Slap has lost his driving privileges for a while and is grounded. According to Chief Lodgebow, Slapnuts is in time out until further notice.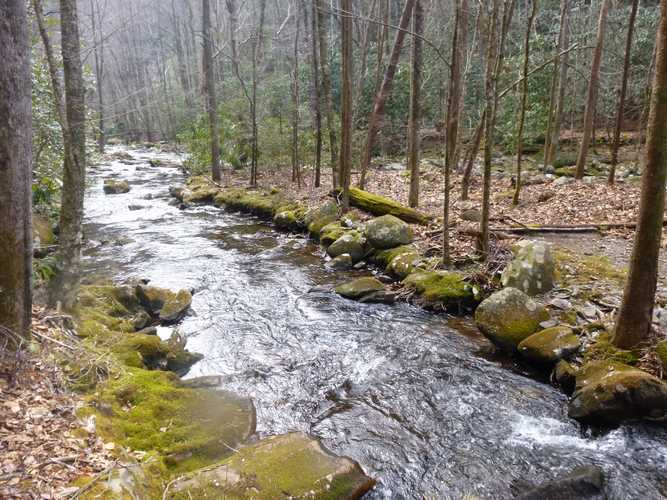 I looped out and finished Nichols Cove. It intersects SlickRock and Ike Branch so I could close a couple of loops there. It was one of the finest walks in the Wilderness I have ever taken. And I didn't see a sole other than Jerky Mike. No fee, wide open backpacking and zero jackboots. In other words, Heaven.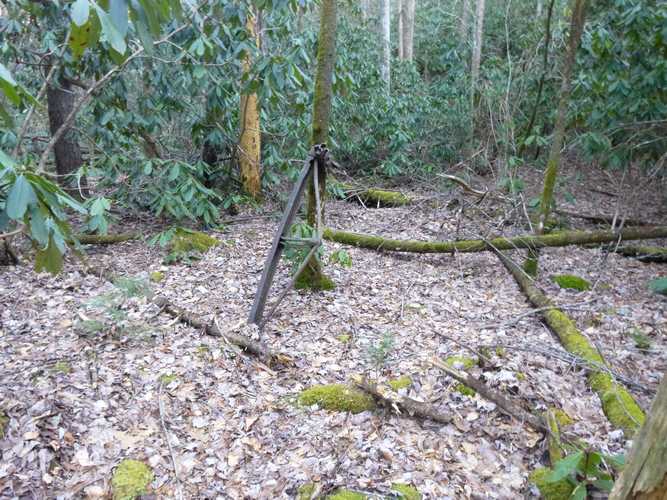 In case some of you haven't heard, our good friend, Rikki Hall is battling brain cancer and they are hosting a benefit for him on March 20th at Scruffy City Hall in Knoxville. Rikki is a good friend of the Highlanders (here is link to his last trip with us at Big Creek) and journalist who has opined in favor of our fight against the fee. Here is a link to the story he did in Metro Pulse.
Backcountry Tax: Charging Backpackers to Camp is Against the Spirit of the Smokies » Metro Pulse
Consider supporting Rikki as he fights the fight of his life. An All-Star Lineup Jams for Rikki Hall » Metro Pulse.
Finally, if you didn't get a chance to see the interview, here is a link to the WBIR Live at Five at Four piece on our Pakistan trip.
Mountain climber survives tragedy then writes book I appreciate Emily Stroud and her coverage of my book. She is an incredibly nice and professional journalist who moonlights as a writer of fiction. I believe that she took my story for a couple of reasons, not the least of which was to give a fledgling author an opportunity to market his book. In return, I am posting a link to her own, self published work.
Broken News: a novel: Emily Stroud: 9781481127455: Amazon.com: Books
Tempting the Throne Room where to purchase.