An Undisclosed Location: Jan 4-6, 2013
There exists the possibility that a great many of our future backpacking trips will be conducted under a veil of secrecy until we beat the National Park Service in a court of Federal law. This weekend was a good practice event. Unbeknownst to the Highlanders, another organized group had the same idea. Seems as if there is going to be a lot for the National Park Service to deal with if they continue with the backcountry fee plan.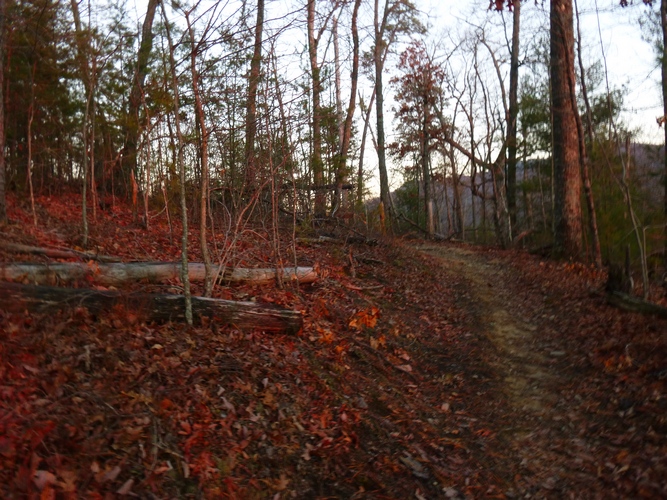 I wasn't going to make the Friday evening version as a result of an unexpected plumbing issue at home. But I arrived at the trailhead by dusk and began a 2.5 hour nightwalk.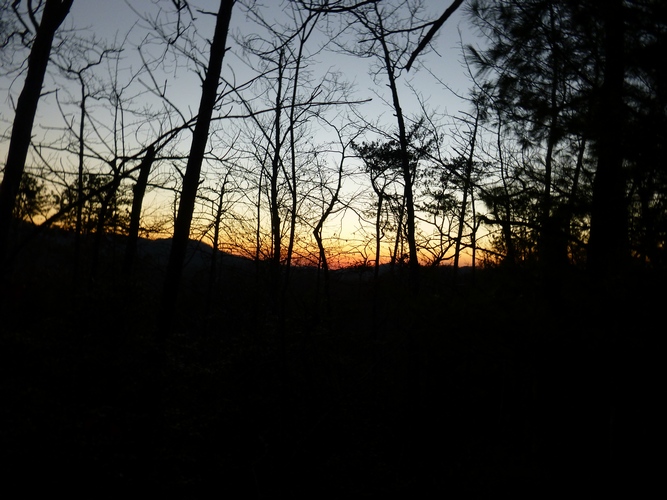 The sun set within 30 minutes and I had the company of my heartbeat and headlamp. The stars were crystal clear as i meandered a great footpath somewhere in the Western end of the Smokies.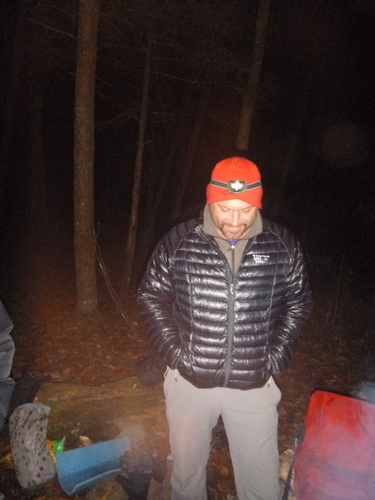 The boys, Slap, Sally D and Jerky Mike, weren't expecting anyone else in this "secret" location. I surprised them. Here, Slap is seen with a new jacket. It is so new it shines and reflects. It is a nice jacket and he paid about 40 dollars for it with discounts. We made it our mission to christen a few burn holes.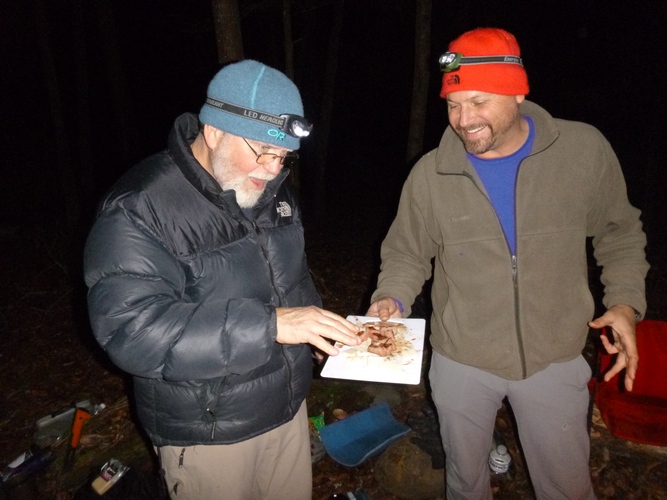 We had some delicious sirloin and horseradish cheese board. This is our requisite shout out to the Muir Faction. And speaking of our brothers from the North, Chuck Adams, Chapter 3, uncovered some interesting information about old Horace Kephart. Seems as if he had a nervous breakdown and recovered with some friends circa the early 1900s in, you guessed it, Dayton Ohio. Like Chuck suggested, it was destined that we hook up with the Muir guys, Ohio Chapter.
Friday was a splendid evening. Next morning, Slap departed to bag some new ink and I departed on a mission.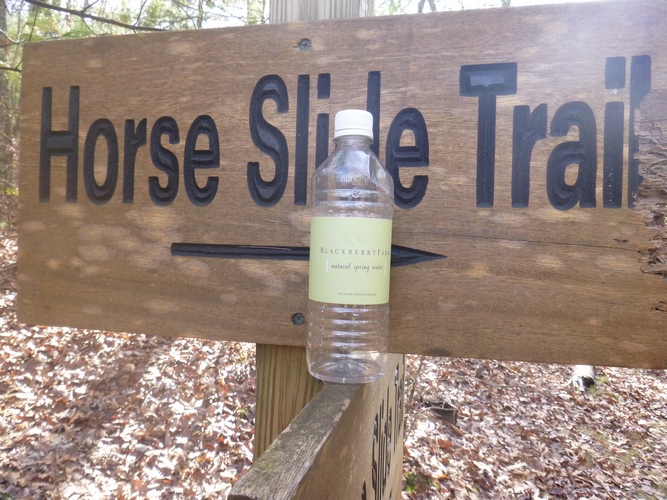 Where did I go? A picture is worth a thousand words. It was time to see if anything had changed with this private entity and their entitlement to use government, National Park Service property at their discretion.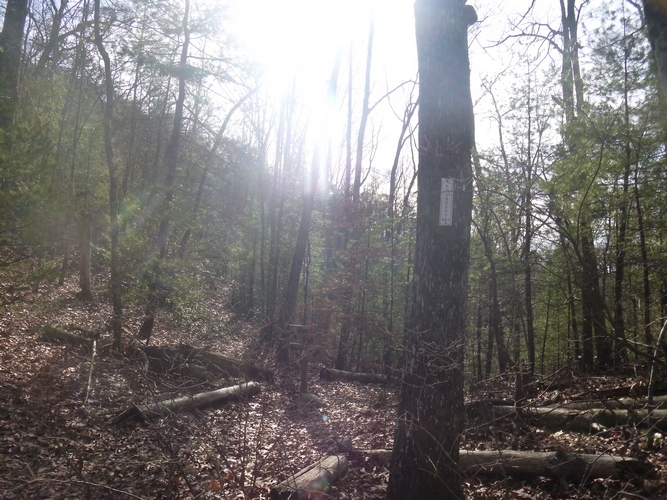 That sign from above is now the background of this photograph. You will notice the park boundary sign in the foreground. At first blush you would assume that Blackberry Farms is clearly off the park boundary and doing as they wish with their own land. However, this picture is looking into the National Park. Understand? Just reverse your thinking. That signpost with private trail signs is that far within the Great Smoky Mountains National Park. But that's not all.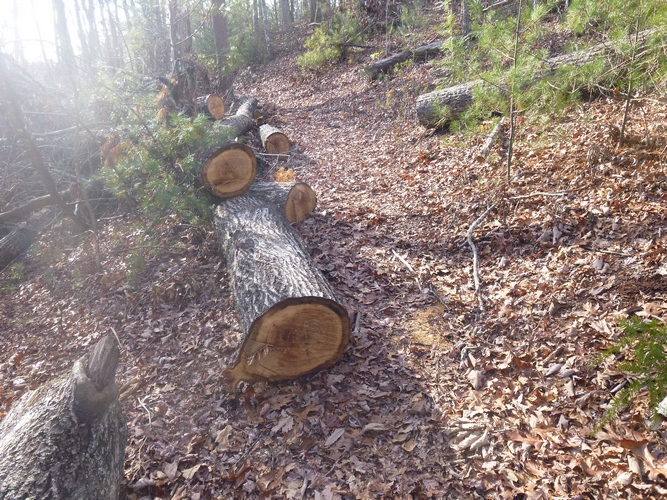 This is the trail upon which you were previously gazing. It is the park boundary trail. The trail is within the National Park. Now, who sawed these trees? It is either Blackberry or the NPS. Why would the NPS saw trees on a trail that isn't even on the trail maps? If the park service didn't saw them, then who carried a saw that size 6 miles into the backcountry? A four wheeler would be the logical assumption. Of what is that reminiscent? That's correct. The four wheelers that I caught Blackberry driving into Cane Creek a few years ago.
Anything we can do to help Blackberry Farms entertain the Saudi Sheiks and millionaire guests at the expense of taxpaying American citizens is money well spent. It makes me wish I could pay more in the form of a backcountry fee. I ran into some of those guests, lost within that matrix of private trail system. They asked where I had come from and how they could get back to their private cottage. I enjoyed a small bit of irony in that on a particularly beautiful winter afternoon
My bushwhacking venture was completed as I dropped off varying drainages in and around John's branch. One day I will find the path of gold, the missing link. It may require another journey. Journeys I anticipate for many years to the ridge of my namesake.
As I returned from an afternoon of solo adventuring, the walk back into camp found a new group adjoining our folk. I was shocked to see other people and particularly surprised to see a familiar face. Remember skirt guy from Chasteen Creek? Some of you may recall that story from HERE. He was bringing a group into this spot.
Come to find out, Skirt guy was wearing a hiking kilt, as he calls it. We spent a great deal of time discussing things and come to find out he is a mountaineer who is preparing for an upcoming ascent of Denali. He also has a real name, JD. He has recently completed Rainier and Shasta and Mt. Hood. We had a great deal to share and I hope to loan him some gear for what will, no doubt, prove to be a trip of a lifetime. If anyone is really bored and would like to see the video I made of our Denali Ascent, you may download it HERE. ( It is a large file but the view from the summit will give you an idea of why we put ourselves through such hell at times)
This is our new friend. I wish him the best of luck on his Alaska trip.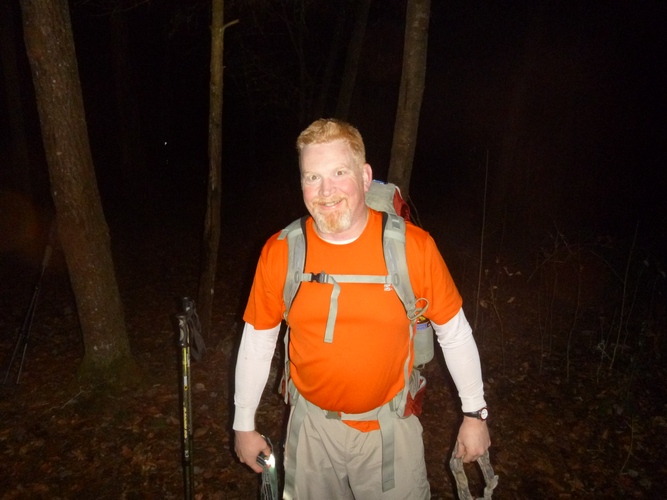 We see a headlight bobbing up the trail and what shows up? Yep, the Big Red Machine! Seems as if nightwalking is in Highlander blood. Never expected to see him. He made a long journey to meet the crew.
As did the Trail Bailer. Trail Bailer brought a Chick Fil A board to bear! What a set of cameo backpacking appearances.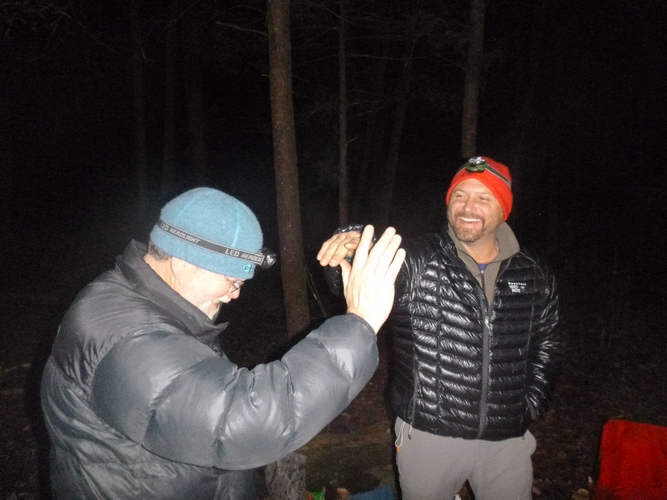 Slap and Mike were so overjoyed they took to dancing a jig, then the Virginia Reel. I say Dosey Do, boys. Dosey Do!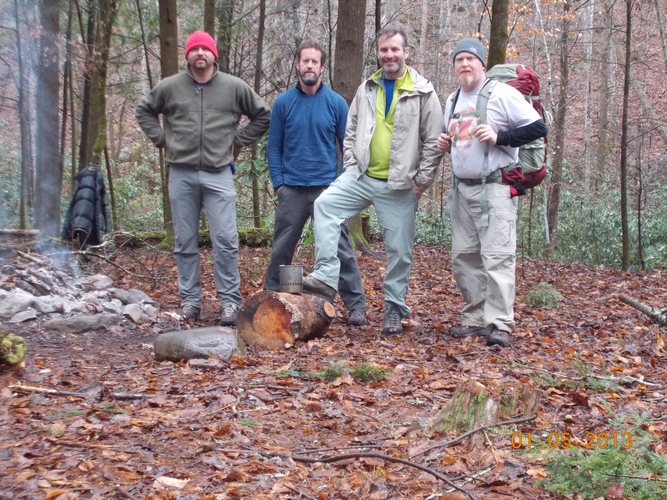 One thing I am getting entirely sick of, though, is this weather pattern. I cannot recall how many of our weekend outings have been interrupted, for lack of better word, by rain. I think that every Saturday evening has produced rain for the past six weekends. It warms up around here long enough to rain. I do not know how it can be 28 degrees Friday and dry, then 48 Saturday and rain. Every weekend! AAAARgh!
Red provided this picture from his hike out. Do you know where we went now? I'm not telling but you can guess.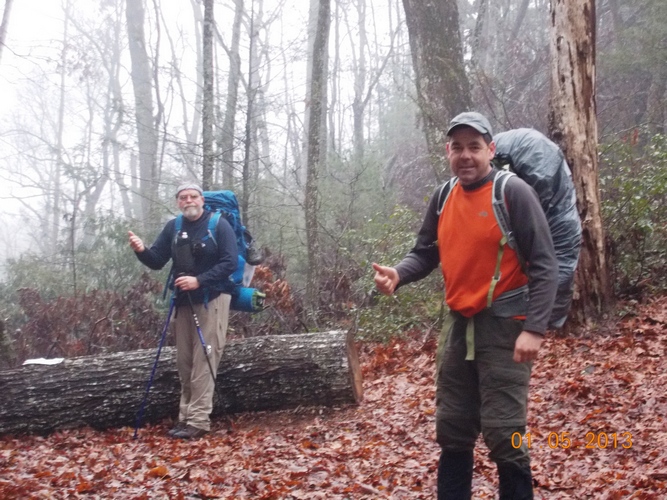 Some fellers needed a ride back around to their trucks. I wouldn't pick up this bunch unless I had a pistol under the seat.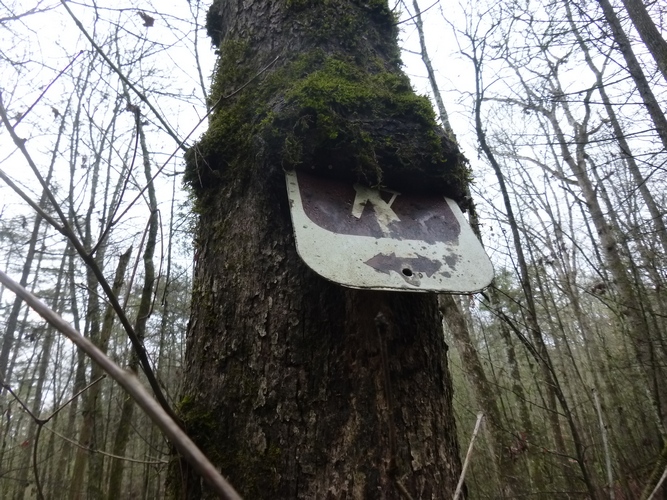 The forest will eat all sings of errant backpackers.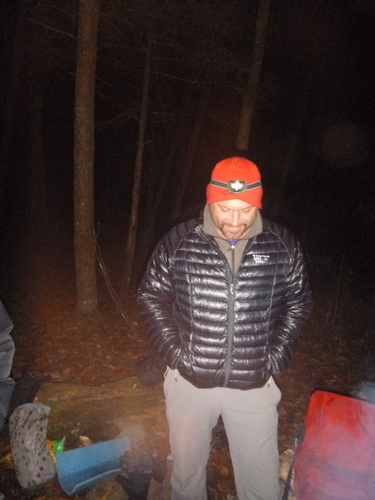 Have you seen Slap's new patagucci jacket? It's nice. Really nice!
And what about Forest Bathing? I did plenty of it.