Beard Cane
10/17-10/19 2014
The splendor of Fall has yet to explode in the lower elevations. We met AJ at campsite 3 because it was the only open spot, according to the backcountry website. After last weekend, I will have to say I enjoyed the smaller group myself for a change.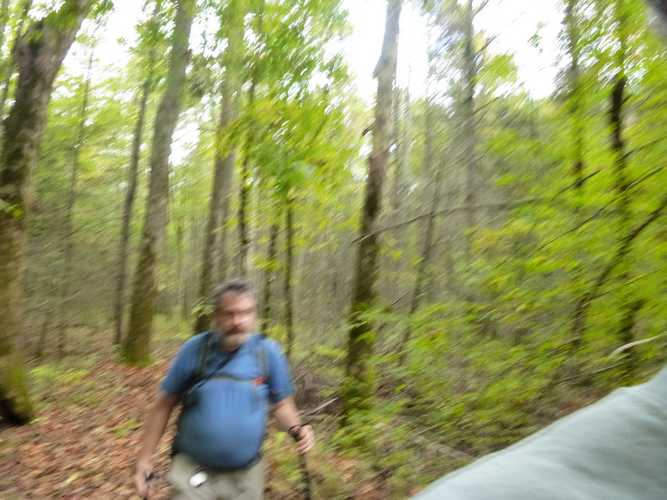 It was great to see AJ back up from Georgia.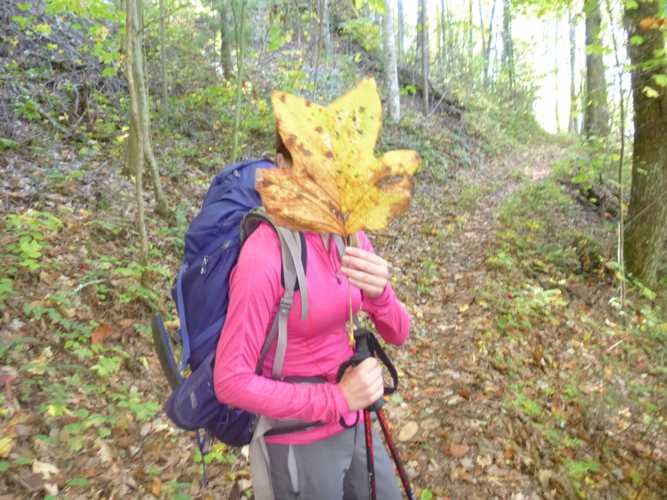 And we even got to hike with this gal, who is real "Poplar". She needed some new miles in the Smokies so this spot fit the bill.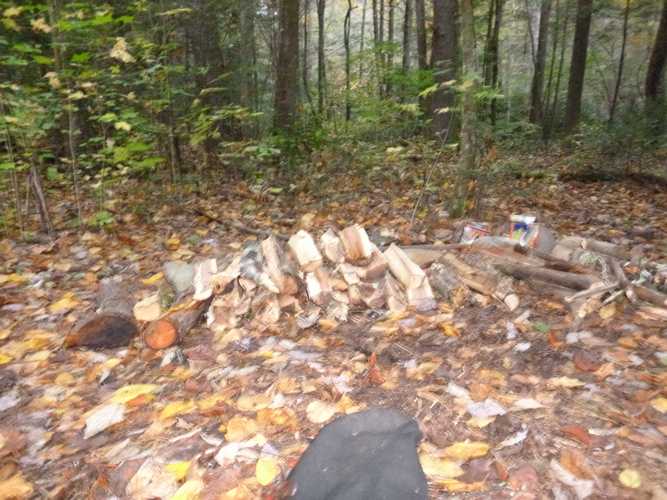 Having a campsite to yourself on a near peak Fall weekend in the Smokies is a treat, but not so rare. According to the backcountry reservation website, you would think the entire backcountry is over run. But the campsites seem to be empty when i get there. You would think the NPS is using the system to keep folks out of the backcountry. We recently found out that the NPS allows concessionaires to access the reservation website. Therefore guide services like A Walk in the Woods and Blackberry Farms can book campsites all they wish to the exclusion of us lowly, taxpaying peons. When asked about that reservation system recently on gosmokies, guide Vesna Plakanis shut down her blog instead of having to answer uncomfortable questions about how she can access the system. It sure explains her adamant and dishonest assertions about the backcountry fee. She and the Leconte Lodge folks were the biggest proponents of the backcountry tax. And we knew all along there was some motive. It took some time to ascertain that this system is designed to accomodate folks like her who make private gain from public lands.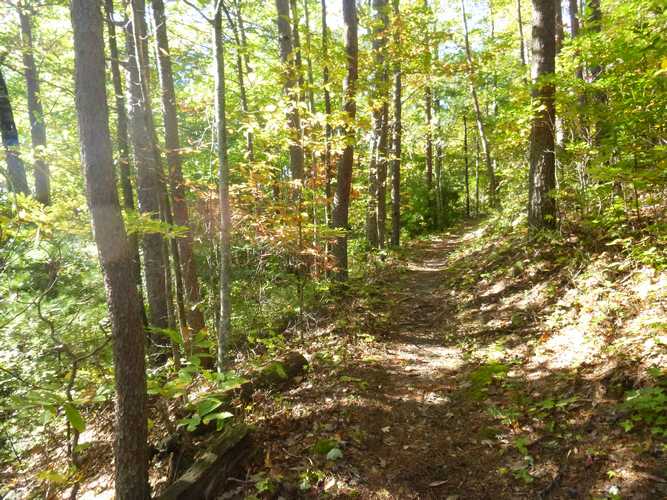 The weather was glorious. On Saturday we dayhiked out to Cooper Road and finished the Beard Cane trail. That way Ms. Tulip Poplar could go on out and complete the intersection with Cane Creek. She and I have done close to a hundred miles in the park this year so she was glad to get new miles.
A lot of folks in the Highlander ranks have finished or are finishing their miles and retiring from the Smokies. Their hiking goals are completed. I have seen a trend where folks click off their miles and move on to other things. I hiked in the park for many years before considering which trails were left to complete. It never was a goal. As a matter of fact, this website was more of a hiking log for me once I started to complete my first map. Then others used it for the same purpose and still do. The comments and narrative were afterthoughts. The year was 2003. Hard to believe it has been 11 years of documented group hikes.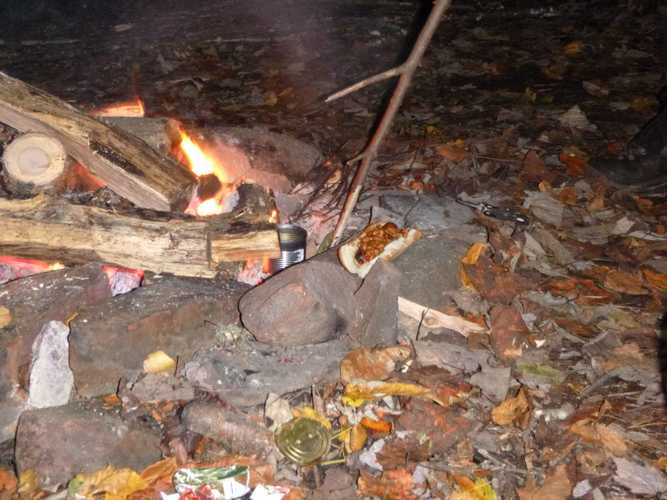 Best hot dog you will ever eat is in the backcountry. I remember Johnny Molloy saying that he enjoys hot dogs in the backcountry and watched him eat one on a TV show at some backcountry site in the Smokies. They are definitely worth the weight. Onions make the dog but they also stink my pack. Is that a canned item? OK, we splurged a bit.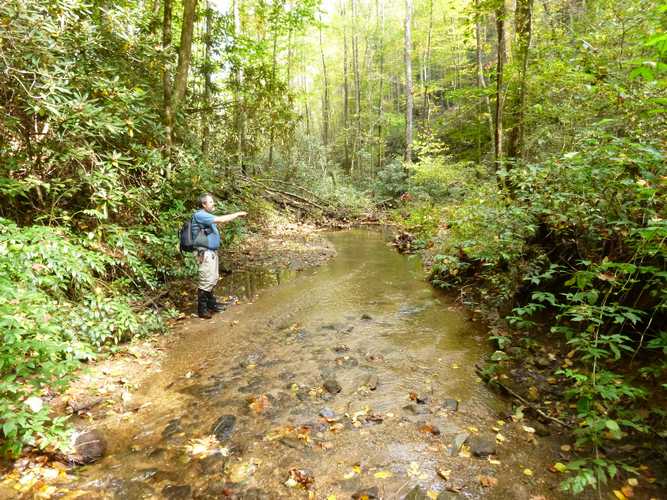 There are several creek crossings on Beard Cane. I had not been there since the tornado ripped through and the NPS closed campsite 11 permanantly.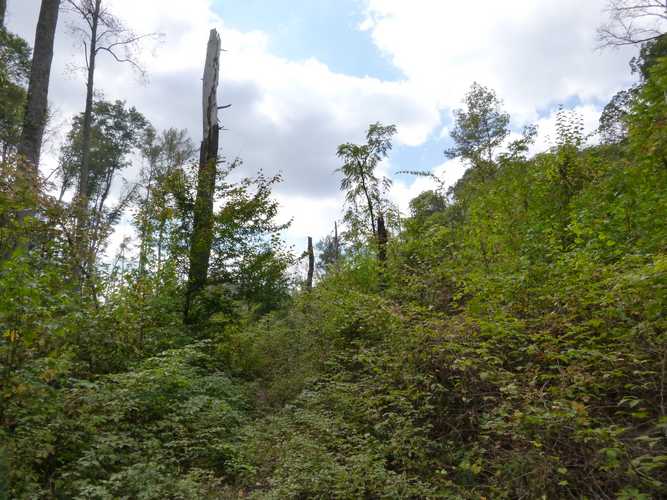 The landscape of the area has been permanantly altered as a result.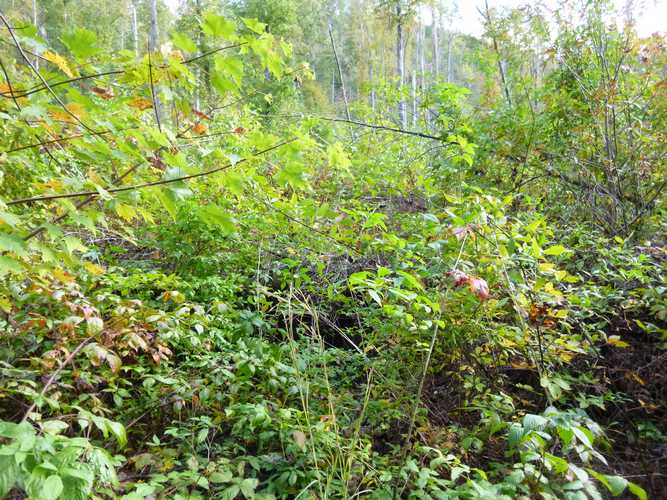 This is what remains of campsite 11. I didn't bushwhack through there to check out the spot. Had it been cleared the campsite could still be used. Again, the NPS thinks that humans are the problem in the backcountry. So closing a spot helps alleviate that "problem".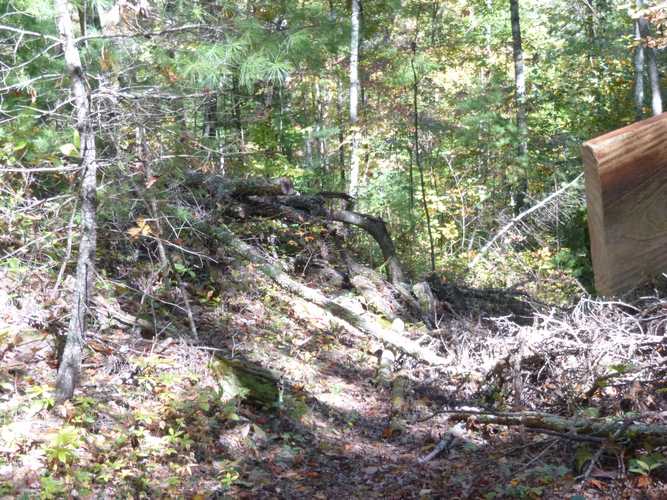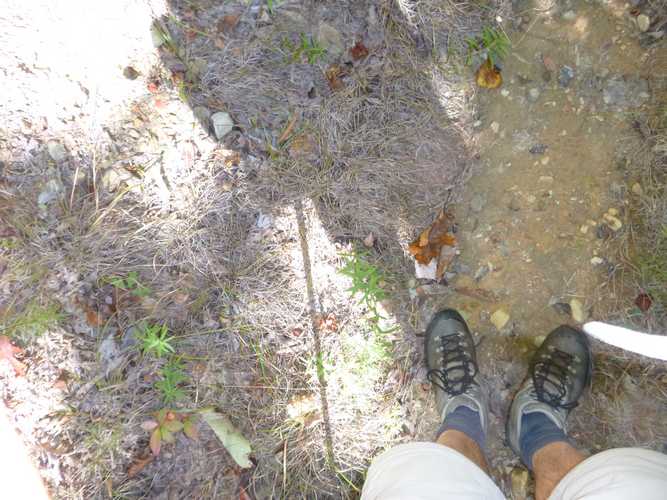 I've always tried to reduce my footprint in the backcountry. Most backcountry hikers are conscientious.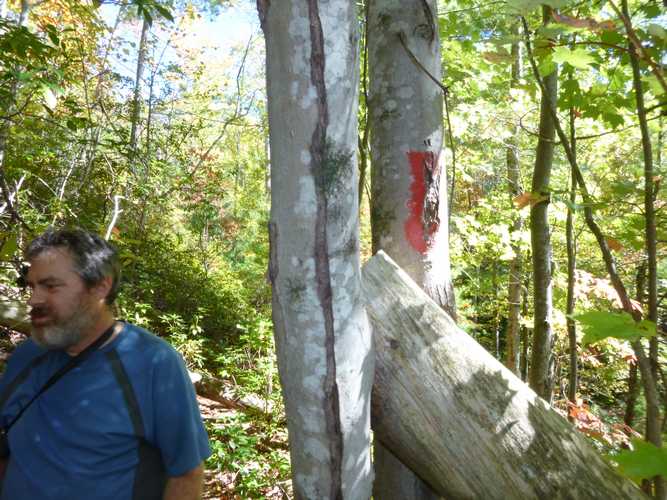 We had time to walk back out the the Blackberry Farm Trail system. I wanted to show AJ and Ms. Tulip Poplar the scene. Here is a blaze on NPS land marked by Blackberry Farms. If you didn't get to see the news story, below is a you tube video of the coverage. WATE is the only local news outlet to dare challenge Blackberry Farms. Of course, Lamar Alexander started Blackberry Farms. Lamar supports backcountry fees and has refused to meet with SFW on 7 different occasions to explain his stance. He has no problem with allowing the resort with which he has ties to clear cut hundreds of trees on NPS lands to accomodate guests who pay in excess of $700 per night. But we need to pay $4 per night to sleep on taxpayer funded ground. And if I burn a piece of dead wood in my campfire that is larger than my wrist, I am subject to a federal fine. Yet Blackberry commits the crimes below and their guide service contract is renewed with no penalties whatsoever. That is your NPS at work.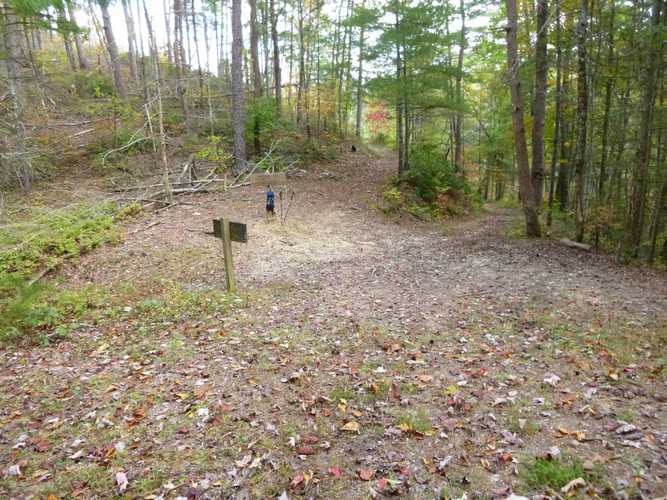 I found something discarded in the woods here at the intersection of Beard Cane and Cooper Road.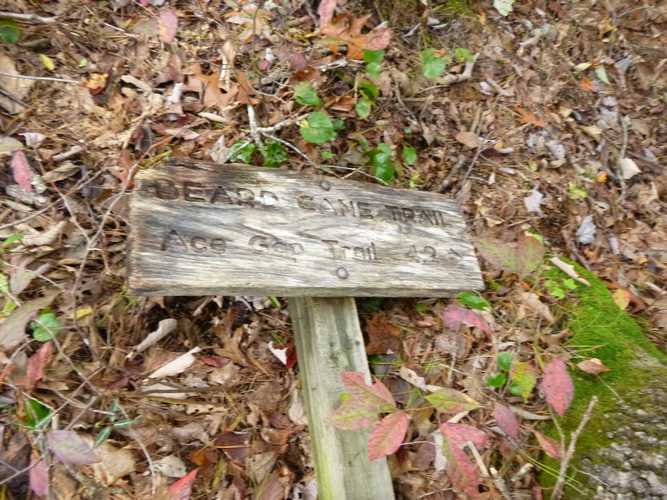 It is the old Beard Cane sign. Guess the NPS just throws that stuff in the woods when they are done with it instead of carrying it out. What if backpackers acted this way? The good old double standard. But hey, here is the epitome of double standard for the beloved NPS.
http://www.nationalparkstraveler.com/2014/10/op-edthe-national-park-service-and-wilderness-50-years-neglect25790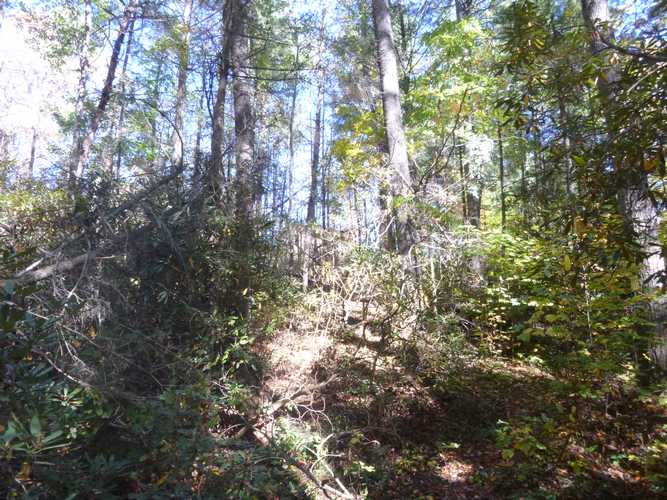 It was a splendid, relaxing weekend. We managed to get about 20 miles of hiking and nary a drop of rain. Ok, we had two drops. It rained for about two minutes Saturday night. Of course, this is the usual Hangover weekend. As predicted, the weather was perfect. Not that Hangover wasn't a blast and the weather sort of moved around us. I had two great backcountry weekends and it was incredibly relaxing and free of "shenanigans".
My recap of the Mexico climb is HERE. mexican_volcanoes.html