Cane Creek and the return of Sally Dumplin 8/15/14 to 8/17/14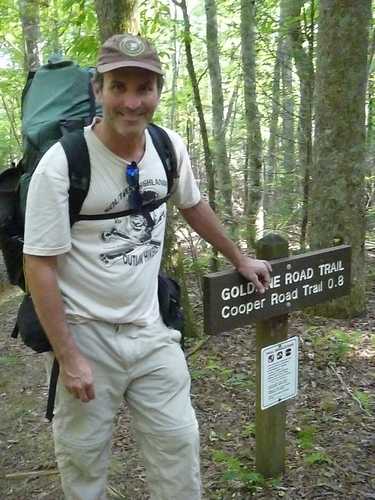 Since I am the trail volunteer for Goldmine and Cane Creek I get to stay at my adopted campsite for free! Thanks Christine Hoyer for taking care of that for me.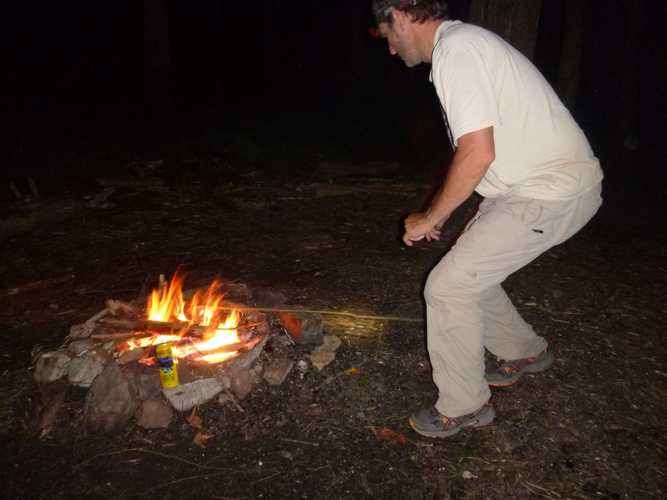 It was hot dog time again. I owed Jerky Mike several meals.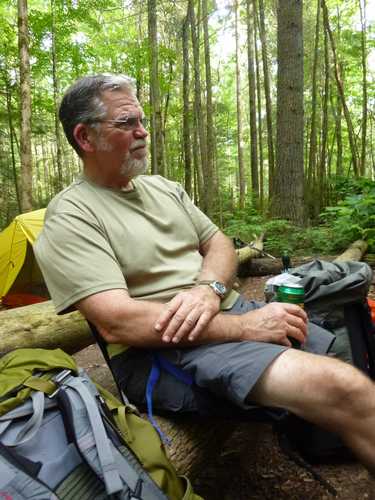 Doesn't he look like a Dapper Dan man? We arrived in camp Friday night and had the place to ourselves. You know, in the overcrowded Smokies backcountry.
On Saturday morning I hiked out to the end of Cane Creek to survey the conditions. And to see what the "private resort" was doing on this side of the drainage. We did a hike into their private trail system on Tuesday and I intend to publish a report later detailing their extensive and continued abuse of public lands. We had some "special guests" who were very interested in Blackberry's activities there. I can assure you it still continues. Their attempts to "hide" their sins is more sinful than the original offenses.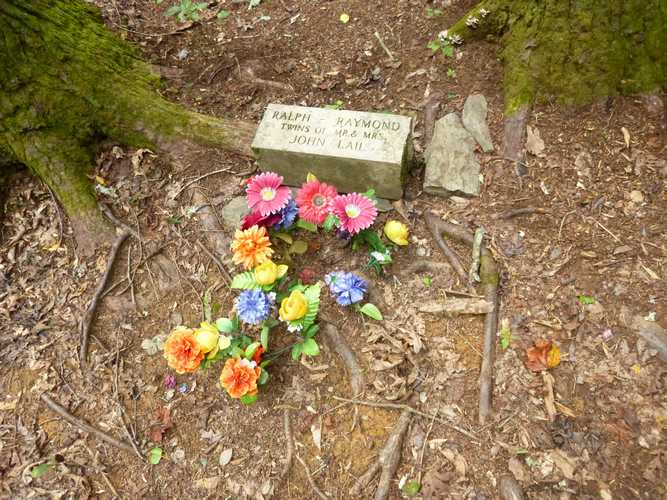 Later in the afternoon on Saturday, after the daytrip to the park boundary, Jerky Mike and I walked out to this cemetery at the junction of Cooper Road and Cane Creek. You've probably seen that side trail and wondered, like myself, what was there. This infant grave represents the resting spot of infant twins of John Lail. I have no further information about the family.
It was a half mile walk from the junction down to this spot. When Jerky Mike and I arrived, it seemed as if we could be able to bushwhack back to camp. If you can believe it, I talked Jerky Mike into doing a bushwhack. We dropped down from, believe it or not, Johnny's Ridge to Ogle Creek. We consulted the topo map and made a few turns here and there. But we arrived right at camp. It was somewhat remarkable. I am not usually one for mid summer bushwhacking but this was a perfect home run. Mike may be my new off trail muse. For an offtrail bushwhack the rhodo factor was surprisingly low. We did come across some sort of abandoned operation as evidenced by this.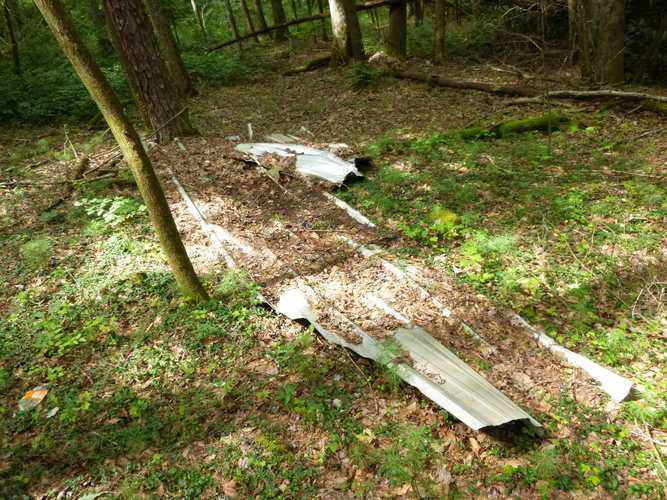 That's what I love about bushwhacking in the park. You find the most interesting objects. There is too much aluminum here for it to have blown in via storm. Makes you wonder.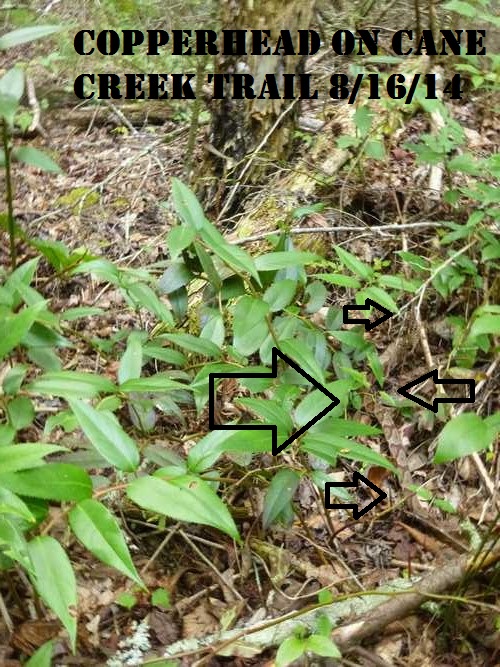 I wasn't very concerned about the snakes. Then Will Howe arrived and look at what he finds right where we had just popped out onto the trail at our campsite. Here is a video I shot. Go to the full screen mode to see him slithering.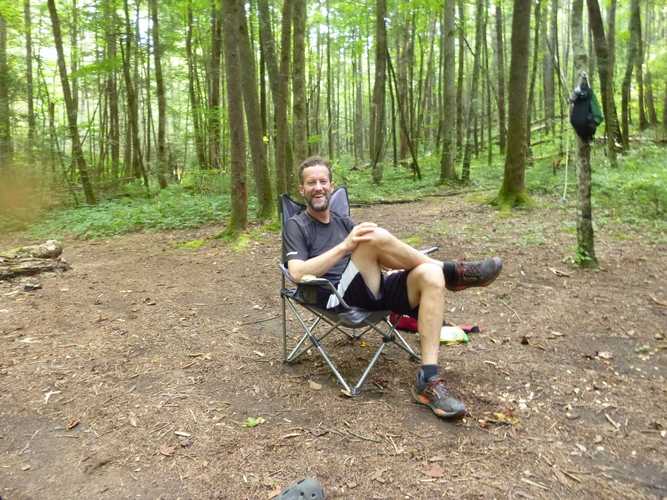 Talk about camp comforts, a six lb chair? Man, I wish I had toted one.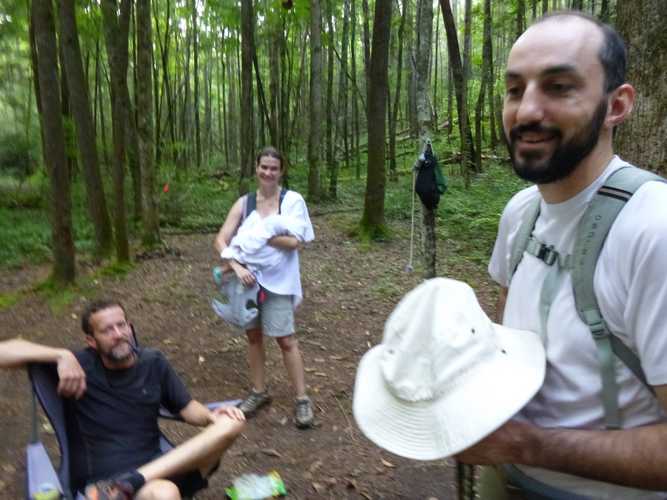 Talk about a hiking cameo, look who comes to pay us a visit? That's right. It is Jacqui and Andrew and family and friend. What a surprise! Actually I saw Jacqui on Friday and told her where we would be. And they brought this crew for a reunion with their old hiking buds. Great to see them.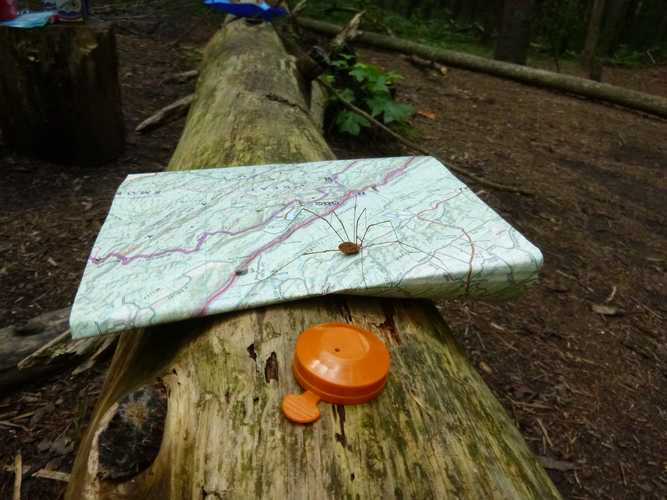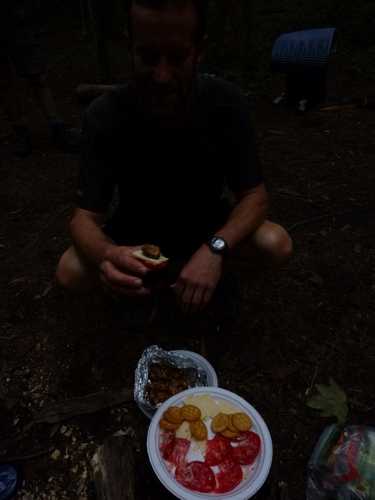 Later on, after Sally Dumplin joined our group, the cheese board got amped up. Dave, who hasn't been in the backcountry for a while if you don't count last weekend, brought fresh tomatoes. So they were soon adorned with parmesan cheese and joined by steak cooked on the fire. That's how Highlanders roll.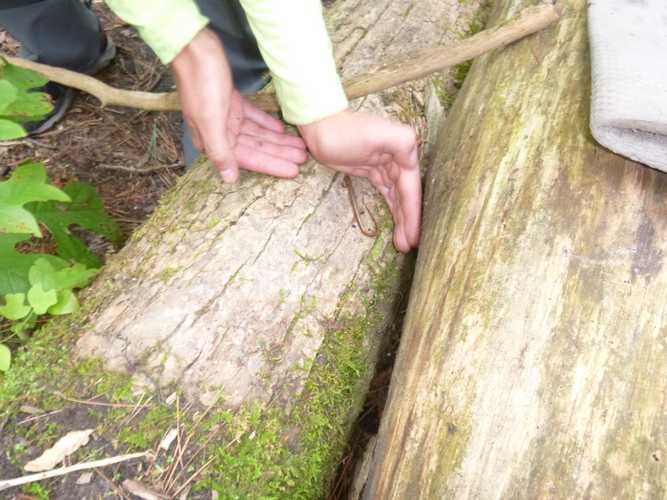 (this guy wasn't on the menu)
Sally D is the guy on the far left. It was good to have him back in the fold. A fantastic outing. Stay tuned for details of our return to the Hurricane/ Blair Gap manway that has been further raped by Blackberry Farms. I have photographic evidence that you simply can't believe. Of course, the Great Smoky Mountains Association has folks trolling the web trying to discredit the fact that a private resort has been operating with impunity on NPS property. That means we are hitting close to home. And its going to hit the fan even bigger soon.