Master Skidmore is the leader of this contingent that forged onward despite the winter weather. A few Highlanders lost their battle with fear on this hike but not the intrepid crew of Grady, Ricky Bobby, Skid, Buff, Jerky Mike, Sally D and Jack. We understand that ABig part of doing these things is overcoming fear. ABig group can help you fight your demons. ABiting cold can sometimes exacerbate your fears. ABright future awaits those who face those adversities and forge on. It will Seale your destiny to push your limits and conquer those Danny boy fears that ABunch of people in our group harbor. No one will chastise you if you cry, UNCLE!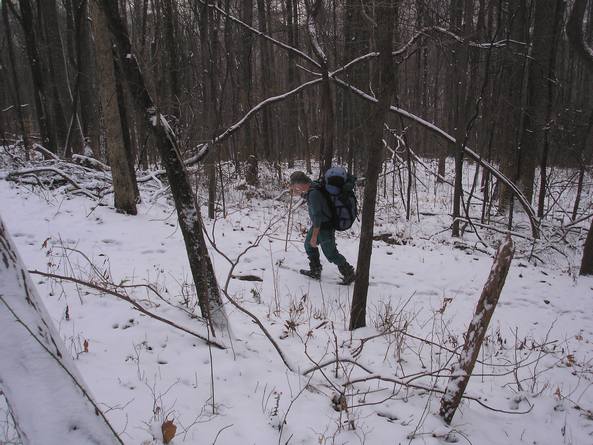 Yes, there was snow. And it was cold. ABrutal cold, at that.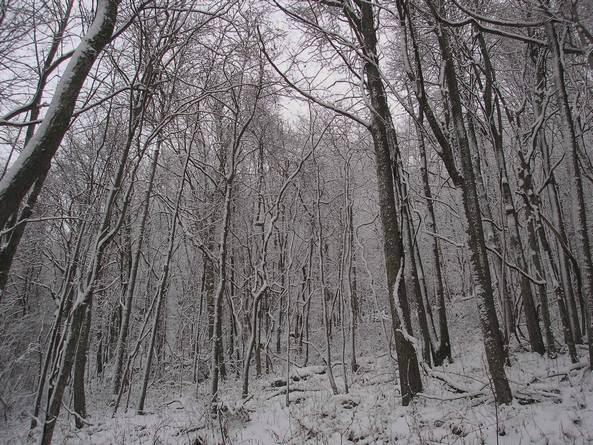 This forest in the land of Daniel Boone beckons the Highlander crew and pulls them from the Smokies year after year.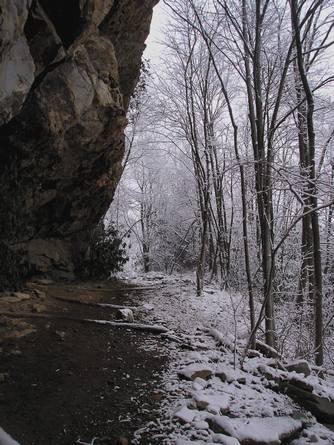 You can feel the history of this place. At one time, teeming with game and so thickly forested you could swing from limb to limb without touching ground. Pioneers spoke of buffalo, elk and deer for the taking. We Highlanders definitely harvested the PioNeer spirit on this trip. The Sheriff was Pioneer.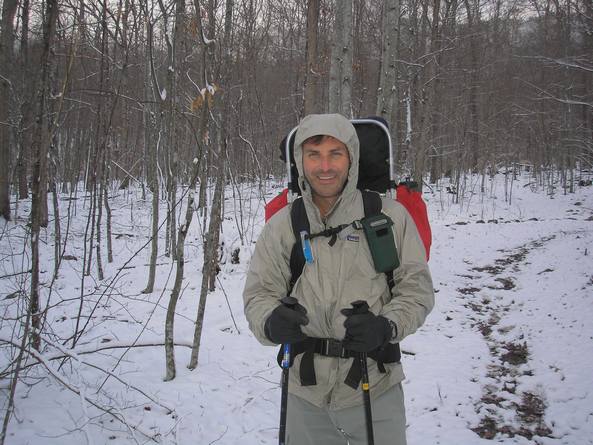 Cold or not, here I come.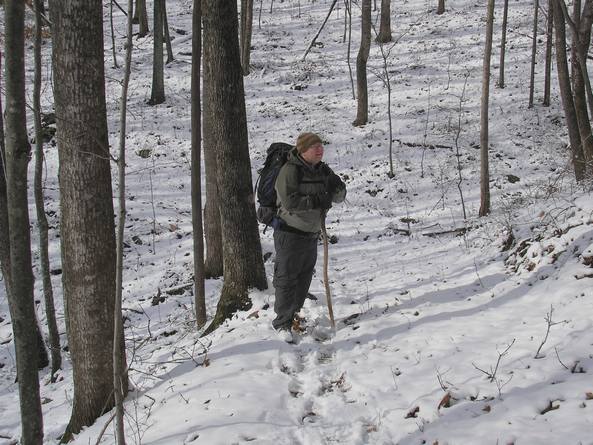 This PioNeer spies him a coon up in that thar tree. He has done treed him a coon!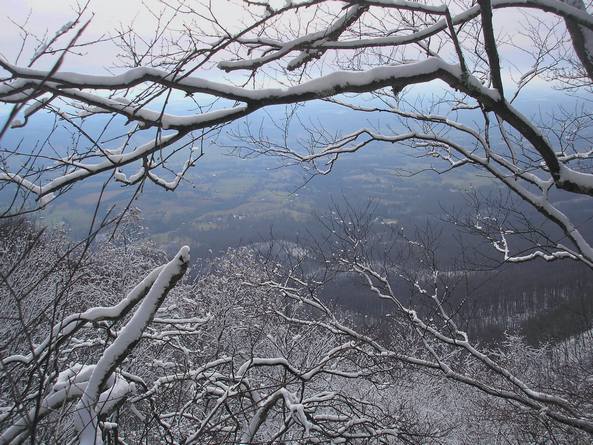 The new Chadwell Gap trail was a novelty to me. I had hiked the old trail before they closed it for good ten years ago. This new route was nothing like the old. With an overall elevation gain of about 1500 feet in 2.5 miles, I would say it was a bit less steep than the other. We ascended into the snow and remained in a winter wonderland.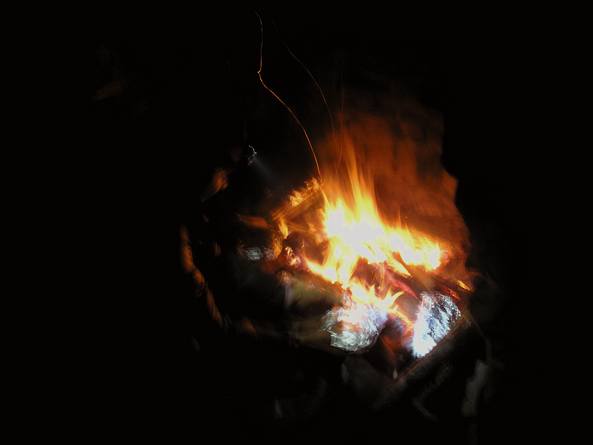 This is President Dumplin preparing a gourmet backcountry show cook off of ribs. He prepared them that morning and heated them for us over a roaring fire. Quite a backcountry treat.
Speaking of the cabin, here is a view of what we occupied. Not much in the way of amenity but definitely suited the purpose of tent avoidance.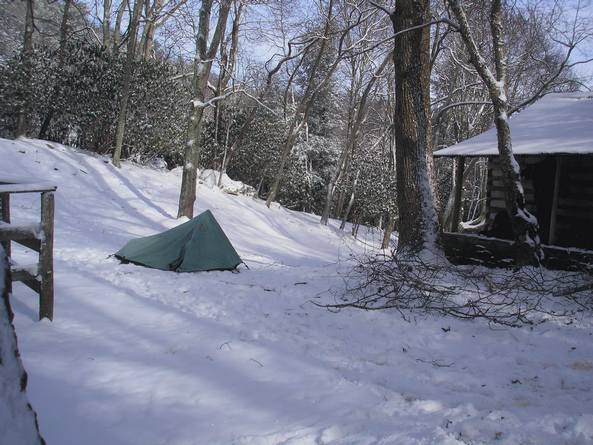 OOOps. Forgot about Ricky Bobby.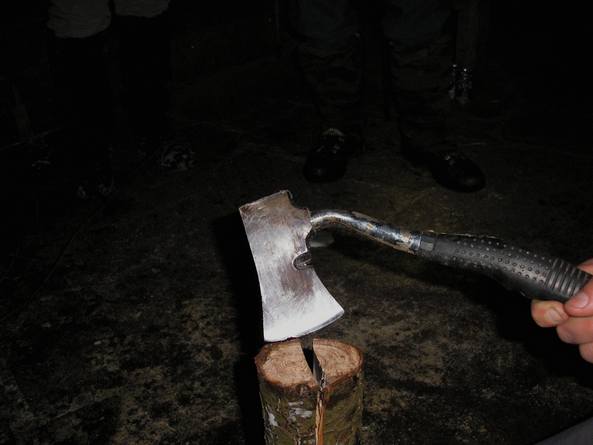 My darn hatchet took a beating. It started with George last weekend and finished off on this piece of petrified wood we exhumed from a fossil outside. I've got to cut down on my time at the gym.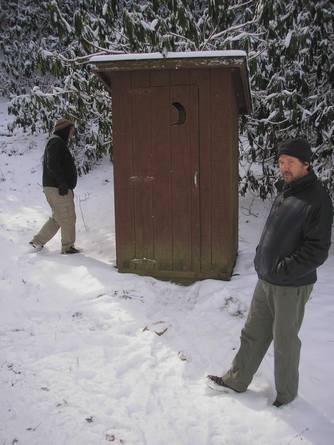 The Livvid Privies inspect the quarters. This will be their first album cover, what do you think?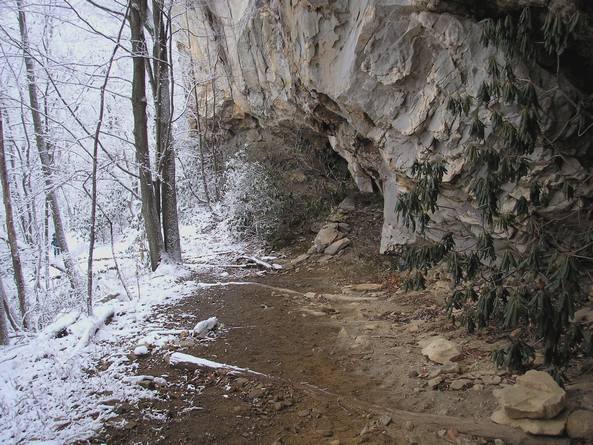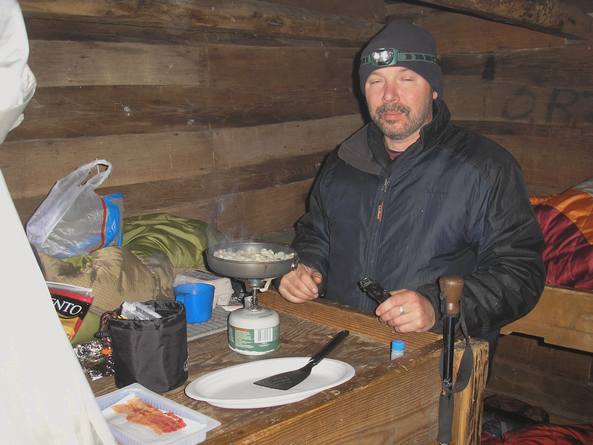 Grady prepares breakfast for Skidmore, as directed the night before by none other than..........................................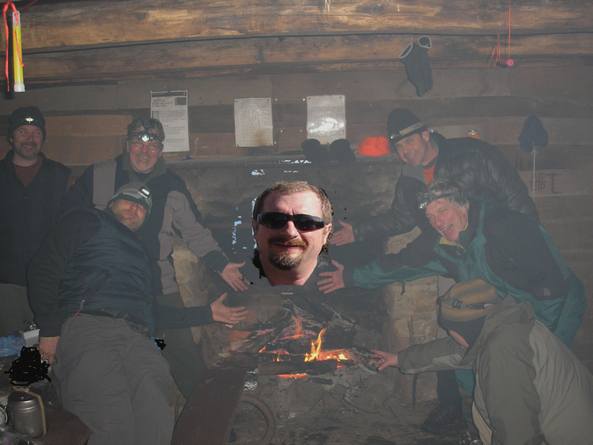 The Great Scooter. He appeared again to the SouthernHighlander crew to issue a Cyber Cast from the great beyond(NewYork). When hearing that we were at Martin's Fork Cabin, the conditions were optimal for him to issue another dispatch from the Great Beyond. The Great Scooter wished to convey to all that he is in good hands, is performing all folding duties with care and respect and wished to tell Grady that he should show the same courtesy to Skidmore by starting with breakfast. He said, "I cannot be with you at this point in time, my good brethren, I am tending to my duties and shepherding another flock. Christmas will find good tidings to ABig portion of the Higlanders. To you weaker of the group, ABenefit shot of courage is in order. To BC George, tan well. To JMike, reach for the stars and stay out of the fire, lest ye wet the bed. Be strong and Blessed are the Cheesemakers."
Although Cryptic, the Great Scooter's prophesies have an undeniable way of reaching fruition as evidenced by other appearances.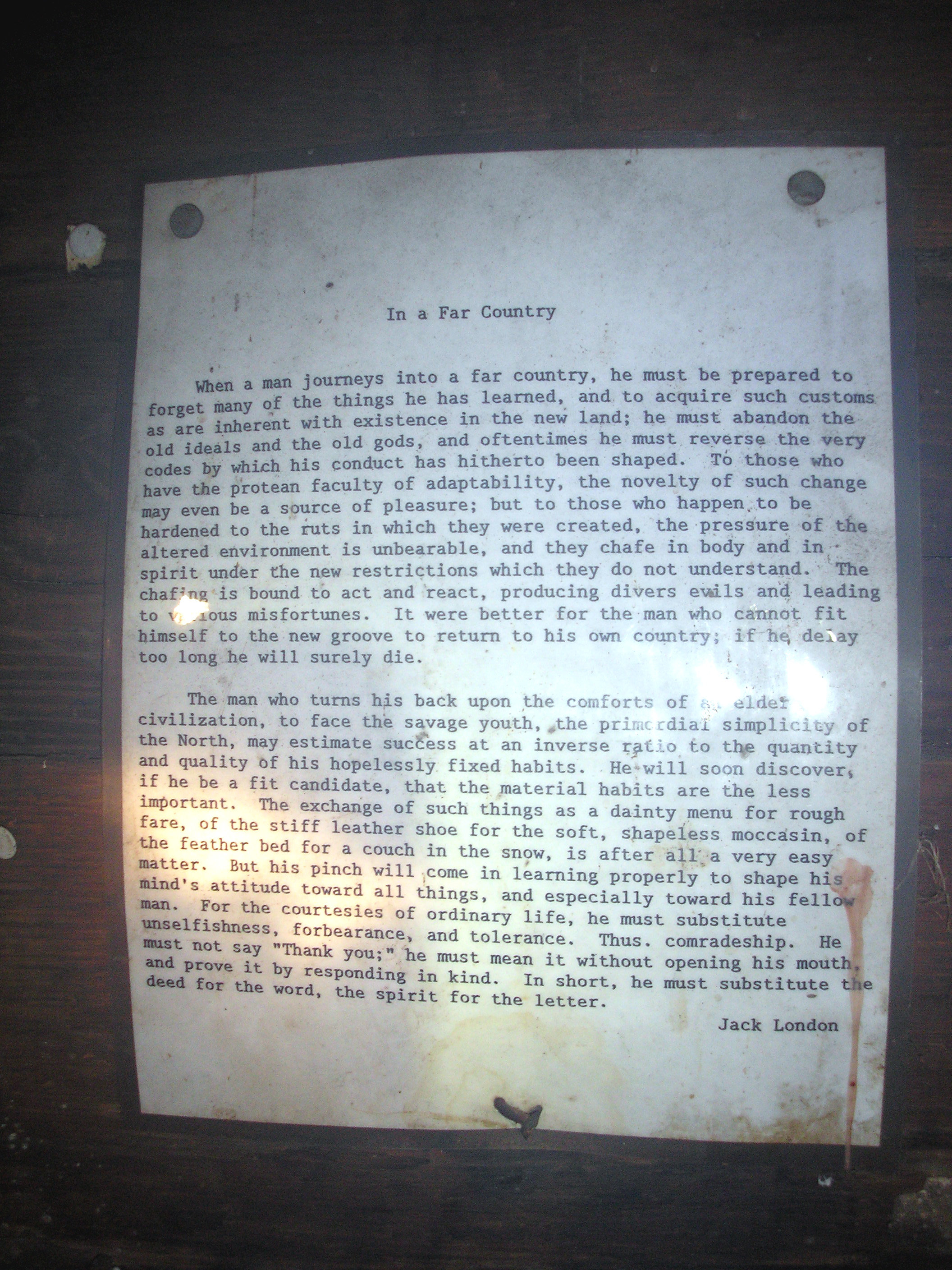 I thought this script was fitting in light of the AByssmal excuses given by many regarding the weather. It was nailed to the wall of the cabin.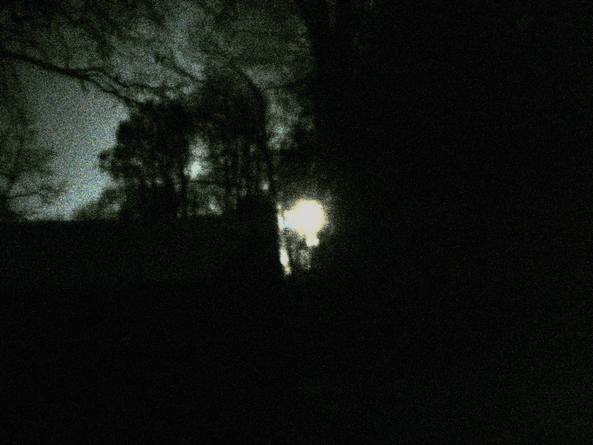 The moon rose over the cabin after the departure of the Great Scooter.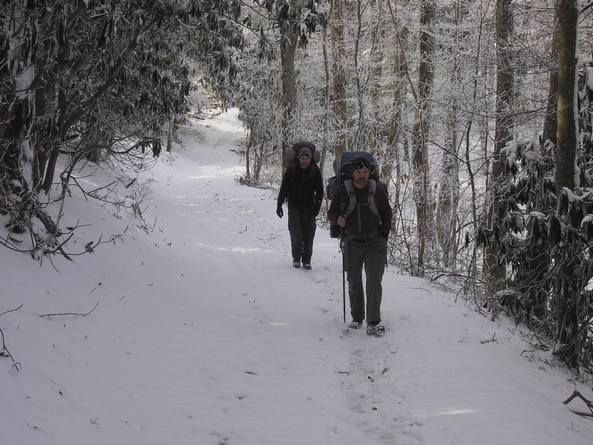 These boys came in late and departed late. Bobby needed to warm up after a night on the snow. Who can blame him with temps at around 15 degrees.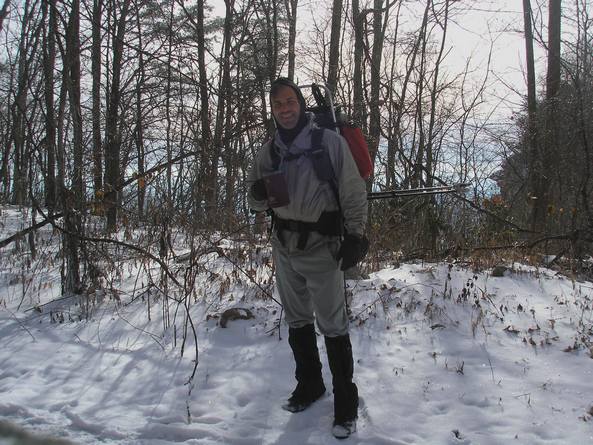 I am off to perform a knights errand in the commission of the Great Scooter. Have you any coconuts?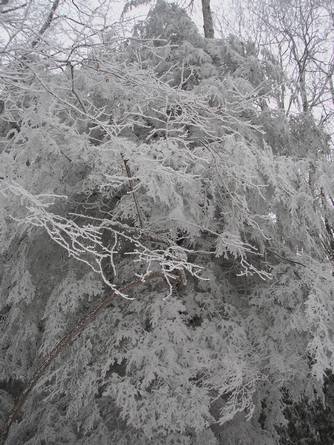 Here, the Great Scooter is disguised as a tree, watching our every movement in the Wilderness of Daniel Boone in the Gap of the Cumberland in the Land of the Free and Home of the PioNeers. SouthernHighlander PioNeers!
Trail Stats: Chadwell Gap to Martin's Fork Cabin: 3 miles or so.