Chasteen, Hughes Ridge, Bradley Fork and a "Man" hiking in a skirt.
10/18-20/2012
I left work late on Friday and night hiked into campsite 50.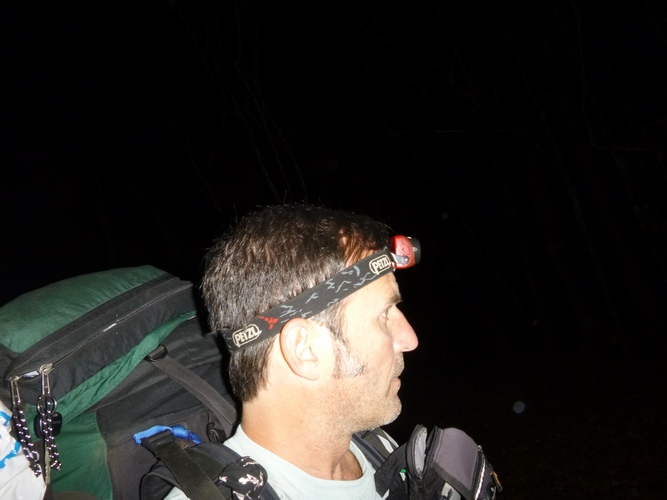 Nighthiking is fun in the fall. When the crisp air meets a short hike, there is nothing better than sneaking in on the boys.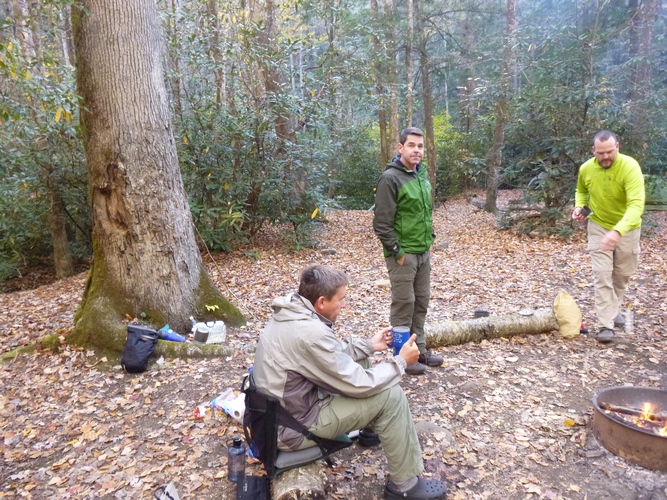 Frank was there demonstrating his version of the hokey pokey. George and Dave say they don't cotton to that kind of hanky panky.
After a wonderful evening with George, Dave, Frank Mike and Amy, Mike and I departed for the 13 mile loop that began with finishing Chasteen Creek. This was an ascent that gained almost 2500 feet to the terminus of Hughes Ridge.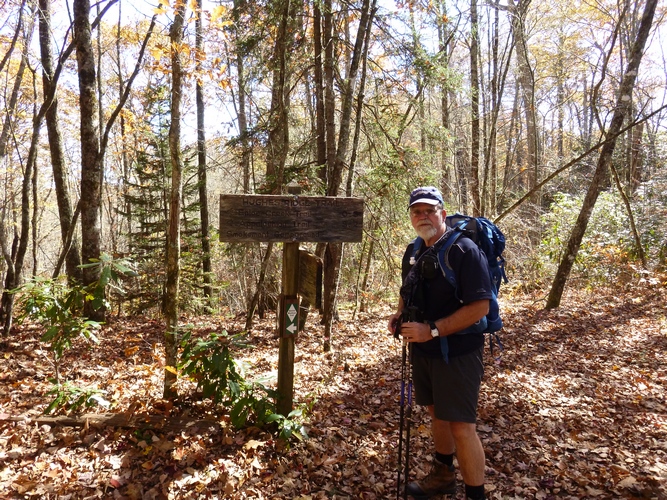 Mike is happy to finish the ascent and begin a gentle ridge walk. I must mention a most unusual experience I had about four miles out of camp. As I finished the final leg of Chasteen, a man came strolling down the trail in a hiking skirt. I have seen a guy in a hiking skirt before several years ago at icewater springs. I expect that kind of stuff at icewater springs shelter. It is the biggest moron magnet in the park and a hotbed of stupidity for which the Sugarlands continually cites a need for a fee. Reason being it's proximity to the road at high elevation, not unlike Leconte, which isn't the backcountry either.
Anyway, skirt man comes skipping down the trail and I say hello and he stops to look at my shirt. He then asked, "Is that your sign down at campsite 50?" He was referring to the Southern Forest Watch banner that I like to hang in our camp. I responded affirmatively. He interjects, "What's up with that, dog?" From that point we had a fifteen minute trailside debate wherein he informed me, "Dawg, we need a fee. This backcountry is overcrowded." I then asked which backcountry site he was camped in and he informed me that he was staying at the Smokemont FRONTCOUNTRY campground. His retort was, "If I have to pay to camp, you should too." He then educated me that there had never been a backcountry ranger in the Smokies and about a half dozen other talking points put out by the Sugarlands that we have proven false over the past year with their own data. Every piece of misinformation cited by this guy was straight from the early park press releases which they subsequently changed as a result of our refutations. Since he started the debate, his frustration level became such that had run out of talking points and insisted that I stop with my "illegal" behavior. That confused me for a minute until I saw him looking at the Outlaw Hiker shirt. It was also at the point that I informed him that I had as much a right to protest a tax levied by unelected bureaucrats as he did to wear a skirt. That was the end of our conversation that beautiful day. The following day, a Ranger entered my camp and asked about the banner rolled up, at this point and affixed to the side of my pack. Seems as if Skirt boy is also a spotted woods tattler. He epitomizes the very few pro fee folks I have encountered in this fight.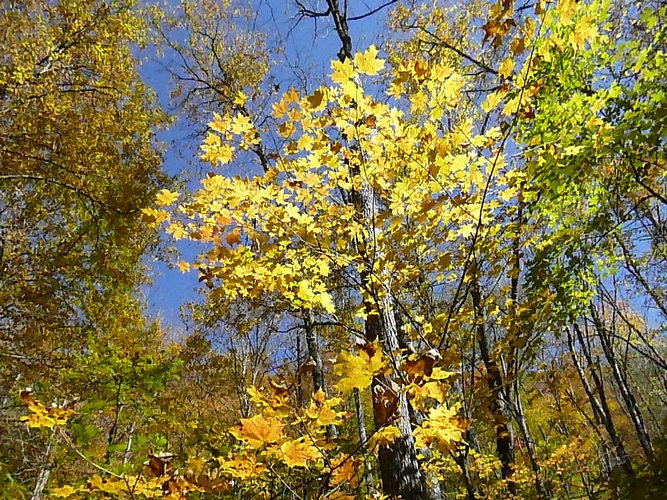 But it was a glorious day.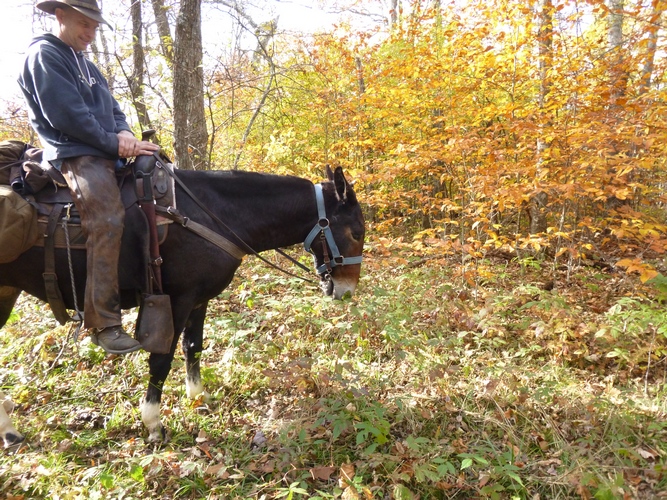 I was grinning like this mule eating briers. These guys followed us up Chasteen and down to Bradley. They were nice horseman who also opposed the fee. They thanked us for continuing the fight. Politics makes strange bedfellows.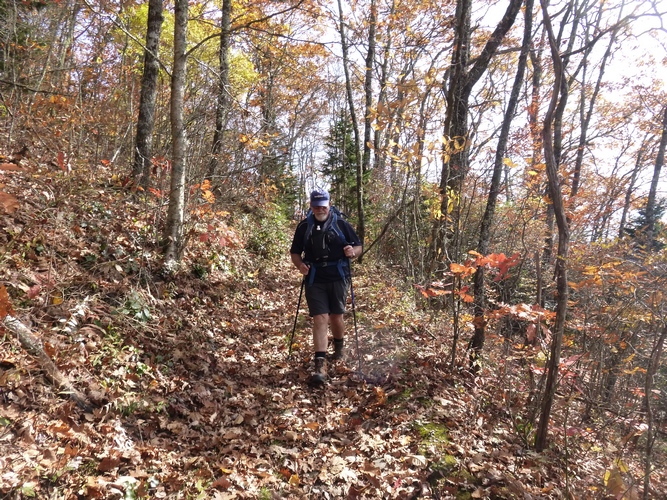 Mike was ready for the climbing to end.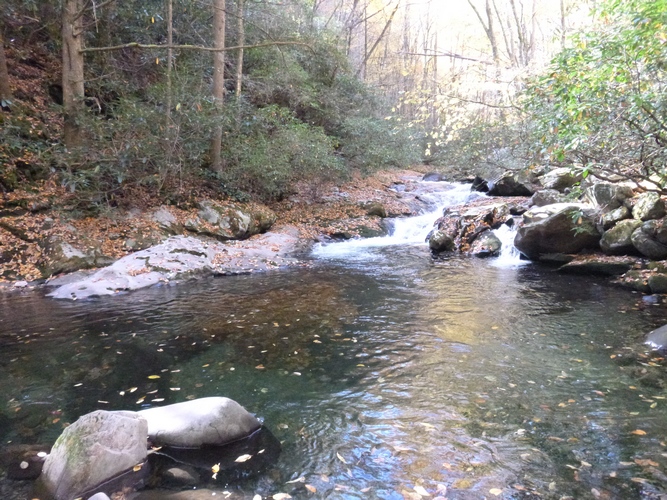 Back on Bradley fork, leaves at the bottom of a pool make for great Autumn scenery.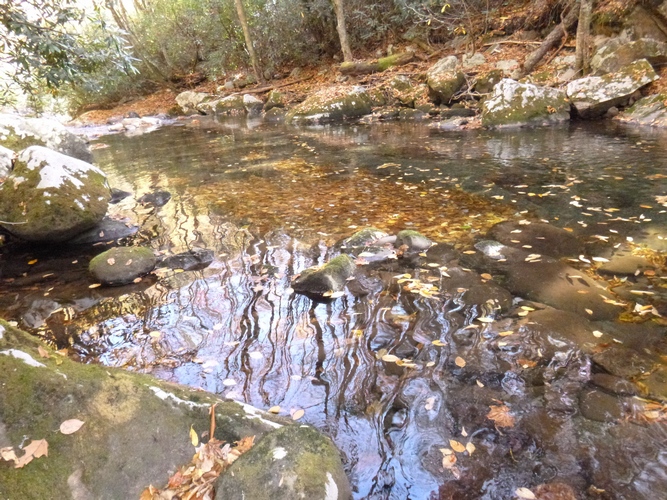 I like this shot and have named it Wiggle Water.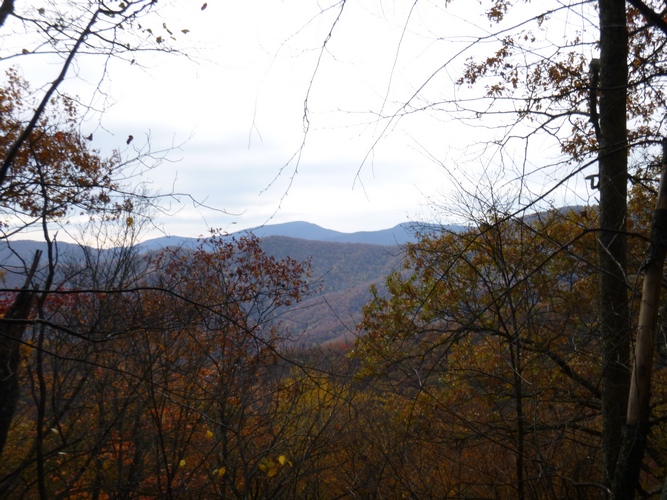 Mt. Masa over towards Dry Sluice.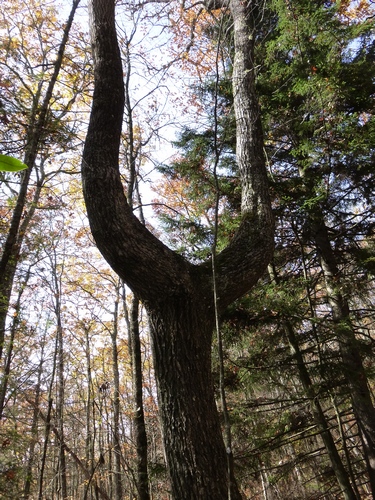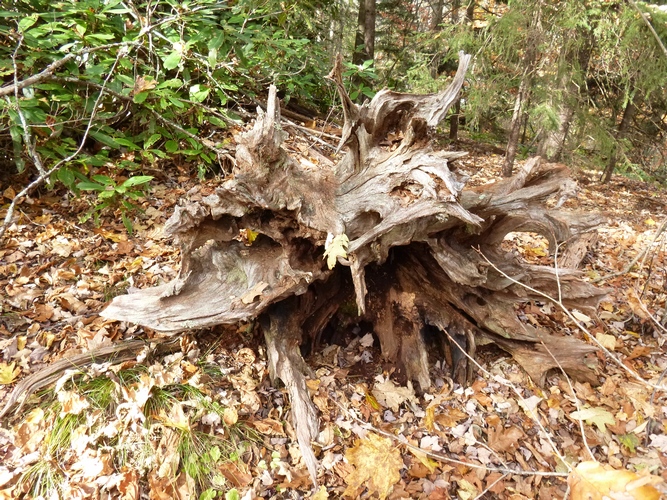 We made it back to camp before sunset. A 13 mile day of perfect weather and great exercise was a blessing to Jerky Mike and I.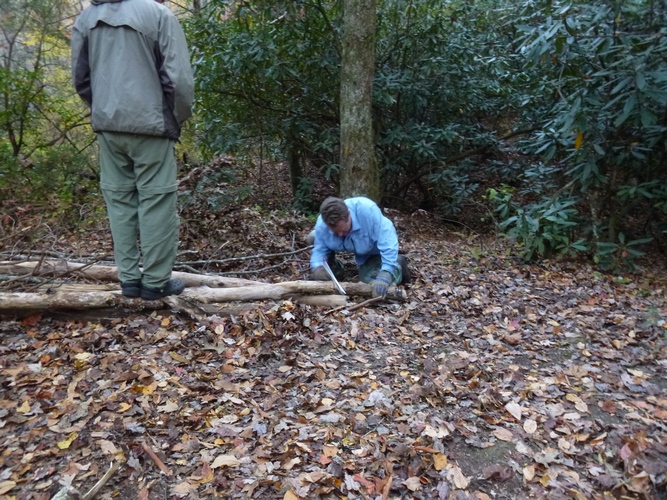 By now, Myers had arrived and President Dumplin puts him right to work. Myers dropped his kit and climbed up Dry Sluice for a 10 mile up and back. Great to see our SFW lawyer earning his trail stripes.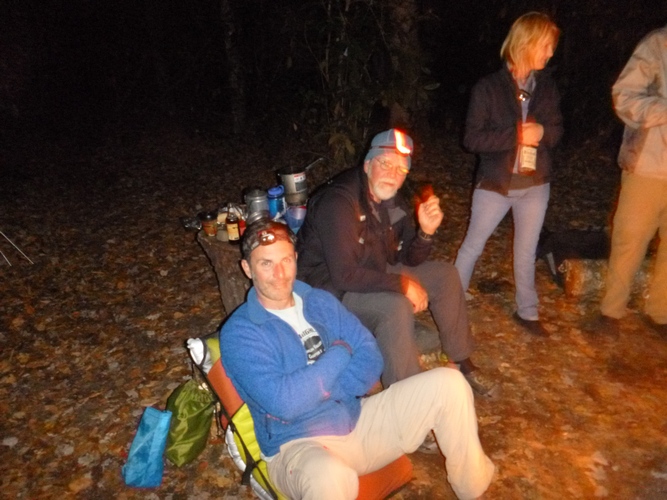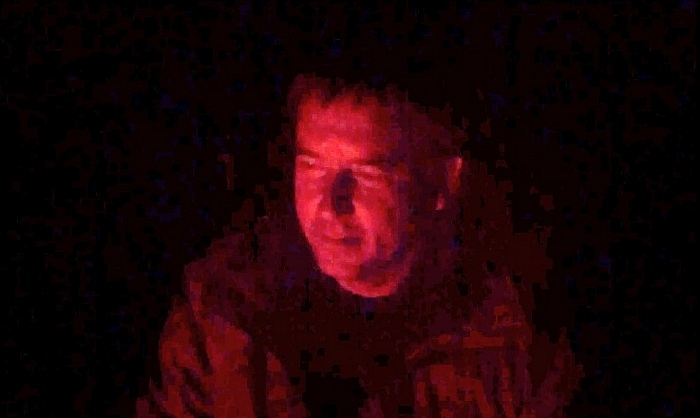 The glow of a fire was a warming thought reflected here in a picture Myers took of George.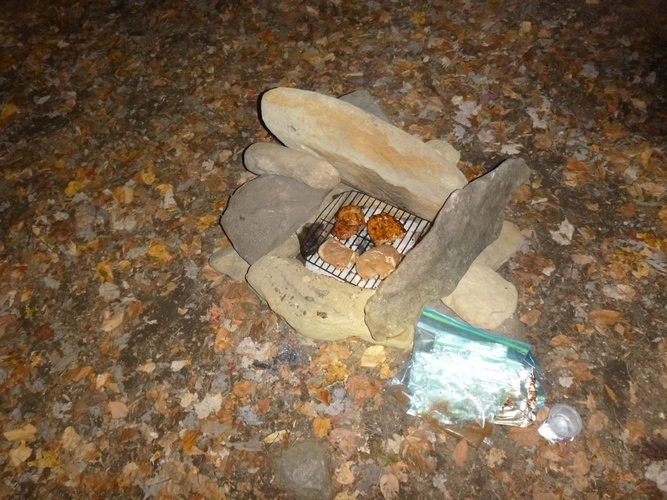 But I've got to tell you the highlight of the weekend was Dave's show cooking. He built this grill and carried charcoal and made pork loin for everyone. George and Amy brought the most delicious green beans. I brought French bread and applesauce ala Brady Bunch. We had a regular backcountry feast. Dave and George and Amy outdid themselves. I wouldn't have wanted to spend this night anywhere else with anyone else. We live like Kings in the backcountry.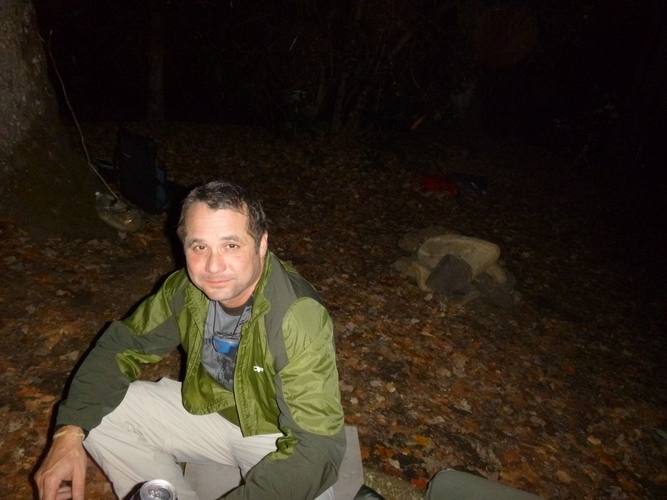 Even High Speed and Sarah joined us for a night of fun.
Myers does some laundry
I think it was a bit "overdone". But entertaining.
On Sunday, my friend Julie came over from Sylva and we walked up towards Bradley Fork. Sunday was another glorious day in the Smokies.