Come to the Land of the Ice and Snow.
Frisco/Vail/Keystone Colorado 2/01/14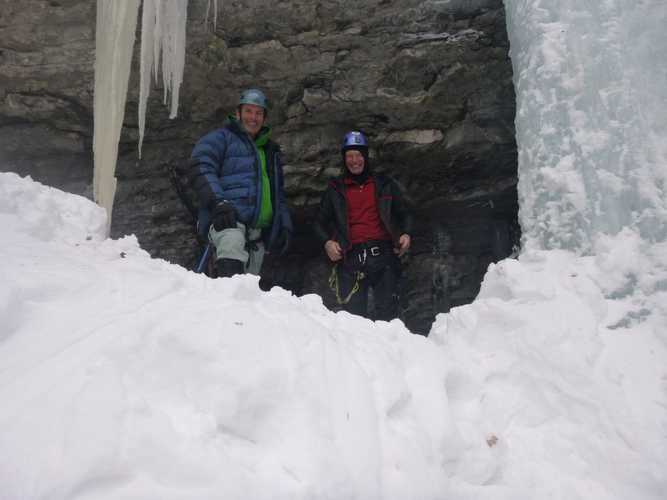 Lee and I hunker down in a wonderful cave behind the frozen waterfall on the first of my climbing days. The first which, I should add, was two days too late. I was scheduled to depart Ktown on Friday, they delayed my flights to the point that I couldn't leave until the next day. So there was one day of climbing nixed. Then the next day at the bright early hour of 4.30 PM they jetted me to Chicago where I sat on the tarmac waiting for United to move a plane out of the gate. Unfortunately it was too late for most of us on this flight to make our connections so we all got to spend a night in Chicago. Then I missed my second day of lead climbing, guided by Steve Johnson. He was going to take me up gratis and I was not happy with Unightmare. Eventually I made it to Frisco and these guys were on day three of climbing.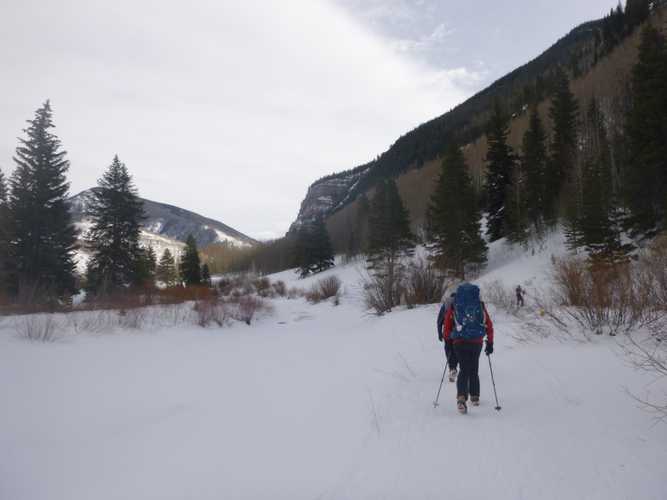 I like the approaches through the Aspen trees to great frozen waterfalls.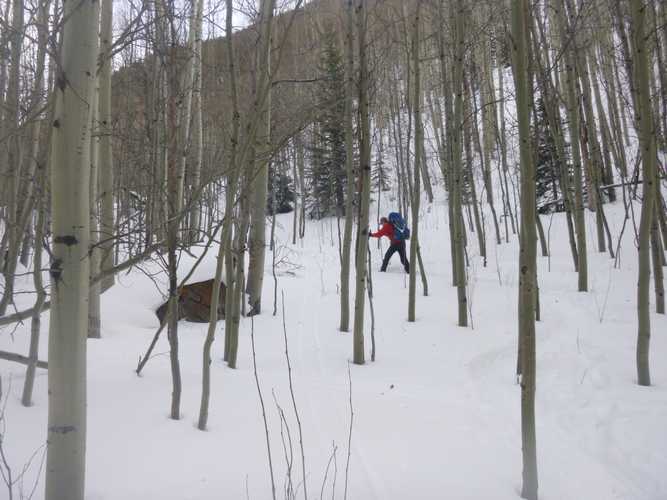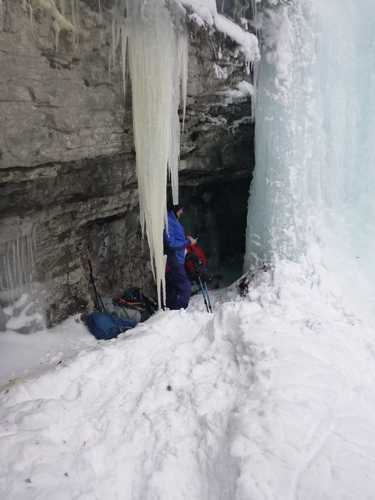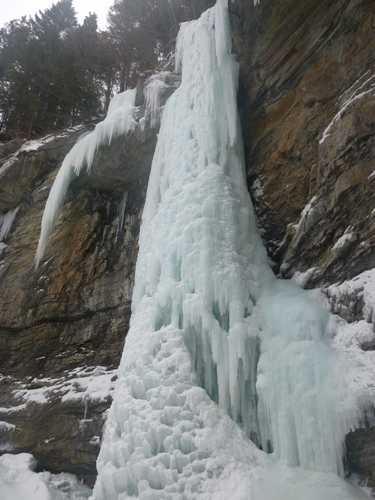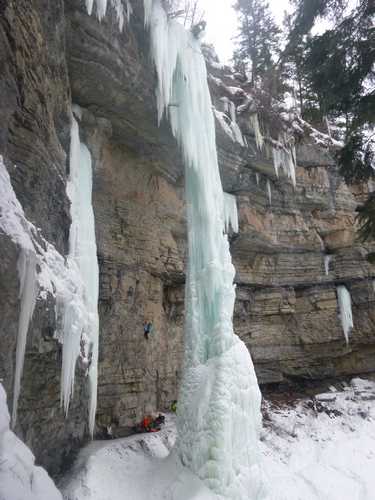 That is the rigid designator.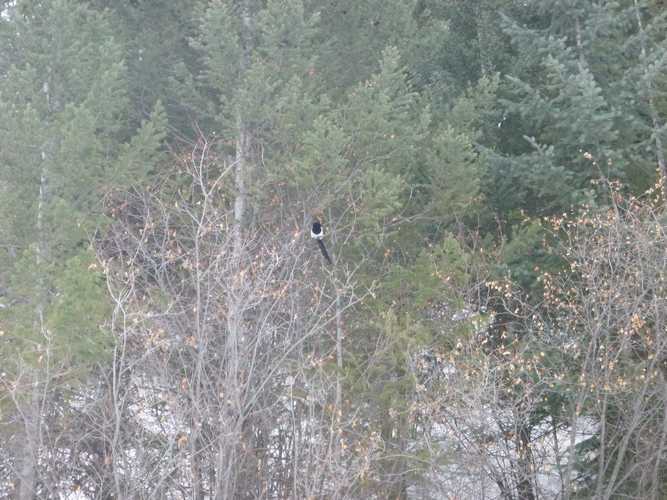 See the big bird?
Natural ice is something I have come to enjoy. Ouray is great with hundreds of routes but the real stuff is a real challenge. Not that Ouray isn't real. It's sort of coaxed. Here at Vail, its all real and very accessible. John Davis is our denmother and he always takes care of the logistics. I have come to appreciate that all we have to do is show up and climb thanks to him.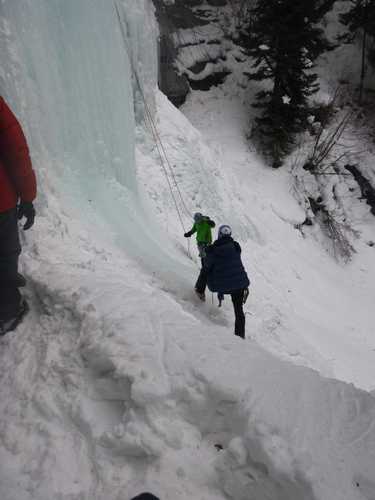 Thats Lee in the foreground in my blue coat and me suiting up for a trip up the blue.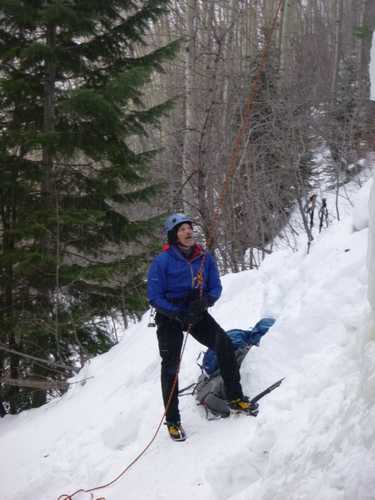 There is our belaymom. John Davis. JD lives in Boulder.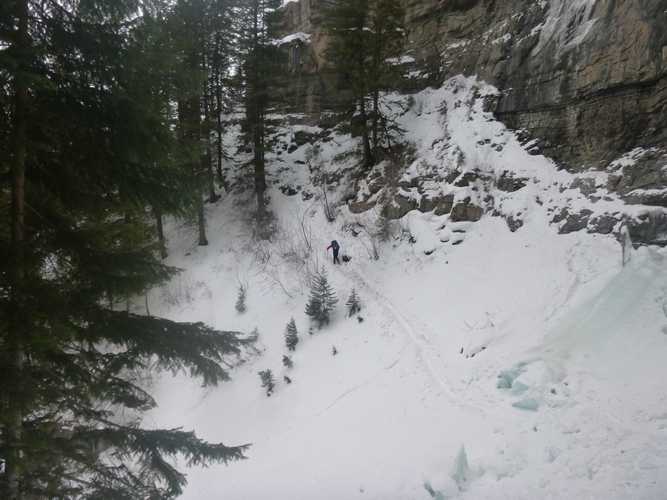 While out there were the recipients of over three feet of fresh powder. That meant two downhill ski days for me at Keystone Resort. So I got enough climbing and skiing. Well, that's bs. I never get enough of either. I should say I received a fair share of both. No need to be selfish.
Despite the travel headaches and the Unightmare airlines experience, it was a grand time. Not pictured is Dan and Neil. Actually, that is Dan in the pic above, I think? Who knows. It was great to be with my Denali buddies once again.
On a related note, have you purchased a copy of my book? Would you like a hard copy in print? Well now is your chance. It is now available on Amazon at 166 pages and the low cost of 12 dollars. It is being well reviewed in the climbing community and this story has helped generate some sales overseas.
When the mountain gods are angry – Footsteps on the Mountain
Here is a link from the Daily Times on Monday
Local News | The Daily Times - Blount man escapes deadly climbing season in Pakistan
Want to purchase a hard copy? Here is where to do so. Tempting the Throne Room
Of course the eBook is still available for a $6 download here:
Smashwords – Tempting the Throne Room —a book by John Quillen