Cumberland Gap, Martin's Fork 12/17/11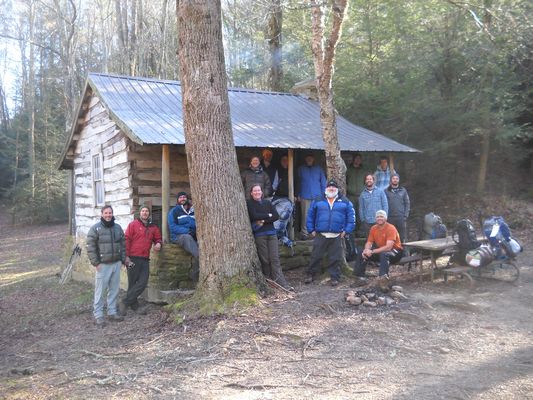 This is the perfect Highlander Christmas Greeting Card.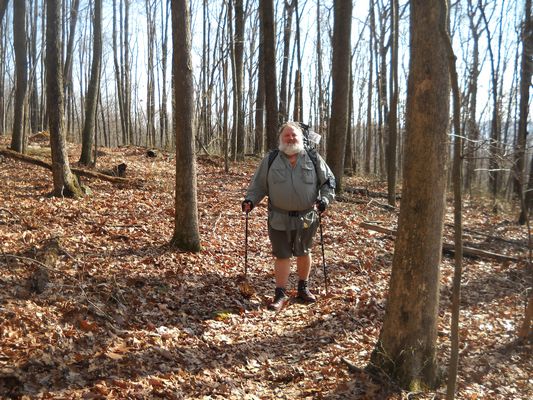 We even coaxed Santa Claus into joining us.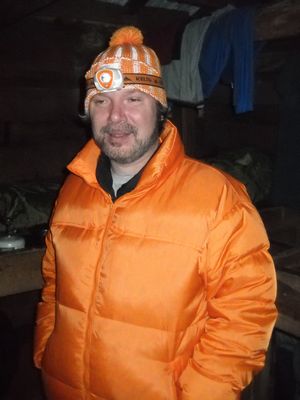 Just to add to the entourage, how about the Christmas Vol smurf? Larry told me that his underwear was even orange.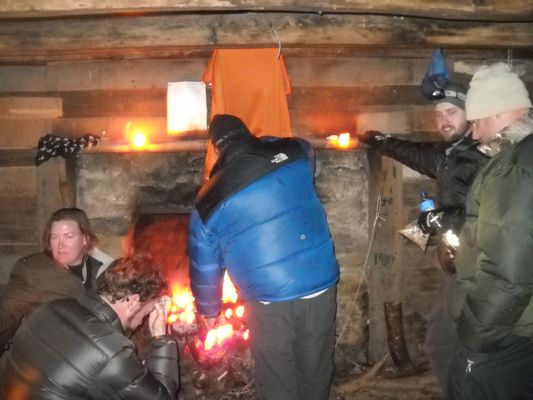 Warming hearth and fireplace is gleaming! Housekeeping at the old homestead is an annual SouthernHighlander event. Hearth space is premium though on a cold, almost winter's night, when temps are in the twenties.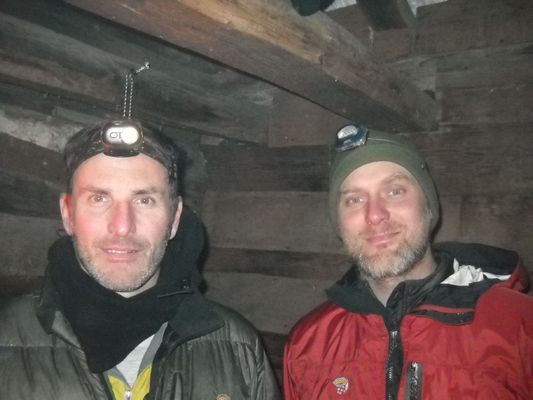 Yours truly and Ricky Bobby observe the events from the sidelines. Bobby brought several of his people who braved the elements and tent camped outside of the cabin where the temperature differential had to be 3 degrees colder.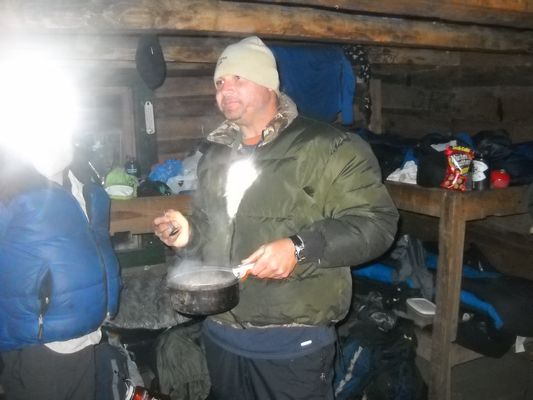 Yep, its Slapnuts with the venison chili. Cooked over a roaring and sometimes sideways fire, it was a definite crowd pleaser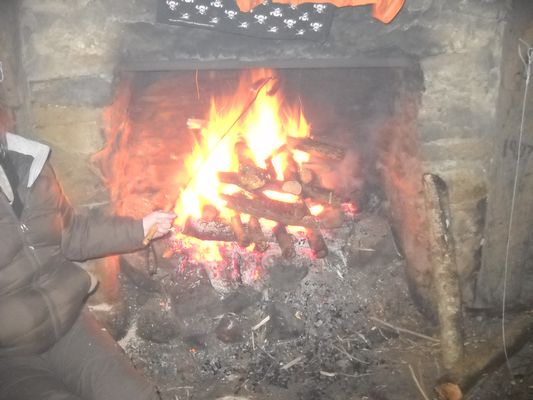 Here in the shadow of LMU university, we Abe Lincolned that fire. Reminds me of the time when Abe used to hike with us and all the deer in the valley would surround the cabin to lick the snow to the ground. Good stuff, Abe.
We made such a good fire, the following was inevitable. Even Santa gets grumpy when the stockings are lumpy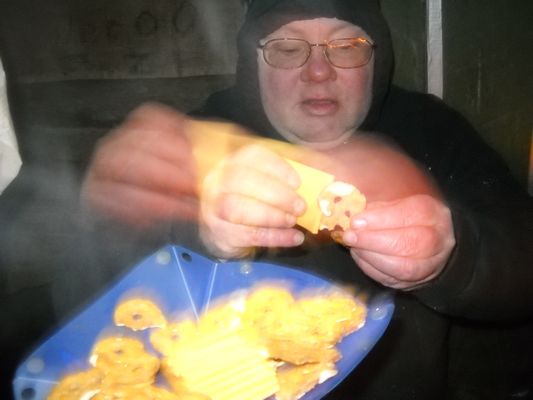 Brother Skid cheeseboards the prisoners. Guantanamo got nothing on Jerky Mike's creations vis a vie Chapter 3!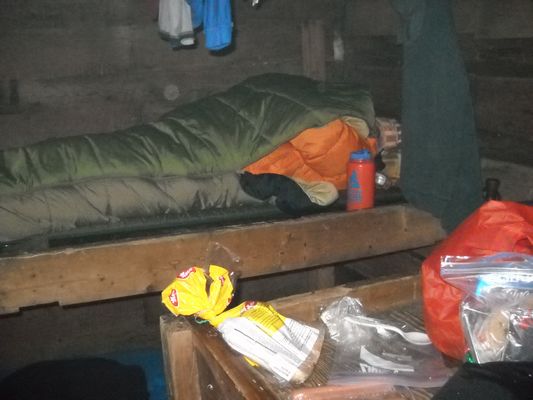 What you are observing is what we like to call a Highlander infraction. Bedding down at dark. That's right. Grady took advantage of President Sally Dumplin's unfortunate absence to slip off into his feathers for a little solo bag time. Dave, I think there is a sanction for this kind of behavior. Would Dave have allowed this kind of stuff? No, he wouldn't and neither did we. Roust him we did!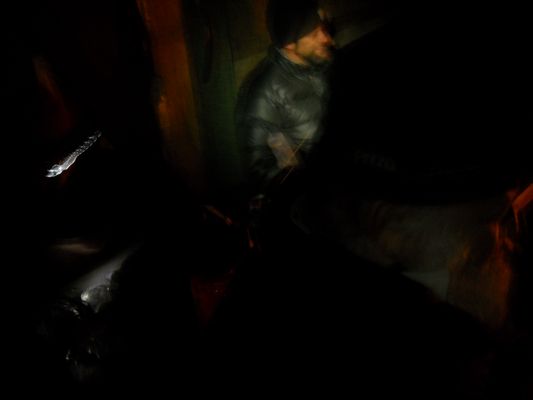 After all, it was time for installment 12 of Animal Husbandry by Dr. Will Howe, DVM. Tonight's seminar focused on the vagaries of anthrax, an epidemiological study of bovine and equine manifestation. After mentioning that it would have been "rude" for Grady to sleep through such a fascinating presentation, Clark reluctantly abandoned his feathers for the halls of academia for a few short hours here in the backcountry of Cumberland Gap.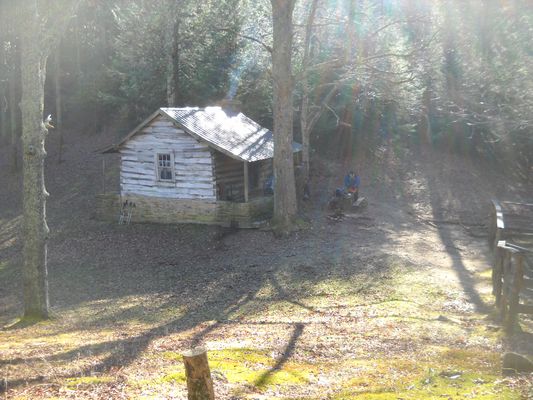 Morning broke and the sun reached our hamlet at 10 am. Super crisp and crunchy was the ground here in the shadow of Daniel Boone.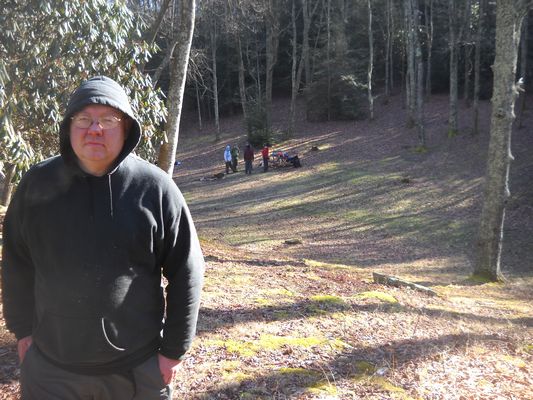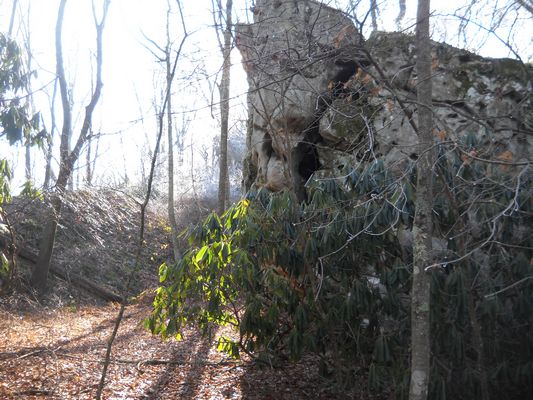 I spy some good bouldering opportunities.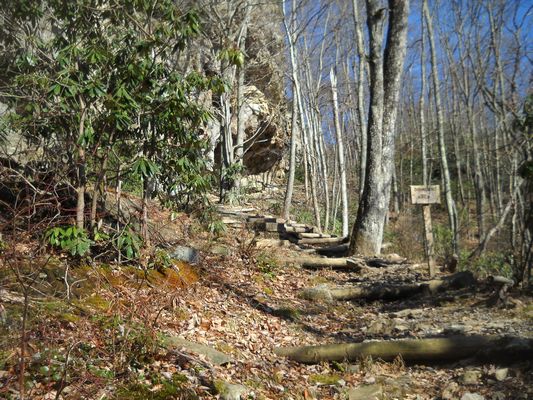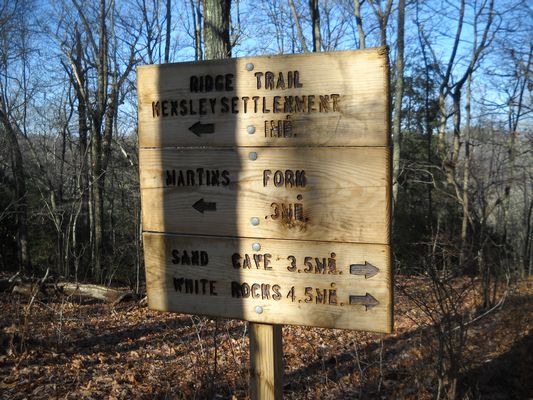 We had a large showing and as usual, a remarkable time. Many thanks to Jerky Mike for securing the cabin this year. It was nice to get outside of the Smokies for a change.
Update on the FEEasco
After some national media attention, the National Park Service contacted me to let me know they could possibly find a way to forward the comments on the backcountry fee proposal at no cost. Great, right? Not so fast. In their correspondence they indicated that they would like for me to contact the Department of the Interior to let them know I had dropped my appeal on the fee waiver. As you are probably aware, they tried to first intimidate me and I was told by the Asst Superintendent Kevin Fitzgerald that it was illegal to furnish the comments. That's when I filed the Freedom of Information Act Request. Their response was to slap a $1200 price tag for the documents. Myers Morton agreed to take this case on our behalf. Myers is a backpacker who helped me file the appeal that resulted in the aforementioned correspondence. We both agreed that to drop the appeal without documents in hand would be flat out stupid, so that's where we stand.
A few other items of note, the Knoxville News Sentinel removed the comments on the original story about the Backcountry Fee Proposal here. Strange, I thought that the KNS would be denying folks the opportunity to see the public response to this very important issue. (anyone noticing a pattern here of comment suppression?) As mentioned, I have always felt as if local media takes a very pro park administration stance and covers only fluff pieces and feel good stuff about the Smokies. Two folks contacted me and subsequently contacted the Sentinel online editor who reluctantly re posted the comments but disabled anyone's ability to post anything else. I will say thanks to Dana and Larry for staying on top of this and keeping the Sentinel honest. Their correspondence with him is the reason you are able to see the "edited" comments. I say "edited" because when the article was originally up, there were over 100 comments. Now they appear to be "evened up" in that they removed 11 of the anti fee remarks. This is indeed unusual because there are articles still up from years ago with much more controversial topics that haven't been either removed or disabled. I appreciate Morgan Simmons for covering this topic. We have some idea who is behind this censorship of our message but I will keep that under wraps for now. Let's just say that this has been happening in other arenas and the dishonesty and obfuscation emanating from the Sugarlands seems to be filtering down through their network of concessionaires. Also, last week I posted a link to Ditmanson's boss. Several of you wrote him and guess what? Those folks got a personal phone call from Ditmanson. Isn't that great. Thanks to Frank, Janet and Dana. Would you like to have a personal phone call from the man behind the Feeasco? Here is his boss's email.
And finally, I would like to reiterate a main focus behind this campaign, lest people think this is a matter of money. For us, a few bucks to do what we love is negligible. It has nothing to do with that for us. I am going to copy something I wrote on the blog about this fight and I would like for you to consider this when making your decision about the Backcountry Tax:
I want for folks to consider the implications of the following article and actually take the time to read it. What you will find is that fees, once instituted, decrease public access to public land. Despite all the unsubstantiated assertions and poor mouthing that is propagandized by proponents of the tax the statistics are undeniable and documented.
Kids are fat, depressed and sometimes overmedicated, like many parents. Is restricting access to public lands the solution for this collective malady?
Once enacted, as proven by the research in this article, fees explode exponentially and are often enacted arbitrarily by the Feds. Paying to park, climb a peak and fish? Not so crazy. NPS fees drive people out of public land. With access down already, is this a good idea? Adam posted a study that showed there is little, if any, damage to campsite resources and when backpacking is down, the point is moot. All the assertions made by fee proponents are largely anecdotal and undocumented. We in the Smokies are at the frontline of this FEEasco. Do you make a stand against restricting access to boy scouts and youth or do you side with the vested interests who think that 80 million dollars just isn't enough from taxpayers as is. This is our land, we paid for it and continue to pay for it. We do not need to be taxed to use it again. Backpackers don't require much of anything from Ditz as is but horses and autos get a free pass.
http://www.westernslopenofee.org/pdfuploads/Fee_Policy_White_Paper.pdf
Merry Christmas to everyone and a prosperous New Year. I am personally thrilled about seeing the calendar flip over!
I