Deep Creek July 28, 2012
They say if you hang out at the barber shop long enough, you're going to get a haircut. Or, in my case, a car camp. And that's the way it worked. Let me explain. It was a beautiful weekend to be in the Smokies. Jerky Mike informed me early on that Donna the Buffalo was performing at the Nantahala Brewing Company. NBC is 2.75 miles from Deep Creek Campground. I made a deal with Mike. We would backpack down to cs 66 and stay if the car campground was full. It wasn't. My record, however, of never paying to camp in the Smokies is still intact. Mike footed the bill.
Arriving around lunch time on Saturday, we set up our tents and I proceeded to walk on up Deep Creek to the split and climb the deep creek horse trail since I needed that mileage. As a side trip, I climbed up to the Wiggins cemetery because I had never been there. Man, than is one steep little half mile or so. But it was an absolutely beautiful summer weekend. By the time it was over, I had hiked almost over to Juney Whank falls and back in time for a refreshing dip into the tube filled river. I'm going to say it was a little less than 5 miles of dayhiking.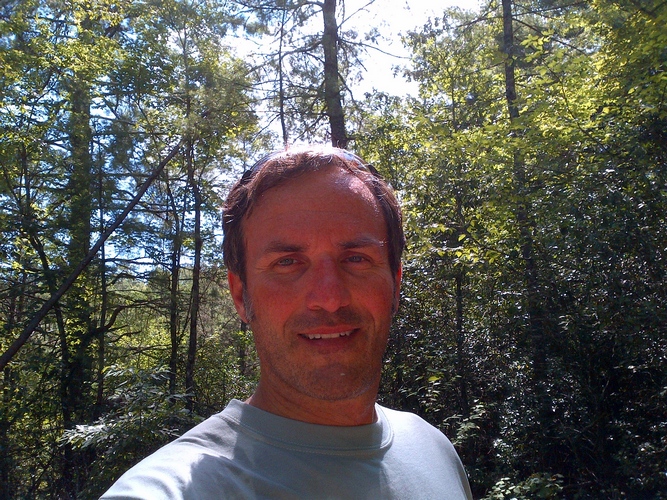 self phone photo from Wiggins cemetery. (forgot camera)
We then headed into town for the evening festivities which, according to one local, was the "biggest thing to happen in Bryson City all year!" I don't know about that but it was a lot of fun. One of the funny stories from that evening involved Jerky Mike. We were sitting on the patio waiting for the band to start in the crisp mountain air with a half moon in the backdrop. At our table was a mix of folks eating food and hanging out. Mike looks over to me and says, "What kind of music do these folks play, anyway?" I looked at the woman sitting next to me and said, "Why don't you ask Tara, the lead singer?" She glances up from her dinner and dismisses us. Mike goes about his business until one hour later when the table had emptied and the band was in full swing. He went inside for a minute and returned to say, "You weren't kidding, that really was the lead singer, I thought you were messing with me!"
Overall, it was a great trip.
Last, if you haven't taken the time to vote in this poll, please do so.
Smokies backcountry camping fee: yea or nea? — Blue Ridge Outdoors Magazine