The Everest Situation/Nepal Earthquake 4/28/15
<![if !vml]>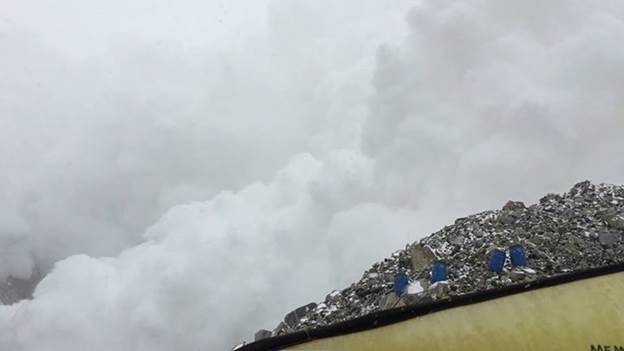 <![endif]>
avalanche at EBC
I've been asked quite a bit lately about the unfolding scene in the high Himalaya following the devastating earthquake. The mountaineering community is rather small and I do have two acquaintances there now. One of whom is Dan Mazur, the last person to be helicoptered from Camp 1 on Everest. The other is Alan Arnette who was at Camp 2 when the avalanche wiped out Everest Base Camp, killing 18 and injuring scores more.
Both Alan and Dan were two of the last to be evacuated from the camps by helicopter. This means they were evacuated to base camp and are beginning their treks down to Lukla where they will likely wait in line for several days for a flight to Kathmandu. I can only imagine what getting out of Kathmandu will look like and what getting out of there can entail.
For mountain history buffs, Dan Mazur is rather famous. In addition to leading the expedition that spurred the book "Three Cups of Tea" on K2, he is the owner of Summit Climb. It was the Summit Climb group with whom we climbed Muztagh Ata in 2011. Brian and I utilized their ground logistics to mount our climb. I have corresponded with Dan many times, as recently as two months ago in preparation for another climb next year. Dan is also famous for rescuing Lincoln Hall in the highly publicized "Left for Dead" scenario on Everest several years back.
Both Alan and Dan are seasoned high altitude mountaineers and survivors. Now that they are off the flanks of Chomolungma, I am certain they will be able to successfully pick their way down to Lukla, although I am hearing that the trail has been affected and alternate routes are required. They may even have to hike all the way down to Kathmandu. That could be quite epic in its own right.
Alan actually advised me on my Broad Peak attempt and his life mission is to raise awareness for Alzheimer's Research. You can follow him here. www.alanarnette.com This is a major catastrophe for the country of Nepal and the Sherpa culture that will likely take decades to right. Here is a link for those wishing to donate.
http://www.dec.org.uk/appeals/nepal-earthquake-appeal
http://www.dec.org.uk/appeals/nepal-earthquake-appeal
These are historic times in Himalayan climbing. Most all expeditions have been halted on 8000 meter peaks and similar tragedies have occured on other mountains such as Manaslu and Dhaulagiri that have not received such press. Not since the seventies has there been two years of halted climbing on Everest. One cannot help but wonder after two years of fatal avalanches on earth's highest peak if the mountain isn't trying to tell us something. The best source of updated information from the region may be found at this link. https://twitter.com/NorthmenPK
John