Fiery Gizzard, Goshen Prong and another Big Storm Story: July 8, 2014
It's been an eventful week in Highlander land and it all began on thursday when I met Super Dave at my office in Maryville for a motorcycle ride after work. As you know it was super hot, about 96 when Dave arrived to find me huddling around a portable air conditioner unit in the old building that houses my business. Where were we to ride? Dave suggested that we go out Little River road in the Smokies. I suggested we take Montvale over towards Abrams Creek then hit the dragon of US 129, notorious for motorcycle fun.
Within the hour we had passed the turn off to Abram's Creek and I asked if Dave wanted to go down there for a swim. He motioned that we should push on towards the Dragon. As we reached Chilhowee lake, we remarked at the shadiness of this ride which blocked the ever blistering sun. We began our approach to the dragon and settled into the task of negotiating a couple hundred of the turns, with our goal being to stop at Parson's Branch for a head dunk in the Smokies. Uneventfully we arrived at the destination and fulfilled the mission. We pulled our bikes into the last part of the one way road and headed towards the stream. As I raised my dripping head from the creek that parallels the last mile of Parson's Branch road the ominous blackening of the sky helped make our decision about proceeding towards the Carolina line. We would beat a hasty retreat back.
And all went well, until we came to the overlook at Calderwood. That's when the wind nearly blew us off the bikes. (I have been given a lot of nicknames throughout the years. Ethel and Larry have called me stormcrow. It has to do with my propensity for standing in the worst weather and seeming to enjoy it.) By now, tree limbs were blowing sideways and one almost took Super Dave out. The road became a labyrinth of tree detritus that we were trying to negotiate while the wind almost blew us completely over. As we inched our way to Chilhowee lake, riding over and around full trees now across US 129, we came to the lake. The wind was now blowing water off the lake into our eyes and faces with the force of a sand blaster. Not rain, but wind blown lake water. The lake itself was white capping like the ocean. We pulled off for a few minutes until we could stand it no more and decided that it was better to be a moving target than a stationary one. I couldn't help but think of the tornado that ripped through here almost a year and a half ago that did the remarkable damage to Abram's creek, Rabbit creek and Beard Cane areas. We skipped on ascending the Foothills Parkway, opting to remain low for the sake of wind and more blowing tree limbs. By now the rain had set in and we were fully soaked, riding in sideways gusts. Stopping at Punkin Center, we stashed the bikes under an awning and sat for 20 minutes. When it looked like the sky had cleared a bit, we remounted and proceeded out 129 towards Maryville. Within fifteen minutes we came to an empasses. A huge tree limb barred access from both sides. Dave and I assisted the guys who had chain saws and 4wd vehicles in removing the debris. After 45 minutes of this, we were back on the road.
Not before the second round of rain, though. It came in torrents. I was thoroughly soaked and could barely see through my goggles. Dave pushed on, I holed up in a Church near Hearon's Hereford farm for another 45 minutes. I would later find out that we were in the middle of a storm that killed a motorcylist driving the Little River Road and a swimmer in Abram's Creek. Had we decided to motorcycle Little River road or, as I suggested, swim Abram's creek, the day could have turned out dramatically different. I'd say our guardian angels were working overtime on Thursday.
As for backpacking, Dave, Jerky Mike, Bill and others went to meet the Hell guys at Goshen Prong. In the words of our president, here is a direct quote, " Yep, trail was scattered, smothered and freakin covered. However, we opened it. At storm thirty, me and Mike were ankle deep in the creek/trail splashing toward camp. "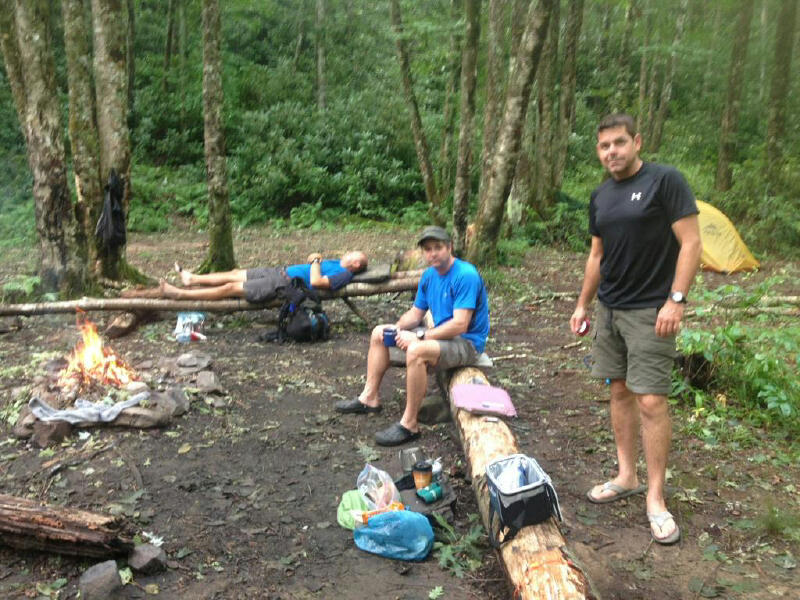 When I see Dave looking like a dog that just got a forced bath, I know what happened. Every time I head down Goshen from the top, some freak thunderstorm erupts on me. I guess that's why they call it Goshen or Gushing or whatever. They had to negotiate a lot of blowdowns. Where is Punk Moore when you need him?
(one of 20+ blowdowns for the Highlander crew)
I have a neck issue with a pinched nerve so I went to the Fiery Gizzard to rock climb with Joey. The Fiery Gizzard is a state natural area with hiking, excellent rock climbing and good backcountry camping. Any pack weight on my shoulder is excruciating right now, so backpacking is a question mark. Carrying my pack camping this weekend at Fiery Gizzard the half mile to our site, was an exercise in stupidity. And rock climbing wasn't much smarter. But I did have a blast. Thanks to Joey and Walter for letting me tag along. I understand that Dave and crew had to negotiate some big blowdowns for their trip down Goshen in addition to another big rain event. The Smokies are pretty trashed from what I hear. Take a look at this video of the storm taken from Clingman's dome, I presume.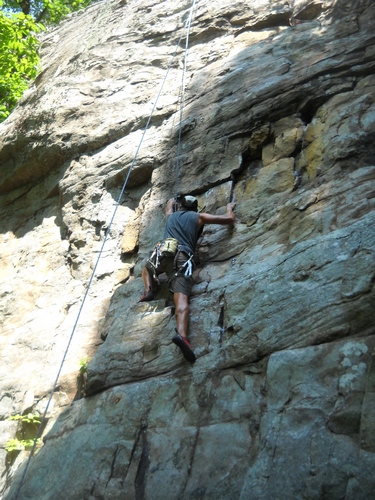 This is Joey flashing a 5.9 after leading the route. I hadn't done much rock work in a long time, it was good to be back at the crag.
And finally, Jerky Mike found this absolute gem on the web. It is an incredibly nostalgic walk through our SouthernHighlander predecessors. Any resident of this area will be able to relate or be familiar with some facet of this video. I particularly enjoyed the church service at about minute 5, if you want to skip through to it. I think it will make you smile for the day.
Southern Highlanders : Transfilm Productions : Free Download & Streaming : Internet Archive