The First Days of Autumn
Sept 23-25, 2011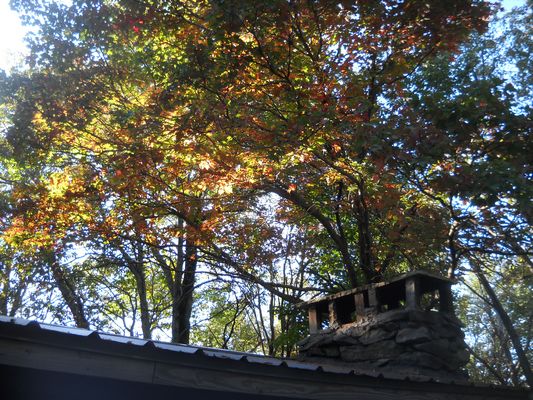 It's palpable when September cedes. A crispness in the air ripens leaves that give clues they will soon cling to their last few weeks of life. Balmy evenings thick with summer air give way to a chill that make you appreciate fleece. It's magic time in the Southern Highlands. A good dose of mountain prozac is in order.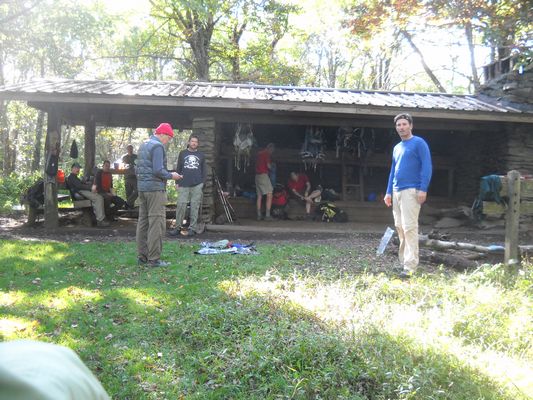 We came to relieve our crew of each other. Sally Dumplin, BC George and Hi Speed had been together since Newfound Gap. They needed a resupply of certain sundries. We were glad to oblige.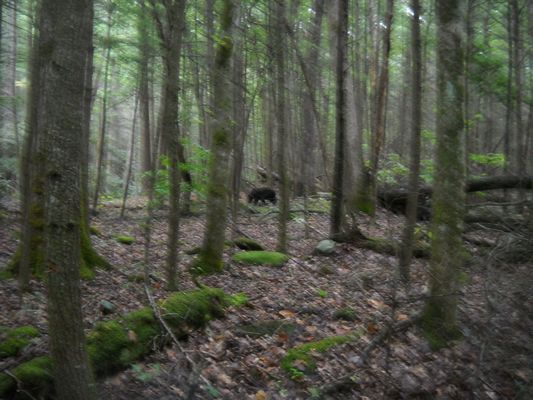 Right off the bat we were reminded that the bears were also clinging to some of the last part of their year. As Dave described, they were falling out of the trees. This lousy picture doesn't do justice to the mom or her cub that paid us no mind low on Anthony Creek. Super Dave and I ascended to Spence, mostly in the dark. It was a Smokies whiteout, a fogout, if you will. Like horses with blinders we stumbled into the shelter dark thirty on Friday. 3 hours time, we passed two empty campsites.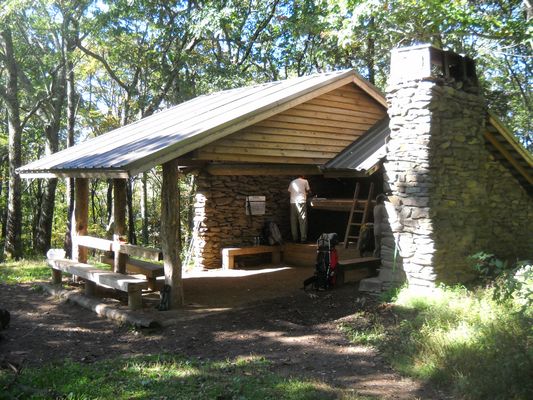 Spence was empty next morning after a full house night before. Saturday dawned gloriously. It was the day of the year. And off we departed for Mollies Ridge.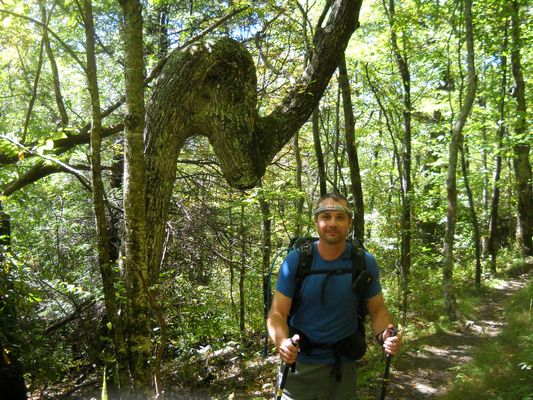 That tree is as crooked as the guy standing under it. All kidding aside, HI Speed organized this event to knock off his miles while he can still afford to do so.
We ran into these guys and realized they had camped with us a year ago on Goshen Prong(click)! Matt and Aaron from Nashville recognized my shirt and remembered Jerky Mike and his log dance. Then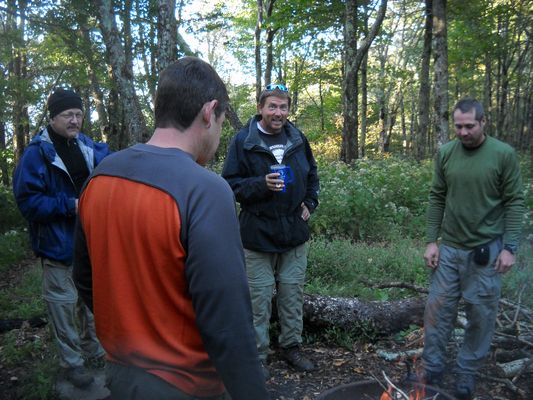 Everyone complains about the fire but no one ever wants to do anything about it. Stupid faces don't get wood sawed.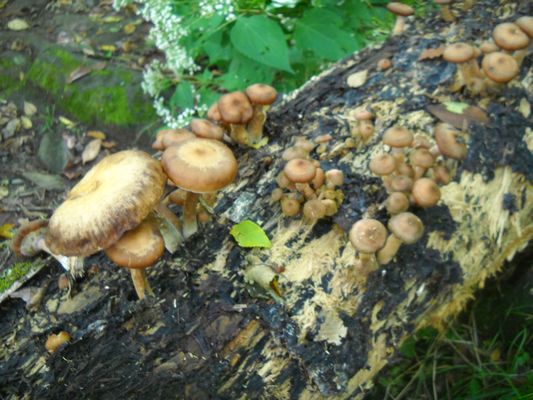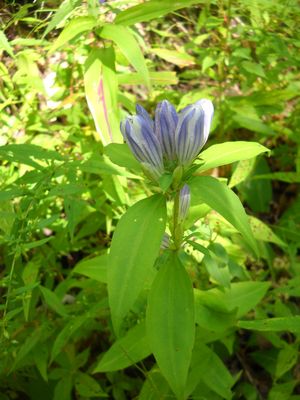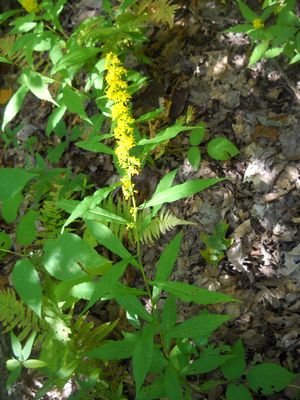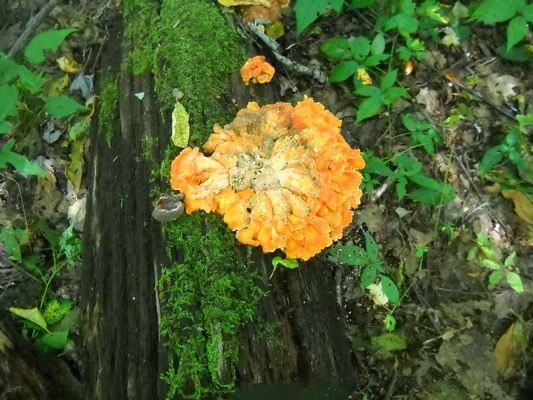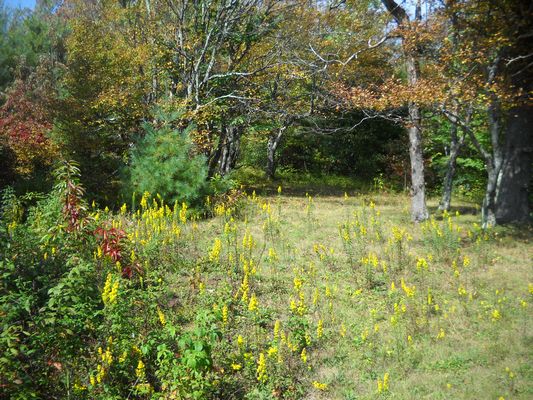 At Russell Field, or what's left of it, we stopped for lunch. No rattlesnakes here this time but......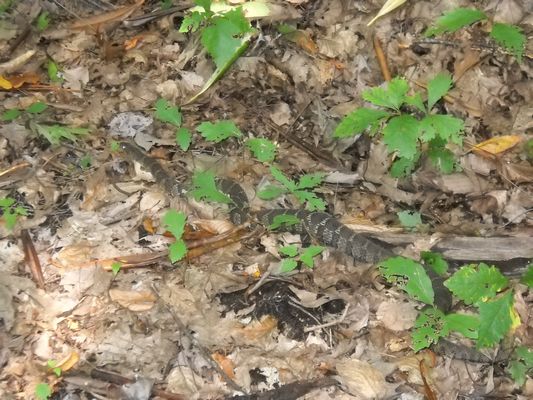 Did anyone say copper heads? Here ya go, Stephanie. Dave almost stepped on him right after I almost stepped on a timber rattler lower on Russell Field Trail. That timber rattler was about fourteen feet long. Okay, maybe more like 5 but he had a tail full of rattles. Why is it that every time I almost step on a rattler it is on Russell Field trail. Holy Smokes. I can do without almost stepping on Rattlers. He had about 6-8 rattles but of course I got no pics, he vamoosed. Anyway, this copperhead was healthy and pretty good size. Judging by the crop of chipmunks, I can see why they are so busy.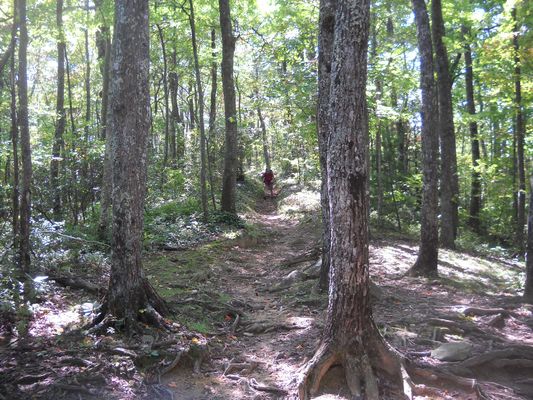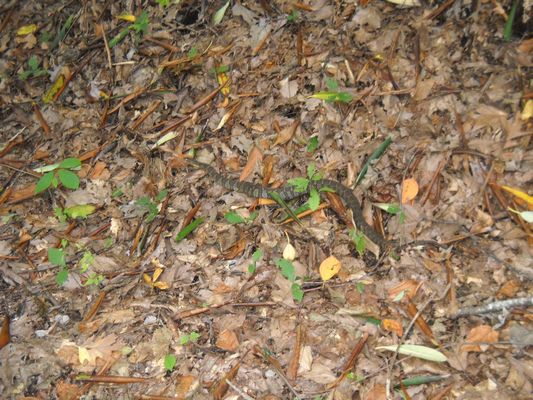 Isn't it amazing how well they blend into the leaves. Makes you wonder how many we have stepped over.
Trail Stats" 20 miles for the weekend. Up from the cove to Spence, out the AT to Mollies and back down Russell. Pretty much 20 when you count the 3/4 mile to the parking lot from trail end. The weather was God given and unequivocal.
The 3 musketeers left Mollies for Fontana to end their five day escapade and JMike and Grady did CS 2. Between us all, we covered the park one section, anyway.
Hats off to our Friend Adam Beal who did trail maintenance on Forney this weekend. We backpackers do it every time we go out. Soon we may get to even pay for the privilege. As I hiked the trail and came across a volunteer who was checking for trash at the shelter, we informed him we had carried out the food left in a hiker meal by some kids and all the plastic trash left in the firepit and left the hiking poles in hopes their owners would claim them. I appreciate his volunteerism as well. He also had to wait in line to get his number called for volunteering in the park. Then I realized something. The land for this park was donated by volunteers. The shelters were built, paid for and maintained by, volunteers and the trails up to them maintained by, volunteers. Yea, it makes sense we should have to pay the National Park service to backpack on our volunteered space. Volunteer Spirit. totally taken advantage of by Park Management.
Stop this Backcountry Fee Proposal. It is a tax on Backcountry Usage.
http://www.southernforestwatch.org/