Flatiron Climb,
Boulder Colorado 6/20/14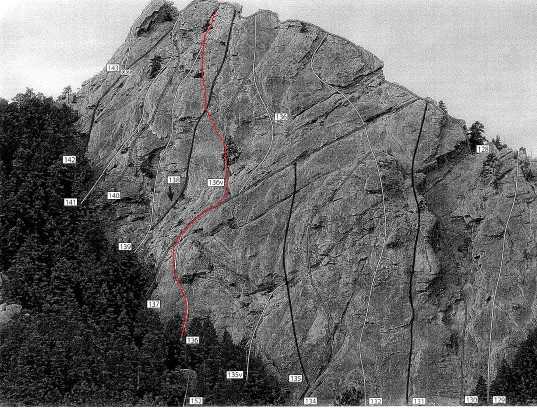 Our route is the red one. My climbing buddy, John Davis invited me to his home in Boulder to attempt this 7 pitch route on a slab outside of town. Multi pitch rock routes aren't necessarily something with which I have a great deal of experience. My rock experience has been primarily top roping with a rare lead here and there. But I trusted John Davis. He has led us up multiple ice routes and we have shared many a rope.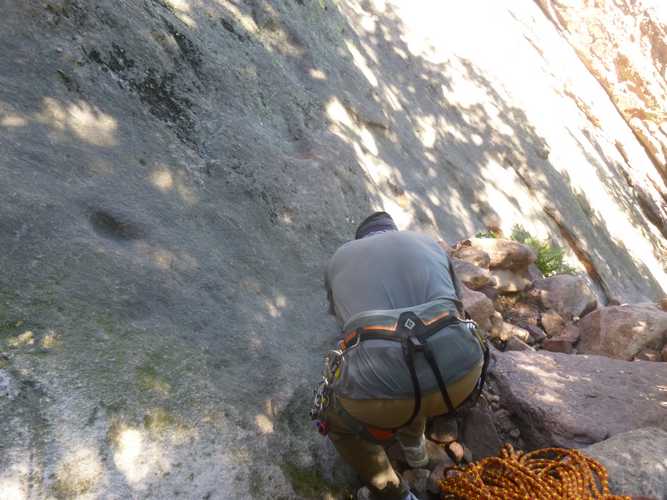 JD ropes up for the first unprotected lead portion of this climb. We began at 9 am, the approach to the rock was about one hour. I was feeling the big altitude shift from sea level to 5000 feet.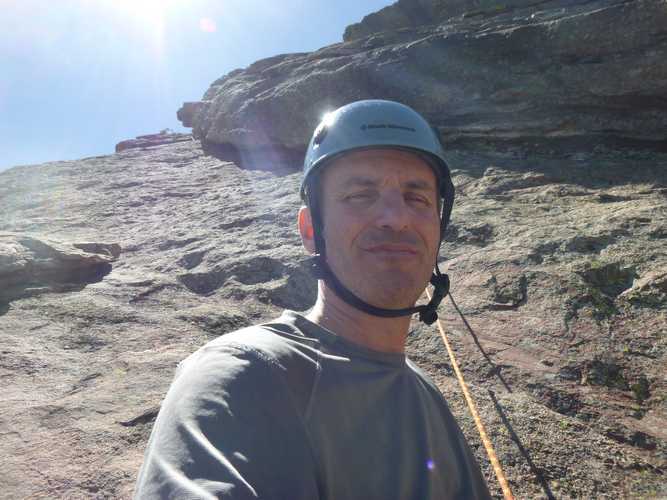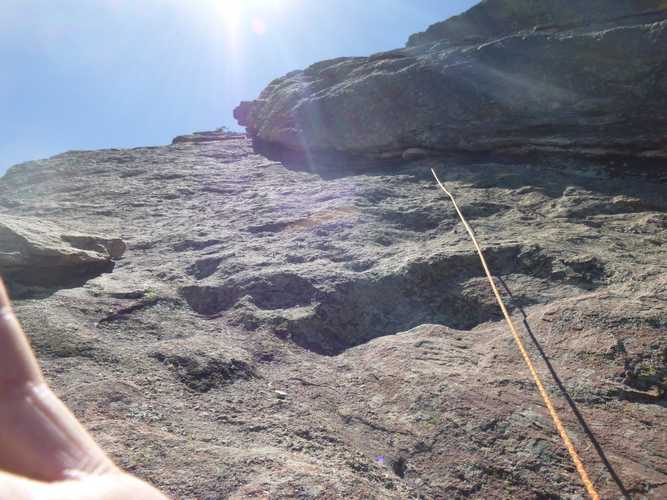 This was the first pitch where JD was able to place a cam and crawl around to the left of this overhang.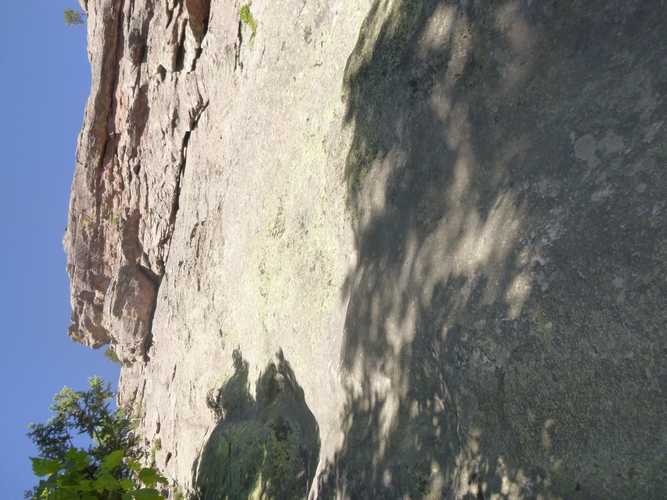 This was the beginning of the second pitch. You can see that this slab is virtually devoid of good hand placements. It was challenging to say the least.
JD takes a small break as we are now about 5 hours into the ascent.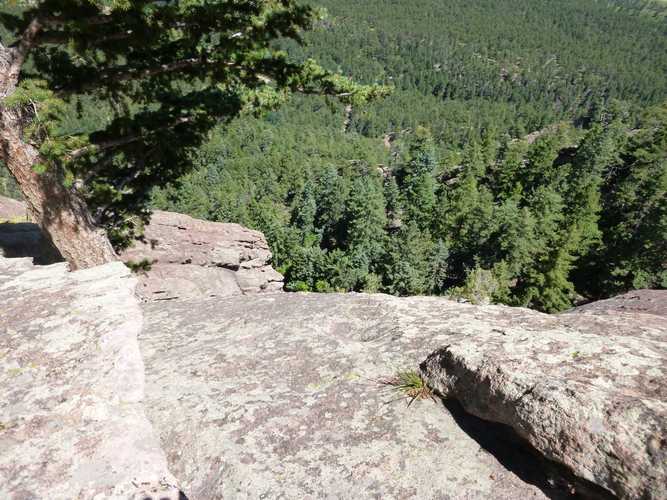 The treetops were getting smaller and smaller. By the time we reached this spot it felt like the safest time on the slab. But we had to press onward.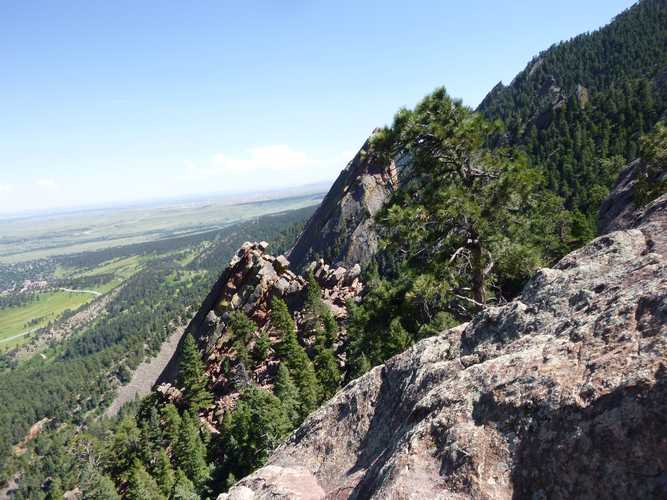 It did provide a great view down into the town of Boulder and Colorado University where JD is a Dean.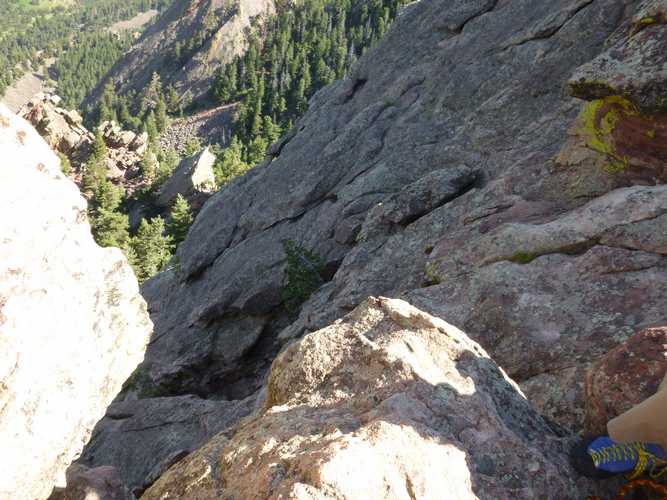 This was the crux of the ascent and an interesting story ensued. As I belayed John from below he reached a point where I had no more rope to pay out. Unbeknownst to me, JD was in a precarious position. After about 30 minutes he signaled for me to climb up and when I rounded the slab it was definite 5.9 to 5.10 pitching which is way over my skill level at this height. We had varied from the standard route and were climbing a piece of glass with no handholds. I had to press myself tightly and do some delicate footwork to reach JD's belay position. Above me I saw only his rear end and legs. It made a curious photo, had I the ability to take one but I was a bit preoccupied trying not to take any kind of fall. We were in a no fall zone for certain.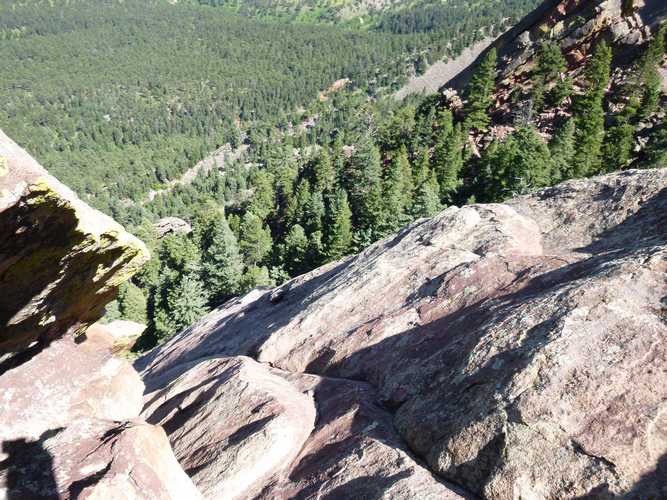 JD was in worse shape than myself, though. Having run out of rope, he had to anchor into an overhanging crack. His anchor was a cam jammed into a crack and a sling wrapped around a rock spindle not much larger than a straw. When I reached John, thankfully without a whipping fall, I immediately realized the precariousness of the situation. He had been hanging there for about an hour on a vertical 5.9 rock face. His feet were numb and his hands were getting the same way. It was imperative that I relieve him and get off this spot. He led the next pitch and I cleaned out his placement and we topped out here in only four pitches on a 7 pitch route. In layman's terms, we over climbed the route to the tune of two pitches because of extending our rope lengths. All that remained was a final pitch to the summit from which we made two rappels to a trail for our descent.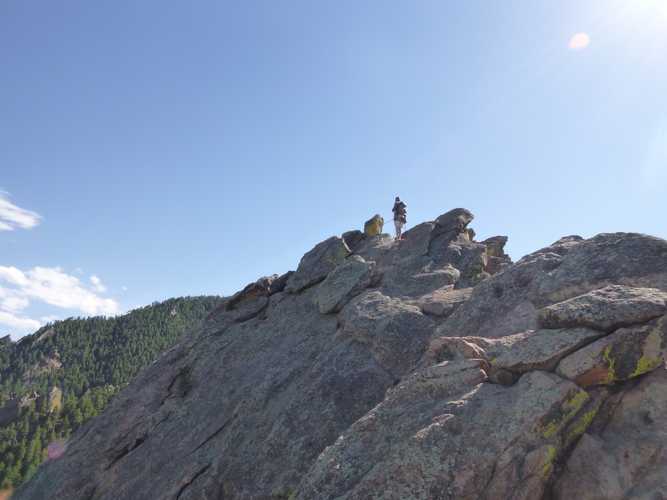 We scrambled to the true summit to begin our rappel. We had ascended about a thousand feet and the climb lasted for 9 hours. We were whipped, sunburned, cramping up, out of water, bloody and late for his daughter's orchestra recital at the University. As we made the rappels and ran down to retrieve our great from the base of the rock, it took about an hour and a half to reach the car. We sped back into Boulder for this event in which most folks were accordingly attired. Since JD was the overseeing Dean of this affair and his daughter was playing the bass, we came rolling in without the benefit of any cleaning, hydrating or changing of clothes. JD was bloodier than myself, our hands were black and we were covered in sweat. You can imagine JD's embarrassment when he was acknowledged in front of a couple of hundred concert goers. I found it quite amusing because I didn't know anyone there and really didn't care. The people seated next to me cared greatly, though. I stunk badly and didn't realize my face was black with rope dirt.
Stay tuned for a trip report on our ensuing four day backpack in the Maroon Bells. I will include a picture teaser. I also have a great Muir Faction trip report to post soon.