The Forneys
10/06/2011 through 10/10/11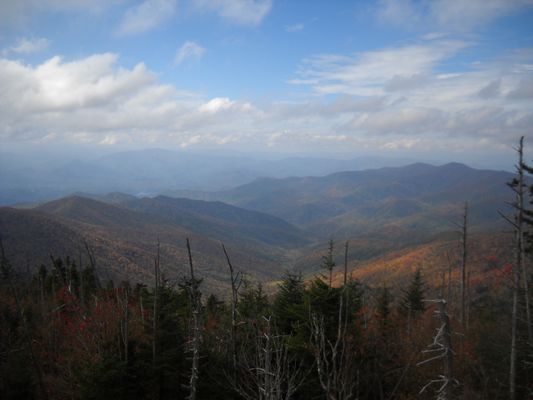 Hi Speed Alexander was marking his map when he suggested the Fornies several months ago. I needed those miles for my second map and you know how difficult it is to get Sally D and Joey to sign on. What we did, if you will look at the ridge to the left on this picture, is follow that spine until it drops out of sight, ten miles down towards Fontana. In the middle of this picture is Forney Creek, which we ascended back to Clingman's Dome.
Fall is action time in the Smokies. This trip was themed "yellows" I stared up so much my neck hurt on this trip. Magic abounds in the higher elevations now, it's poplars all the way. Some silverbells and basswoods too.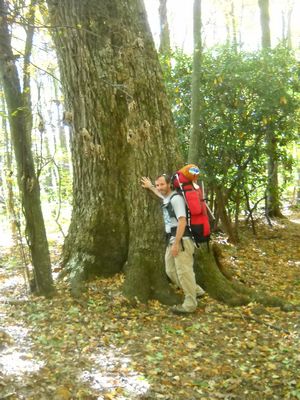 This is a monster about three miles down Forney Ridge.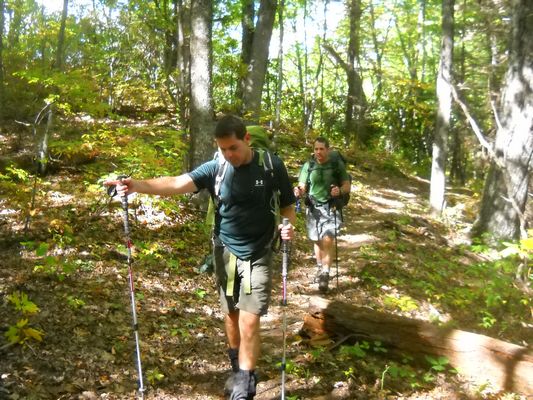 We came across this speed walker about five miles in. He was sitting there rubbing his feet, they were sore from his new aerobic "speedwalking" technique.
Treebeard doesn't like having things nailed to his chest, so he eats it.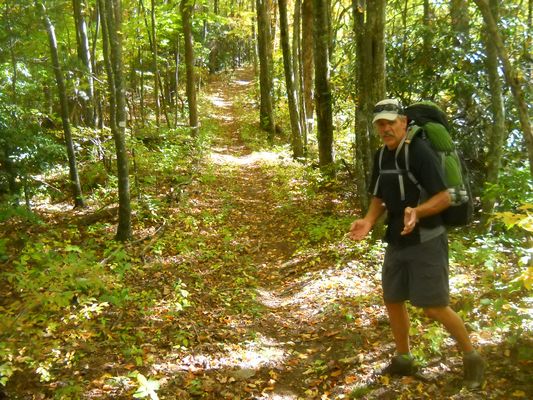 Didn't take long for Joey to catch up with us and ask why we were walking so slow. "C'mon guys, we got 10 miles today".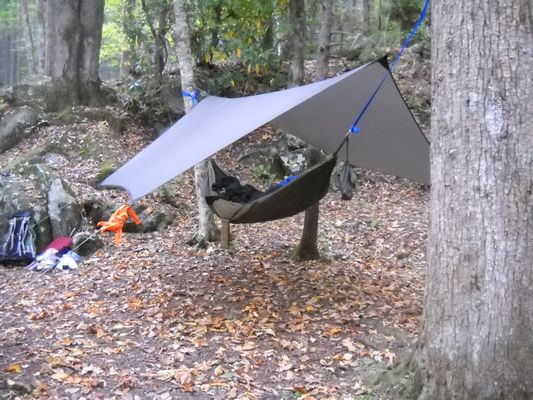 This is Joey's sleep system. A hammock dweller, or as I like to call him, "BearKBob".
This is my home away from home. Isn't it peaceful?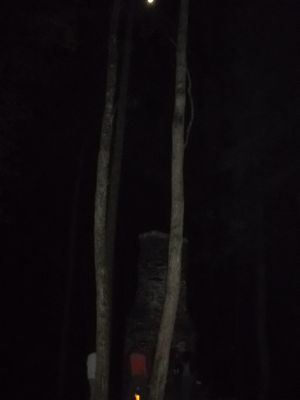 The stone chimney is a landmark at cs 71. A remnant from the CCC camp, it is a great spot provided, there are no horses and it isn't overcrowded. We were fortunate on both accounts.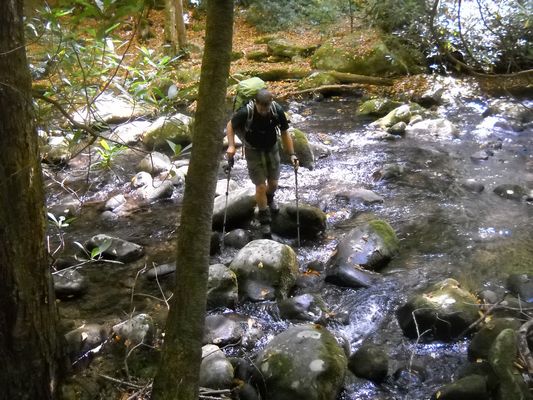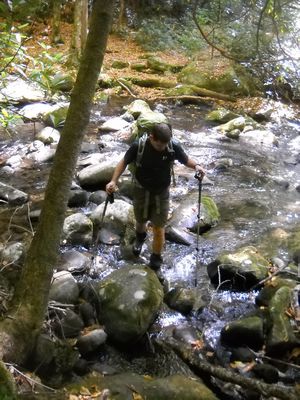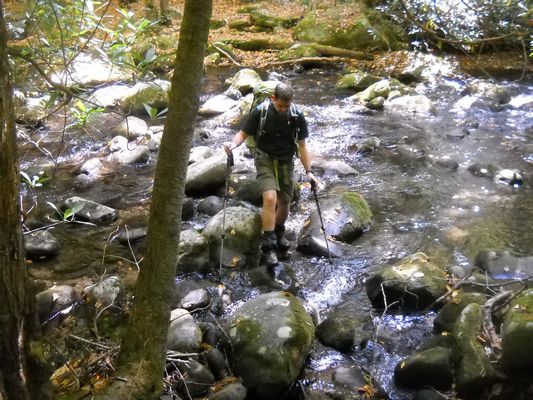 The last time I did this loop was with my good buddy the Edge, Scooter Hunley. Check it out HERE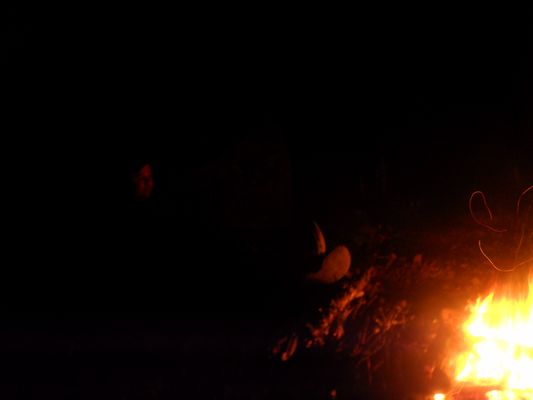 The second night we hiked a whopping 3 or 4 miles to cs 69. I developed an allergy/head cold so I opted out of the side trip up Jonas Ridge which Hi Speed and BearkBob took. Sally Dumplin and I lounged about camp, playing with snakes.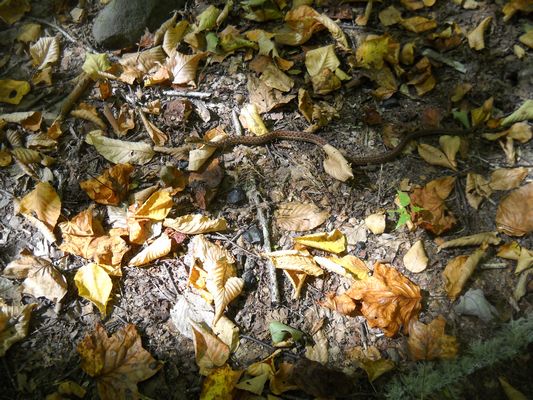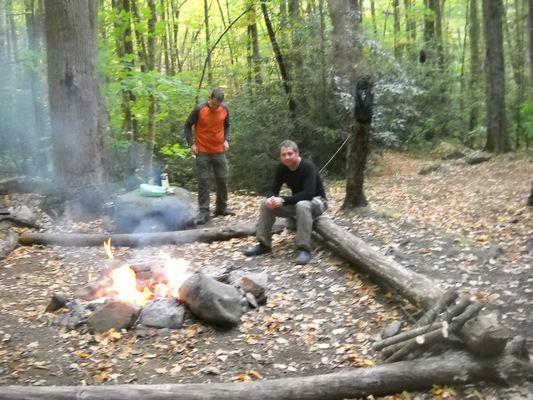 When Hi Speed returned, he was tired. Unfortunately, there was wood that needed sawing so we put him right back to work. No dawdling in the Highlander clan. That fire didn't start itself. Besides, Dave and I were tired from all our camp activity and didn't want to hear about their 15 mile day.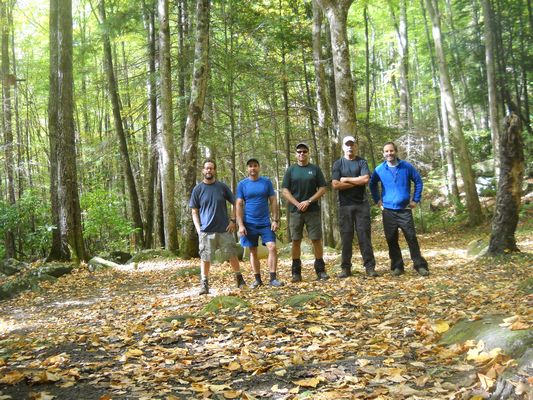 Then guess who showed up in the middle of the night with his helmet and crayons? That Will guy who insisted upon collecting a fee from me for breaking his car last weekend. It was a rather uncomfortable interaction until we determined that his fee for backpacking with a legend was roughly equivalent to the repair bill on the auto so it was a wash.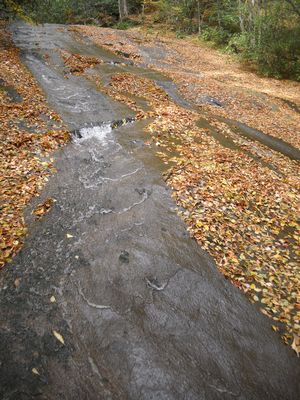 speaking of wash, this cascade is beside campsite 68. It's a beautiful spot.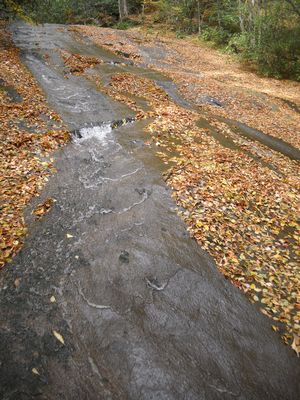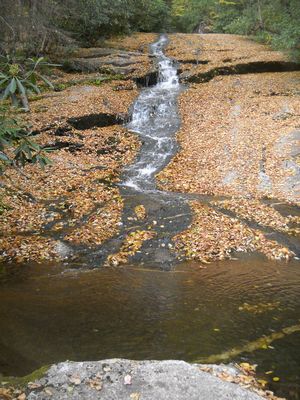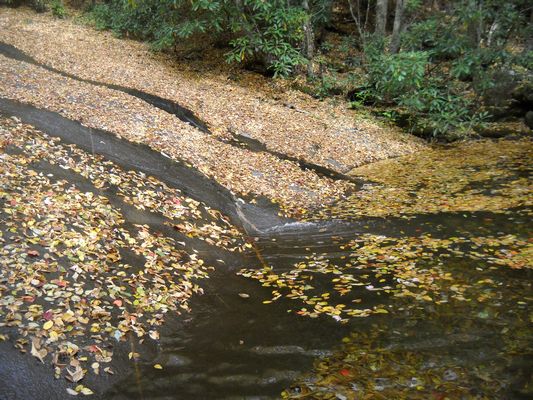 We were told that campsite 68 was closed due to aggressive bear activity.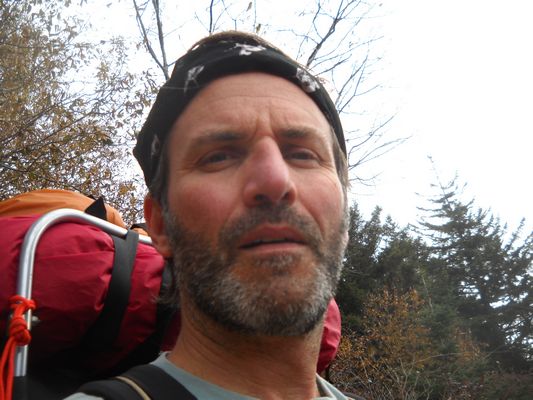 But the sign was wrong!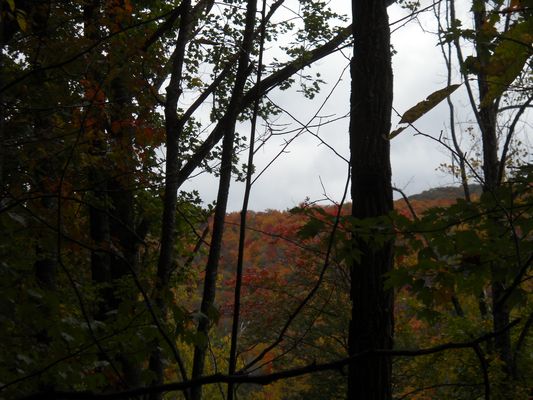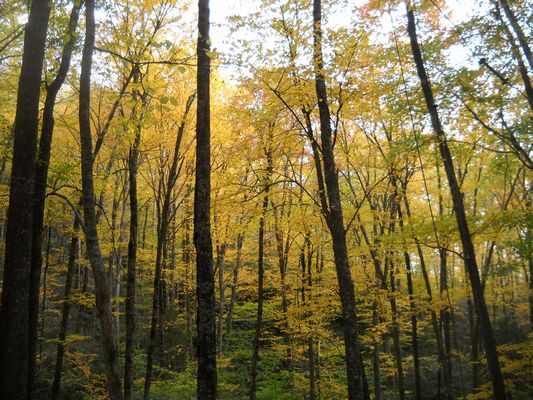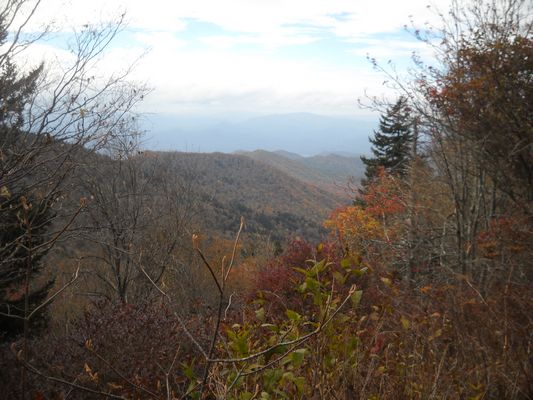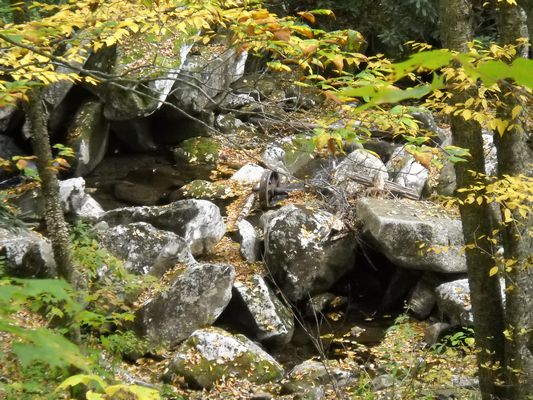 Trail Stats: For me about 20 miles give or take, for Bill, Will and Joey add another 15 plus another 15 on top of that for Joey since he did the repeat with the helmet and crayons guy. Another glorious three night pleasure cruise on the GoodShip SouthernHighlander.
From the "what Buff forgot category;" This week it was cold medicine. However, High Speed should really take the prize on this trip. What did he forget? Yep, Fly for the tent. He was Mr. Convertible who kept asking to stick his camel head into my tent. To that I answered, NO, NO, and NO. Good thing it was a dry weekend. And a very successful one at that. BC George was unable to attend as he apparently had to do some dishes.
Update on the Backcountry Fee Proposal:
I made preliminary steps to initiate a Freedom of Information Act Request. I am trying to get a copy of the emailed and written comments you folks have sent to Park Mgmt. When Washington kicked this down to the Asst Park Superintendent Fitzgerald, I was told via our email correspondence that those comments are exempt and they will not release them. This obviously shows they have something to hide and I always feared they might pull some stonewalling like this. If there is anyone out there with any experience in this area, please step forward as we are utilizing our network of volunteers and could benefit from a legal analyst. This definitely indicates that Ditmanson et al do not wish to have the comments go public because, as we all know, they are overwhelmingly negative. If you are following this and share our concerns about this potential manipulation of data, go ahead and contact Fitzgerald and Ditmanson's overlords at the Dept of the Interior. I think that contacting the NPS is wasted time because Jon Jarvis who runs the show is a Fee Czar who has increased fees on Denali and Rainier to the tune of hundreds of percent. Here is the Dept of Interior Comments link. Let them know what you think of this obfuscation. EMAIL