Hangover 2012 Oct 11-13

No traditions are as solid for Highlanders as the annual pilgrimage to this sacred spot. A thousand words stand before you in the picture above.
We had 21 in attendance this year. That is because of some late arrivers.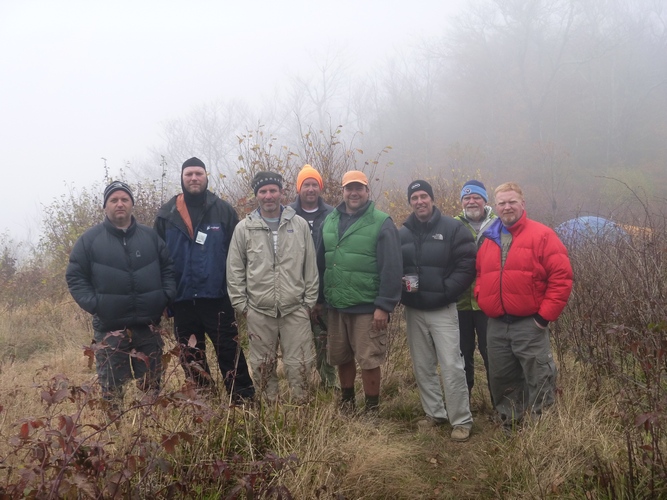 This is the mother of all milk runs. A Shrader drive by at 12.45 am. Toad and Danno and their friend Jackie. Add Ricky Bobby to this mix and our number swelled to 21.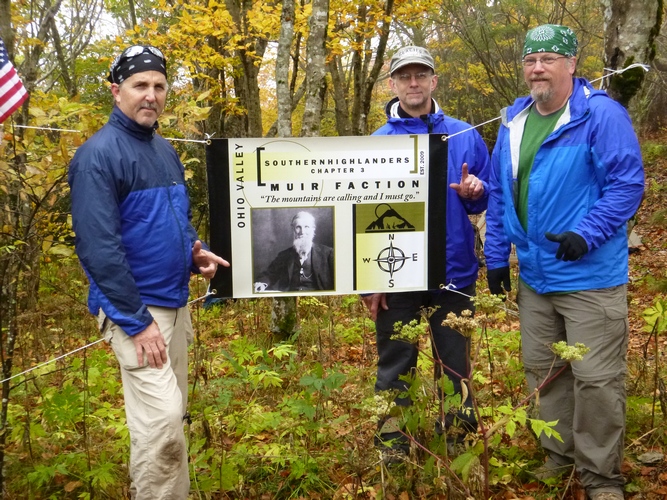 Straight from the Ohio Valley, our Muir Faction brothers came down and I joined them and Dave Thursday on the rock. We haven't seen Chuck and Ledge in two years. Bunyan made a trip last Fall. It is an oft anticipated event whenever we can re join the Muir Guys. Chapter 3 lives on and strong.
Those two guys that are pretending to enjoy Sally Dumplins rendition of "Camptown Ladies" are AJ and Bryan. With Bryan, is his beard. Bryan brought himself and his beard. His beard got a trail name. AJ also got a trail name. I had nothing to do with any of it. But Bryan is a music lover and he is very open minded. AJ is ready to start clogging. We are glad that both Bryan and AJ and their beards could attend.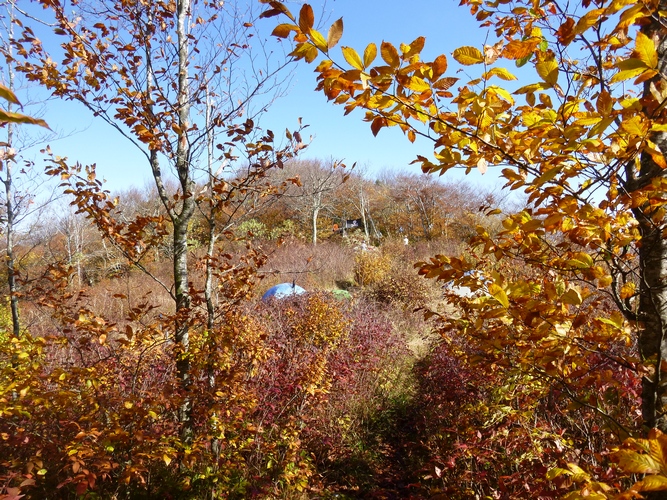 One sure way to spot the outlaws is to look for the skull and crossbones in the distance.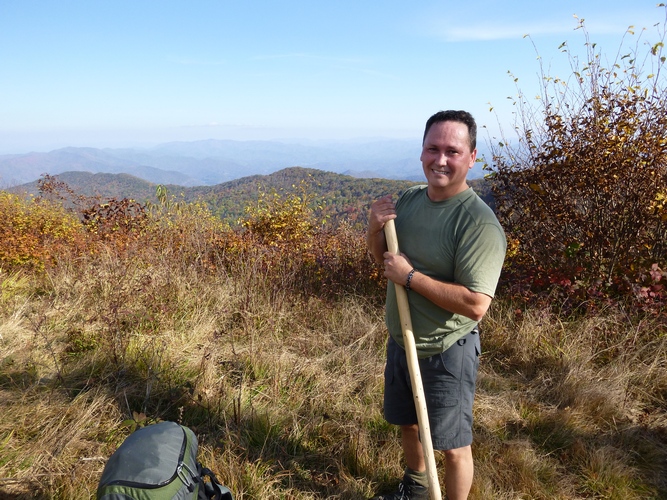 How about CJ making the run!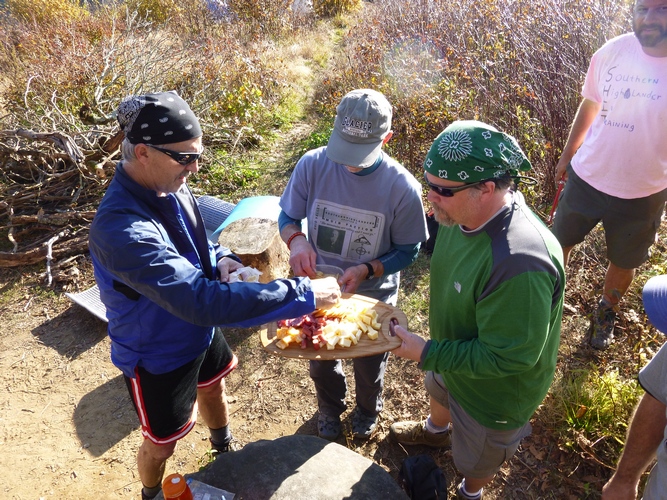 Yeah, we were really roughin it. The Muirs introduced the cheese board custom to us Highlanders and they were subsequently forced to take it up a notch. They even brought a real board. This is decadence unsurpassed.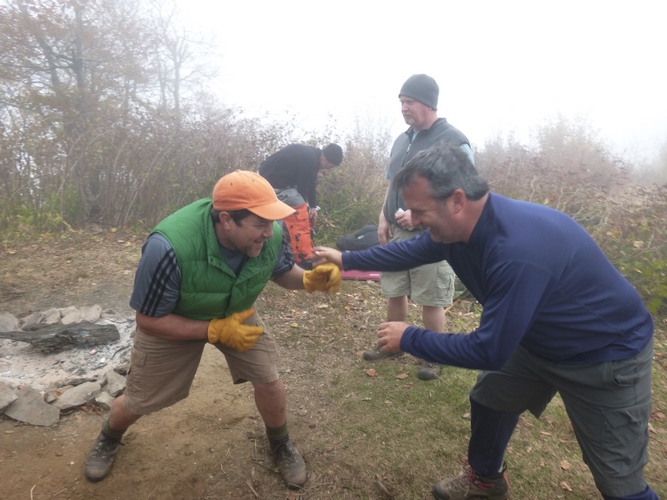 There are the requisite feats of strength. Since Gobbie was absent, someone had to go down.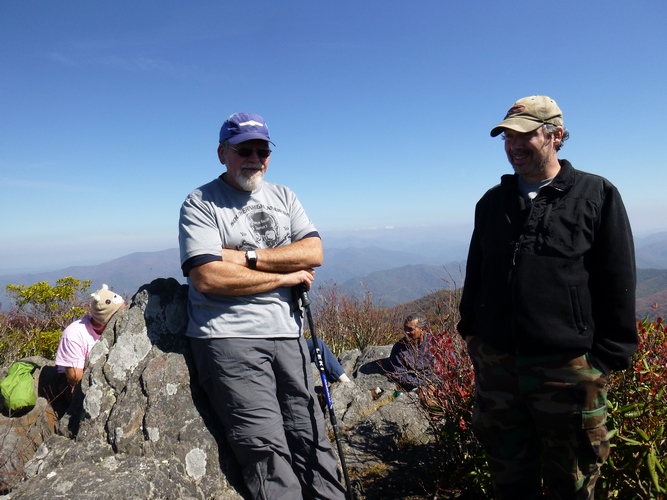 There was exceptional hang time on the rock.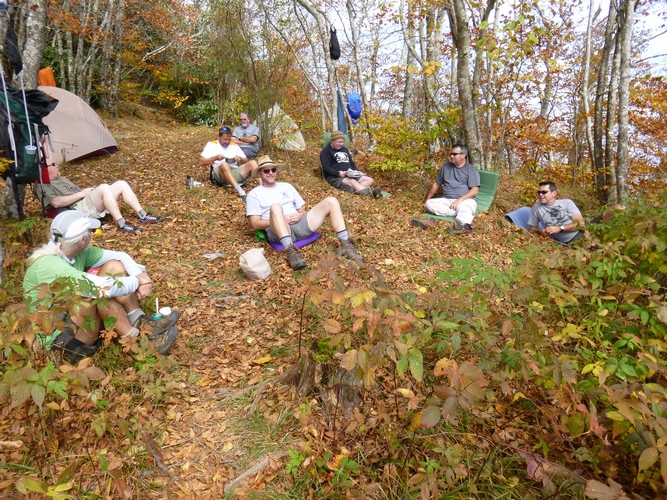 On Saturday we lounged about in the shade while our camp newbie collected wood and water.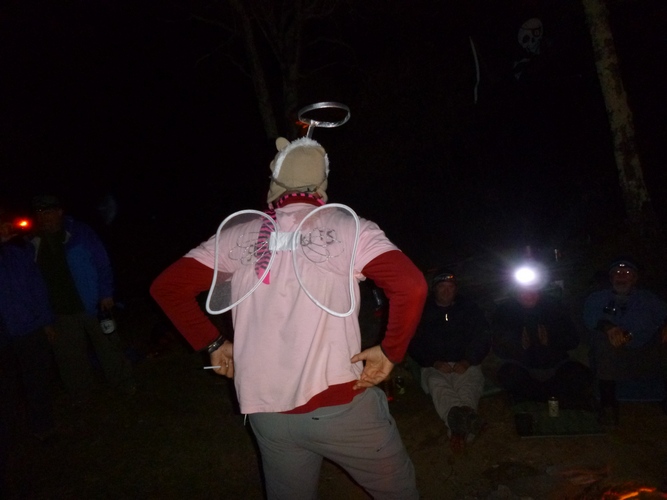 Remember that we are gathered, in part, to induct our newest SouthernHighlander member. Slapnuts thought he was up to the task.
Tipi came to observe the events.
Toad brought a guy who stole my backpack.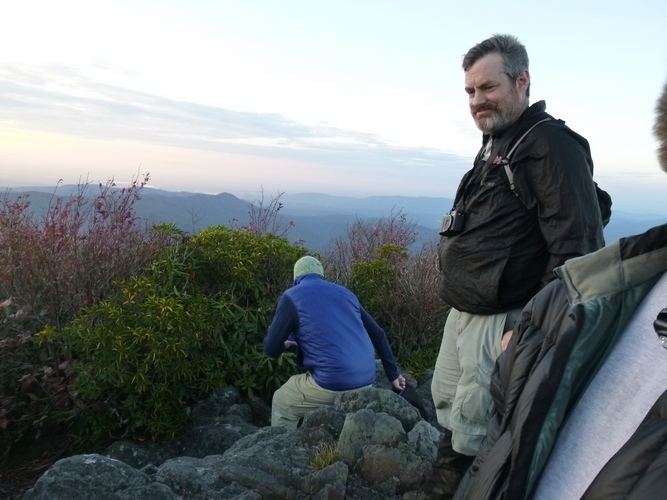 AJ is certain he loves the Hangover. The rest of these shenanigans may be in question.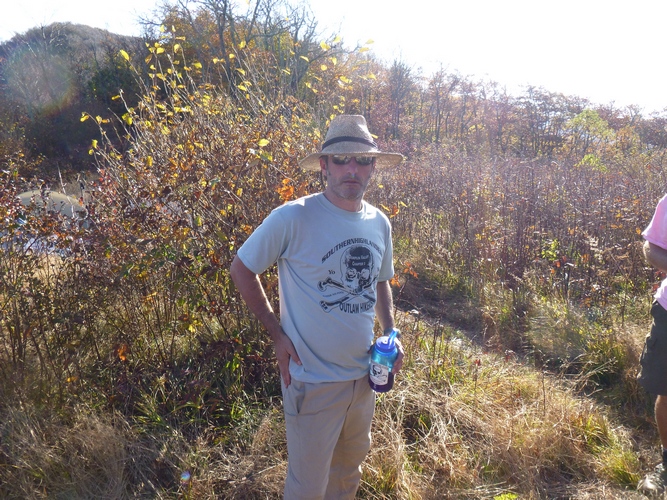 Want to see a good omen?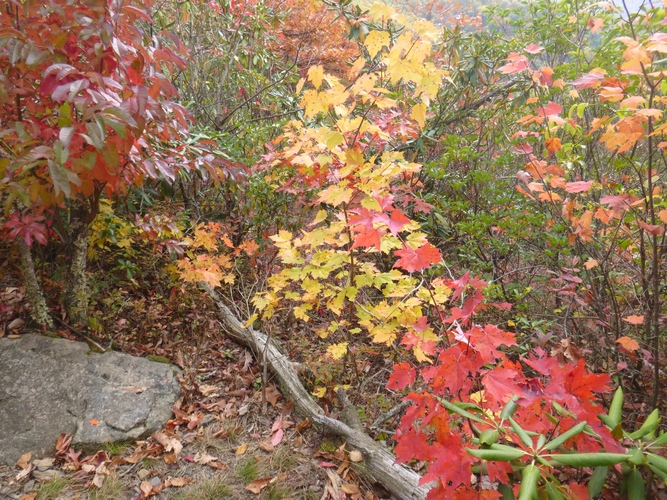 The colors are amazing.
One of my favorite activities at the hang is to percolate coffee from that spring. It requires a lot of extra weight but since my pack was 58 lbs anyway, who cares? I could've sold that stuff for six bucks a cup. That water is delicious when run through a bit of fresh ground coffee beans.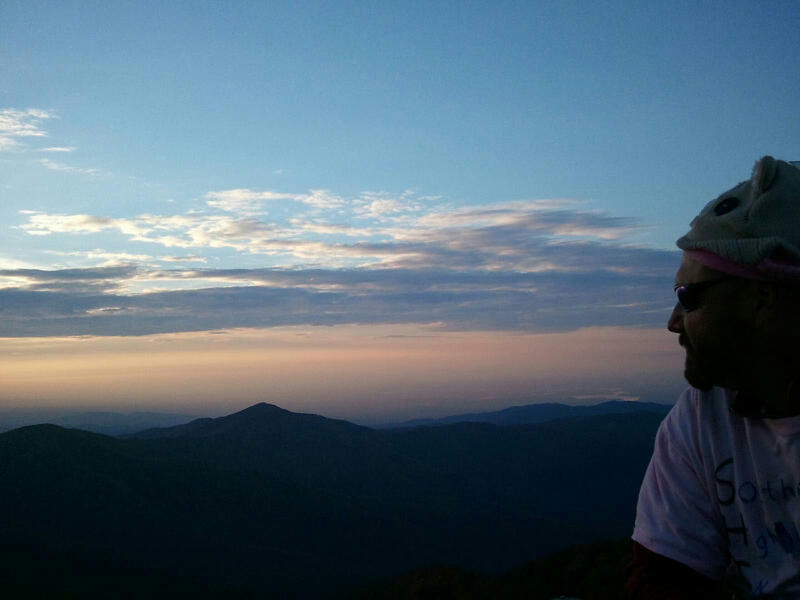 Despite all the grueling rituals, Slapnuts passed with flying colors and is the newest addition to the Highlander fold. He worked diligently despite all the duties placed upon him and ultimately prevailed in his third round of voting. Congratulations, Slappy. You earned it.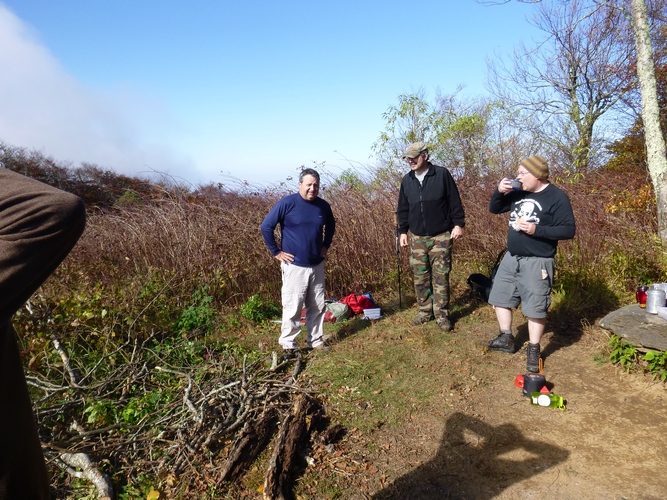 (he was definitely bogged down with a ton of woodwork, So much so, it was overwhelming. He gathered and cut all the wood for us for the weekend)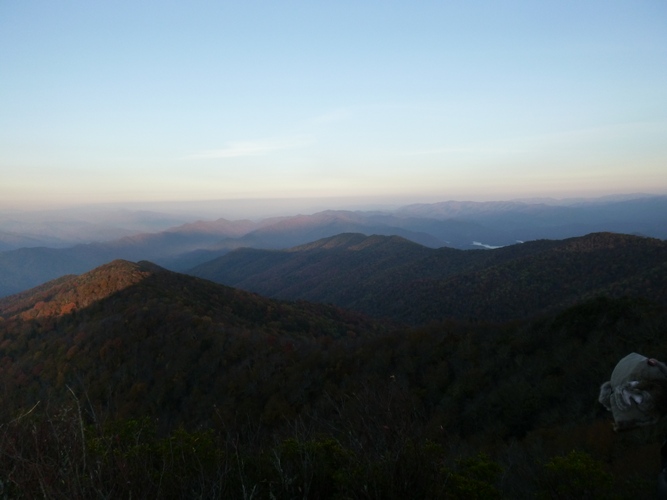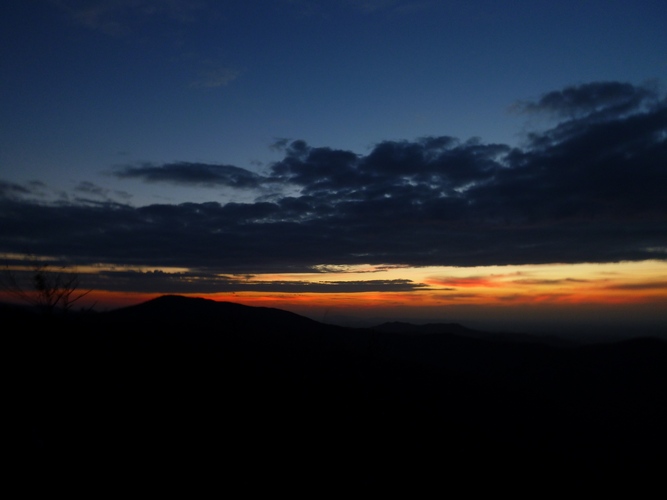 I could go on and on about this trip. It was one of the classics. So many different individual stories but overall, a surprising good Dumplin Valley showing, Muir Faction representation and Chapter one contingent converged and shared great fellowship. Everyone there wanted to be there. And that is all that matters. I appreciate folks who make the effort to respect the Hangover attendance tradition annually.
In summary, I would like to repost a link that captures my sentiments about Hangover. I wish everyone a wonderful Fall!