Hangover Again? 10/19-10/20 2013
How can it be?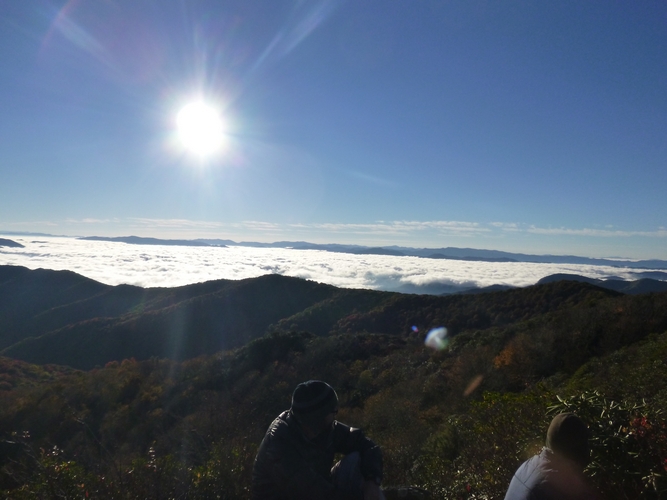 Well, why not? It was quite accidental, though. You see, we were supposed to meet Dr. Trail bailer and Slapnuts here: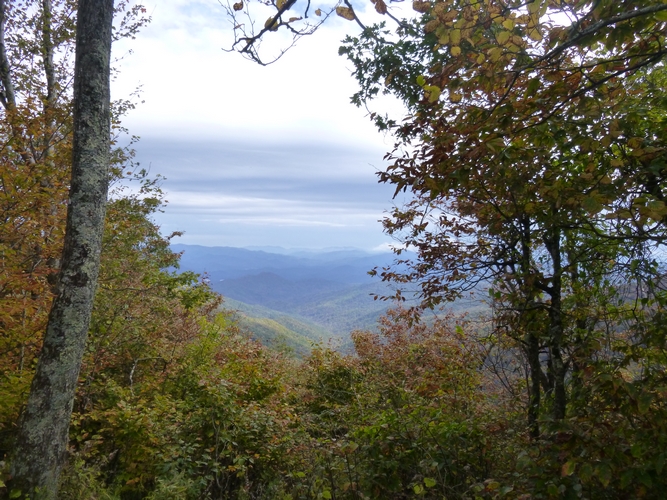 At Naked Ground. So Jerky Mike and I drive back to Wolf Laurel for the short hike into this spot. When we arrive there, two camps camped out told us that Will and Slap had proceeded on to the Hang. So we marched onward. It didn't take much coaxing for me.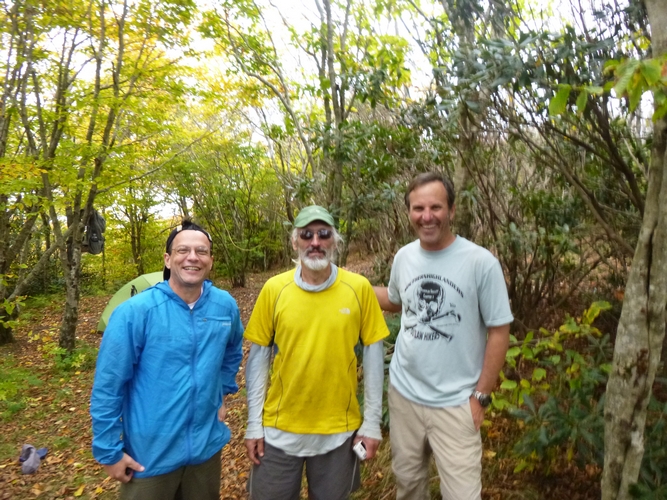 And who do I encounter when I get there? It is our old and dear friend, Tipi Walter and Patman, another acquaintance from a few years ago. So I consider this quite fortuitous. As you know, Tipi is a Slickrock/NNF/CNF legend. He has ascended Slick Rock creek almost 40 times and I believe that is a record unparalleled. We descended Slickrock creek last week and I will recount it below. Patman is moderator on outdoor blogs who joined us one year during the Highlander nation rituals.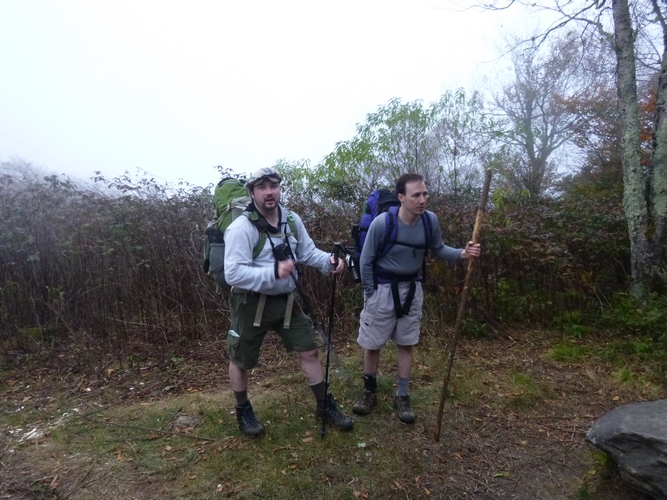 Then comes Gonzan and his brother. Gonzan is another old friend who was with us on the Hang two years ago. He is also a moderator on Trailspace. It was like a surreptitious reunion.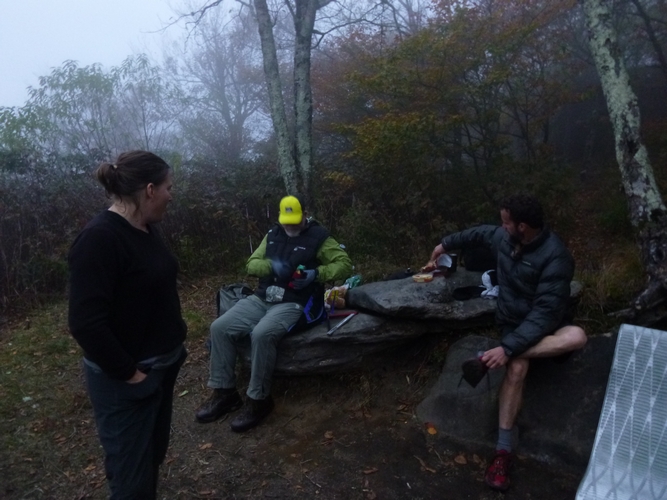 Soon the trail Bailer arrives with Jenny and Slap and Baker, who completed the AT with Bailer.
Our party increases with the presence of Kristin, Mittens, Cig and Topless. At least that is her new trail name for the duration. (yes there is a great story that goes along with it, unfortunately, this is a family friendly publication) These gals and guy are part of a Chattanooga outfit that gravitated to our wind driven, typical Hangover fire.
Because we bring the Meat!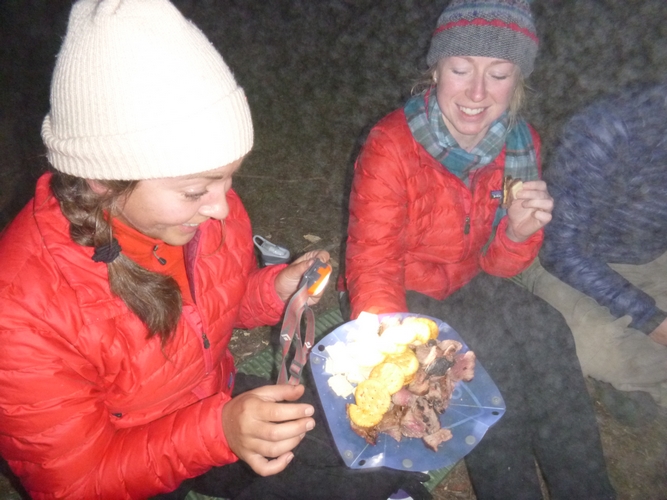 They did enjoy our meat and cheese board though. Kristin realizes that Highlanders know how to bring the party.
Here, Topless decides not to go meatless.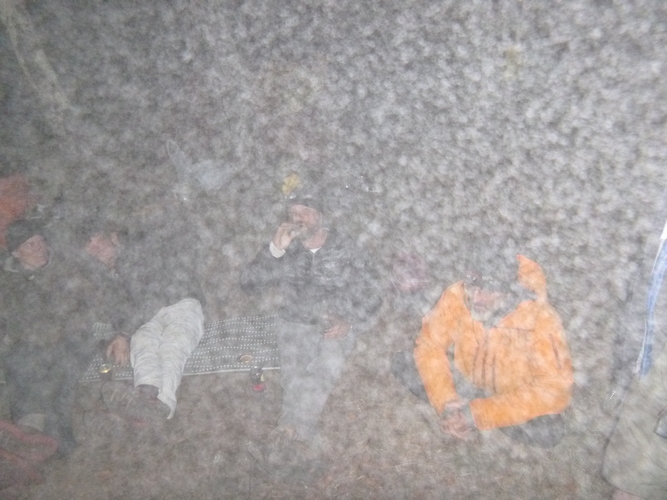 That's Tipi and Slap in a typical Hangover whiteout.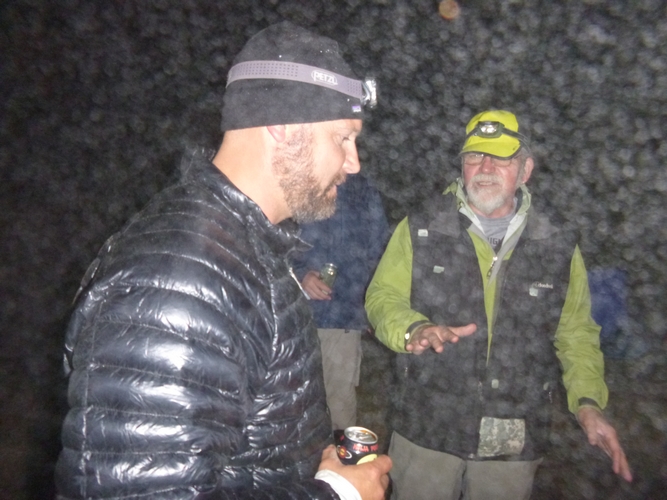 Jerky Mike says, "Hold it down slap. There's plenty of meat to go around!"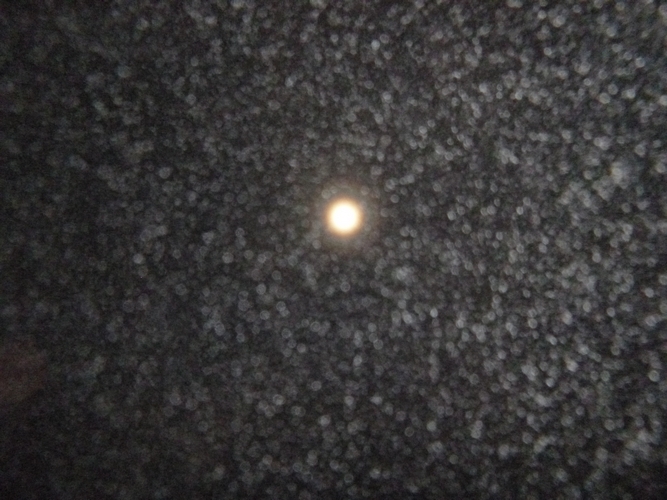 We danced by the light of the moon and barked, along with the bear dogs, at the coons.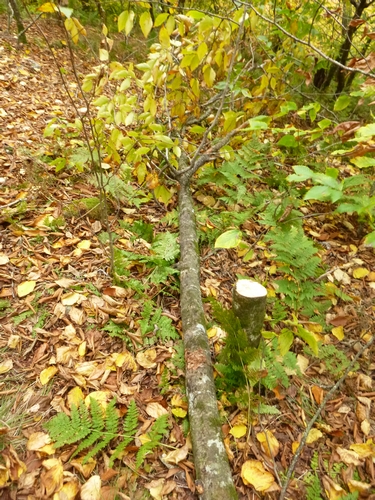 This is inexcusable. I found this below camp and am quite disturbed by it. It happened between the time I left there five days ago and Saturday. John the Red was at Hangover the night before us and says he saw it as well. I'm pretty sure he didn't do it b/c it would have been burned up completely.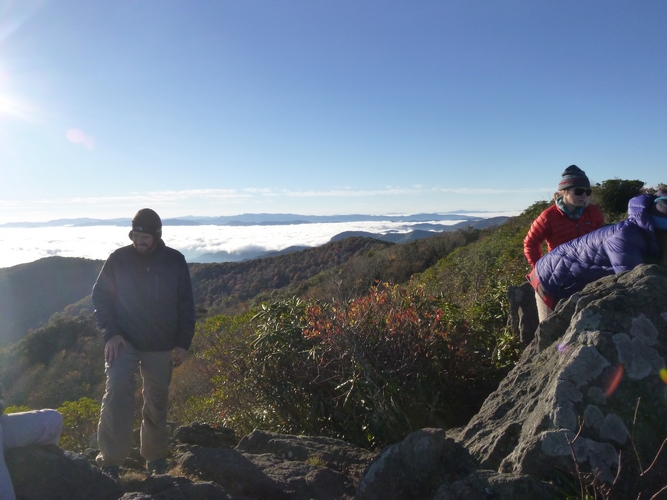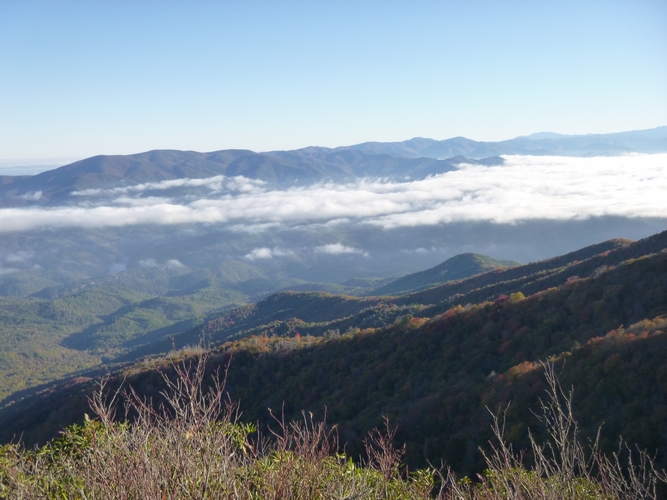 We departed in varying directions. Slap, Will and crew descended our route the week before down Slickrock creek, aka the ballbuster. And I'm about to tell you about that experience now.
Slickrock creek was once rated by Backpacker magazine as one of the most strenuous hikes in the United States. These pictures will give you some inclination as to why. We dropped down here on Sunday morning, October 13, 2013 following three nights on Hangover.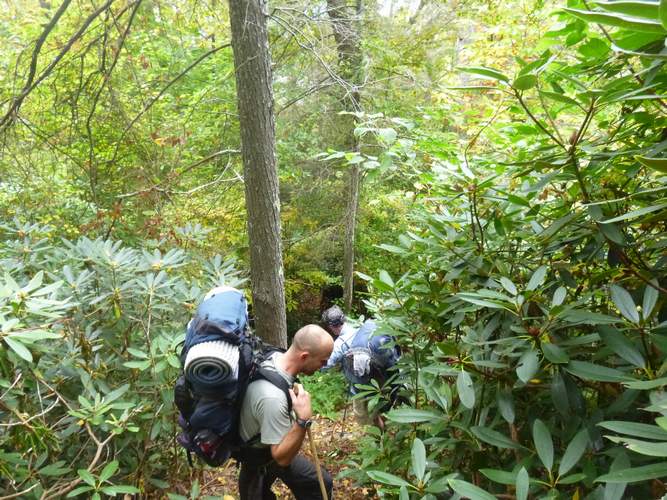 It is unrelentingly steep and rugged. With full packs, Bobby realizes the undertaking as Grady negotiates some "slick rocks".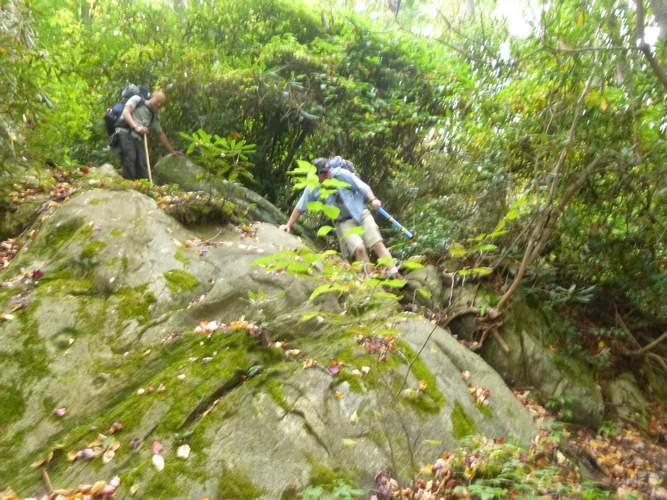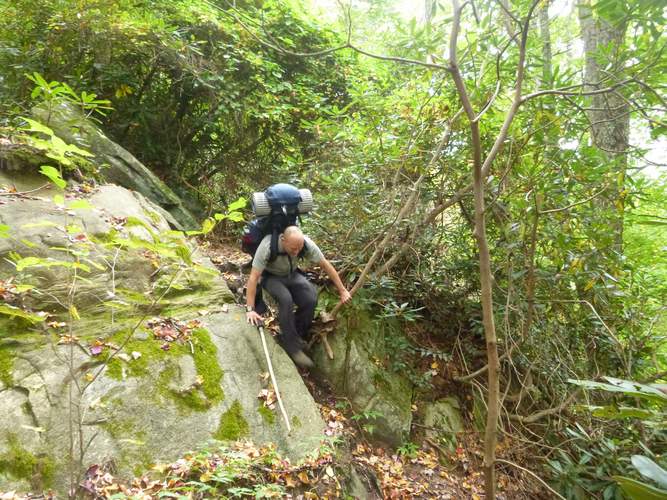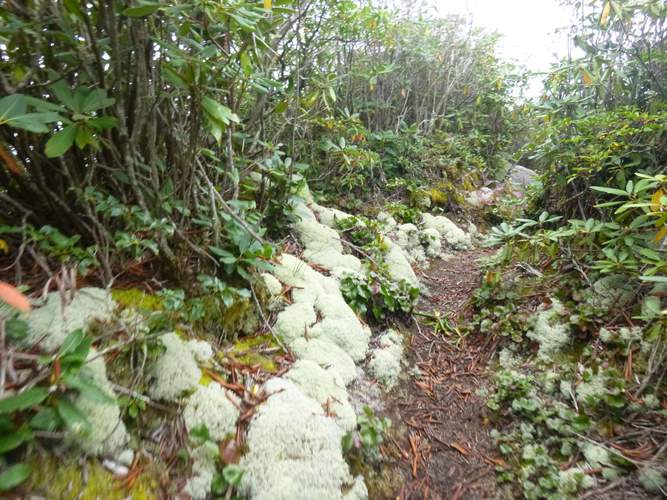 You drop down a Heath Bald and continue to the terminus at Nichols Cove.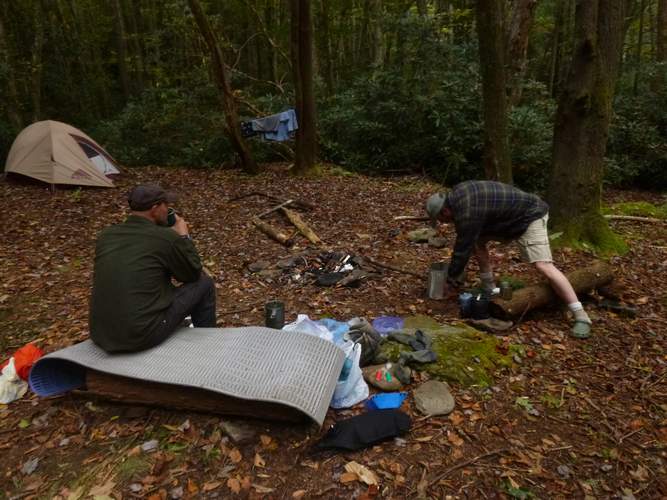 We found camp a welcomed sight at four and a half hours of descent. It is remote and rugged, just the way we like it. During the early evening, a wildcat howled in the distance.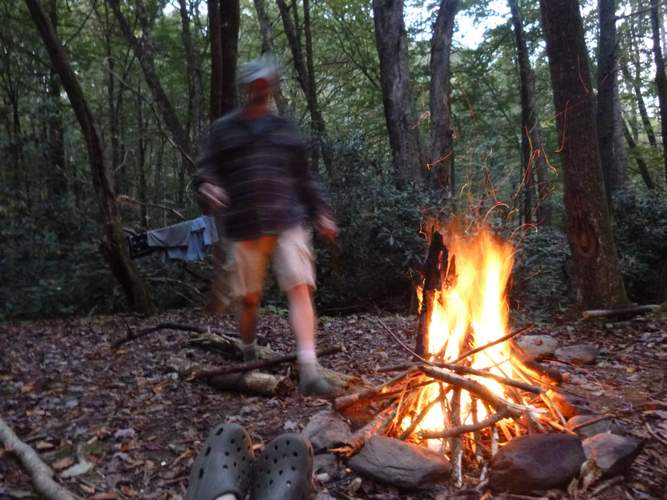 Grady soon has a barn burner to scare any Haints with False Faces.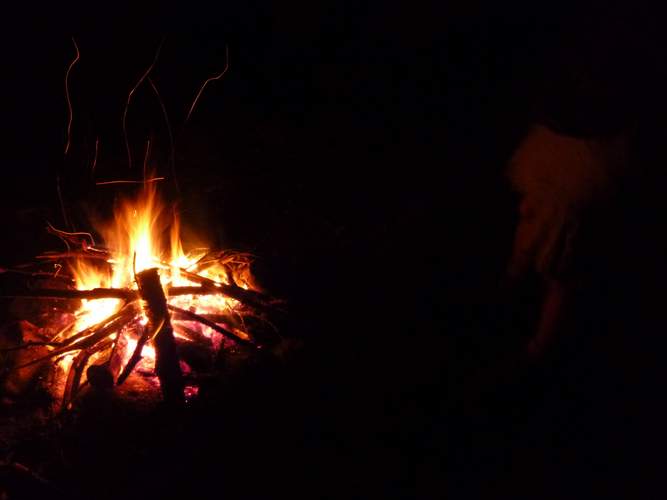 Cause you never know when someone might show up with a false face.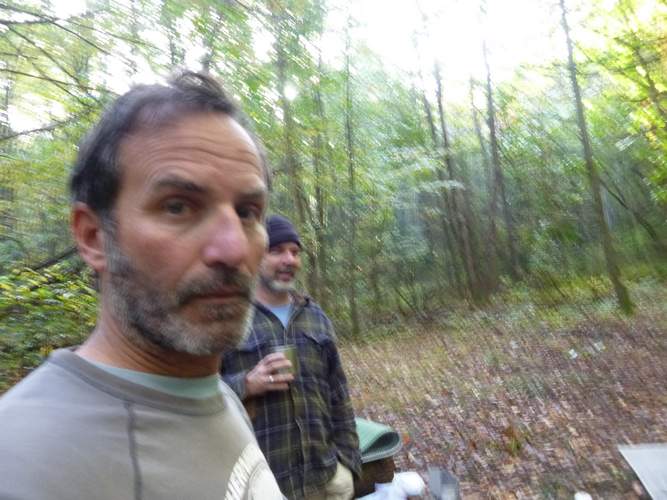 Next morning I discover that Grady and Bobby have "cowboy" camped in the open by the fire to scare off intruders.
We drop through a few more crossings of Hangover creek and eventually Slickrock creek proper.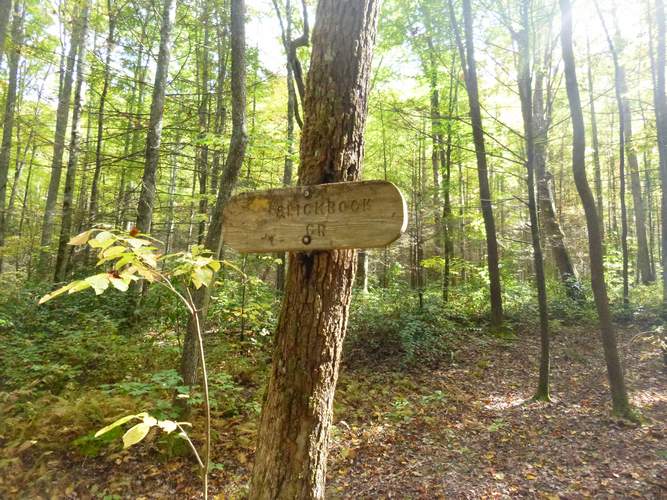 Finally, after a wonderful evening and delightful hike, we have to ascend back up to Big Fat Gap. It is a steep little two mile climb. It was five glorious days in the Slickrock wilderness that ranged from High altitude balds and vistas to creek rambles along the Slickrock. An excellent Fall outing. And Will and Slap are doing it now.