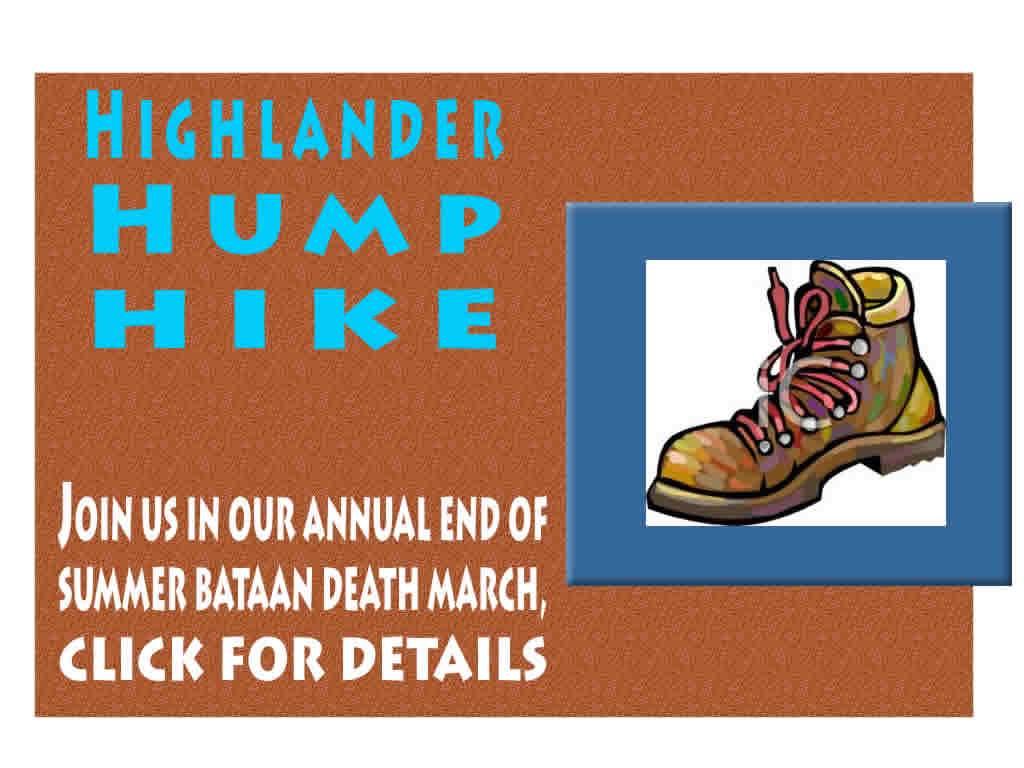 BEAR VIDEO FROM SPENCE FIELD
August 28-September 1, 2008
These are the survivors after 45 miles looking none the worse for the wear.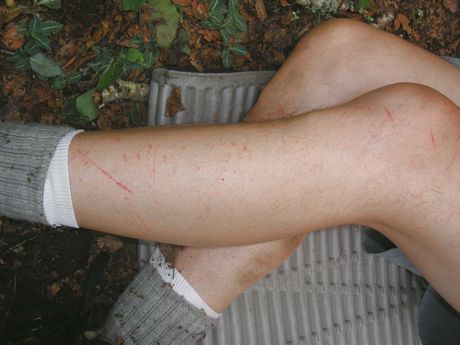 scars and yellow jacket stings aside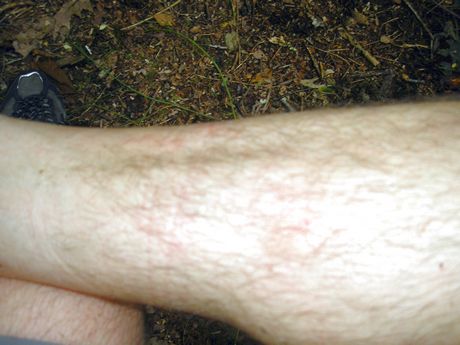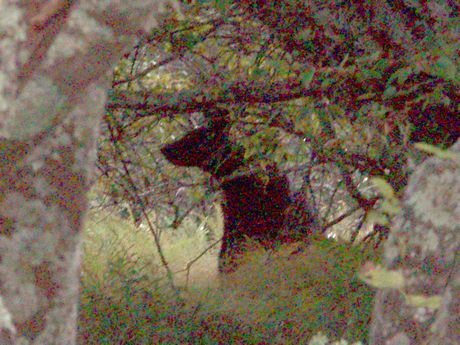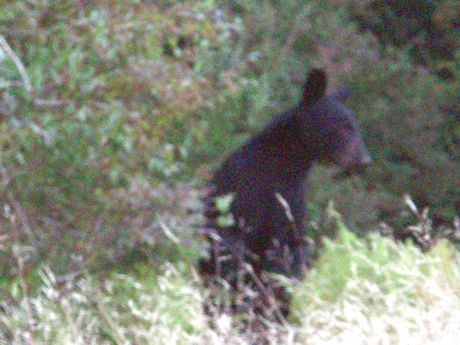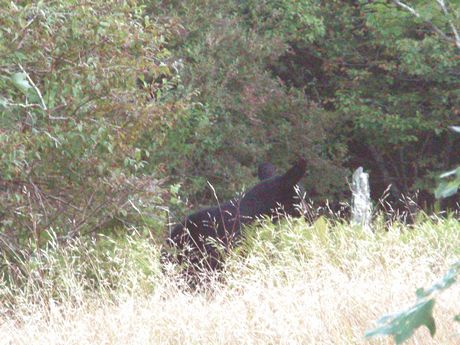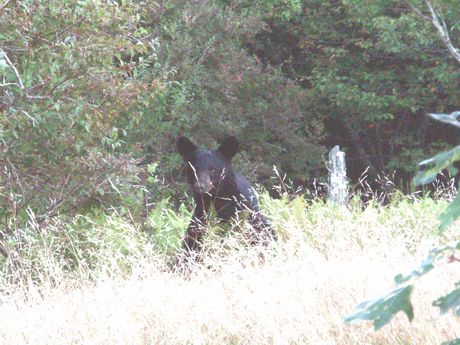 Guess who? It is Berry interesting. Sally D captured these pics. This fellow was at the top of Spence Field the morning of our departure munching on blueberries and blackberries.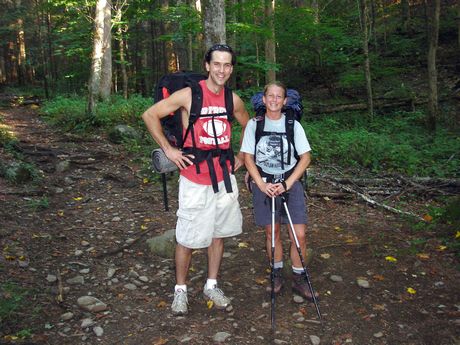 It all started for us on Friday. Wait, who is that with my girlfriend?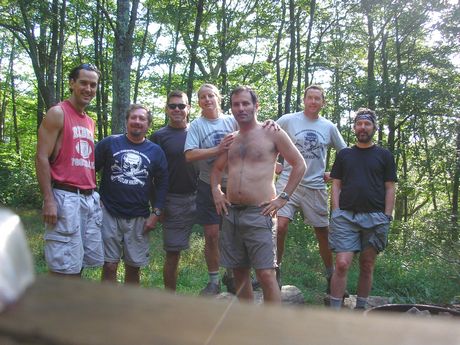 We hooked up with the Eagle Creek crew at Spence Field.
It was a peaceful night for the two snugglers, or should I say, smugglers.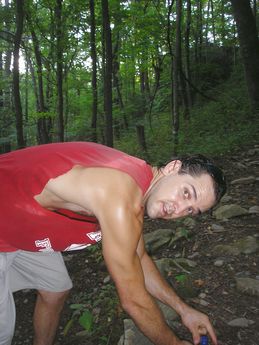 Yes, Master, anything else, master?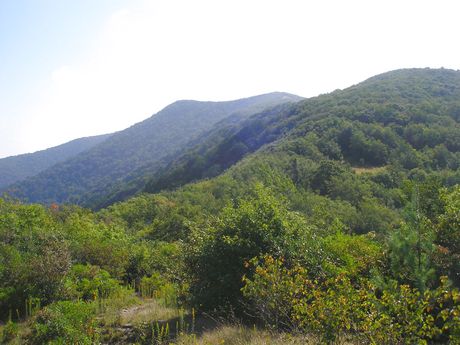 This is Rocky Top and Thunderhead.
Grady is ready to blast down Jenkins Ridge as if he has forgotten the severity of that particular trail. It looks as if he is straining to engage the rocket booster device that enables him to glide without touching the ground. I think it is spam powered. We say goodbye to Beth and she returns down Anthony Creek to Cades Cove.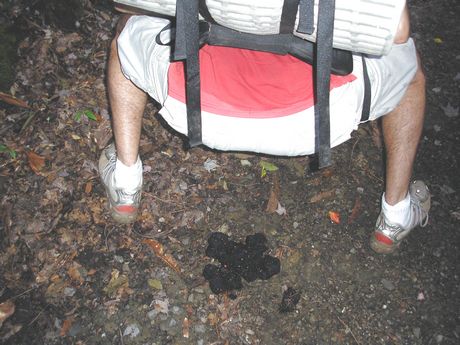 I had always thought that the berries indicated bear leavings.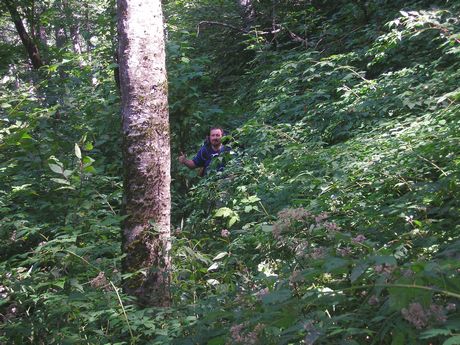 Jenkins Ridge was like this for a good bit of the 8.9 mile descent.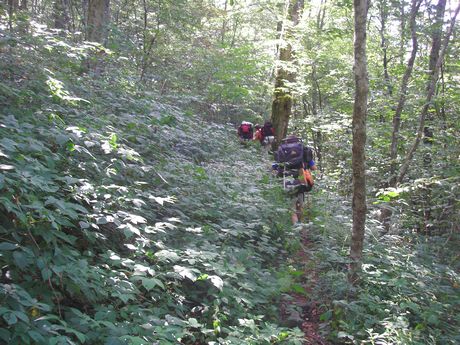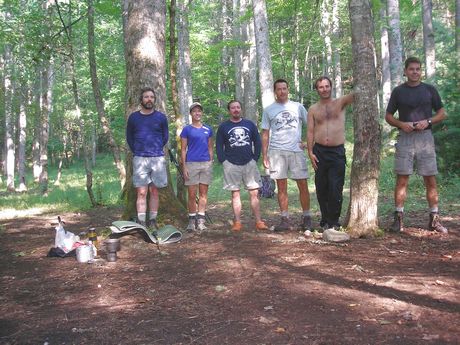 Ten miles or so, we end up at Hazel Creek and send Jon Chambers packing back up Jenkins Ridge as he is unable to maintain a Highlander pace. We salute him for his attempt, and hope he sprouts hair on his chest as a result of an impressive, but brief, showing.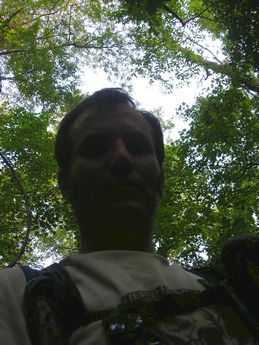 Day three finds me and Martin scooting back up Hazel Creek.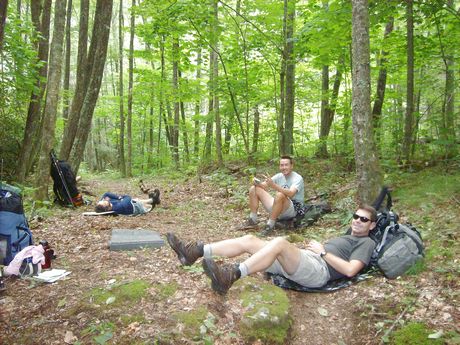 Apparently, they got tired of waiting on me and Scooter.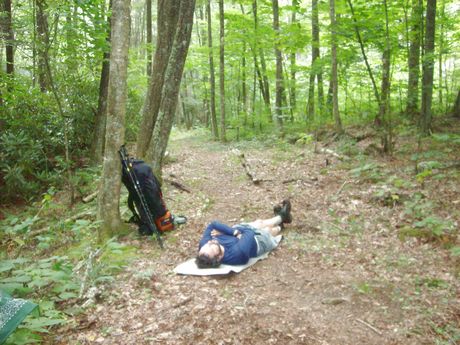 The hours passed like days for Grady..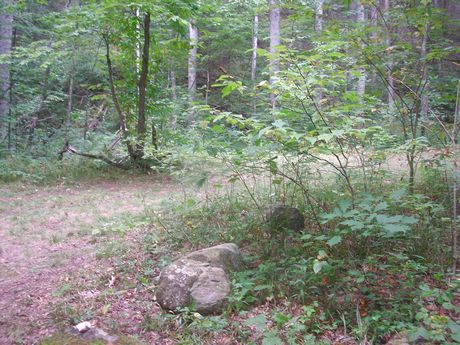 We were admiring this spot from our last trip, where we had to bivy on Easter, 07.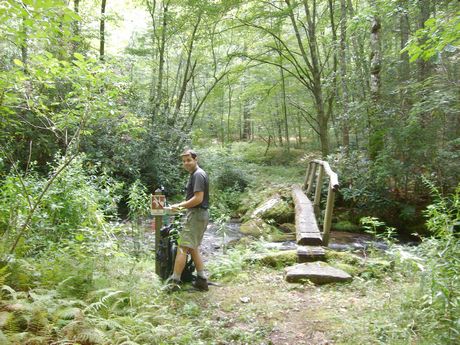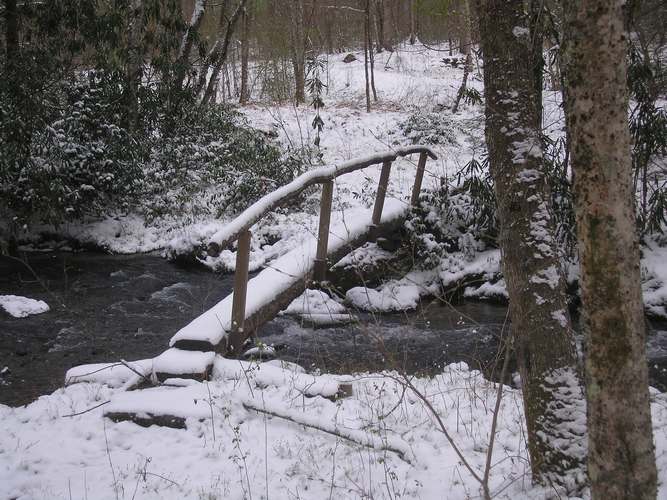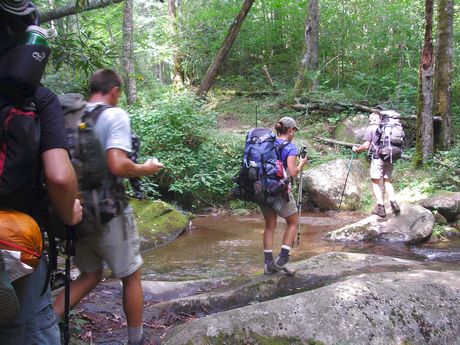 We rejoined the Fast packers after their little trail naps and my personal encounter with the yellow jacket nest and three stings. Apparently, George thought to leave a note warning us of the menace. As Martin and I ran by, giving the spot a wide berth, I noticed the lettering that said in Bold, Yellow jackets, with an arrow pointing to the left. We hooked to the right and stopped to laugh about the remainder of the note which read, Robbie Called. It was then that I was envenomated three times and Martin one. Thanks to George and Robbie, neither of whom were present.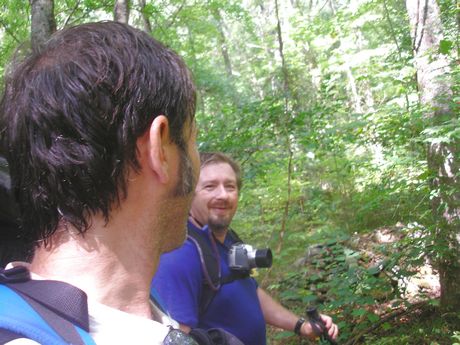 Scooter has forgotten his underwear.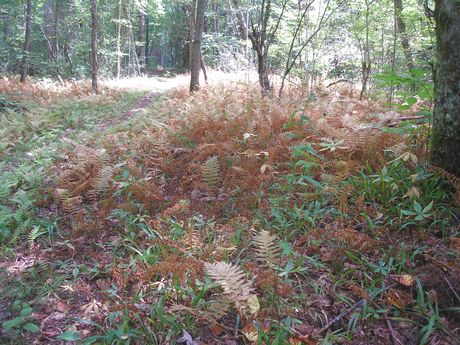 Brown Ferns mean dry weather. The water is low, despite the recent rains.
A little way down Welch Ridge to Jonas Creek meant a 14.5 mile day on Sunday but it is nothing to Team Extreme.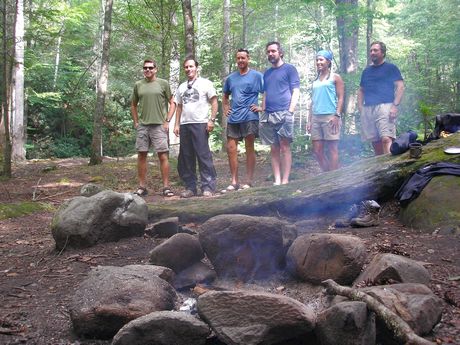 Monday morning meant that we could have a leisurely 7 mile hike out to Lakeview drive after a restful night on Jonas Creek. Dave got hit by yellow jackets, sparing me any more swelling.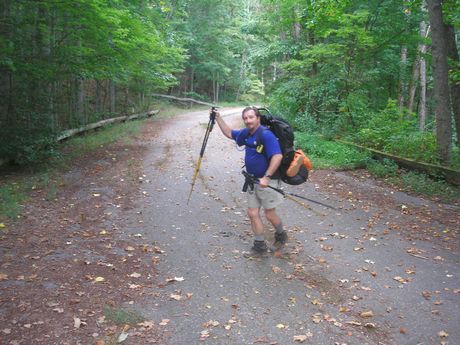 Scooter gets giddy over the end of the trail.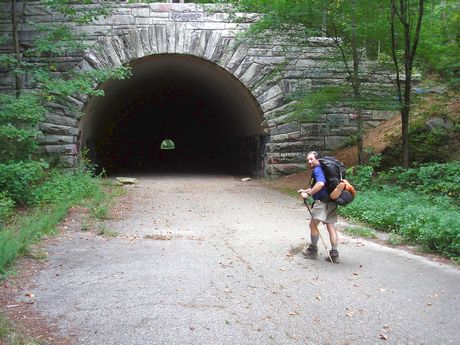 A definite light at the end of the tunnel.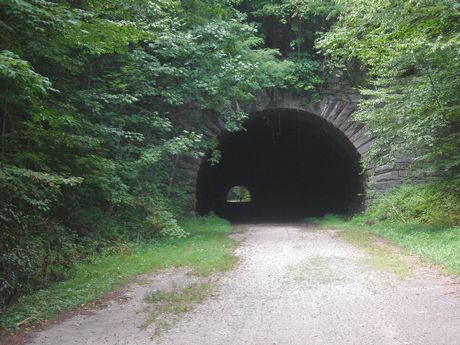 That's Sally Dumplin entering the Tunnel of Love.
There are signs and there are signs. This is one of those good signs which indicates the end of a wonderful journey. Thanks to all who participated and made the Hump a definite success. Yes, George, the HighlanderoMeter is updated. (I had to place Grady ahead of you because in the event of a tie, the top position goes to the first summiter.)