Kephart Shelter March 26th, 2011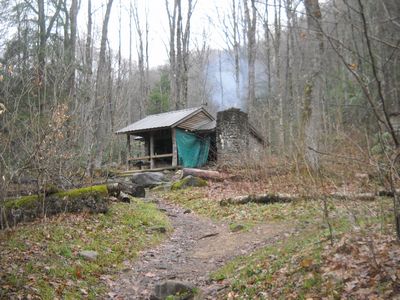 It was a dark and rainy day. When Dave suggested Kephart Shelter as an alternative to our original plan it was evidence of his presidential genius. We do, after all, have a bit of connection with old Horace, anyway. Cresting the hill, I smelled the smoke and was warmed as I knew there was Highlandery in action. Seeing that sight was like returning home.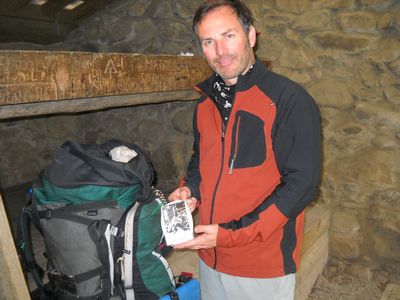 This picture of Horace Kephart was given by Chapter 3 and we have toted him all over the Smokies.
It was a short in and beginning to look like Sally D and I would be the only inhabitants. We both managed to walk in the dry. The rain didn't begin until dark.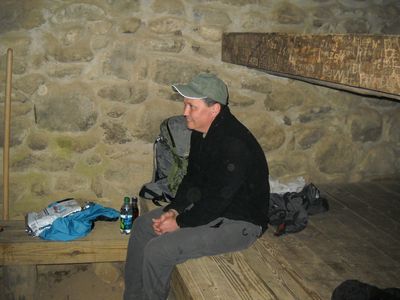 Then this guy shows up for his once in an 18 month appearance. It's CJ the Indian Outlaw. What a surprise.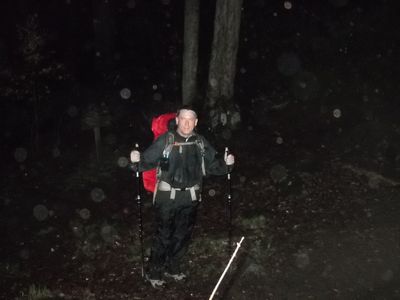 Then when you least expect him. Yeah. It's BC George with the deluge, and I mean deluge. We settled in for a nice fire and the shelter all to ourselves. It was great. I love sleeping under the tin roof with the rain pounding down while my minions saw wood and tend the fire.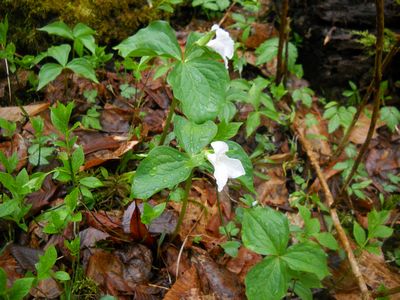 Wildness abounds with signs of spring.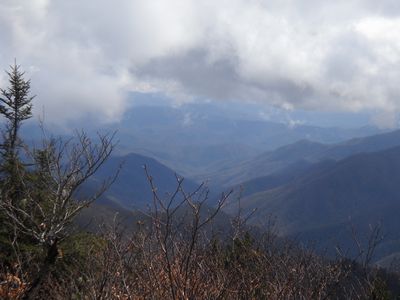 Sunday morning, the clouds lifted above 3000 feet. That means we were in the dry and it was time to hike. BC departed to knock off some miles on Kanati Fork. George should be finishing his last mileage with a few months. As for me, I had decided if the weather was good to ascend Sweat Heifer. So Sunday morning we all departed on our respective journeys.
How bout this monstermander?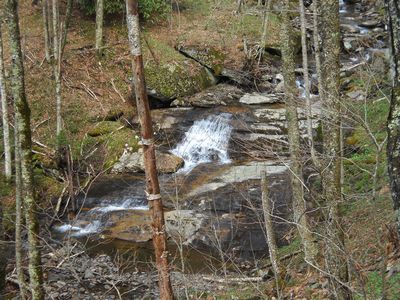 Sweat Heifer Creek is quite picturesque. In the day, farmers would take their stock up to graze in the High Country. Hence the name. Our boy, Horace Kephart, SouthernHighlander benefactor and namesake, spent time up on Charlies Bunyan and actually gave it that name. Sweat Heifer pops up near there.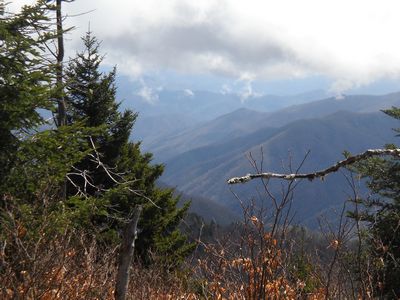 The more I climbed Sweat Heifer, the more I became one. With almost 2500 feet of vertical ascent, this trail is one of the steepest sections in the Park. My plan was to depart the shelter and do the 3.7 miles to the A.T., then cut over to Newfound Gap, hike another 1.7 miles and hitch a ride back to my car. We were in the North Carolina Section and I saw only one group on the entire stretch until the A.T.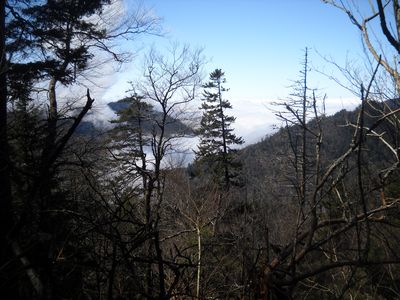 It's amazing to consider that when I got back to the valley, it was grey and dark and depressing. We were in the sunshine all day Sunday.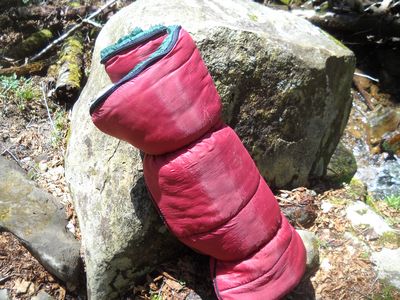 More and more commonly we are seeing signs of folks who abandon gear on these steeper sections. It's always some cheap type of walmart bag. There were other things scattered about mostly cotton clothing.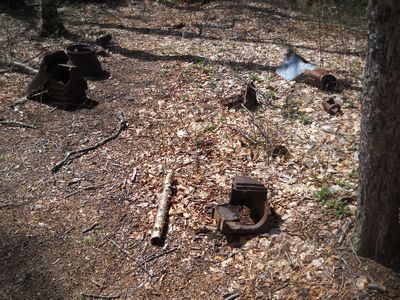 These are relics found at one of the switchbacks, not sure if they are railroad or CCC in nature.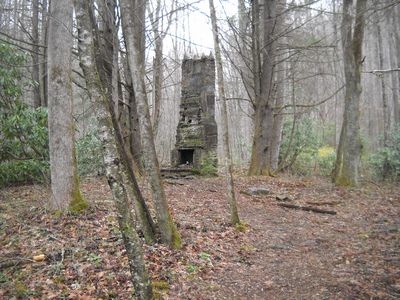 The Kephart area was a base for the Civilian Conservation Corp.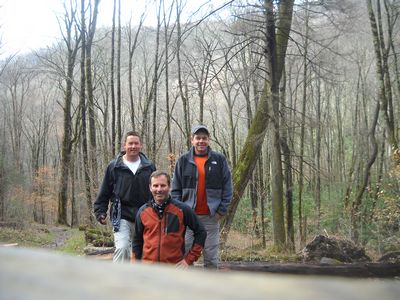 This was our group minus CJ as he bolted at daybreak. We had an EXCELLENT weekend. As a footnote, I popped out at Newfound Gap around 2 pm and it was getting cold as the clouds were blowing through and I had sweat heifered out pretty good. I crossed the road and stuck out my thumb. About fifteen minutes had passed with no success. I was starting to wonder when who appears? Yea. BC GEORGE. I have never been so happy to see his ugly mug. Then he got to turn around and drive me back down to Cherokee. (and he was halfway home). I tease him quite a bit but George is a pretty good guy most of the time. My hike was unparalleled. The weather coudn't have been any better and George knocked off some new miles. This is what I call a success.
Now some other housekeeping measures. I am divesting myself of some gear in preparation for a climb this Summer. I am parting with several things to include a pair of Scarpa SL M3 mens leather hikers. As you may know, my foot flattened out and all my footwear is too small. Anyone interested in these lightly used all leather boots with cambrelle, not gore tex, let me know size 10 or 44 european. Also, I am putting a price on this Patagonia Down Parka. I think the fill is 800 power down. If anyone is interested it is a large but trends big so it would fit an extra large person. It is super warm and still has the stuff sack. No rips or tears. $150 (pic below) It is super warm. Probably too warm for here.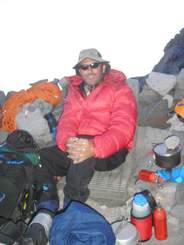 I got a new jacket for the climb so I don't need two. Let me know if you are interested in either that or the Scarpa boots.
The climb we (Bugsy and I) are planning is an ascent of Mustagata in Western China. Mustagata is as close to an 8000 meter peak we could safely tackle on our own. We will be using these guys for our ground logistics and you can look at some of the details of their guided version. We will be climbing as a private party using their basecamp services. My plan is to do a complete ski ascent and descent. In Colorado last week, I played with the new backcountry ski system. We put skins on the bottom and climbed up in randonee mode, then descened by locking the specially fitted binding in place and skiing alpine style. Mustagata is popular for ski descents. Here is a link to the climb, since some folks had asked. We will be departing at the beginning of July and will need the entire month for the expedition. -Mount Mustagata Expedition Also, check out this excellent video of the mountain Mustagata Video