Little Bottoms, again 7/06/14
What can I say. We love the place, so we go there often. I was drawn because the notion of cycling to the trailhead became realistic. The weather was indescribable.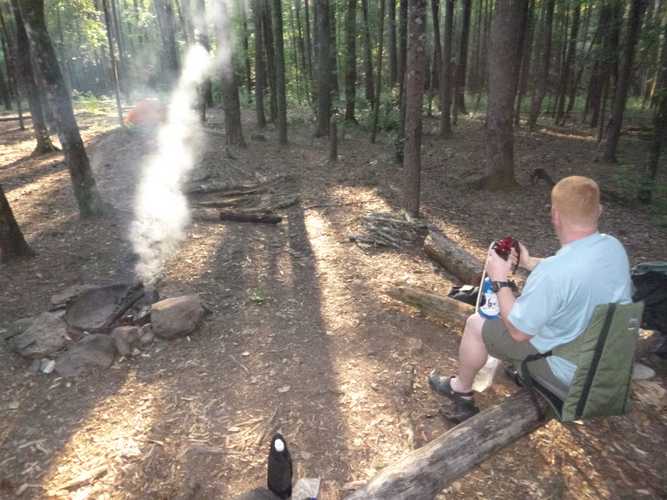 It's comfortable. Like a Highlander rest home.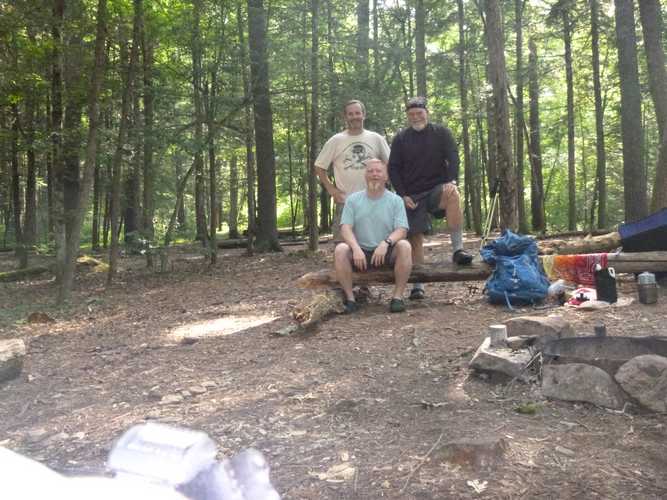 Red and Jerky Mike wanted a short in and I was interested in a place to which I could ride my bike and do some jogging..
Set a new record into the site. 39 minutes and only one snake. But no photo, I was moving faster than the snake.
Great news, though. The Southern Forest Watch, of which many members of the Highlanders are actively involved was just approved for 501 (c) 3 tax exempt status. It is a result of lots of hard work by Gregg Bostick and others. The possibilites are limitless now with regard to fund raising to keep the Smokies accessible to all, not just the well connected and concessionaires. Our lawsuit is drawing to its final phase and the result could be a reversal of the backcountry tax that has reduced backcountry visitation to the tune of %30 per year. Is that good for business or individuals? No, but is it good for the guide service and Smokies profiteers? You betcha. We are rattling cages in the halls of the Sugarlands and a good measure is the screaming done lately by those folks who moved down here to profit from these mountains donated by locals. In fact, the SFW coaltion is such a wide ranging group that we have members from most every state in the Union. What I find interesting is that the few who oppose our questioning of this fee have one thing distinctly uniting them. It is the same thing Ditmanson and his cabal shared. NONE of them have roots in the area. Think of that for a moment. You know what else these one or two also don't want for you to know? They all make their livelihood off these mountains. I suppose they see a gold mine here and don't want to share it with the folks who made it possible for them to begin with. If you happen to run into someone that thinks the fee is a good idea, first ask them in what capacity they profit from the Smokies. You will generally always find one. It pays to carry water for the NPS, especially when it comes time to hire people for the park or extend contracts. There is a reason the same folks have run Leconte Lodge forever and the NPS built a brand new horse concession in Cades Cove. Follow the money and you will find the filth.
Thank goodness the SFW profits none from these mountains. And we want to keep them that way for future generations.