Little River Trail
May 1, 2010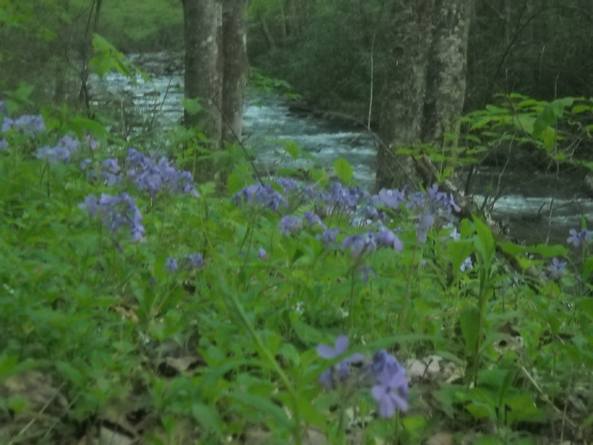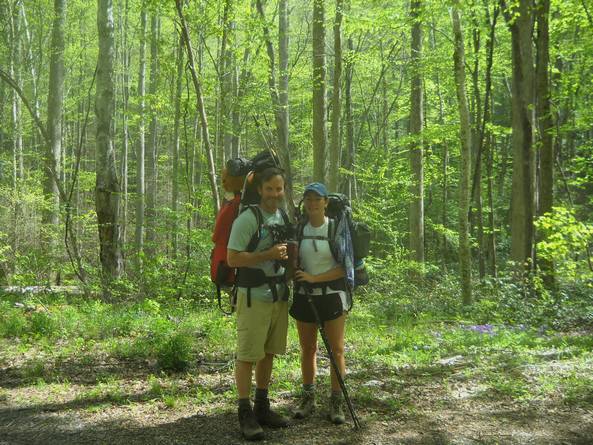 We had a hard time convincing anyone to go out after work on Friday. By the time we hit the trail it was 6.30 and campsite 30 was getting farther away. Many of us had a wedding and bachelor party to attend on Saturday so Friday seemed like a great idea. As the sun faded there were thoughts of outlawing at 24.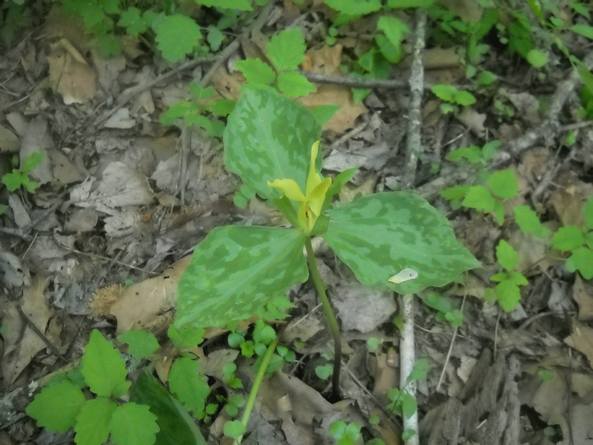 The wildflowers were a blazin. Rows upon row of trillium both the yellow or lemon variety and the white and catesby's were in abundance. Alas, I will have a good one for you below.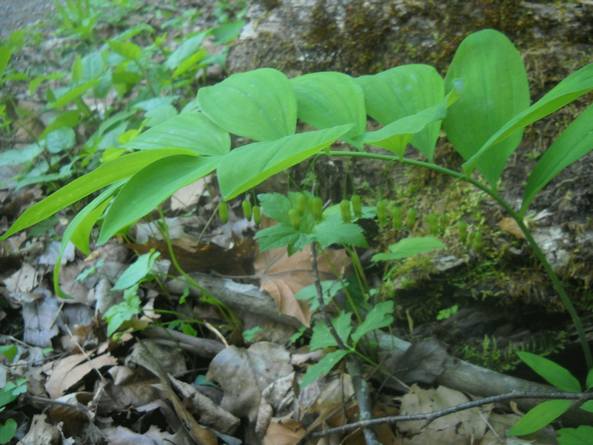 Solomon's seal, of course. And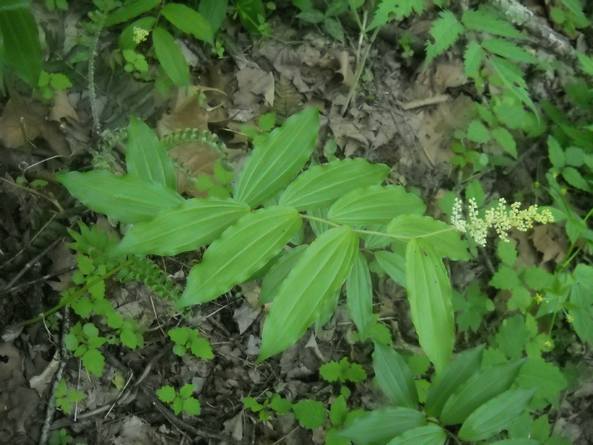 False Solomon's seal. Pretty good resemblances.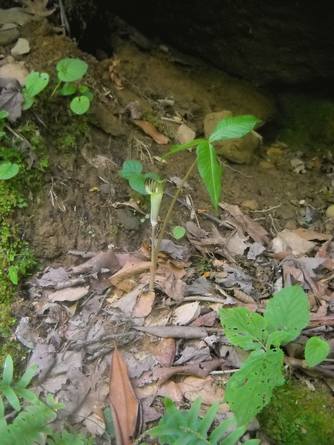 This was an unexpected treat. Know that one? You'd better. Look real close for the "preacher". Don't see too many of these on the trail and it was the only one I saw on the trip. I'm not giving any swag for that flower ID but I am going to for this next one, Rocky Ledge. This one below is one of the penultimate wildflower finds in the Smokies. Ready?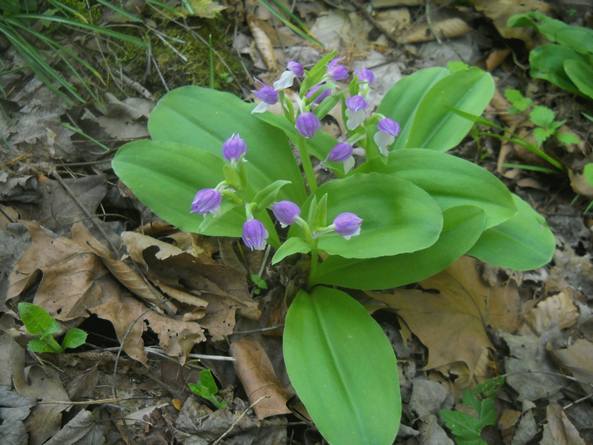 How about that? Beautiful. First one to claim it gets a SouthernHighlander T shirt, shipping not included. (I am out of large, though). Some call this the premier member of its family but that might give away the secret. (I hope that someone from our state can at least redeem themselves before the Muir Faction embarrasses you again)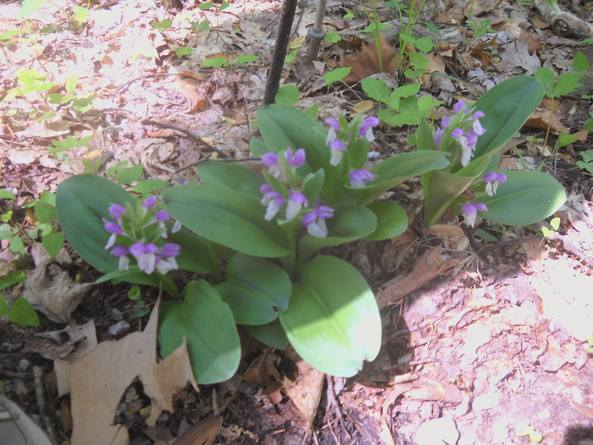 There is an abundance now up to the river at otter bridge so see them whilst you can.
I thought this one turned out quite nicely.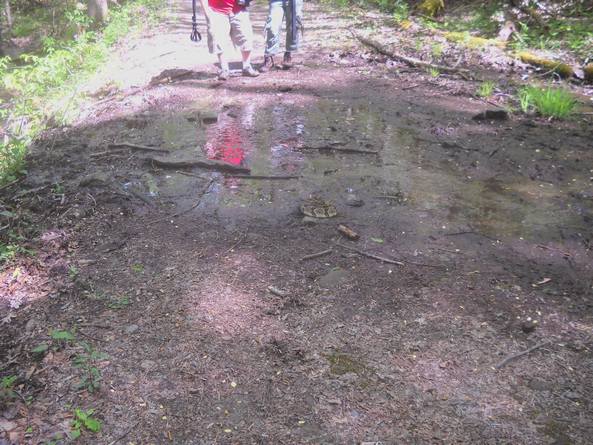 We ran into this fellow next morning and he didn't want to yield the trail.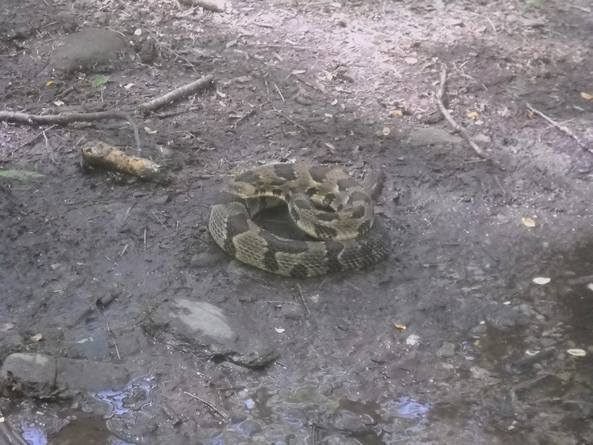 As a matter of fact, he was very comfortable right there in the mud. When you are a timber rattlesnake, you get to sit wherever you please.
I managed to capture a bit of video. As you can see he is about 4.5 feet and super thick. This winter must not have been too bad for those guys.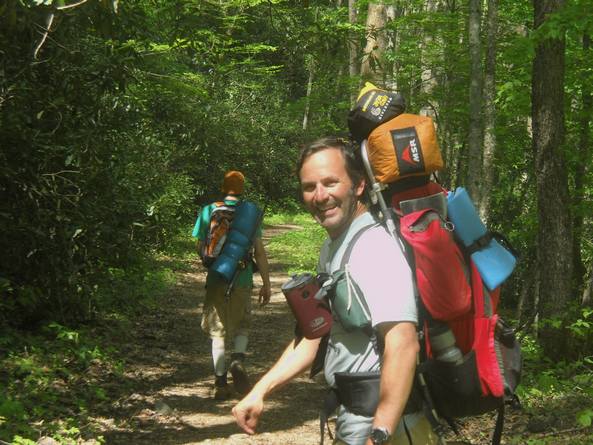 Several months ago we began our discussions about the possible ramifications of George Bush's moronic gift to the NRA by proposing legislation to allow guns into the National Parks. As you know I had many thoughts about what breed of stupidity this might encourage. My main fear was cruising into camp late and having some bear fearing idiot shoot first and ask questions later. I never really envisioned this.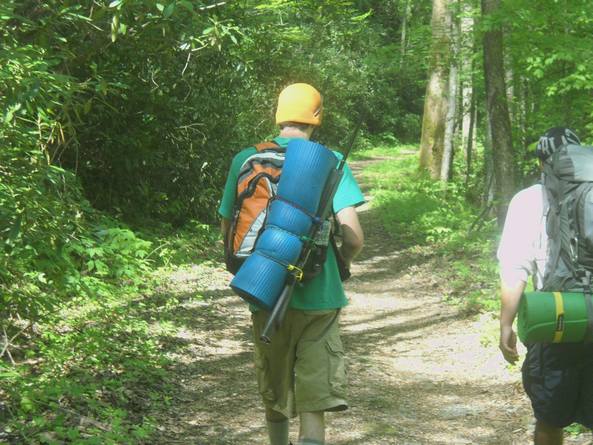 Yep, a pellet gun. You can't see the front of this young fellow but if you did you could see his scabbard and sword. I had to ask him, of course. He told me it was a pellet gun. I'm not certain, but had we not come up on the rattlesnake before him I could see this guy taking a few shots at the snake. I had to keep people off the snake as it was. The gauntlet of moronory knows no bounds nowadays. A pellet gun. Just when you think you've seen it all.
I would suggest you get out now and take advantage of the wildflowers in abundance. It is a good time to get over to see the lady slippers at the pass above Metcalf bottoms. This weather is breaking towards the hot side and then the steamy southern heat brings the bugs. Friday was perfect and star filled.