Shining Rock with the Muir Faction
May 2-3, 2009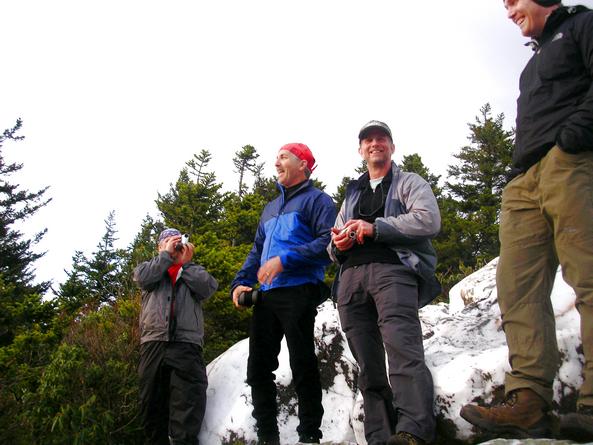 "The Hills are Alive, with the sound of Music"
Rocky Ledge serenades the remnants of a Highlander Faction or what is left of their ombrophobiac group. Bunyan videos the event for a potential you tube sensation.
As you can see, we were blessed with beautiful weather on Saturday for our walk out to the Pisgah and saddle below Cold Mountain.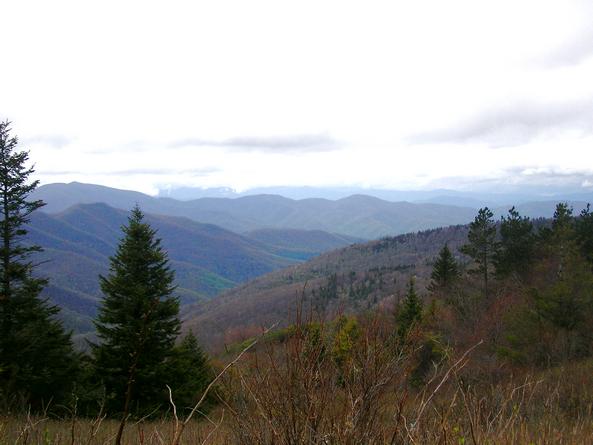 I realized that I would have to post pictures to prove that we actually hit the "window" between the clouds Wednesday. That is why Brian (Bugsy) flew in from Atlanta. He asked why we were in the mountains meeting up with folks from Ohio and Georgia when the Tennessee boys couldn't even consider a showing. I don't know. There was something about a presidential decree that backpacking season was over. Being an outlaw hiker, I ignore rules. We don't need no stinking badges.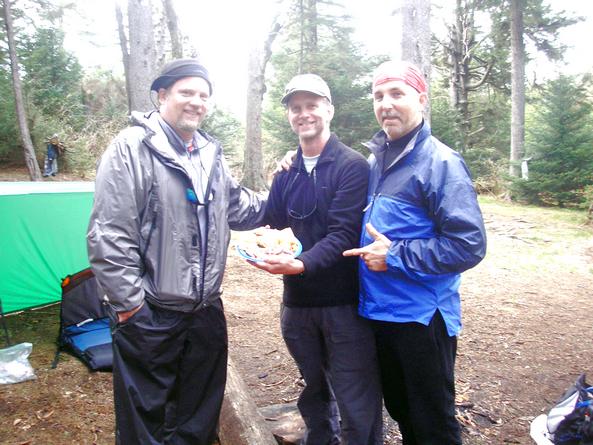 As you can see, Bunyon, Chuck and Rocky Ledge are always the consummate show campers presenting us with a complimentary cheese board to celebrate our arrival. We were forced to oblige and partake in this backcountry feast.
As a matter of fact, Rocky Ledge comes by his name quite honestly, I would say. He dances a jig whenever his feet touch one.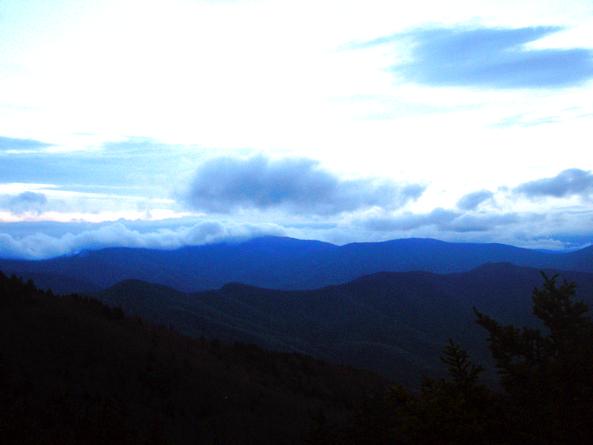 Bullet for Blue Skies.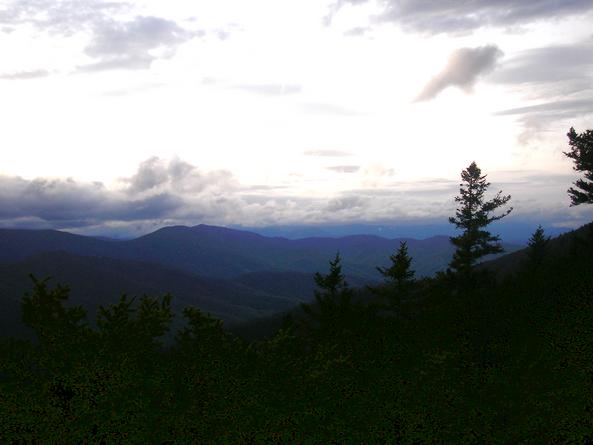 Incredible sunsets are always found at the Shining Rock.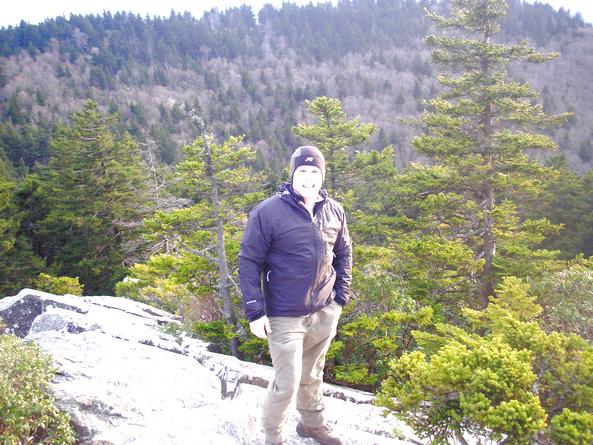 Bugsy is a bit washed out from all the sun, wouldn't you say Uncle Larry?
Quite tropical indeed.
Ab's Head Bald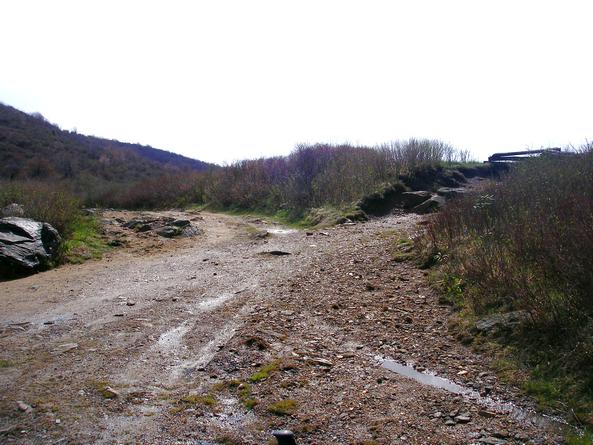 This is Ivestor Gap. In order to get Ethel and High Speed Alexander out here on separate occasions, I had to tell them it was INVESTOR Gap. The potential for money flowing one way actually persuaded both to make respective treks out to the point, Ethel by 4wheel drive.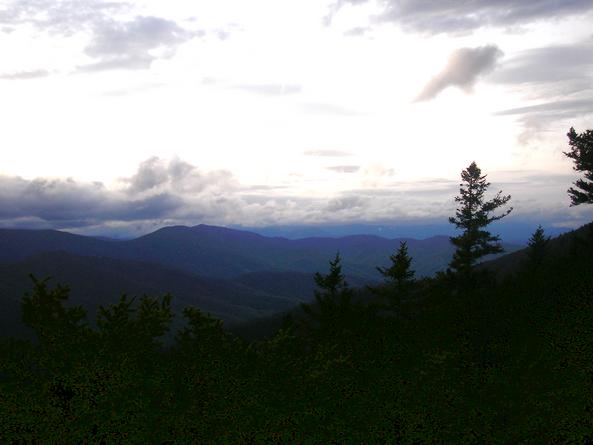 Just incredible.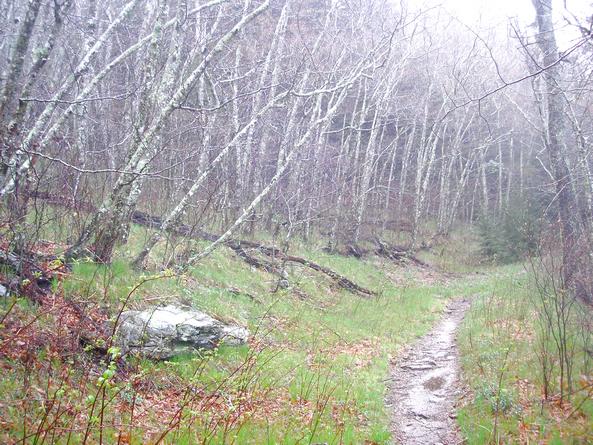 Sunday morning was wet. I will not fool you. The rain began about two thirty in the morning. As we departed, the clouds opened into the view below.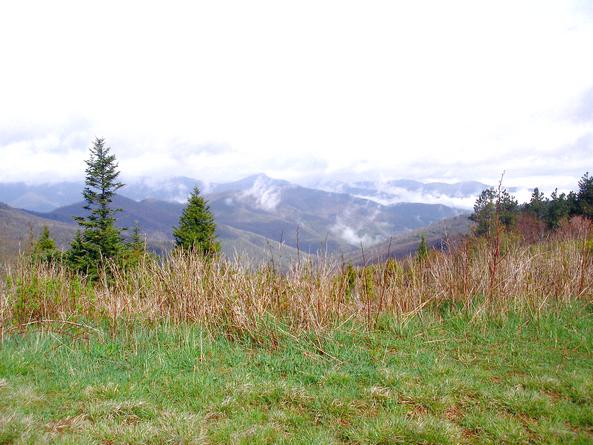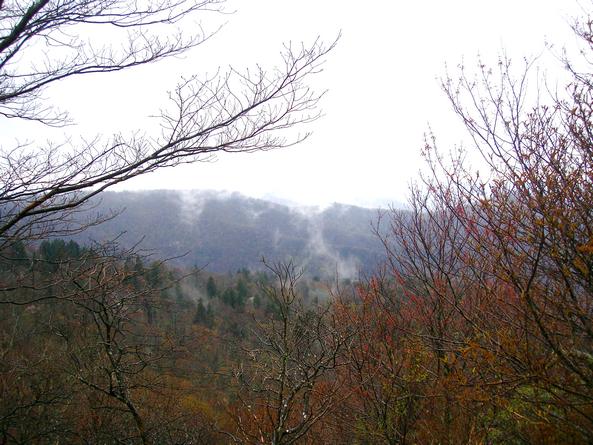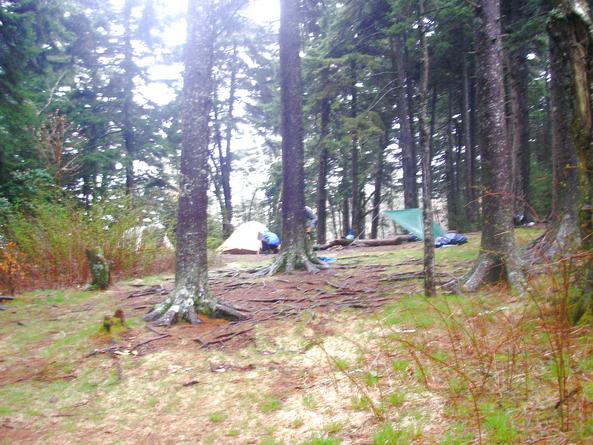 It was a real pleasure re joining the Muir Faction. Thanks for allowing us to share your camp and company. Regarding your question about Highlander Status, I would say that given your geographical restrictions and attendance at backpacking functions, you can count yourself far and away in the upper echelon of most in our group since you make at least two significant trips per year. Congratulation on bagging 5 more 6000 footers on this trip. That brings their totals up to near 20 out of 40 of the Southern 6000ers. Good work, and impressive orienteering. Next time, however, Bugsy says that he prefers that the cheese board have a greater selection of chipotle and sharp cheddar varieties accompanied by something from a California Vintner, whatever that means.
Trail Stats: the usual, except we ran up over the Bald on the way out at Ivestor and returned via the road. We caught some crap from a National Forest Service Policeman who had a problem with the fact that I drove my car out a few feet down the road to load it up with water from the spring. My advice to him, Leave a gate open and some idiot will go through it. Do your job and lock it back, Jack.