Rich Mountain 2/6/16 gear review 2016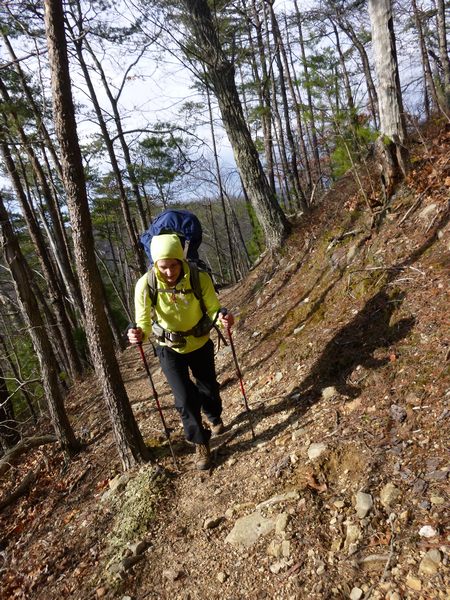 It is a pull out of Ace Gap but on a stellar mid winter day there is no other choice.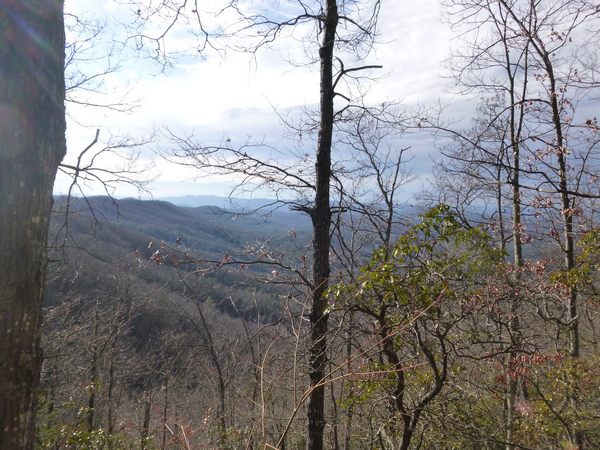 Being winter, the leafless views are stunning.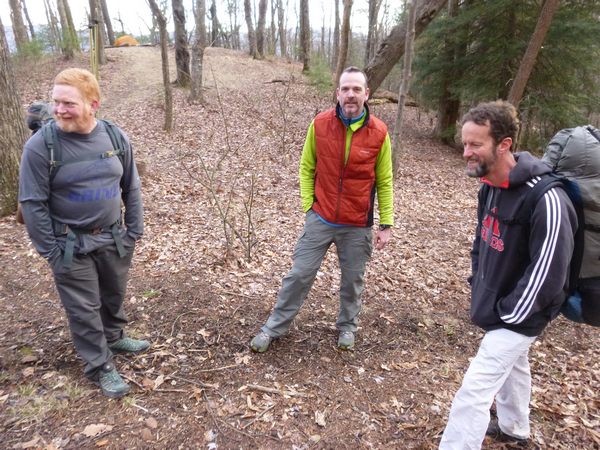 It was Frank's call on the Crooked Arm site. Red returned from his Scottish holidays and shared tales from "across the pond". He and another guy who used to appear on these pages trekked across the Highlands on, appropriately enough, the Highland trail.
Will didn't bail on this one and feared being given a name like DSL. I assured him there was only one DSL and one trail bailer.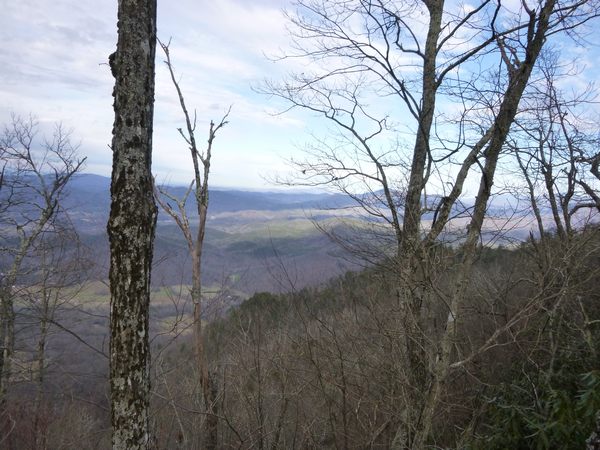 Again, these views were amazing.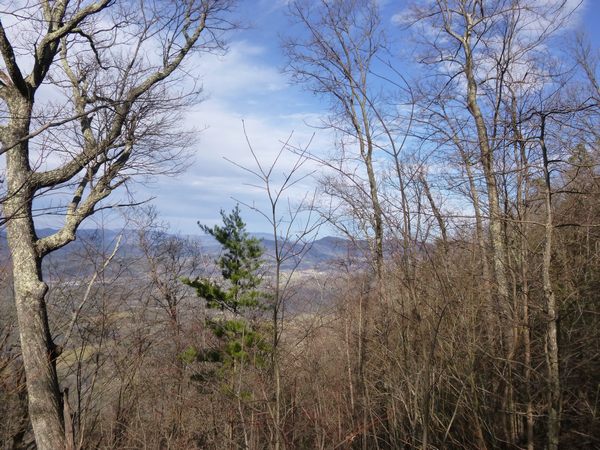 Someone had to fetch wood and tend to a fire. The temps dropped along with the sun. (photo compliments of Frank W)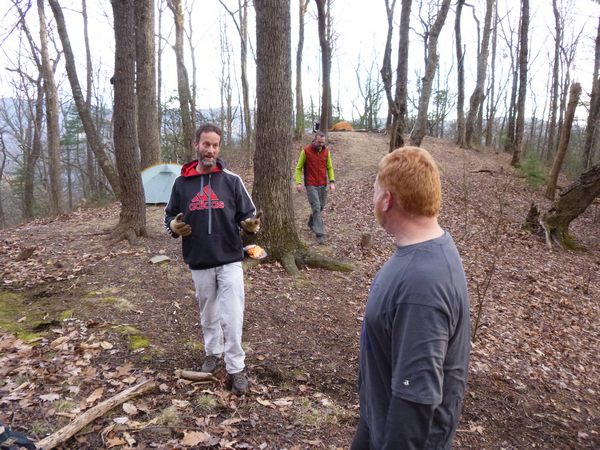 Will put on his wood gloves which always precedes a barn burner.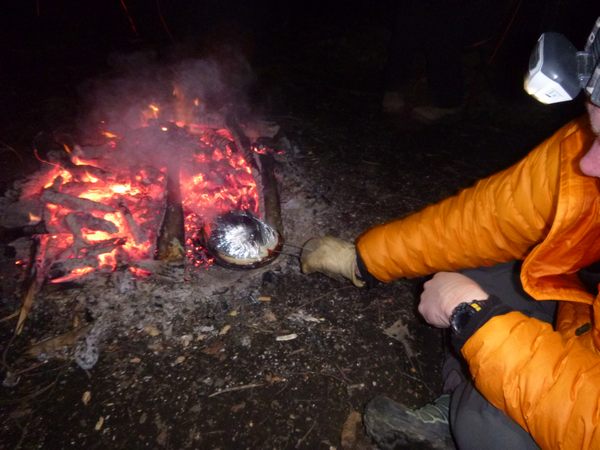 There was a popcorn fail.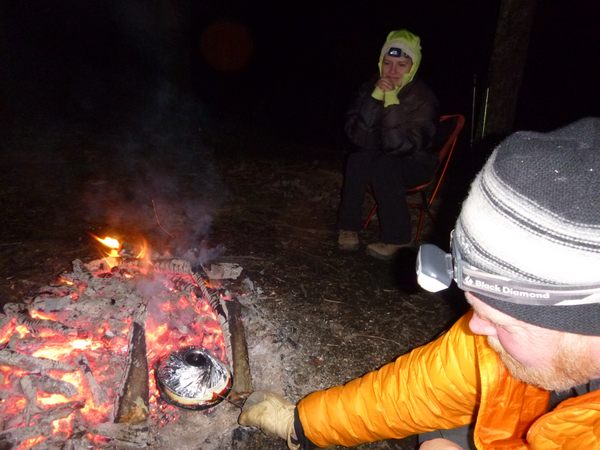 Watchful eyes in anticipation didn't help.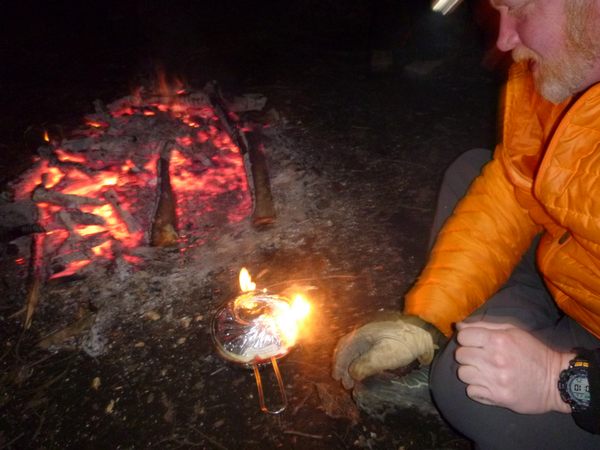 But a fail, nonetheless.
After a magnificent night of stars we exited in time to catch some Indian food in West Knoxville.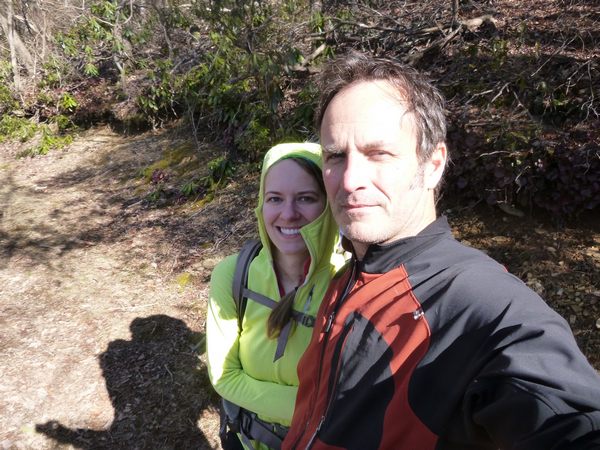 Two back to back weekends of perfect Smokies weather. We hope to make it a threefer next Saturday. Making up for lost time in the mountains and getting Mountain Laurel some new miles. It was great to see Frank and Red again. It was nice to be graced by Will's presence too. On a totally unrelated and tangential note, did you know there is a jaguar in Arizona? Check it out. US Wild Jaguar
John's Gear Review:
And a final note on gear. I have used most every major outdoor product manufacturer in my years in the Smokies and other parts of the globe. The first posting of this web page was in 2004 but we scrambled these hills since childhood. I have used North Face, MSR, Sierra Designs, Big Agnes, Mtn Hardwear, Patagonia, Mammut, Marmot, Petzl, Black Diamond, Columbia, REI, Bear Paw Wilderness Designs, Gregory, Golite, ULA, Lowe Alpine and many, many other products from major distributors and manufacturers. Some with great success and others not.
I decided to nominate an all time winner and all time loser just from my personal experiences. But before I do, there are some honorable mentions.
hon mention #1. MSR-they replaced my whisperlite after a quarter century. I think that says it all for them. They stand behind things.
hon mention #2. I would have made them #1 but haven't had enough of their products to generate a widespread opinion. That statement alone is discriminatory. I have a huge, Gregory backpack that has seen every major climbing expedition and most of my other outings. At a hulking 7.5 lbs it still sees action in the Smokies and beyond and I have toted this monster since the late 90s. When a hipbelt got snapped, Gregory replaced and mailed back within 10 days because I had a pending expedition. That alone could make them #1. Their backpacks are the gold standard. Not the lightest or fanciest, just solid workhorses and a staple in my Smokies repertoire.
All time loser, aka DEAD LAST, aka, Don't ever purchase anything from them.
It all started with their new, revolutionary sleeping pads. We all bought one and it was super comfortable. Then we all returned them because the valves started leaking. I personally know five people who returned the pads for defective valves. When I spoke with them about the return, they swore that valve has never been an issue. They proceeded to say the same thing to two other people. I ended up sending back two of them for the same reason before offloading the last one and replacing it with a NEO AIR. Then I saw people buy their tents. Then I saw two tents delaminate from the seam sealing. They have a good lightweight tent but the walls are paper thin. I really don't believe they know what in the heck they are doing.
Who is this big loser? Big Agnes. Or Big Anus. I give them the solid thumbs down. Buy at your own risk.
The Big Winner?
But the solid outdoor manufacturer with whom I am continually happy is Mountain Hardwear/Columbia. Having just purchased a new softshell Chockstone pant, I was reminded of the durability and quality inherent in all their products. I have had jackets, pants, tents and shirts. Nothing has disappointed but, most importantly, they stand up to the dirt and wood gathering of the Southern Appalachians. Their shells hold the secret that no other Smokies-centric company has seemed to yet fathom. What is the secret? Mesh liners. In this high moisture environment, that mesh keeps the fabric off your skin and creates a barrier that allows the gore tex equivalent to do its job. It means that jackets breathe the way they should and don't stay cold and clammy against your inner layer. What works in the Cascades isn't appropriate for the Appalachians. Always go with shell pants and jackets that have a mesh liner, if you can find them. Columbia makes similar products because Mtn Hardwear is a subsidiary of Columbia. I use a Columbia shell jacket.
There is my two cents from Tennessee to the Himalaya, Mountain Hardwear simply performs. If this helps in your gear buying decisions then my time was well spent. (I have received no remuneration from any of the aforementioned products.)
Follow me on Twitter
Contact me here if you have any thoughts/questions.