Slapnuts Knocks off the Last Miles in the Park
9/1/2013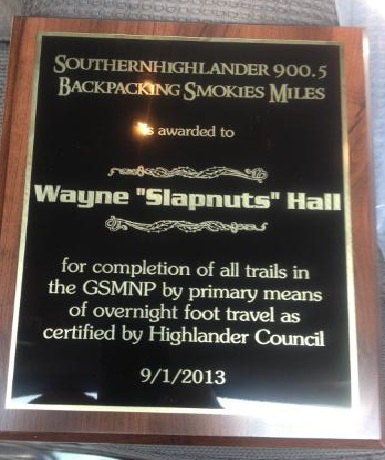 He rounded the bend and finished at Smokemont.
We are very proud of our own Highlander Wayne Hall for his completion of all miles in the Smokies. At an official celebration at Smokemont on Sunday, he was awarded the 900.5 plaque in commemoration of this significant event. What is significant about the SouthernHighlander 900.5 that distinguishes it from any other type of recognition is that all miles are certified by the Highlander Council and Highlander miles are backpacking miles. Backpacking miles are considerably tougher than dayhiking miles and easily obtained certificates from organizations where authenticity is often in question.
By carrying a backpack and living in the backcountry, Wayne has demonstrated commitment to fulfilling a goal that very few people have ever even attempted. In the Highlander ranks, he becomes the third individual to reach this milestone. We know he spent many solo nights, rainy nights and extended weekends to make this possible.
Wayne is a great ambassador for the Smokies backcountry and the Highlander Chapters laud his discipline and fortitude in completing every trail in the Great Smoky Mountains National Park.
Take a bow, Wayne! You've earned it!
Want to congratulate Slappy? Leave him a message here