So No Outdoor Activities. 6/22/15
Since my return from the Alaska mountain range via the Angeles Mountains almost two weeks ago, I have been bound by a never ending litany of domestic issues from plumbing to air conditioning to vehicle maintenance. It has literally been non stop repair work since touch down. But that is the nature of things when you have spent most every weekend for 20 years in pursuit of outdoor fun.
On the upshot, I have been able to squeeze in a good deal of local outdoor recreation literally right from the doorstep of my humble abode in South Knoxville thanks to the foresight of some well intentioned politicians (yes, I know that seems oxymoronic) and local community activitists. The "Dirty South" greenway and mountain biking system has been in place for a little while and I have been riding my mountain bike regularly at William Hastie. From my doorstep it is 1.5 miles to the trailhead at Post Oak. From there I can cruise over 20 miles of trails. I credit Brian Hann with his leadership on this initiative.
In addition, the Appalachian Mtn Bike Club has just been awarded a $100,000 grant from Bell Helmets to create the gravity trail that is going to be right across the street from my house. I'm talking less than three hundred yards from my bedroom. South Knox (SoNo) is becoming an outdoor recreation destination. But I haven't even mentioned the best addition.
Thanks to the staff at Ijams and contributions by renowned local climber Kelly Brown, I (er uh) we now have an excellent climbing crag. And you can bet I have been squeezing in some time over there in between chores.
Who is that pigtailed ascender? It is none other than Uncle Larry. After getting in Svelt shape of late, Larry has been joining me in these outdoor activites to include bicycle rides and climbing at Ijams. He is not afraid to branch out and try new things. And the great thing about UL is that he doesn't get his feelings hurt when I tease him in these pages .
He doesn't have to take "sensitivity" medicine 15-20 times per day either.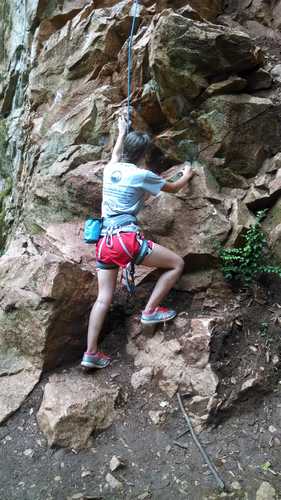 Laurel has been getting involved with climbing and the bug has bitten her in a good way as well. (she ordered some shoes if that tells you anything) There are lines here from beginner 5.6 to advanced 5.11 b routes.
In addition to climbing and mountain biking, we have also squeezed in some kayaking on the TN river. Laurel purchased a new boat and we have gotten down to the river and paddled back up to Ijams. All this from my doorstep in Knoxville. And it is FEE FREE.
Things continue with the Southern Forest Watch. There are plenty of wheels in motion. My desire to head into the backcountry of the Smokies is greatly diminished for obvious reasons. But with all this excellent recreation at my doorstep, the void is nicely filled. Many thanks to Mayor Madeline Rogero and all the aforementioned individuals and groups for their efforts to preserve an urban wilderness in spite of political forces that would have put the James White Parkway squarely in the middle of it.
Having been involved in efforts to stop that travesty, I can tell you that the driving impetus was road contractors who stood to benefit from selling their land to make this parkway in addition to the millions they would have received to do the work. I have watched it for years. Corruption within our governments is never ending. Fortunately Mayor Rogero is a South Knoxvillian with vision instead of a contracting crony putting money in her donor's pockets.
If you look at the forces we have been fighting with the fee it involves the entrenched likes of Duncan, Corker and the omnipresent puppet master behind the scenes, backstabbing Lamar (the name Alexander is synonymous with cowardice) Yet these same folks have no problem signing off on an aircraft carrier that costs taxpayers 13 BILLION dollars. Think about that figure for a minute. 13 billion dollars could solve the healthcare woes of a great many people in this country. But we are building an aircraft carrier to fight off the great naval threats posed by the Taliban? (of course you readers are wise enough to discern the irony here, we all know the money is going to a military industrial complex system of defense contractors in various states. Heaven forbid we spend that kind of money on a solar initiative rollout that could free us of our dependence upon Arab oil.) But those same politicians think taxpayers need to pay the federal govt to use federal land.
There are two politicians that have stood up in the fee fight. One was Rep Harry Brooks who spearheaded our resolution in the TN State House condeming the fee and the other was Tab Burkhalter, Blount County commissioner who shepherded the local resolution. This demonstrates that all politics are local and the King career folks like Duncan and Alexander who could have passed any number of bills/laws to stop such, have cited the federal government as being the problem. Are they not the federal governement? Between the two, they have over a century on the public teat.
On a more positive note, one of our own, Skidmore, now has his own public radio show entitled the "Free Hikers Network" that airs on Wednesday evenings at 9 pm on 103.9 fm. I am honored to be a guest this Wednesday on 103.9 fm. If you are near metro Knox, tune in to your Highlander friends and take part in Skid's music choices and discussion about hiking in the region. I am looking forward to being his guest.