Summit Day July 21, 2011
camp 3 Mustagata
4:30 am

The familiar hum of stoves coming to life forced my realization that lay down time was nearing it's end. As I rolled over in the tiny single walled tent, frost dislodged cascading an indoor snow storm down my neck in this sub zero, pre dawn morning at 22,000 feet high on Mustagata. Carefully attempting not to disturb Brian, I rose knocking even more snow onto us both. He just grumbled and turned his back. I unzipped the tent and began working on my own stove. Sometime earlier, I had tossed the fuel can from my down bag. It had condensated terribly creating a puddle directly to my toes, which were cold. Moving and hydrating would soon offset this temporary malady. (or so I thought) Unfortunately, the fuel can was too cold now to work properly. My reactor sputtered and I spent an hour to melt a half nalgene of liquid.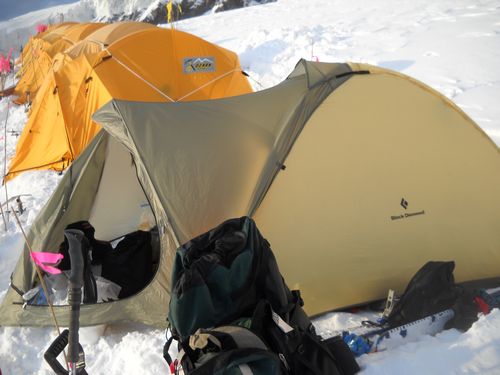 (the most famous tent in Highlander history)

I almost bailed on my summit bid. Why not? Brian made this decision the night before. His toes were cold. It was tantalizing, especially here at minus twelve degrees Fahrenheit. Realizing my troubles, Brian offered me a quart from his stash. It was enough to lure me skyward. Forget breakfast and coffee. This would have to do. I downed a frozen cereal bar, almost breaking a tooth in the process. It had taken us four days on this particular push from base camp staying one night in each camp to this point. 3 weather reports lined up for this day but they had been notoriously wrong all expedition. There was one shot at the top and this was it.
Within 15 minutes, I was suited up. Brian would leave camp here for me to break down and have a retreat, he would clear camp one. I hated not having him with me on this day and was surprised at the calm with which he made his decision. It was a rational one and perhaps intuitive given my outcome. We discussed it the night before and I knew better than to dissuade him. On big mountains you listen to your gut and I suppose Bugsy tapped into that pilot sixth sense I don't seem to possess. Being the responsible partner I have come to rely upon, he made sure I had everything I required before sending me into the wild blue yonder.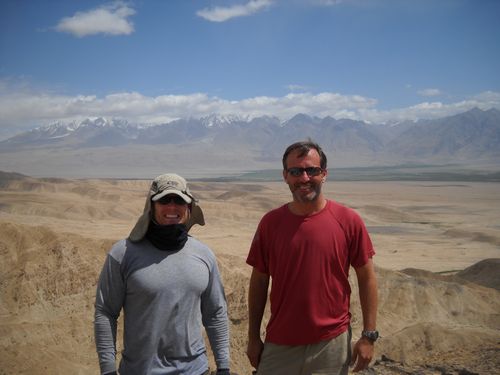 (acclimitizing near Tashkurgan)
6:00 am

The pre dawn lasted considerably longer than hoped. Yes, it was brutally cold but clear skies gave the promise of warmth soon. I noticed that my hands were very cold but they had been cold before and always warmed up after hitting the trail. My new $150 gloves would do their thing, eventually. I fell into a line of summit bound expeditioneers. Stepping into the skis I resumed the familiar rhythm of glide, step, glide pole. Glide, step, glide, pole. It was comforting to feel the skis grip the uphill snow with the magic of skinning technology. In fact, all my ski system had worked pretty flawlessly up to this point in the trip. This was our third rotation up Mustagata on acclimatization runs so I had developed some confidence. In 8 hours, I should be on the summit. 8 long hours, I thought.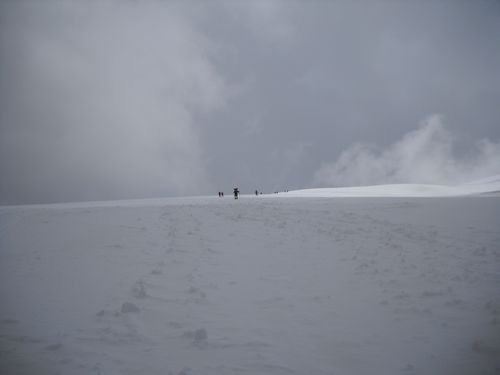 (false summit after false summit)
7:00 am

One hour into the summit push, expedition leader Arnold came skinning up to me out of nowhere. "I'm f***ing cold man!" He uttered to me. "I can't feel my toes!" This was a bit disconcerting to me considering his breadth of Himalayan experience. I knew that he had frost nipped his toe on Everest a month before this expedition. Now, he decided to descend. I seconded his decision. "you do this for a living" I spouted, "You can't afford anything permanent." And with a nod he bid me good luck and retreated. I wiggled my fingers inside the glove within a glove and proceeded upward. The sun would have to crest this huge summit soon. It had to. At minus 12 fahrenheit a 20 mph wind made the chill -37 degrees.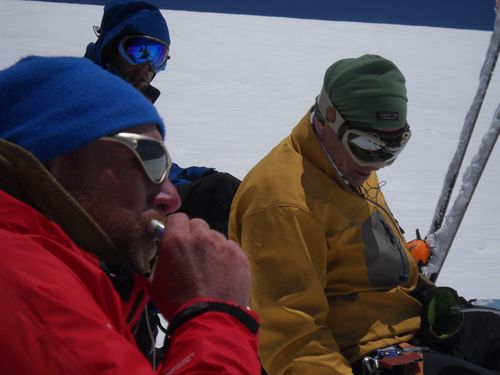 (Arnold, Tim and Eric break below camp 3)
10:00 am

I was wearing more clothes than ever. My super puffy feathered friends parka, chugach pants, balaclava and toboggan, three under layers. Anytime soon, I expected to be shedding skin. I even packed a dress down layer. (I would never break it out). By 10 am, a tip of the sun beamed on the horizon. It made no difference. Christian caught up with me on a break; his snowshoes crunching loudly behind. We would stay together for the rest of the day. Andrea and Eric were way ahead and we followed their tracks. I spied James far behind an hour or so. At this altitude we were all higher than at any time in our lives. Movement is labored and slow. Breathing is a moisture draining chore and I was almost out of water.
2:00 pm

Arnold warned me that this mountain was notorious for false summits and we were getting our fill. One snow slope ceded to another. I looked at my watch, 8 hours. The next one should be for real. As we crested that shoulder to a small plateau I spied three prominent hills to the right, wondering which was the true summit. None of them resembled the pictures. Andrea came into view from out of nowhere. He had the look of someone who found success. "How far, congratulations, which one" We peppered him with questions. He stared at me blankly. "None!" he confessed. "Those aren't the sommet" he conveyed in his Tyrolean accent. There was a long pause. "It's two hours that way."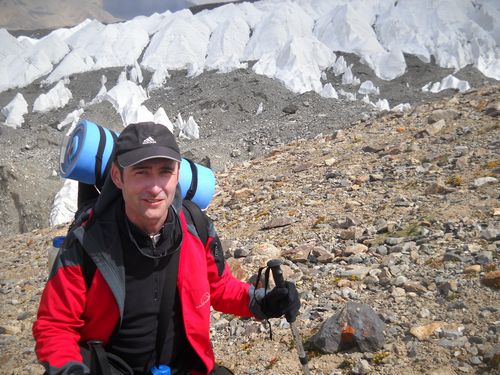 (Andrea moves between base camp and camp 1)

When you commit to a summit bid there is an internal clock that ticks in accordance with your expected arrival time. I usually err on the high side, adding two hours to Arnold's estimate placed our arrival at eight hours or two o'clock. Now we were looking at 4 pm. My hands were numb still but the weather was sunny, just freakishly cold and windy. We had, it seemed, another false summit to deal with. Andrea bid us farewell and we pushed on. There was still no visible summit so I resumed the cadence, now behind Christian. Asu came skiing down, then Eric. I didn't notice any special hypoxia but he later admitted being completely out of his mind and not remembering even seeing us. The difficulty he had controlling his skis was a foreshadowing of things to come. Asu stood below us, watching like a good shepherd. I waved him on but he didn't budge. Asu was a guardian of all the clients, full service and basic climbers like myself.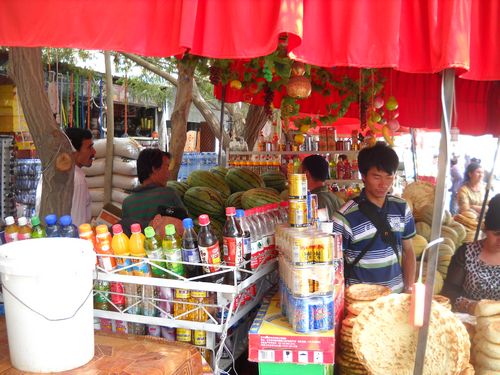 (Asu seen negotiating for bread in route to Mustagata)
4:00 pm
In 40 minutes or so we entered a great plateau, flat and featureless. It was a windswept and barren place in which nothing could survive for very long. There were no birds, planes or clouds. We were far above any of that. Just wind and rivers of frozen snow and ice existed here. In the distance was a set of crossed wands I presumed indicated the true summit; they did not. Passing around them I could not determine if they indicated a crevasse or other danger. We were now moving in the direction of the plateau's end; whether it dropped into Pakistan or not. Moving across flat ground was a novel sensation for this expedition. For a moment we seemed lost. But Christian was on a mission. His pace quickened as if he were a horse headed for the barn. I tried to wrangle my skis across this frozen ice cream cone using the poles to do more pushing than the skins. It wasn't long before I spied some hump one hundred yards or so away. There were flags flapping wildly in the wind and what appeared to be a clown face of all things. I gained speed and covered that distance in what seemed like no time flat.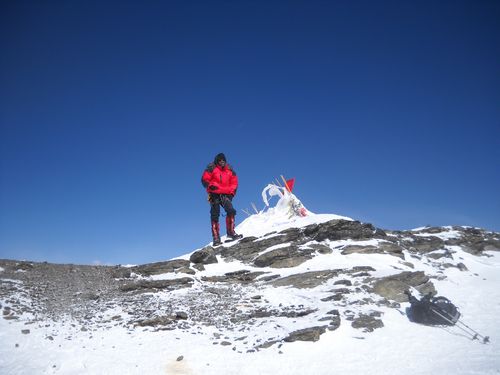 Christian was already crawling around that little hump like a giddy schoolboy as I popped off the skis. There was no doubt this was the summit and we had it all to ourselves.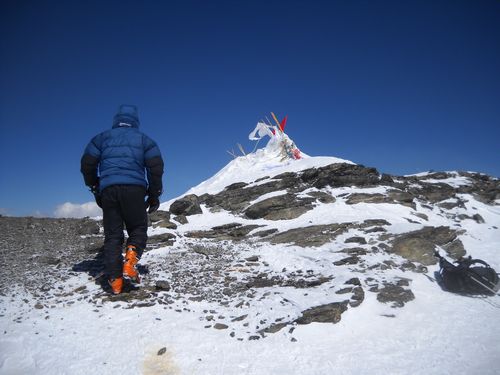 (I make the final steps)

I fiddled with my camera and botched a summit photo of Christian with his newfangled Nikon. Fortunately, mine did the job and I managed some video as well. It had taken about 10 hours from camp 3 and we were the last to stand atop Mustagata that day and only two of a handful this year, apparently. Christian hugged me as I was adjusting the camera. He was full of great emotion and that made me suddenly realize that we had truly summited this mountain and I could survive to almost 8000 meters. We were truly blessed to grace the top of this beautiful peak and I thanked God for allowing us to do so. I also asked for a safe descent for all of our team including those far below. We spent fifteen minutes there when Christian said. "We've got to get out of here." He was right.
(summit video)

Someone asked me what it felt like, being up there. To be honest, it felt like a privilege. You don't "conquer" a mountain. That phrase disrespects these earthly temples. It pains me to employ an equine metaphor, but climbing a peak is like riding a wild mustang. Most of the attempt is pure struggle. Once you enter the pen, it strides to distance itself from you. More often than not you wait and dodge it's moody legs kicking in your direction and you retreat back over the fence until next time, hoping he is less threatened by your presence. After a few weeks, if the moon is right, he may allow you to touch his mane, but only for a moment. Then you must depart before he closes in and you get stomped. Mustagata means "Father of Ice Mountains".