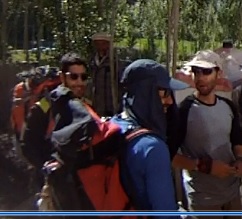 Pic of Pooya, Moujitabbe and Aideen in Askole. from left to right ( I screen shot this from the gopro) We were all standing around waiting to start our trek up the Baltoro.
Patience:
Update 8/06/13: I continue to work on the story and it looks like there may be an ebook version. That pushes my timeline back a few weeks, so I apologize. Here is another link. I never thought that I would end up in Alpinist for this reason, though.
Iranian Trio Perishes Descending Broad Peak - Alpinist.com
Similarly, I want to give you a little something for your patience. Here is a link to all my videos from the trip: Enjoy. (just click on my name following this video and it will take you to where the others are) ascending to camp 1 on broad peak - YouTube
7/29/13 I realize that many of you have been patiently awaiting my treatment of our expedition and the trip report was nearly completed when the following news broke yesterday. Altitude: Marty and Denali Schmidt Reported Missing on K2
Marty and Denali were also new friends of ours on the Broad Peak Expedition. They spent several mornings in our mess tent discussing strategy and ultimately assisting in the attempted rescue of the Iranians. Marty is one of the :"Big Mountain Giants" with summits of all but four of the 8000 meter peaks. He was one of the very few who stood atop Broad Peak this year, along with his 26 year old son, Denali. You can rest assured that I spent many hours picking his brain and listening to his experiences. He was very gracious and indulgent of me. I gathered that, like most mountaineers, he enjoyed speaking of his time in the big ranges. His final remarks to me, however, are haunting. As I asked him about Broad Peak and its similarity to the mighty K2, he said, "Its similar but K2 is the mountaineers mountain!".
It now appears as if the Mountaineers Mountain has claimed two more of its own. As I put the final editing touches on the Broad Peak story (hint, tons of video!) Please take a look at this interview to give a small preview of the story that seems to have no ending. I hope to have my version completed soon. Thanks for your patience. I wish to share this picture of our basecamp taken by Brian in the meantime.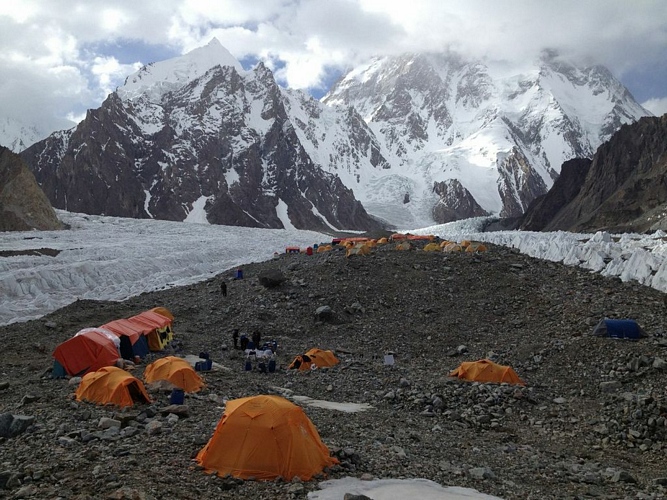 (that's my tent in the middle of the picture with my black britches drying on top. K2 is directly in the background, its summit obscured by clouds)
John
7/22/13 Broad Peak Trip information.
Many of you may know that three of our climbing mates on the Broad Peak trip are missing and, according to some news sources, presumed dead on the mountain. I have been following the events closely on multiple news sources. Here is a most recent article: The Adventure Blog: Pakistan 2013: Climbers In Trouble On Broad Peak
. Aiden, Pooya and Moujtabbe have been at altitude without resources for a week now and nothing short of a miracle will do. Moujtabbe is the guy that can be seen in this video below assisting me in getting Brian with his broken leg to camp one: lowering brian to abc - YouTube
I am putting together a narrarative of all the events of this tragic expedition and should be finished within a few days. Unfortunately with the aforementioned it is a story that is still being written. If you are so inclined, please consider these three Iranians in your prayers. I can say they are some of the finest young men this world has to offer.
Stay tuned for a full trip report within a few days. It has been an exhausting summer but not all was as horrible as the ending. Great videos will ensue.
thanks
John