Tirol
March 11-24 2015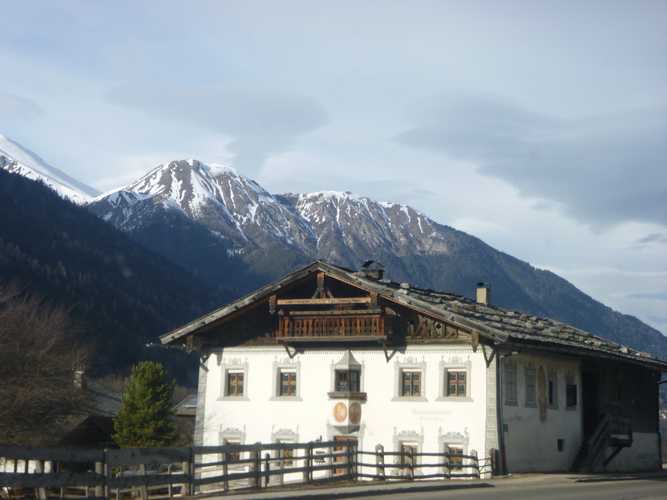 The sun was rising gently across the countryside as we coaxed a rented Volkswagen Polo onto the German freeway. Small deer were emptying into the pastureland beyond the Munich airport as snowflakes gently landed on our windshield. Road signs pointed to a castle beyond our daily plan as we passed the entrance to Dachau. Laurel gave me a look to indicate that starting our journey with a romantic sweep of Nazi concentration camps was not presently indicated.
Our first destination was a country neither of us had visited although Laurel had never stepped foot on any of the areas we would cover in our 14 days abroad. Liechtenstein conjured some imagery for me and to arrive there was not anti climactic. First we left Germany, entered Switzerland and Austria for a bit before landing in Vaduz. By now I had been awake for two days. Although we flew business elite from Atlanta, I was still recovering from the stomach bug and rest was quite elusive. With my feet on foreign soil, I was gaining strength at the expense of wakefulness. A couple of coffee stops enabled our continuance through the Alps. And their majesty did not disappoint.
<![if !vml]>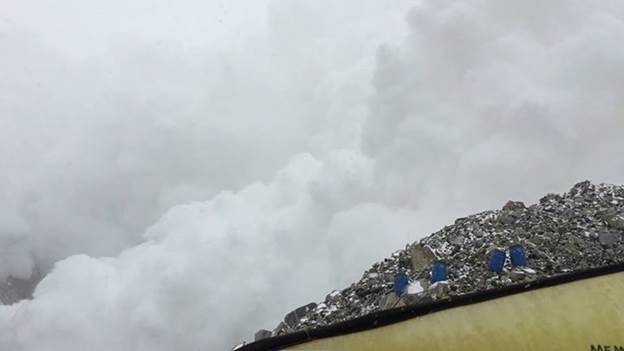 <![endif]> church in Vaduz, Liechtenstein
<![if !vml]>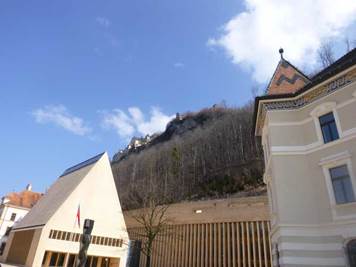 <![endif]> Castle that houses the Royal Family, off limits to tourists.
<![if !vml]>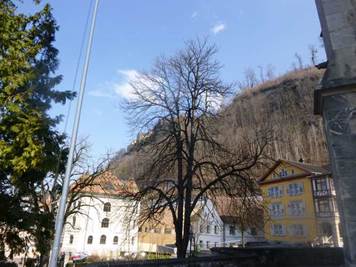 <![endif]>
<![if !vml]>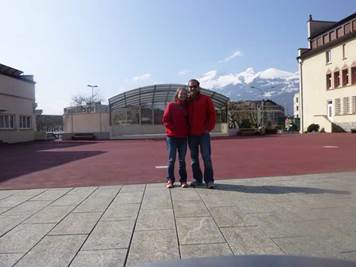 <![endif]> town square.
I would describe Liechtenstein as a principality and tourist destination. They have a ski resort but I was pleased we decided to push onward.
After stopping to purchase a tax stamp for Austria, 60 dollars for ten days of driving privileges, we pressed onward and stopped for lunch in Switzerland. I was reminded of the times in years past when traversing these different countries required multiple currency exchanges. The Euro was appreciated especially considering its present weakness against the dollar. That is what made this trip possible for us.
<![if !vml]>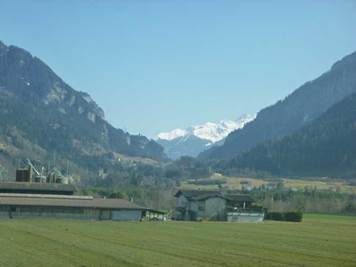 <![endif]> Alpine scenery and good weather followed us the entire day.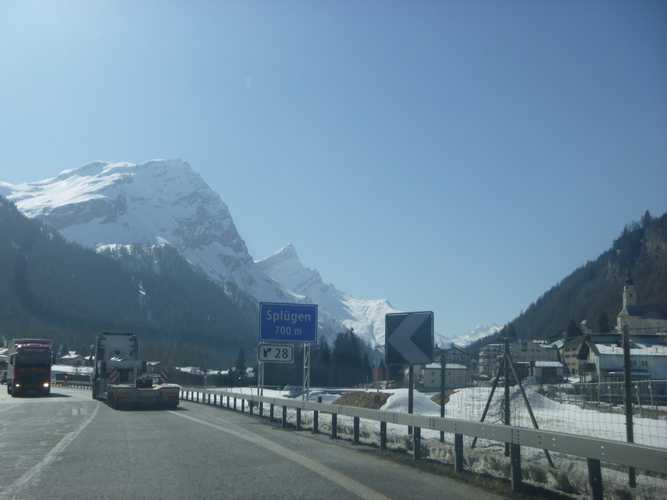 <![if !vml]>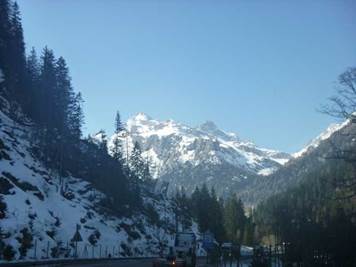 <![endif]>
<![if !vml]>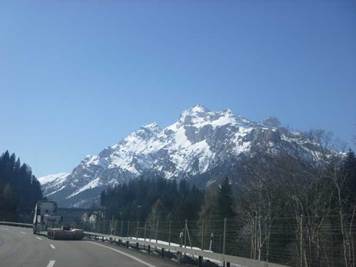 <![endif]>
<![if !vml]>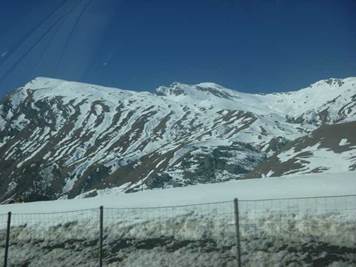 <![endif]>
By now Laurel was sleeping soundly and I was struggling to remain awake. In a remote mountain pass at the tail end of the Swiss border, I stopped for a one hour nap.
<![if !vml]>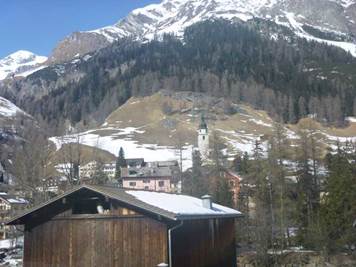 <![endif]> After all, our final destination was hours away. These beautiful roads dropped us into the country of Italy, and our destination was Milan. Three long hours remained.
Hotwire is the most significant tool I have discovered to enable my cost effective journeys of late. If you have not availed yourself of this discounted lodging magic wand, I suggest you look into the mechanism that allows you to pick a super special rate on an unnamed hotel. When we hit Milan, I stopped to gain Wi-Fi and scooped up a 4 star hotel for $44 per night. We stayed for two nights.
Milan
<![if !vml]>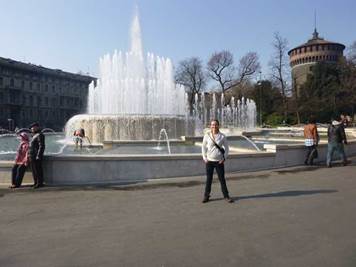 <![endif]> Fountains and castles, Milan is all you would expect in the fashion capital of the world. It was my first foray to the area and in typical Quillen fashion, we secured a city bus tour to acquaint ourself with this new place.
<![if !vml]>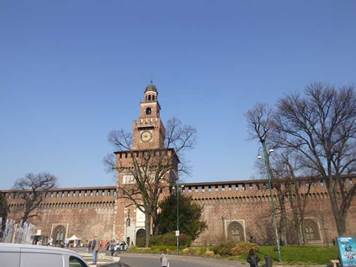 <![endif]> The city center surrounds this former castle replete with moat.
<![if !vml]>
<![endif]>
You can see that great weather followed us as well. It was uncharacteristically warm for that time of year.
<![if !vml]>
<![endif]> Milan has it's own Arc de Triomphe.
<![if !vml]>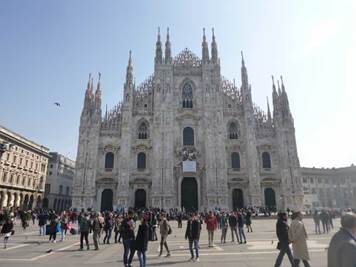 <![endif]> And cathedral.
<![if !vml]>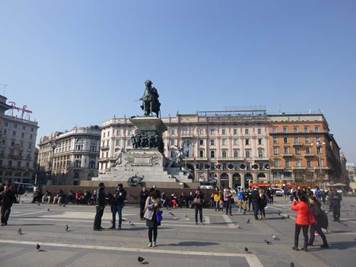 <![endif]>
<![if !vml]>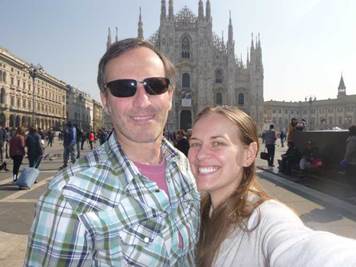 <![endif]> And happy tourists.
<![if !vml]>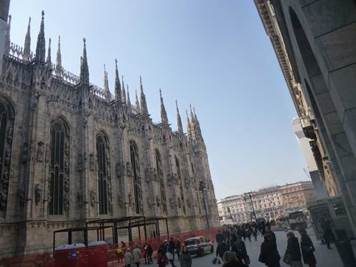 <![endif]>
Laurel found the best Italian restaurant for budget minded travelers and we forced our way in despite a lack of reservation. What is one great thing about Italy? No tipping required!
<![if !vml]>
<![endif]> After our second day it was time to take to the motorway again in pursuit of skiing and the city of Innsbruck was our destination. I picked up a coffee at McDonalds. Coffee in Italy means espresso. And I am down with that.
<![if !vml]>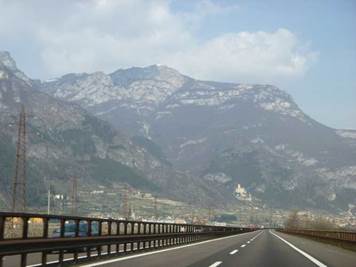 <![endif]> Taking back to the mountains we re-entered Austria. Tirol to be specific. Tirol is the home of the greatest mountaineers of all time. It is easy to see why.
<![if !vml]>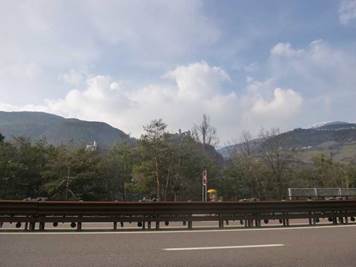 <![endif]>
<![if !vml]>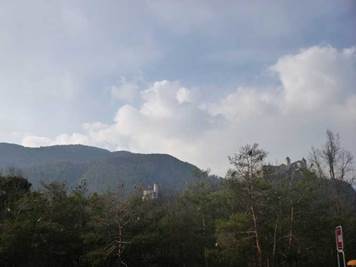 <![endif]> Hillsides dotted with castle after castle.
<![if !vml]>
<![endif]> The roads were taking their toll, though. Literally. I believe we paid about 60 bucks in tolls on the Austrian/Italian route.
There is always that consideration when contemplating renting a car versus taking trains. I prefer train travel but our route was not one conducive to that mode of transport. Of course, I got two speeding tickets, one in Switzerland and another in Austria. So factor that into your overall costs.
Austria
<![if !vml]>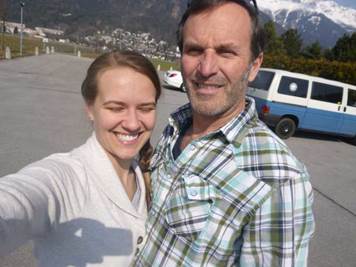 <![endif]> Can't you tell how happy we are to be in Innsbruck? Some notes are in order about our navigation. Laurel manned the phone GPS. Which didn't work most of the time. We figured out that if you started navigation when you have a WIFI connection and didn't go through a tunnel, you could possibly keep your route in the phone long enough to enable reaching the destination. But that never worked. So we stopped at every McDonalds existing in that part of Europe to restart our directions.
When it worked, it worked great. But that was part of the time.
<![if !vml]>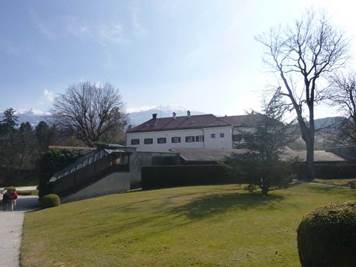 <![endif]> The first bit of sightseeing we did was to the Ambras Castle overlooking the town of Innsbruck.
<![if !vml]>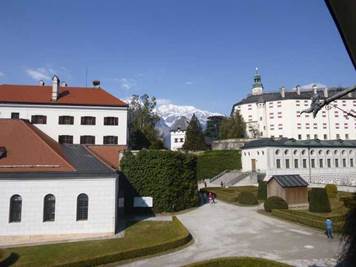 <![endif]>
<![if !vml]>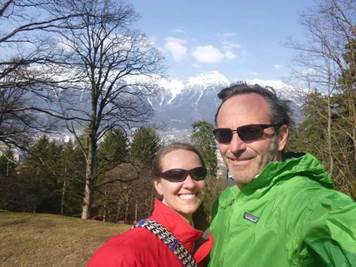 <![endif]>
This well restored dwelling housed all manor of medieval armor and swords.
<![if !vml]>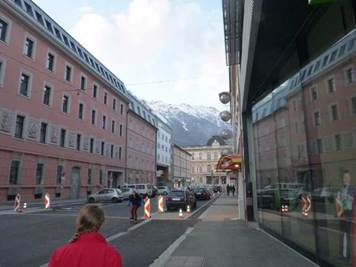 <![endif]> During the evenings we walked the city streets and enjoyed some great dining and great prices. Snitzel is a delicious Austrian delicacy that we ordered on three occasions. Laurel found a great Tibetan restaurant as I tried to reacquaint myself with a city I hadn't seen in almost 20 years.
<![if !vml]>
<![endif]>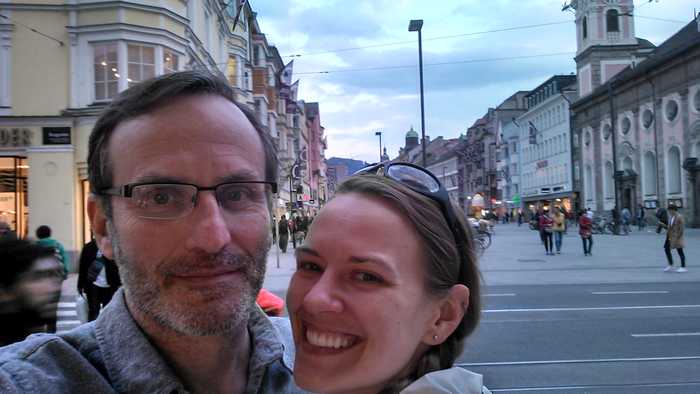 <![if !vml]>
<![endif]>
Not losing sight of our goal, we rented skis and retired for several days of snow fun. First we visited the Stubai Gleitscher.
<![if !vml]>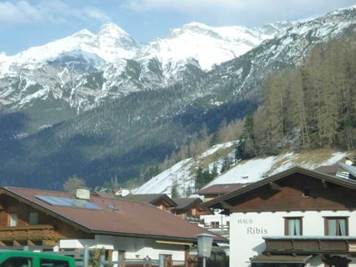 <![endif]>
<![if !vml]>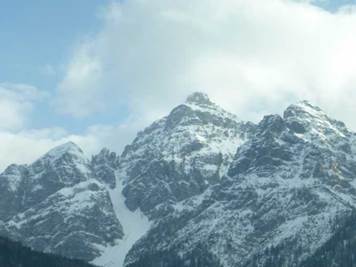 <![endif]> Cold and snow followed us for two days on the Glacier but the skiing was seriously fine.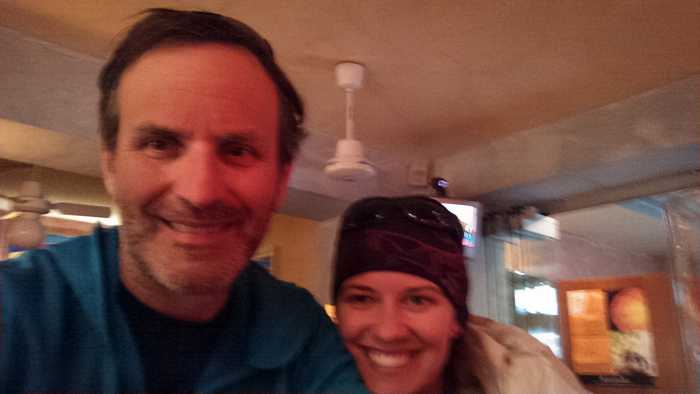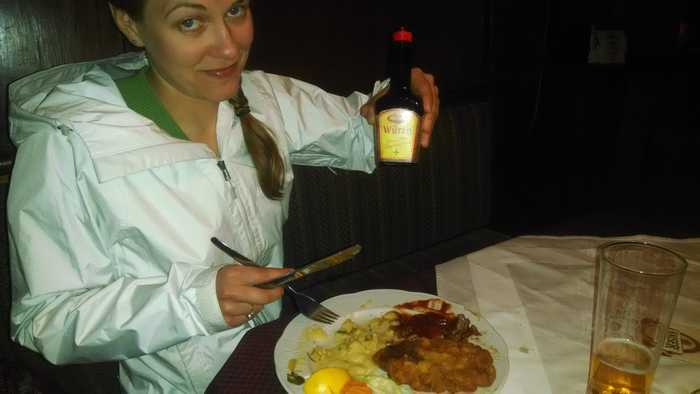 Snitzel and spatzel anyone? Do you even know what spatzle is? We didn't.
<![if !vml]>
<![endif]> It was somewhere in this area that I received my second speeding ticket of the sojourn. I thought that 35 Euro was reasonable. The Swiss red light camera one has yet to arrive at my doorstep.
<![if !vml]>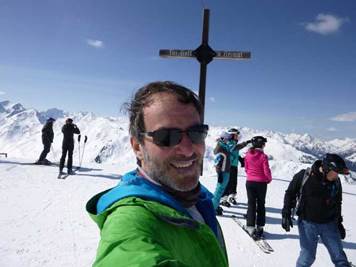 <![endif]> Axamer Lizum is an Olympic resort.
<![if !vml]>

<![endif]>
The elevation here isn't significant at all but it definitely reminds of the Himalaya. Late Spring skiing dominates the region well into June.
This is a gopro video of the run we both enjoyed.
<![if !vml]>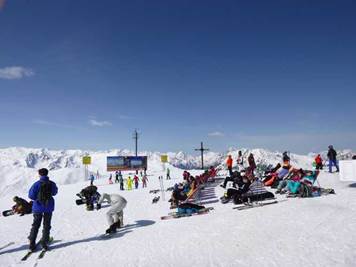 <![endif]>
Again I must mention the Hotwire advantage. By using that super special rate tool on their website, we snagged the best hotels in Innsbruck for a fraction of their advertised rates. And both times a full breakfast were included. We stayed at the Hotel Europa for four nights and the Penz Sport Hotel for a night.
SALZBURG, AUSTRIA
My legs were getting rubbery after four days. I figured that in one day at Stubai Gleitscher I skied 20 miles of downhill. We abandoned the Hotel Europa and hotwired another property in town for our final night. The following morning it was decided to press on to Salzburg, setting for the sound of music. Salzburg was a two hour drive from Innsbruck.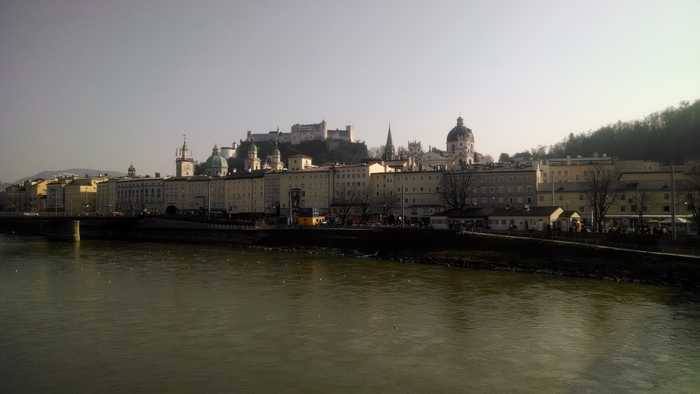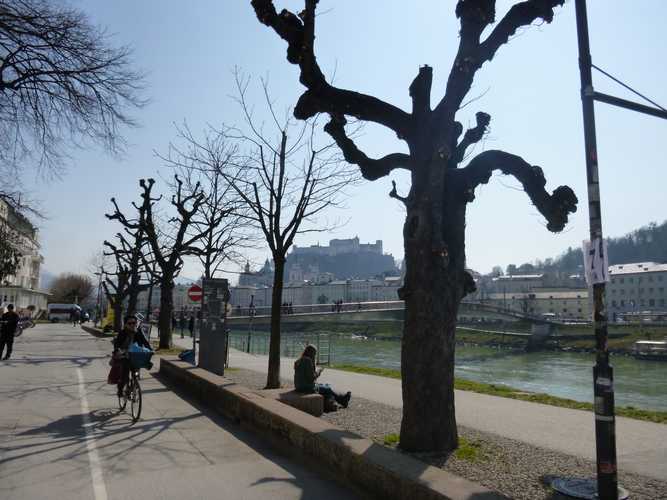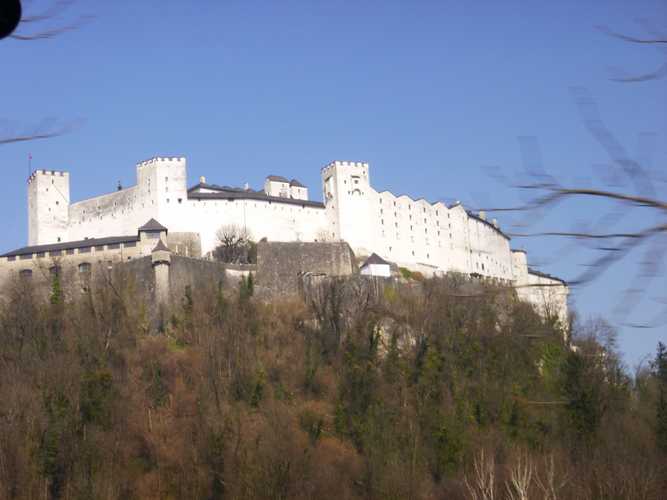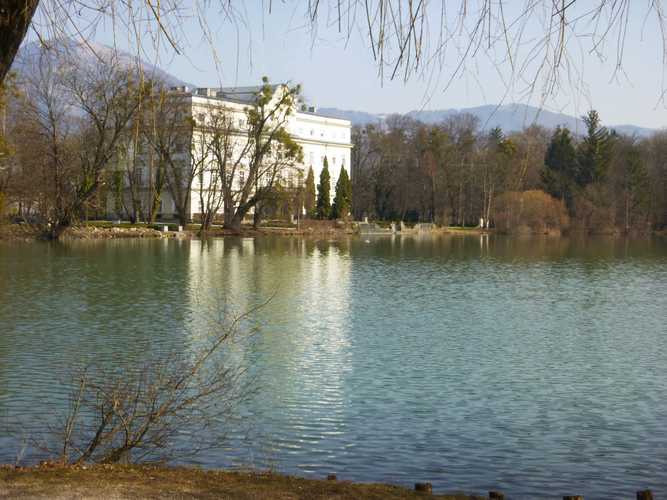 If you are a Sound of Music fan, you will have little trouble recognizing this estate. On our second city bus tour, we were introduced to this Austrian village.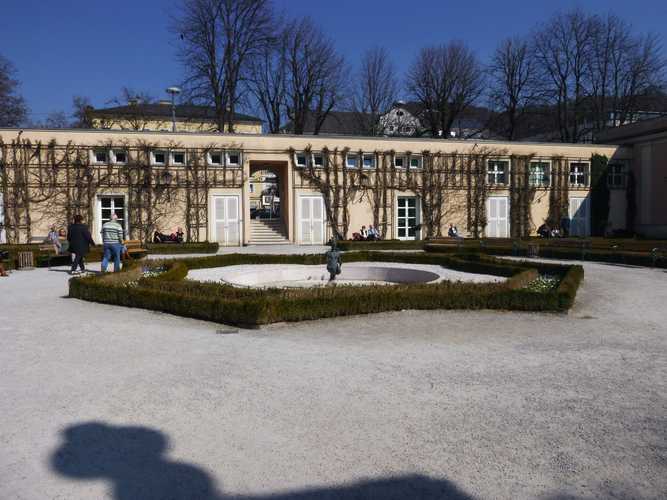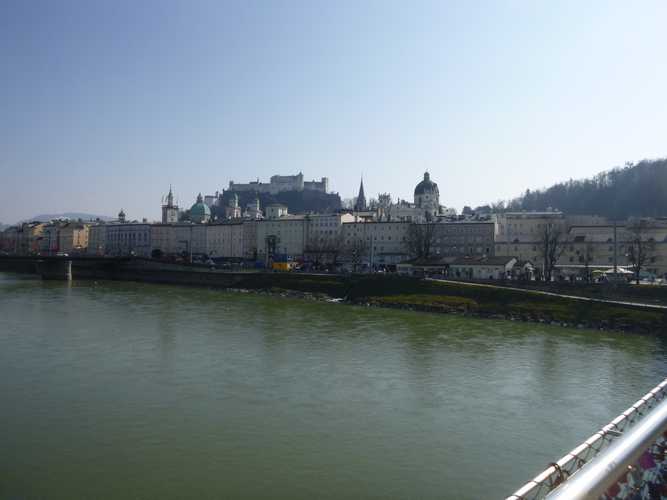 It is a nice place, birthplace of Mozart and architecturally diverse, to say the least. I would say it is a bit touristic, however. Laurel is a big Sound of Music Fan, so we can just say that the Hills Were Alive.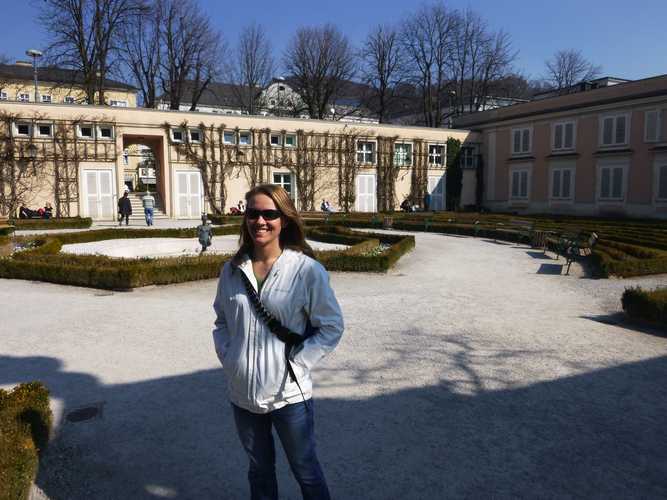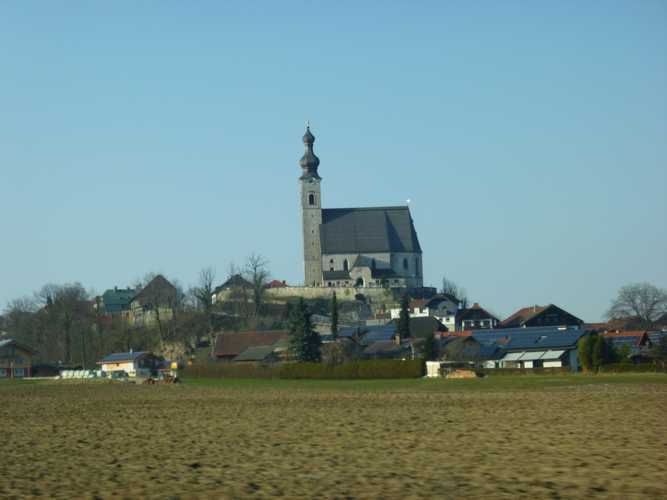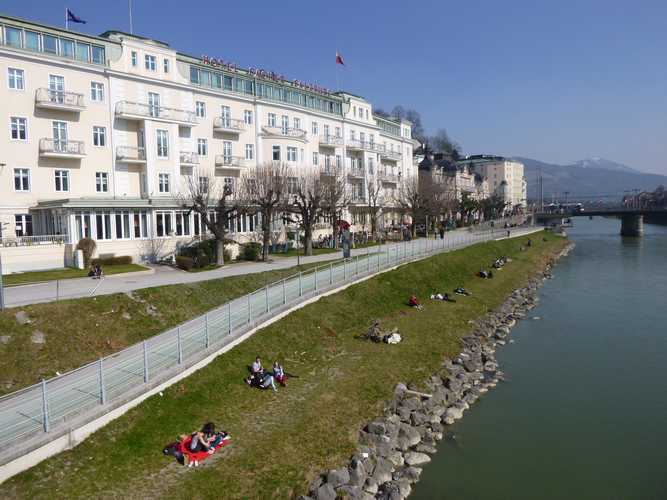 Our full afternoon was complete with a lunch and strolling along the Salzac river. Salzburg's name originates from its history as a salt mining industry. It was now time to head back towards our starting point of Munich in order to catch a flight the following morning.
Munich was two hours north.
MUNICH, Germany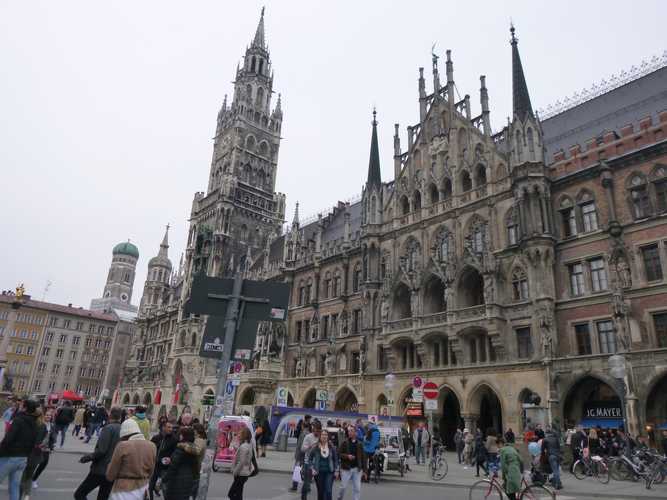 Think bier hall putsch, hier. The birthplace of Nazism. From these old buildings came the ideas that formed the 3rd Reich. And most famous amongst them is the Hofbrau Haus.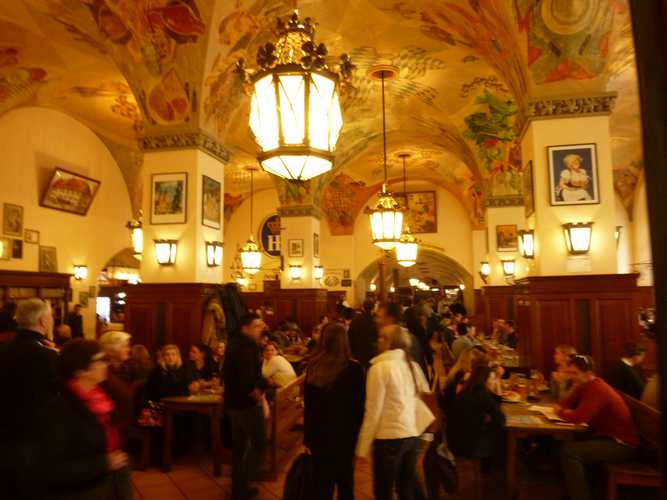 Packed to the gills, we were unable to secure any service whatsoever. I though October Fest was in the Fall! Last time I was here with my brother in 2000, there was hardly any crowd. We spent 20 minutes watching mugs of beer float across this enormous place as we sat in the courtyard inhaling cigarette smoke. We soon departed for a less "busy" establishment.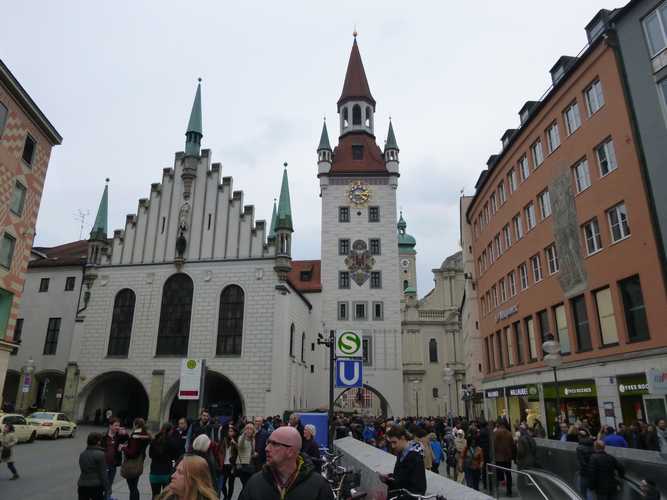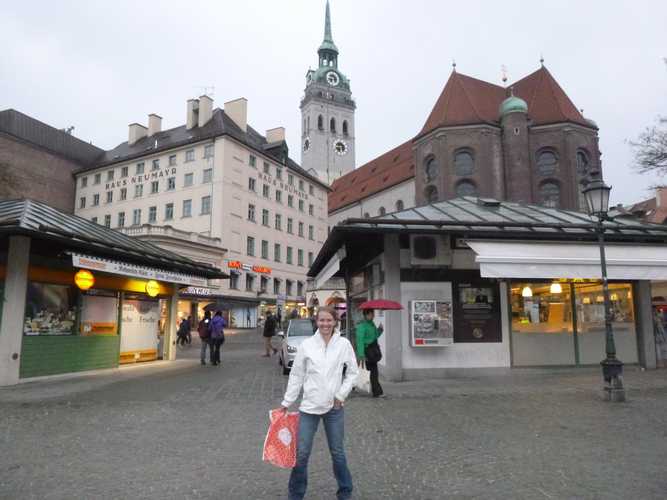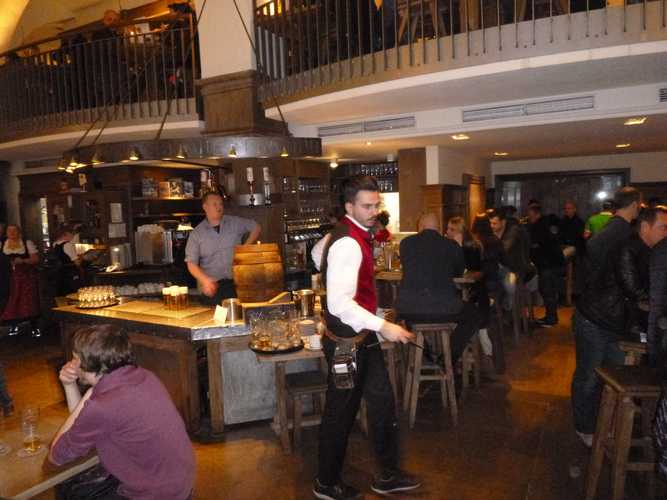 Notice the guy with the keg of "bier". He actually "tapped" the keg by removing the cork and inserting a tap. It made a loud sound. That is how they roll in Germany.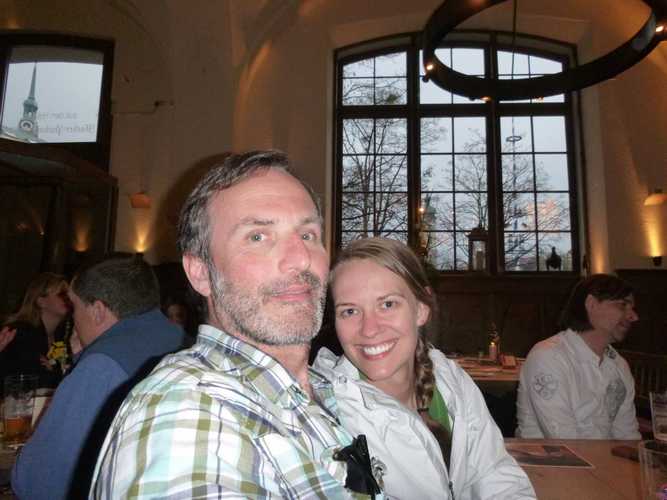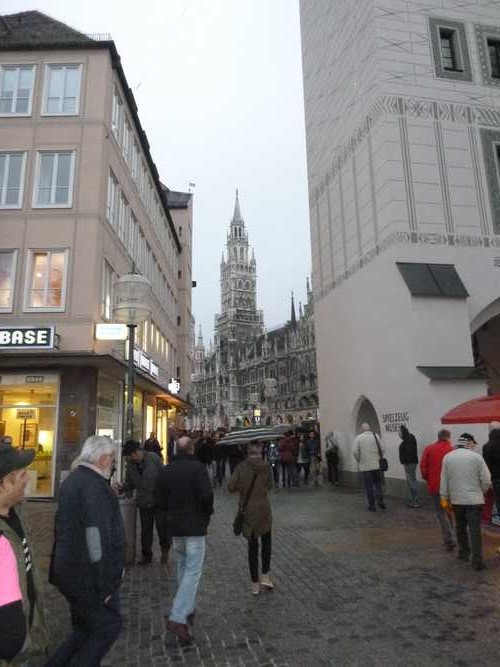 Typical street scene in downtown Munich. By now the first bad weather of our trip hit the town as rain pelted us in 30 degree temperatures.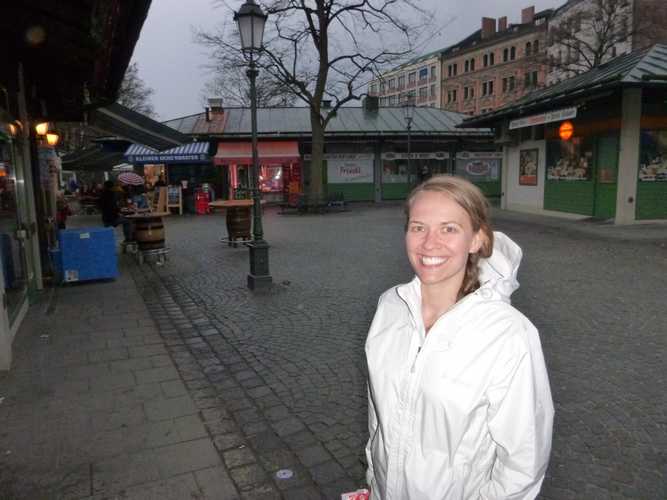 But we put on a happy face!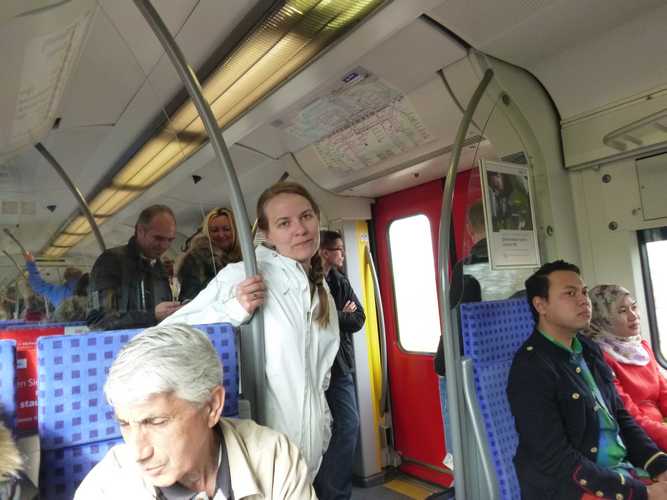 On the "subway ride" back to our hotel, which took about 45 minutes, by the way, I was acting silly and the people behind Laurel were taking pictures of me. And that embarrassed Laurel but I captured her displeasure and the folks behind were looking at their phone after taking pictures of me.
All I was doing is making these kinds of faces. Since she was separated from me due to the crowds, those folks must have thought I was making eyes at this young girl.
We had a long day and it was time to retire and catch a flight in the morning. However..................
It was not to be. After arriving at the airport at 7 am and going through all the customs and security and waiting at the gate for our standby seat assignments, the flight filled and we were left sitting with our luggage. Apparently, Lufthansa pilots were striking. Go figure. That flight departed without us. We began weighing our options which included going to Paris, London, Brussels, Frankfurt and Dusseldorf. The next day's flight was already showing full. Brian was in contact and advised us to go to Frankfurt. The standby seats were looking better there for the day after tomorrow.
So we spent another evening in Munich after Hotwiring the same hotel. The receptionist was quite confused with our reappearance. We departed for Frankfurt aboard the Deutsche Bahn train the following morning. That involved catching the city bus, hopping on the "subway" or inner city train, and boarding the long distance train. It was a 3.5 hour ride through old Bavaria. And train travel in Europe is comfortable and relaxing. It is like a protracted sightseeing tour of old Europe. Castle after castle after cathedral and cathedral. This was my second time on this route. The cost for this ride was 109 Euro per person. And worth every penny.
Frankfurt
Standing near the river Meine.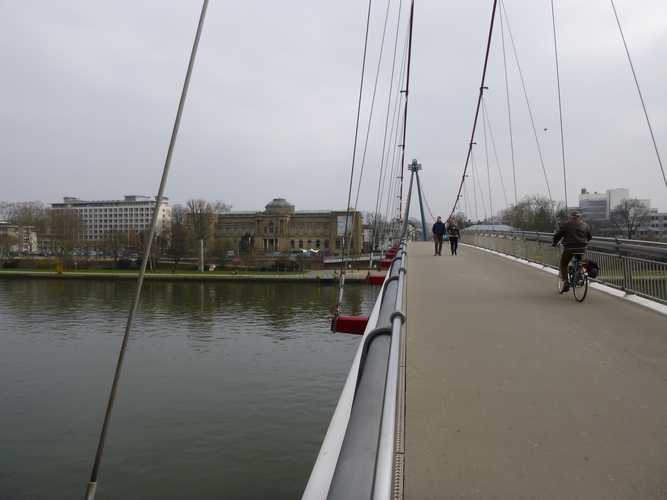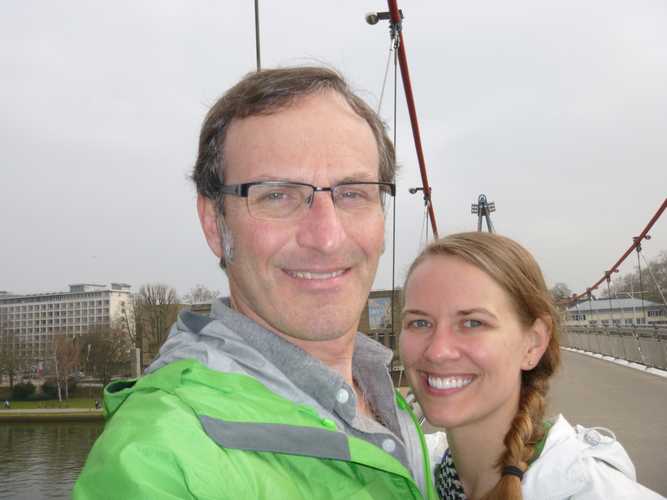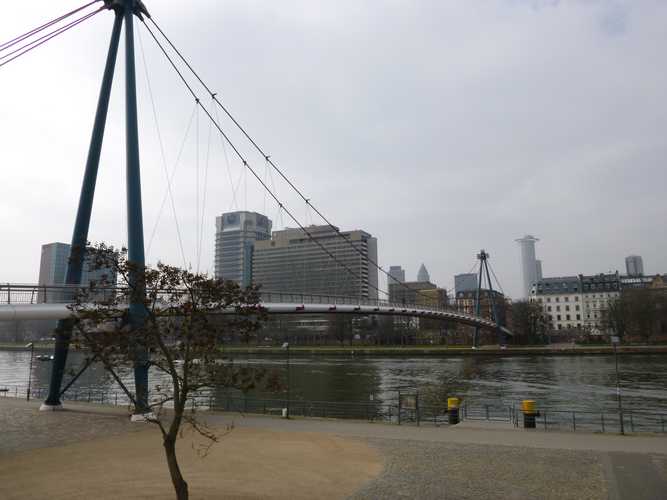 Frankfurt is a modern and robust financial capital of Germany. Most of the city was leveled during the second world war.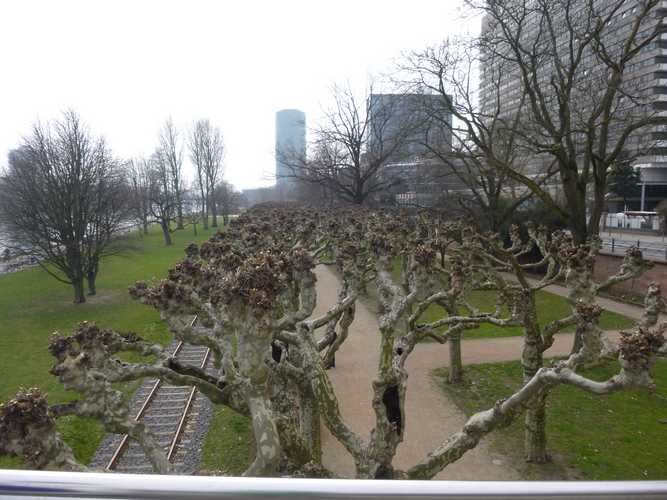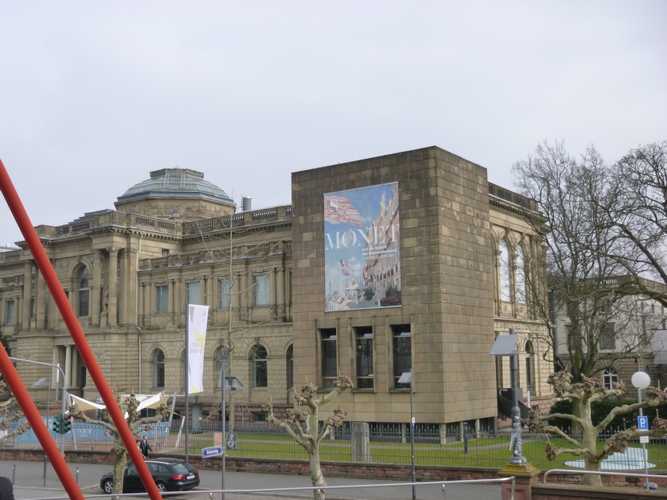 Spying an exhibit featuring my favorite artist of all time, we sprinted to the museum only to find it closed on Mondays.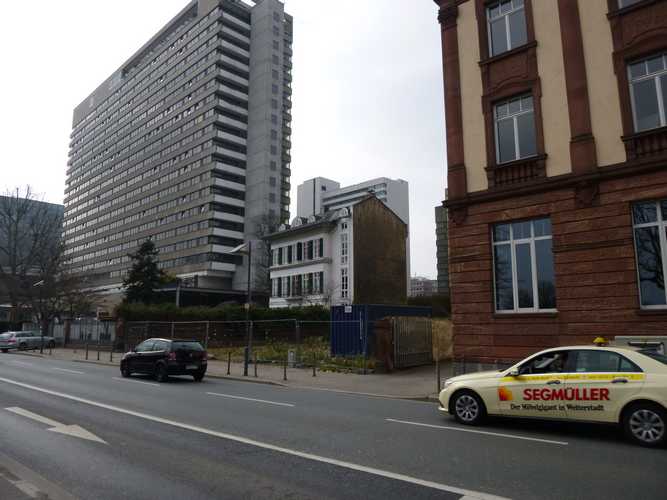 Some houses are quite out of place with the modern buildings.
Next morning we boarded the subway for Frankfurt airport. It was 6 am and the flights were looking good. By now we both were two days late for work and absolutely HAD to get on this flight. Fortunately, Brian booked us from afar and voila, we snagged two seats. One in business class and one in coach. It didn't matter. We were 10 hours from Atlanta and that is all that mattered.
All in all it was an outstanding and drama free adventure. When we landed my phone blew up with texts. Apparently a Germanwings flight crashed in the Alps as we were departing Frankfurt. Folks wanted to make certain we weren't on it. I'm glad we got underweigh before that filtered through the system. What a sad ending for so many people and their families. Apparently the German pilot had commandeered the plane and deliberately crashed into the mountains.
Final thoughts include another plug for Hotwire. (No they don't pay me for endorsements, but if they are interested....) Auto versus train travel in Europe? Always go with a train if that fits your itinerary. Innsbruck? Ten times better and cheaper than Colorado. Your savings on lift tickets alone justify a Europe trip. Many thanks to Brian for making this possible.