BikePackers Again
Campsite #51 Deeplow Creek, GSMNP
September 24-26, 2010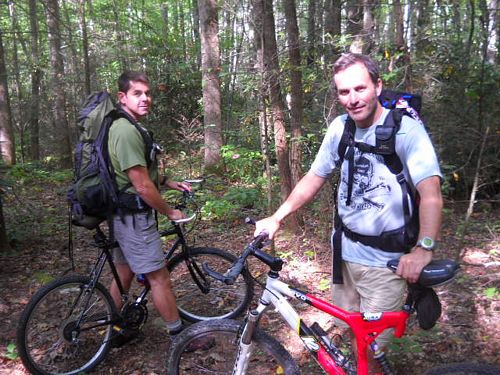 Dave and I worked out the bugs from the last trip, this time from our teeth. Yes, we are legally bikepacking to our campsite, the brand new #51 on Deep low. How did it work? Start at Deep Creek, take Indian Creek Trail all the way to the split up Deeplow. 5 miles and some elevation gain. How was the terrain? Great until the last mile. It required some pushing. This picture is from the next day. We returned to the car for a resupply trip and an excuse to ride some more.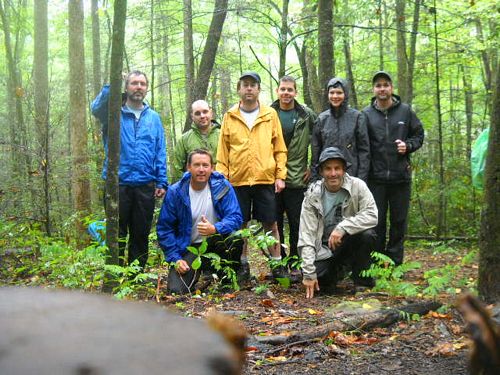 Yep, this was the final crew on a rainy Sunday morning. Most everyone, as usual, arrived via differing routes. Take George for example. He decided to climb up Newton Bald and stay with Bill and Sarah. They all needed those miles the first night. Lance, (second from left top) dropped down from #53 on Friday. Kevin came in somewhere near stone pile gap and Grady walked up Saturday the same way we rode. One thing is for certain, though. We all vamoosed the same way Sunday morning. Shortest route to the car shuttles.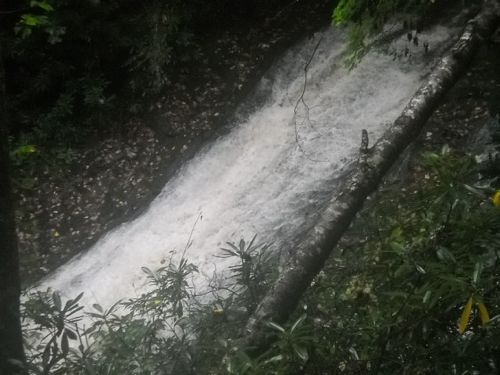 Indian Creek Falls was raging. I heard we had about an inch and a half of rain up on the Carolina Section.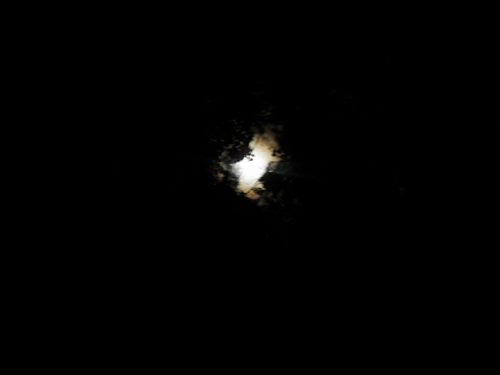 Speaking of anomalous occurrences, Sally Dumplin and I were sitting in camp Friday night staring at the near full moon. We arrived a bit after dark and of course, no one was there as it is a crappy campsite. Dave asks if I hear drumming. Sure enough, I did. It was not grouse but true beating of tom toms. Indian drumming from somewhere on the Cherokee land. The Cherokee land was less than two miles as the crow flew from us, we double checked it on the map. As it was a Friday night we attributed it to a ritual or some type of tourist event but it was steady and rhythmic off and on for a couple of hours. We held our scalps tightly for the rest of the evening. I rebuked Dave's attempt to join me in my tent to fight off potential raiding parties. I had my hands full as it were.
This poor guy got run over by me on the bike. I didn't see him until it was too late. He was okay though? How did I know?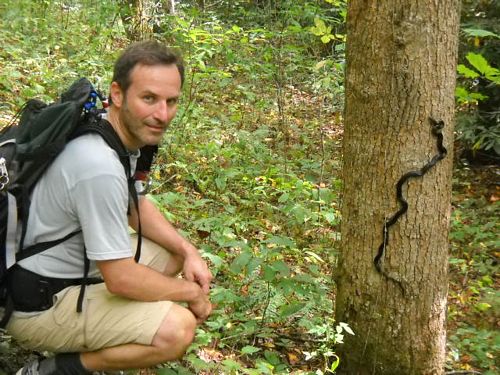 Because he was here when I returned an hour later, moving okay, probably recuperating. Sorry little fellow, you were in the leaves and I couldn't stop until it was too late.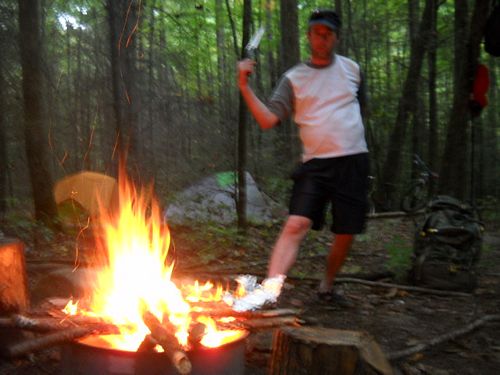 You can insert your own captions here.
Speaking of great stories, how about this one. Remember the Spotted Woods Tattler? Well, seems as if Lance spent the night with him at Mt. LeConte two weekends ago. Lance and Jeff Woods and another guy booked the shelter for the night. The entire shelter. They booked the entire shelter for the night. That's right. They booked the entire shelter. Ironic? I think so. Some of you may remember Jeff Woods. He is the one who threatened to tell the backcountry office if we ever "booked up" a shelter again and get our "Outlaw Asses" thrown in jail. Very funny stuff. Email him and congratulate the Woods Tattler for breaking on through to the OUTLAW SIDE! Here is his email address: jeffwoods55@yahoo.com
This one is for you, Jeff Woods YouTube - Hot Girl Gets Watermelon In The FACE - OUCH!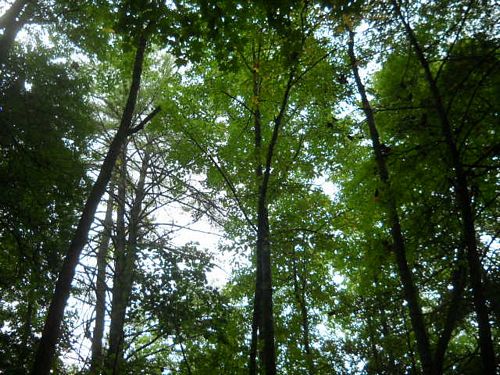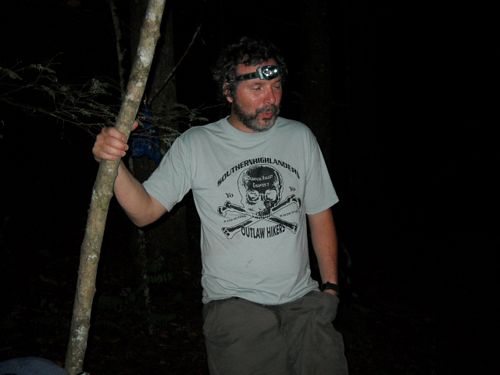 Grady eyes the steaks Kevin has been cooking over the fire.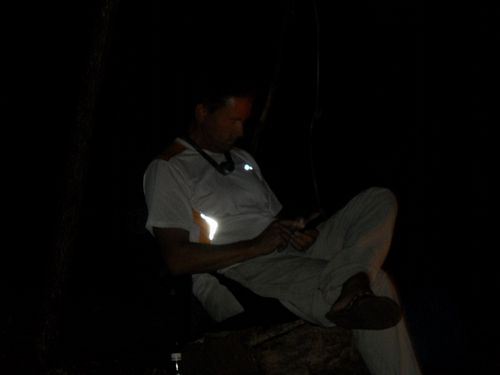 Backcountry texting. Real nice. So glad George discovered that there was cell service. Thrilled! We probably could not have lived without knowing the football scores.
Dave thinks about the wet ride out and his brakes. Lance offers to "take" the bicycle to the trailhead for him. Dave declines his generous offer.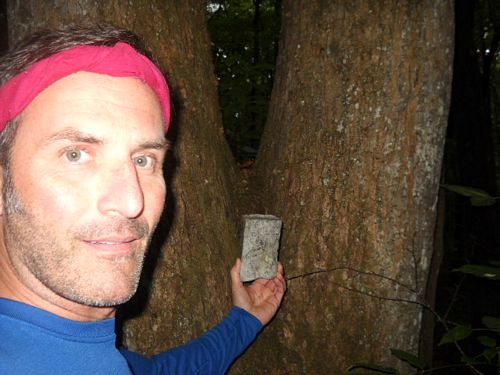 I found this quartz and placed it in the tree fork. We will see if it grows around and makes a marker.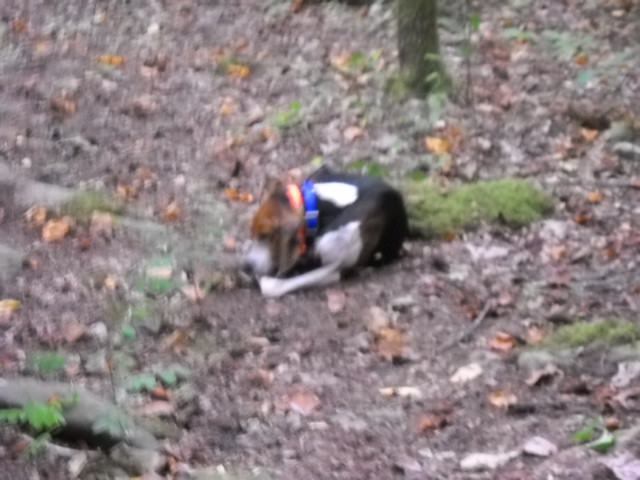 Yes, we had some company. Since George had cell service, we called the two dog's owners. He figured they were alright and could stay with us for the night and we could walk them out. Problem is, we didn't want them in our camp,. barking, urinating, salivating over our food and I related as much to that guy in a voice mail as I suppose he was tired of receiving calls from the Highlanders about them. Who wants to walk five miles to retrieve a pair of bear dogs? Bear Hunters, well, that's another issue entirely.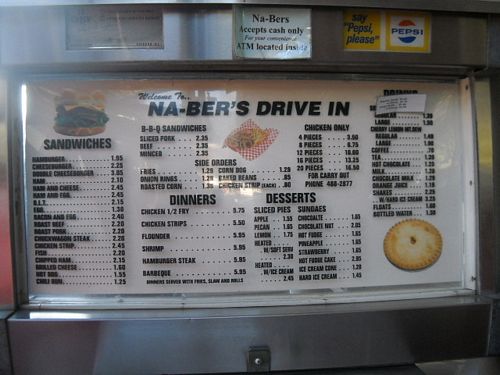 Also, look what we found in Bryson City? Can you believe these prices? The food was incredible but the prices just blew us away. NaBers drive inn, Bryson City. Be sure to stop by, they have great burgers and barbeque and the apple pie is delicious. (By the way, we are open to sponsorship)
In summary, the bikepacking to this campsite is very do able. It took us about an hour and fifteen minutes to get there and about 30 minutes back to the trailhead. I can think of no other place you can pull this stunt in the park but the campsite, although new, is sketchy.
And finally, here is a backcountry interview with a real life 900 mile finisher. This is in commemoration of Sally Dumplin's upcoming completion of his 900 miles on Halloween weekend. (Many folks had asked me about the quest, so I thought I might share with you the experiences of someone who has done them all.) We will throw a bash on the Old Settler's trail when Dave will walk across the finish line triumphantly claiming his spot on the Trail Board. He only has 11 miles to go. Plan on being there to help us Roast Highlander President Sally Dumplin, Saturday October 30th. It will be spooky.