Hangover 2010, October 14-17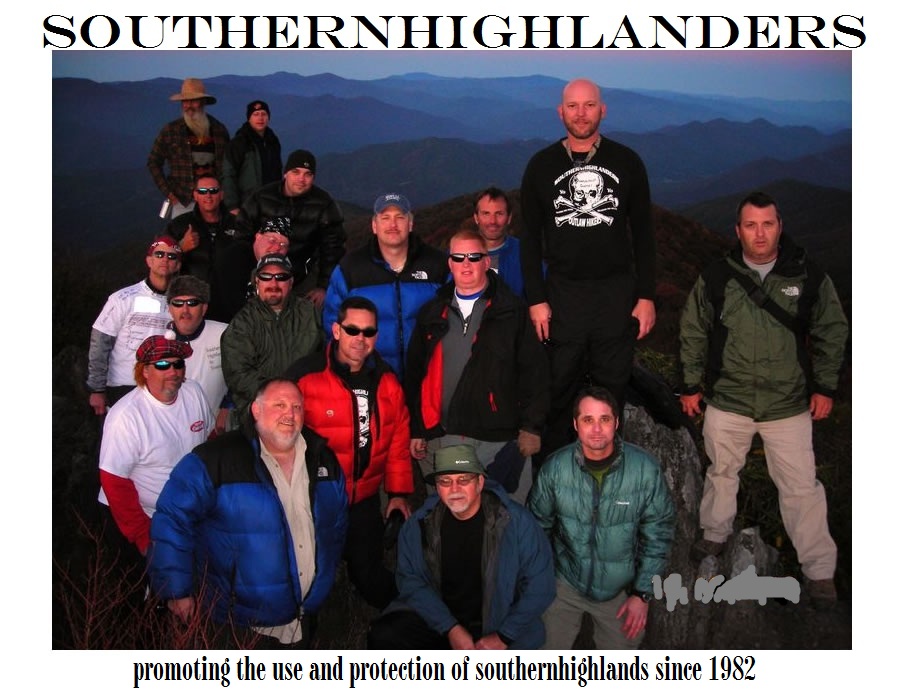 Hangover 2010 was one for the record books. 24 beats all prior events. Present but not pictured were: Ricky Bobby, Bradley Fisher, Matt, Dave Ammons. As far as the photo competition is concerned I had to narrow it down to this one forwarded by the ghost in the center about whom we will speak later in the narrative. We earned this year. HERE
It began at the Bear Camp, Basecamp for this expedition. President Sally Dumplin established a wonderful spot for us to launch our summit bid on the Hangover and provided us with food to boot? He prepared barbecue ribs, potatoes and baked beans for the crew. After all, it was Wednesday night and we had guests.
That's right. The Muir Factioneers are resting before their weekend of Hell. Here, President Dumplin expounds upon the requirements for membership in the Highlander circle. It begins with dishes, " Now get to cleaning!"
BC George arrived late and next morning, we began the ascent of Hangover Lead South Trail. It is an old route all but abandoned by the Clan these days. After a night of rain at basecamp, the mist and soft soil made for nice walking as we climbed 2100 feet with 60 lb packs. C'mon, its Hangover, not really a multi day backpacking trip. Hot dogs are an essential component.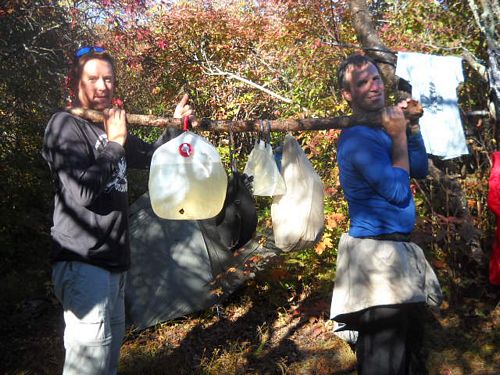 It took two hours to reach Saddle tree gap. Just enough time to set up our tents and drop back down Deep Creek for a water run. There is no water on the Hang these days. We were told that Naked Ground was dry so BC and I hauled six gallons up. It was like hiking the mtn twice from different directions. Took us two hours total.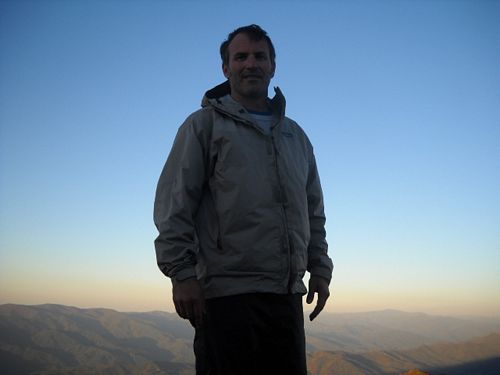 I always have to make a run to the rock. This spot is our spiritual center. As far as views are concerned, nothing beats it.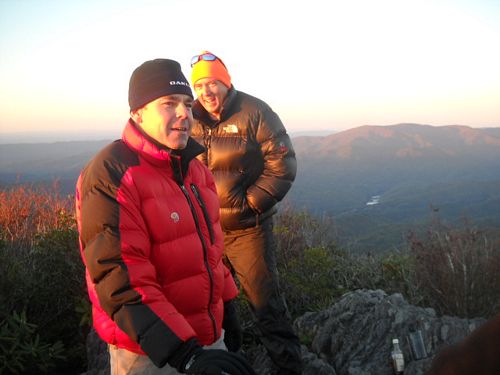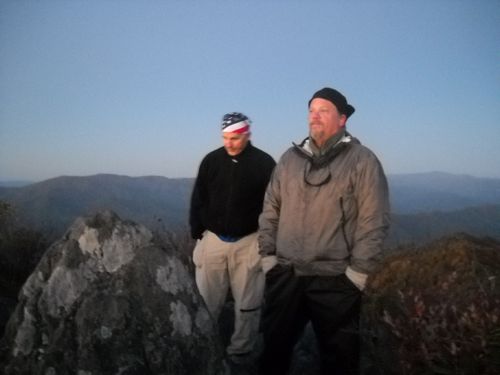 Watching folks appreciate Hangover is as rewarding as appreciating it yourself. Here, Bunyan and Ledge soak in their first views alongside Dave and George.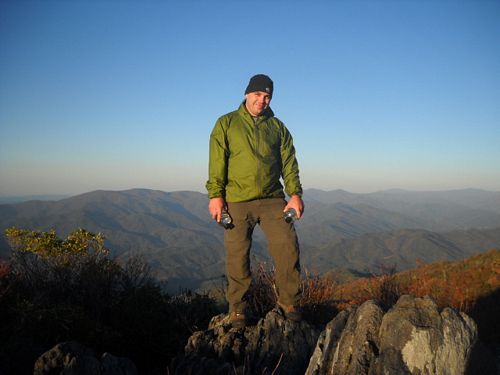 Next day, Lance arrives for his first experience. Behind him is the Smokies Range from Gregory's Bald over to Mt. Leconte. I think he is trying to make the statement here, "I can live on two bottles."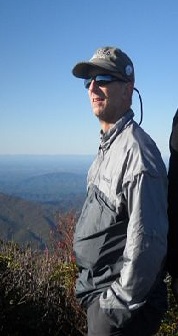 Chuck Adams keeps looking for his old friend, Grady.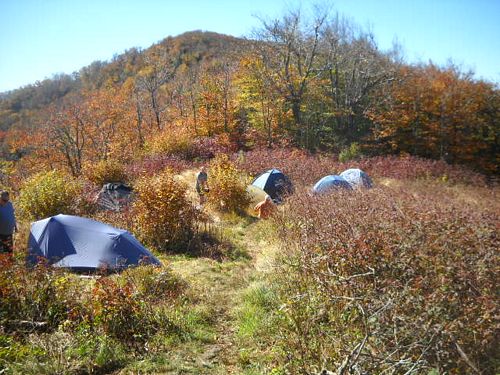 This is Highlander encampment 2010 on the Hangover clear-cut. As you can see it has indeed morphed into a weed patch. Oh well, the view is pretty good. Woodstick 2010.
Sally Dumplin doesn't seem to mind that much. We forced him to keep his stinky feet all to himself. Dave did a lot of tent time this weekend. Presidential liberties I reckon. Let those Muir Factioneers do this, let them do that. Harrumph.
And here is Grabner. Do you have any piece of gear that isn't duct taped?
But let's get back to business. We have inductees to deal with in an outlaw fashion. The Highlander flag is raised and time for reckoning has begun.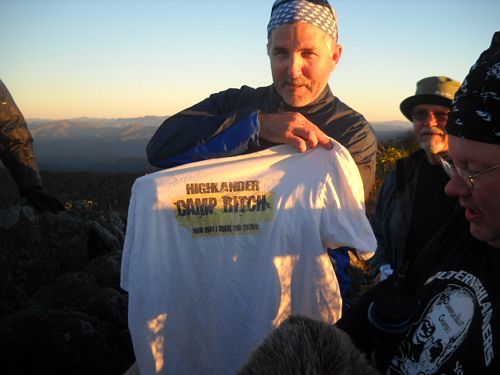 Prior to sunset on Saturday, the hooding ceremony was begun. Here, Rocky Ledge receives his "colors" for the night as presented by his sponsor, Dave Skidmore.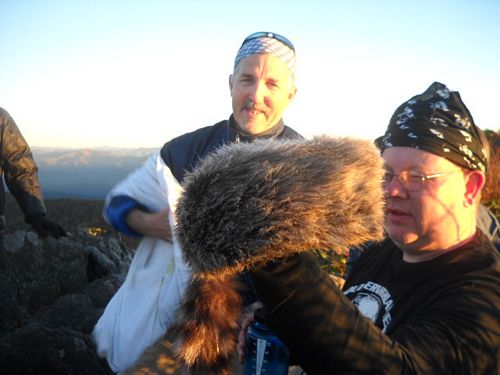 "My granpappy done skinned this coon several year ago. It was an albino coon at one time. Ledge." I sure hates to see me a good coon hat get rurnt. You'd better wear it with pride or I'll tan yer hide"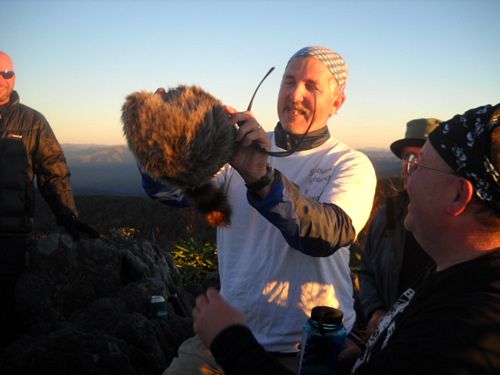 Okay, Okay, I'll accept the coonskin challenge, Master Dave. Brave, Brave Sir Rocky Ledge.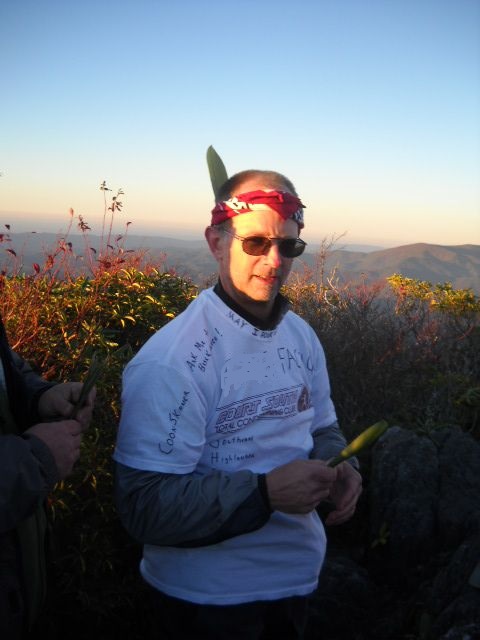 Chuck Adams is wishing right now that he had the other outfit, I am certain.
Who are the Muir Factioneers? Well let me tell ya, one of the finest group of weirdos you will ever meet. How did they hook up with us? Now that is stuff of Highlander Legend and only privy to potential inductees. The Muir Faction was invited for membership into the Highlander Fold after a thorough vetting process that involved background checks and stool samples. Unfortunately for us, our stool sampler, Grady, was unavailable so we had to recruit an alternate.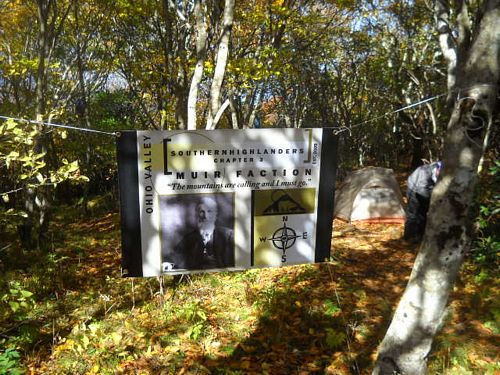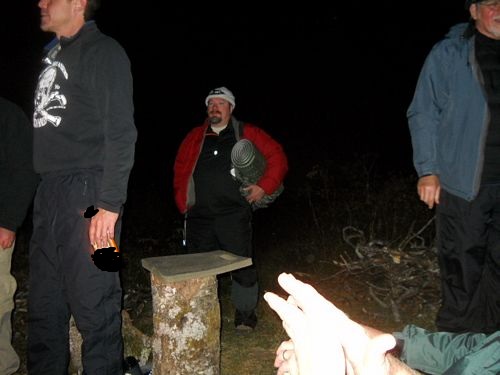 That's right. It's Scooter to the rescue. Fresh off his tour of New England. Here he eyes the wrong target, though.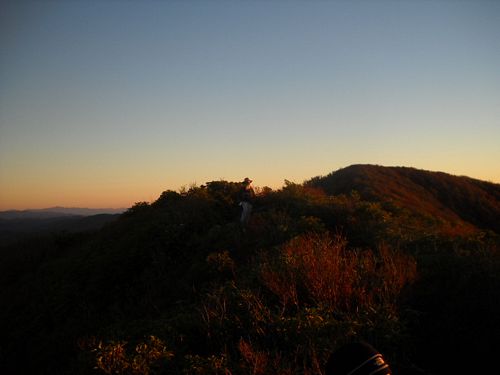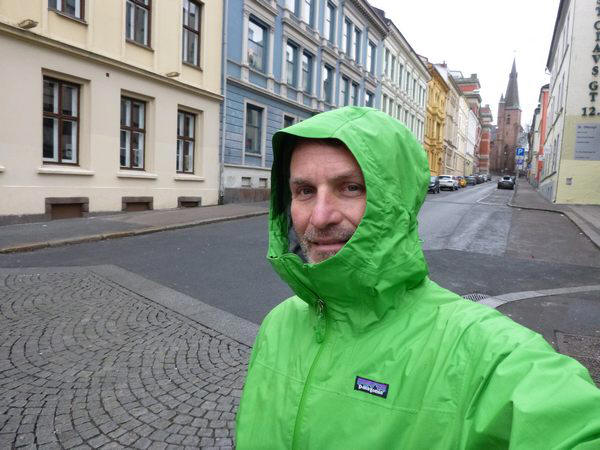 You can imagine the surprise when our "special" visitor arrived to shepherd the Muir Boys. It is none other than John Muir himself saying, "Fear not Inductee 1,2 and 3. I am with thee. If need be, I will climb to a top of the tree and ride the storm for ya.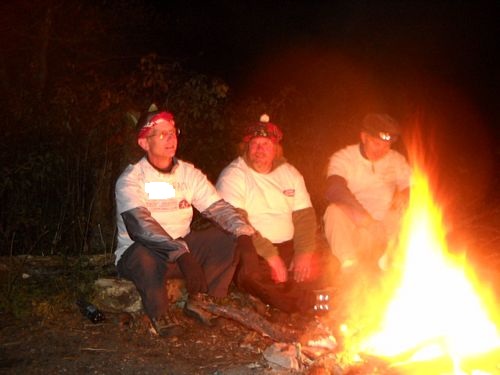 The ring of fire is a Highlander initiation ritual.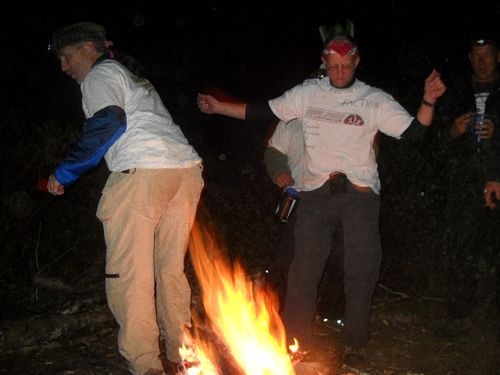 The Dance Off is another one. Ledge shows off his hot moves and Chuck makes the boogie, man.
Group Singing didn't end so well.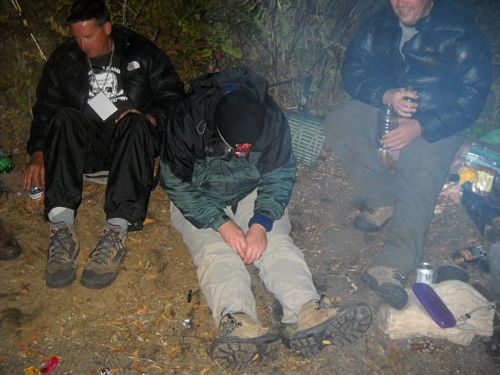 Finally, the Muir Faction gets a break.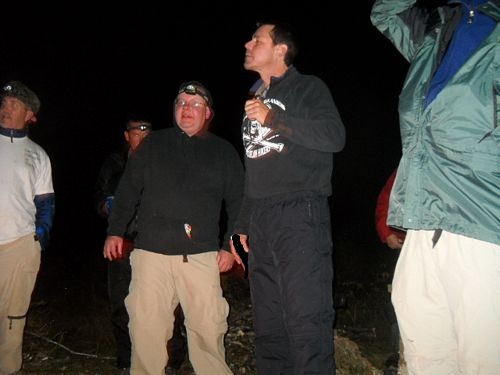 Sally Dumplin and Skid consult ombudsman Larry about the proceedings. Sally D asks, "How much do you hate the Romans?"
Jerky Mike and Ricky Bobby laugh. They are glad to be on the other side of the fire this time. Jerky sponsored Bunyan. Getcha some, he thinks. Bobby wants to cold cock Gobbie. We decided to allow Dennis that privilege.
In the end the Muir Faction was allowed to shed their initiation colors for the true Highlander apparel and Rocky Ledge dances to the end of the ceremony. Congratulations to the newest Highlanders. Rocky Ledge, Charley Bunyan, and Chuck Adams. They performed flawlessly and made this sponsor proud. (We will split hairs over the supper I never got, though)
)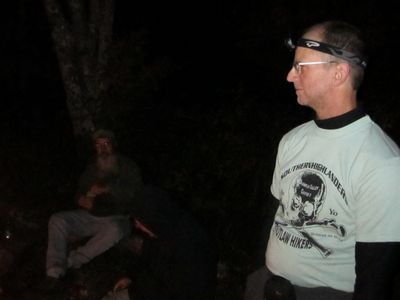 John Muir paints a watchful eye over Chuck Adams. You have made me proud, he seems to say.
Highlanders hanging on the rock in the sun.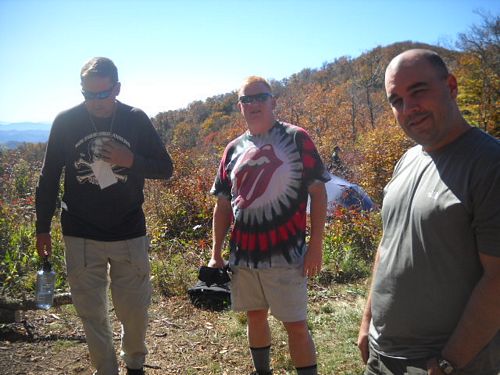 And speaking of ghosts, who is that masked Redhead? None other than John the Red. Seen here with a Flaming Lips shirt, he had wished to meet the elusive Grady of which he has heard so much. But alas, it was not to be. Grady was at a concert, the Flaming Lips. We understand, they only perform about 30 times per year and we wouldn't want him to miss one. Red offers to enflame his lips for free. Lance is thinking this Highlander stuff sounds pretty good to him.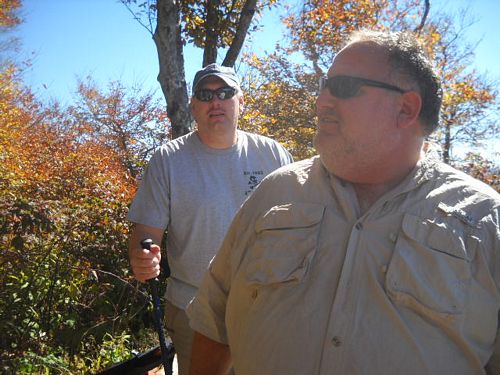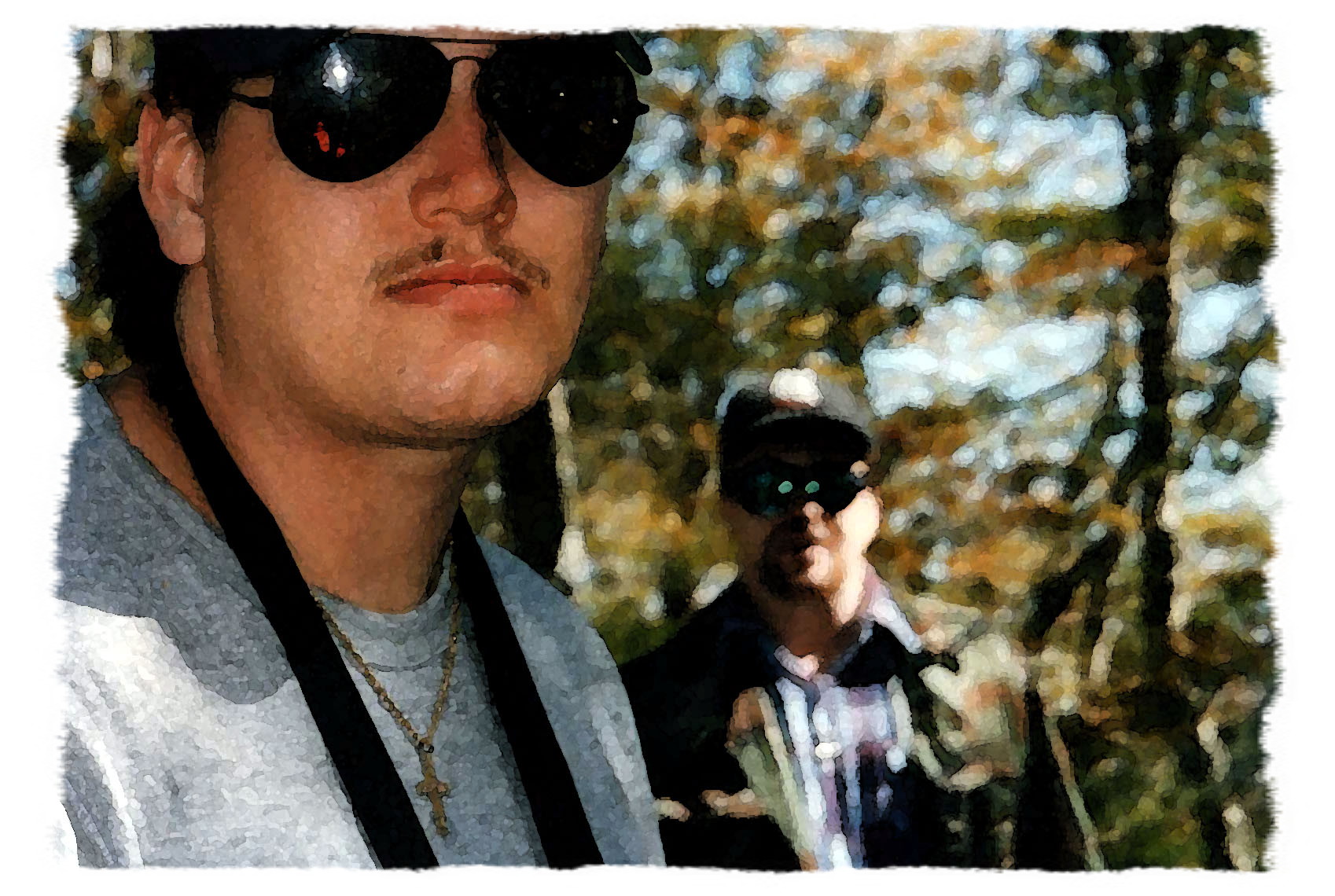 When I saw the picture on the left it reminded me of this one on the right. They were both taken on about the same spot. I think Bart would have been happy with the turnout.
For those of you who have followed the epic struggle of SkidMore Versus Tent, I am saddened to announce that the final victory goes to the tent on this trip. After battling the beast for years, the tent pole took advantage of a weakend Skidmore and beat him to a citrus pulp, drawing blood and ripping the gore tex shell in the process. We were all pulling for Skid these past few years, though. What you see is the result of some Highlander ingenuity as the pole was also licking its wounds.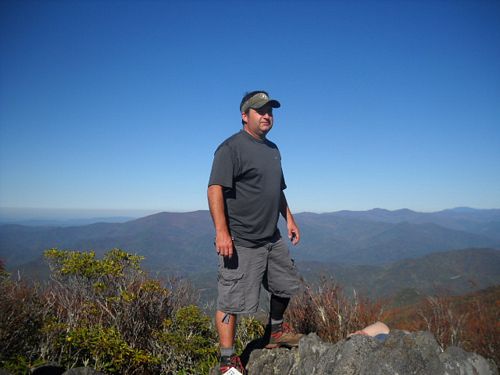 Proud Hitler looks to the horizon and commissions a photo for the archives. He did hike the man trail after all and not the "easier" Wolf Laurel route.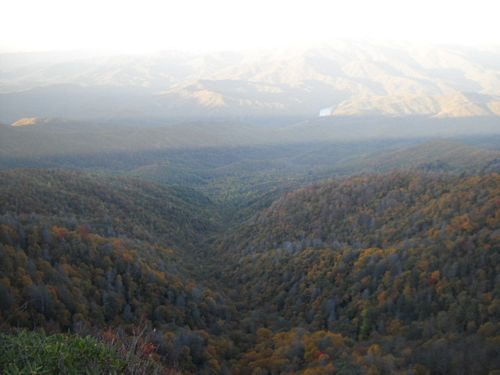 The Deep Creek drainage into the Fontana/Little Tennessee Watershed.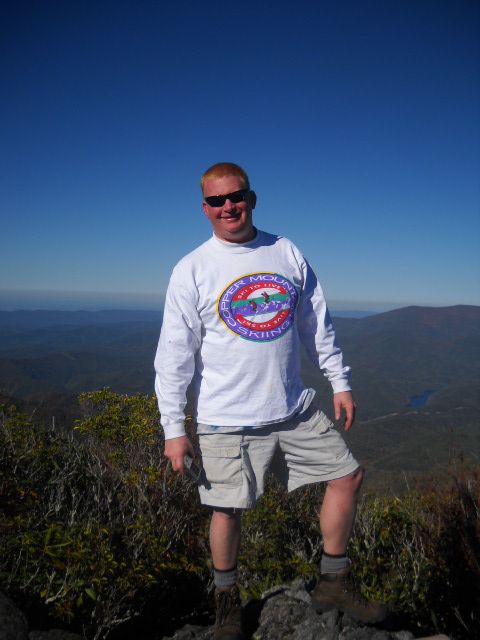 And not to be outdone, Red places his foot atop the rock, welcome back to the Highlander fold and congratulations on the group photo which was chosen for the Hangover shot this year.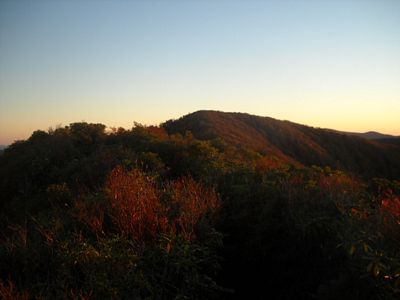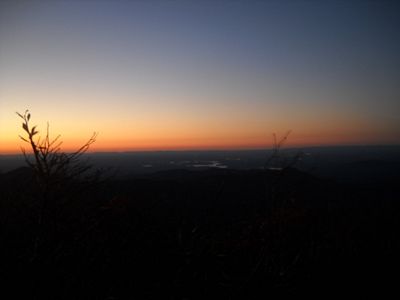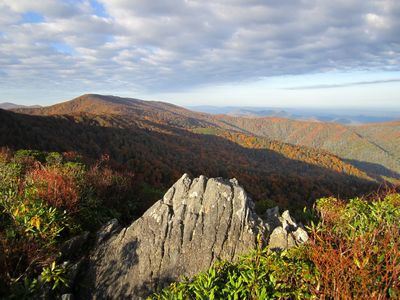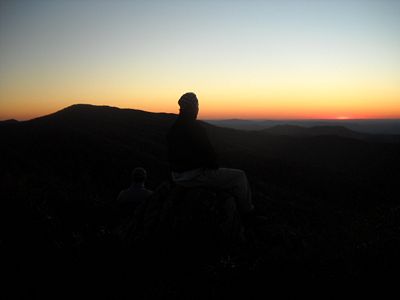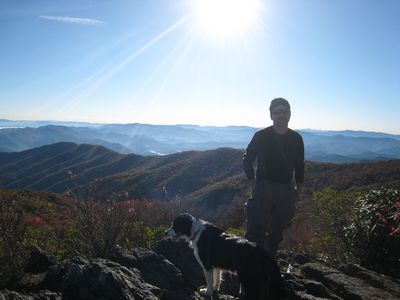 And as the sun set on 25 years of Highlandery, we saw our Ranks increase to the tune of three fine Ohio fellows. John Muir and Horace Kephart are kindred spirits that have happily joined forces in this most majestic of places. We had blessed weather and all around perfect conditions this year. We are regenerated by the karma of this timeless place and toast old friends and new. Yes, Hangover 2010 is one for the books. Congratulations Muir Faction. ...............................................................................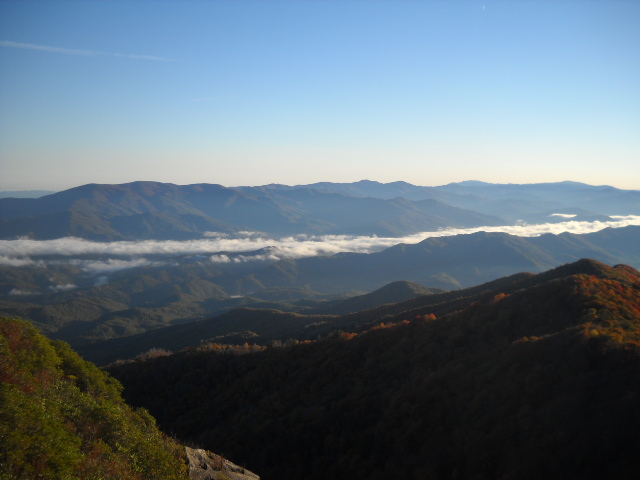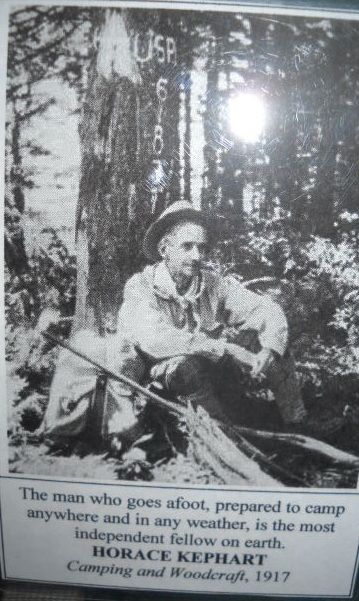 Trail Stats: According to Chuck Adams GPS readings, It is exactly 3 miles from the trailhead to the clearing. It's 1.6 from the TH to Grassy Gap and 1.4 from Grassy Gap to the clearing. Unless you took the sissy trail up wolf laurel. I am referring to the REAL Hangover Lead South Trail. The TRADITIONAL ascent.
Also, I would like to say hello to all our friends from the Czech Republic. Be sure to sign the SouthernHighlander Guest Book. We would love to hear from you.
Free Sticker to the first non Highlander person to identify "John Muir"