Maroon Bells Colorado, 6/21 through 6/24 2014
It is purported to be one of the most scenic loops in the world. After our experience, I would not argue that assertion. John Davis, my old buddy from Boulder had been itching to do this in his backyard and, following our epic rock climb, we did just that. Or should I say, did what we were able.......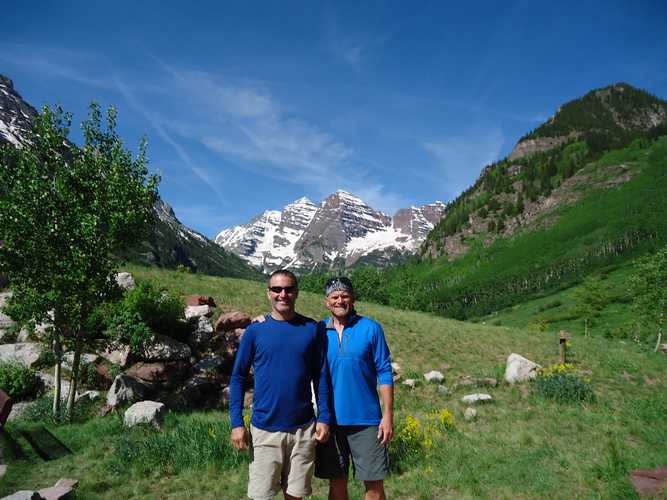 We began in downtown Aspen where they provide a shuttle to the trail and the backpacking is FREE. When you look at these pictures, consider that all this backpacking is FREE of Fees. The Forest Service tries to make you pay to park at the trailhead but we were much smarter than that. You simply self register at a kiosk and stay out for as long as you like. Man that sure sounds familiar, doesn't it? Once again, thanks to Kitty Benzar, my dear, dear mentor at the Western Slope No Fee Coalition for the heads up on the trail parking.
I may look confused but John Davis is confident.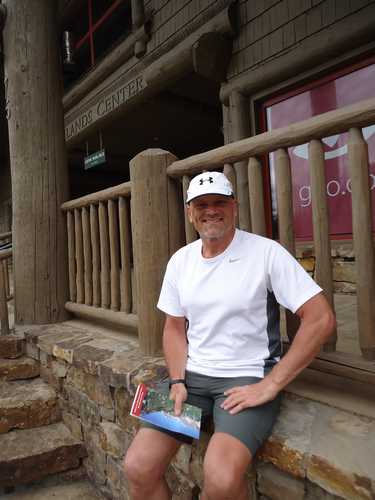 JD is something else. I could tell you story after story about him on our climbs over the years. The best way to describe JD is that he is a very humble and competent individual with a doctoral degree in Jazz music. He plays the trumpet and headed up the jazz music dept. at UC Boulder. Now he is a Dean. Remind me sometime to tell you the story how he came to be called John 2 and I John 1 on the Denali climb.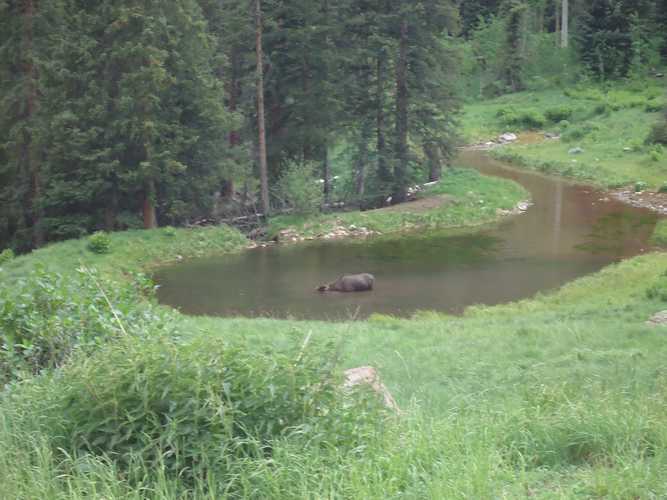 First thing, we spy this guy.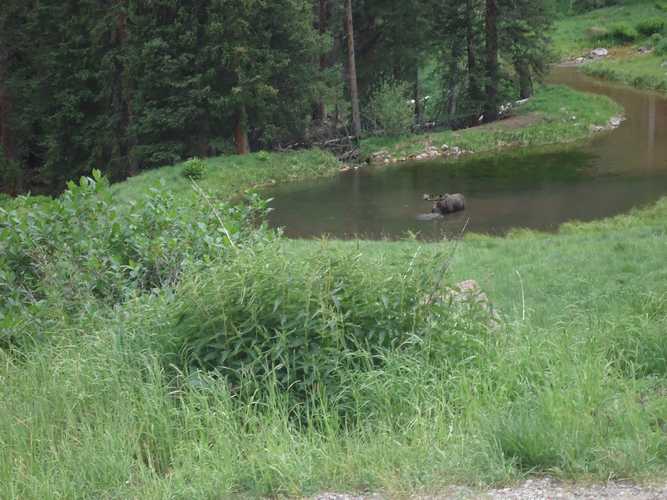 Then he looks up to say hello.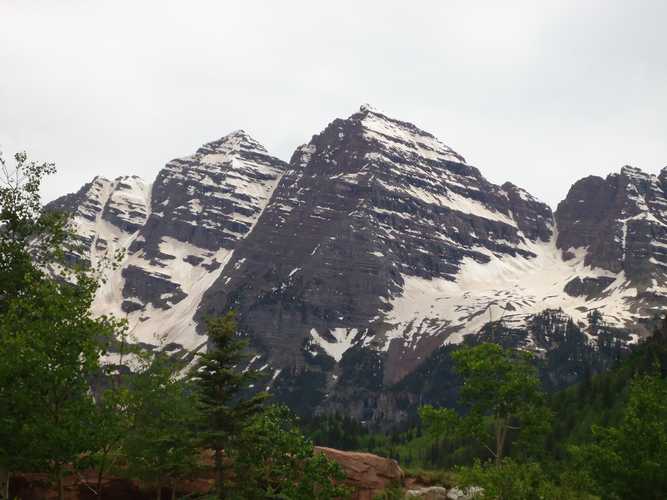 These are the Maroon Bells proper. And no, we didn't climb them. Although after staring at them for four days we have decided that we would like to perhaps give them a shot. They are called the Deadly Bells for a reason.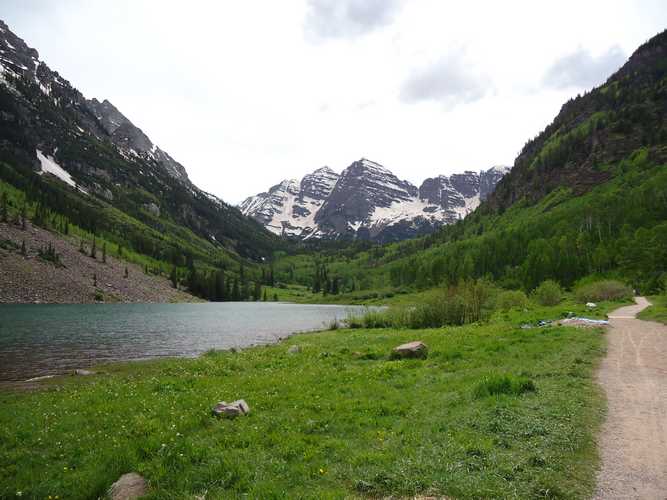 Scenery like this was the norm as we walked our first day up to Maroon Lake. We backpacked for several hours until we came to about 10,500 feet and bushwhacked into a great, secluded camping spot. There was no one around us for miles.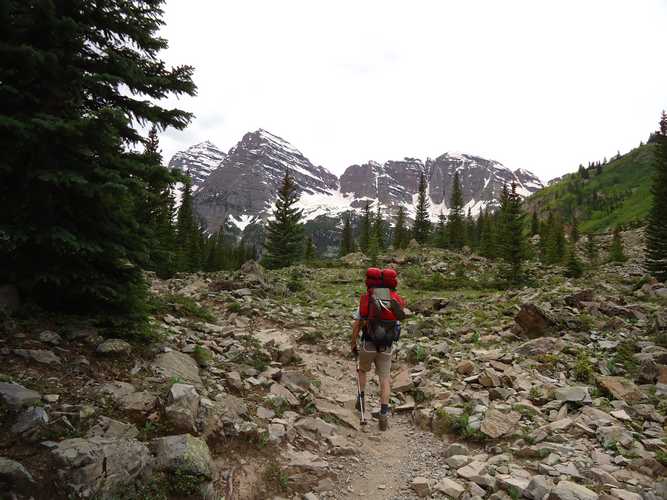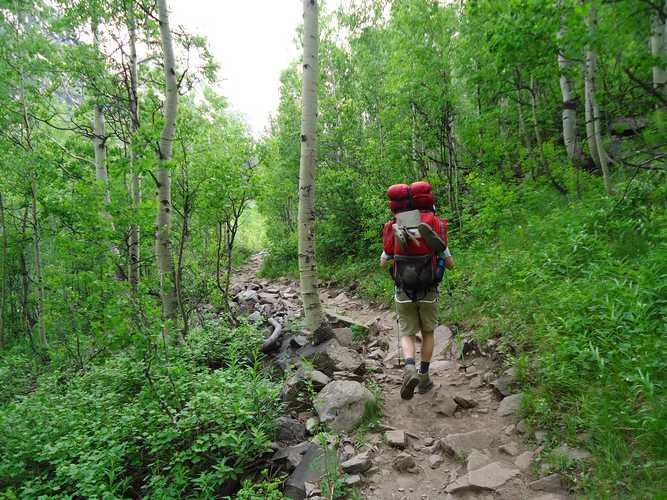 Busting through the Aspens and out onto the tree line we stopped for the night.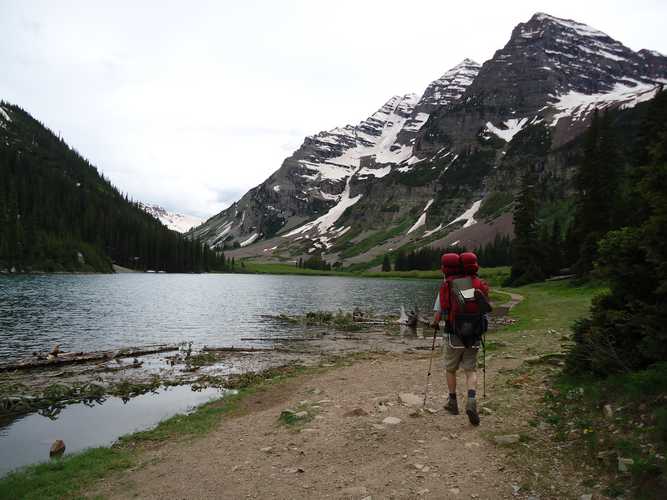 You are getting a lot of pictures of my backside because these are JD's shots. We camped by this lake on our last night but passed it several times.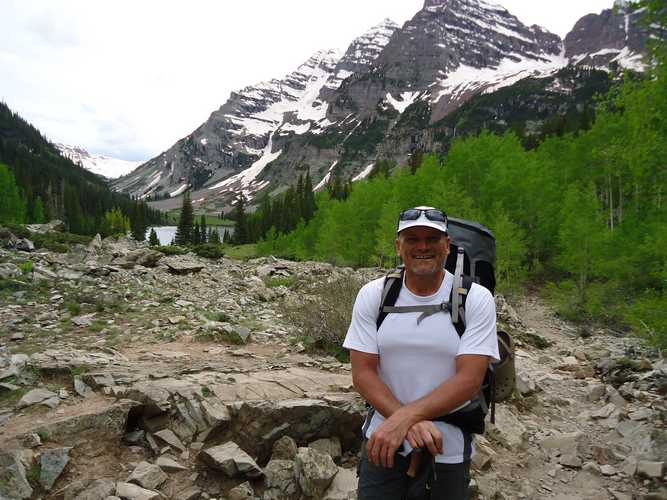 Figured I better include one of my host in case he feels slighted.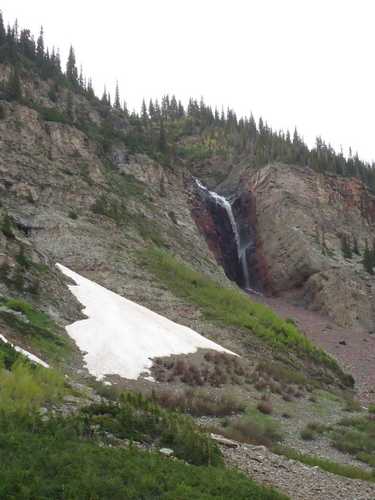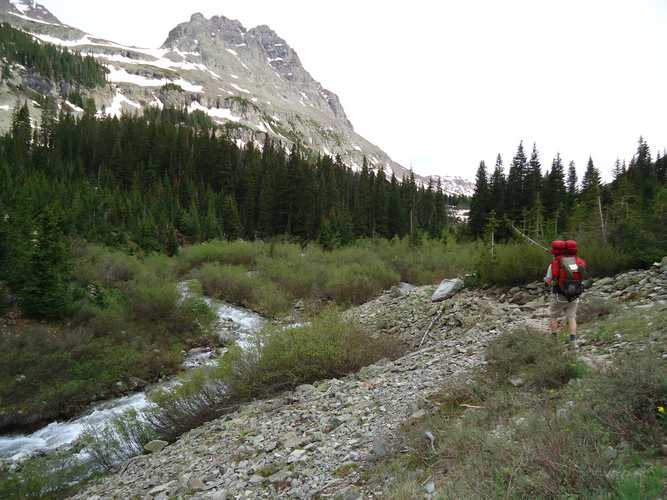 About now we are both thinking we should cross this river and bed down. So we crossed the river...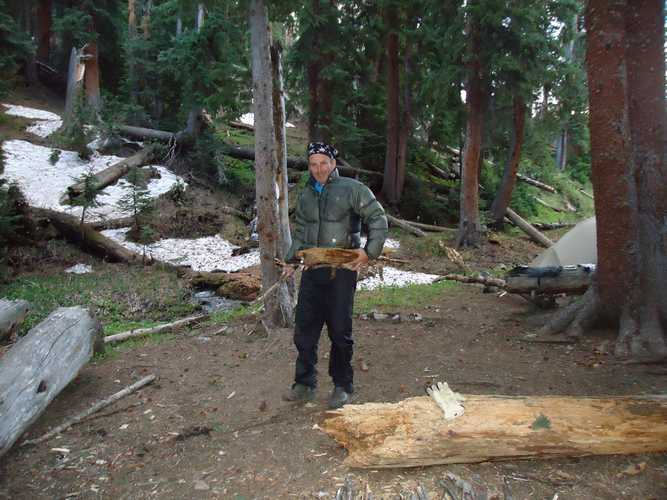 And Highlander instincts took over.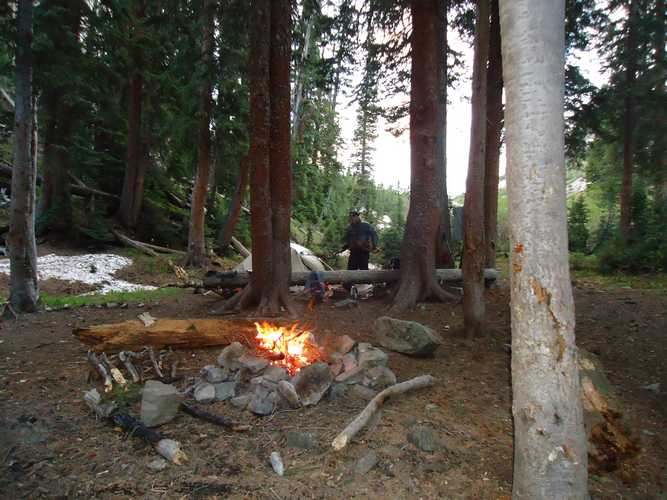 If there is snow, there should be a blaze, not unlike the one we should have had at McGee Springs the preceeding weekend but I digress.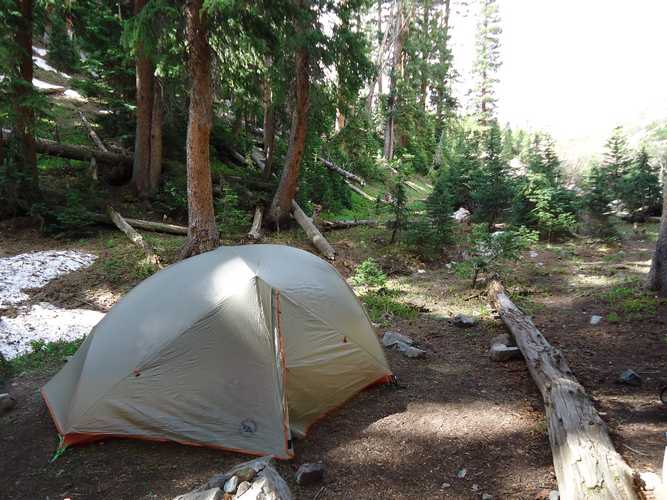 I kept thinking of Dave McGhee. This was his kind of camping. High in the pine trees with snow and good footing and an abundance of firewood. That made me think of Jerky Mike and Slap and Will and, well, pretty much everyone.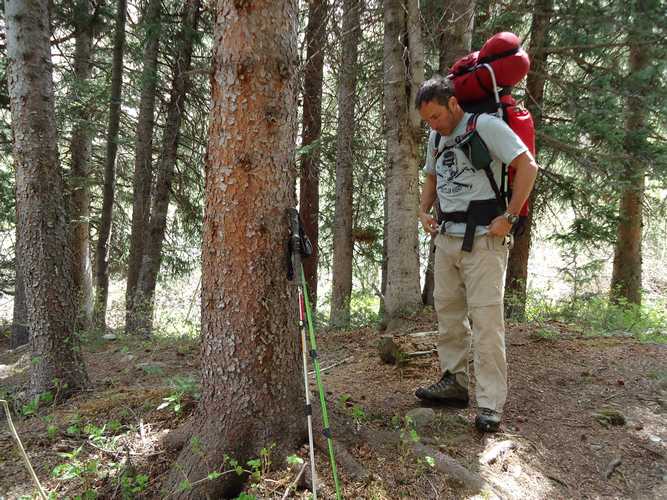 But we saddled up next day and had to go back down because the passed was totally snowed in. You see, this is called the four pass loop. As we encountered a group with ice axes, crampons and winter glacier gear who could not bust through the mess, we did some reconnoitering and discovered that the trail was totally enveloped by feet of snow. Now snow is not a problem for us. We are rather partial to it. However, we were prepared for a crisp, springtime event. I didn't even have a set of high gaiters. Our plan was to attack the loop in the other direction next morning.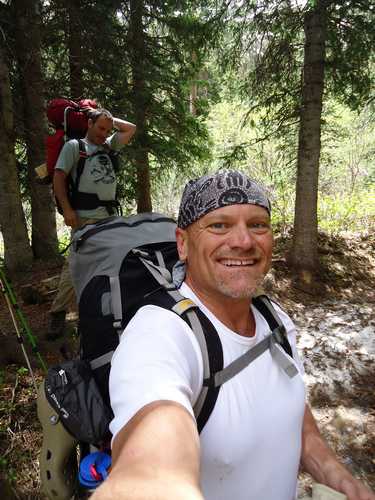 We were delighted to have such fine weather. Colorado received the biggest snowpack in years. I was there for a good portion of it during our ice climb in Vail when it snowed several feet per day for a few days.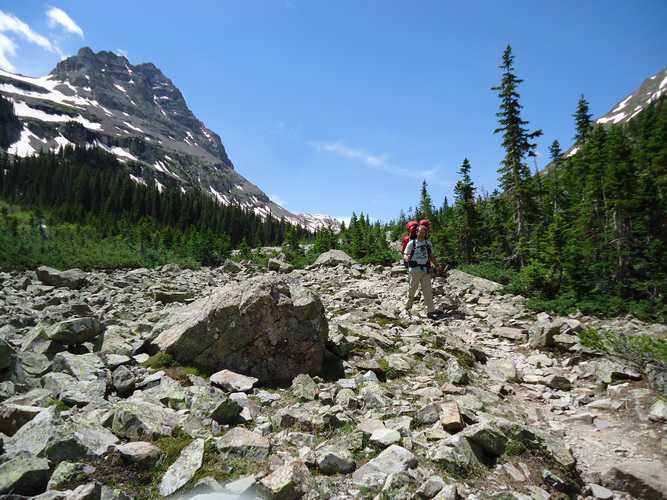 So back down we dropped to the lake and up the other direction to the counter clockwise part of the loop.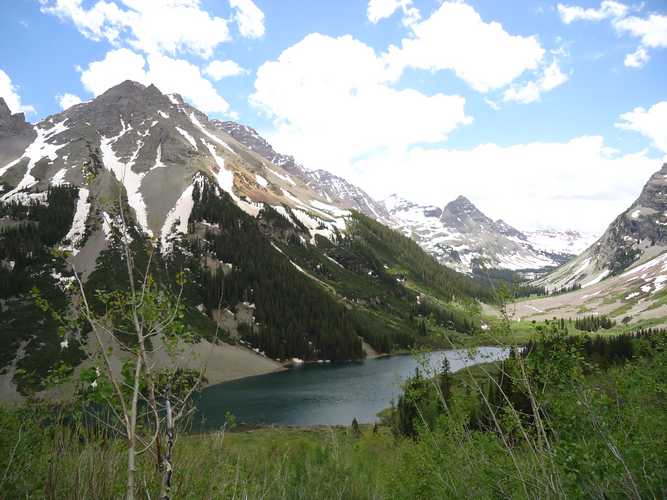 How can one ever tire of this scenery?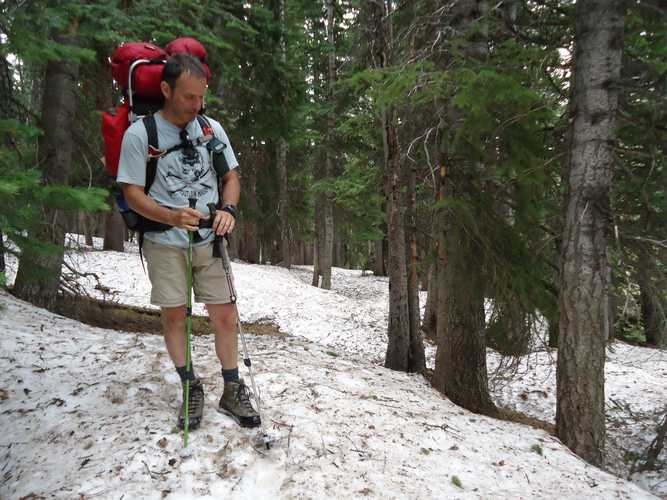 Soon we were gaining ground on the other side and were at 11,500 feet within about 8 miles of walking.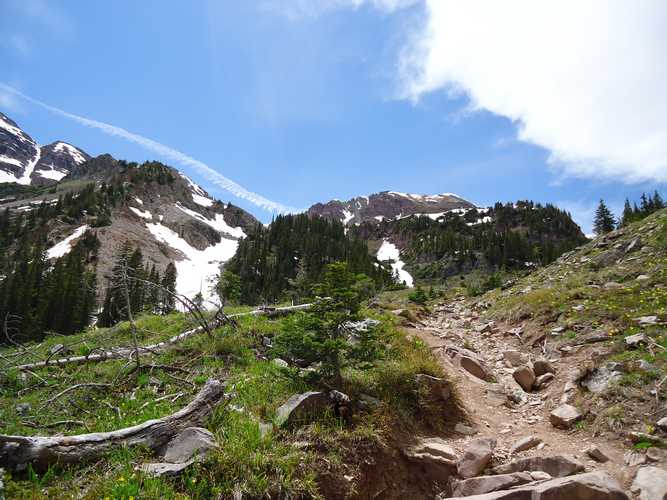 The trail grew steep and the snow increased, along with a winter like squall that snowed for 20 minutes.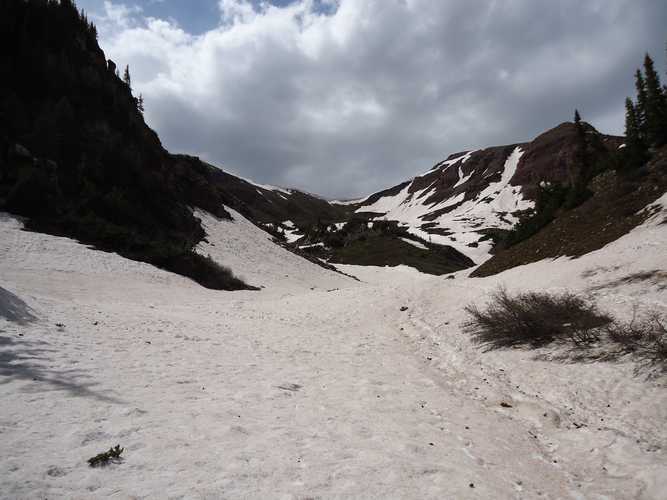 You can see that we had been postholing here and the pass proper was quite a ways off.
At this point we encountered another group returning defeated from this direction. They had spent 10 hours trying to bust through the pass to no avail. It was our sign and I had little trouble heeding it. In leather boots, I saw the dismay of the group who had full gear and were unsuccessful. We were later told by Forest Service Rangers that this may be the year no one completes the loop before the next round of snows resume.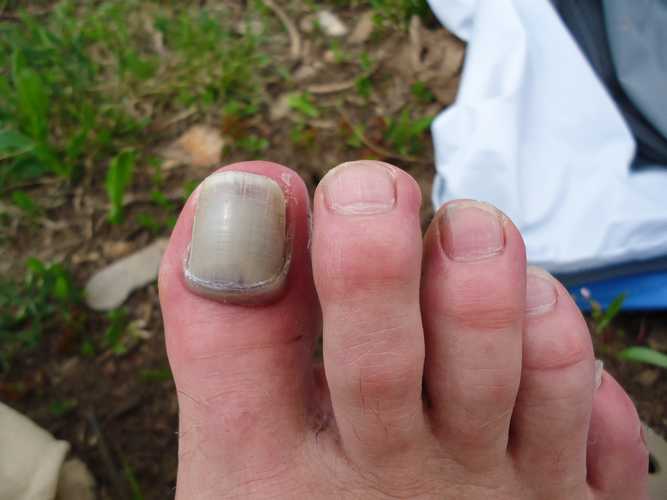 Of course there were injuries. This actually was the result of our rock climb in Boulder the previous days. JD and I had been running down to catch a concert from the slab in our climbing shoes. This proves why you should never do that.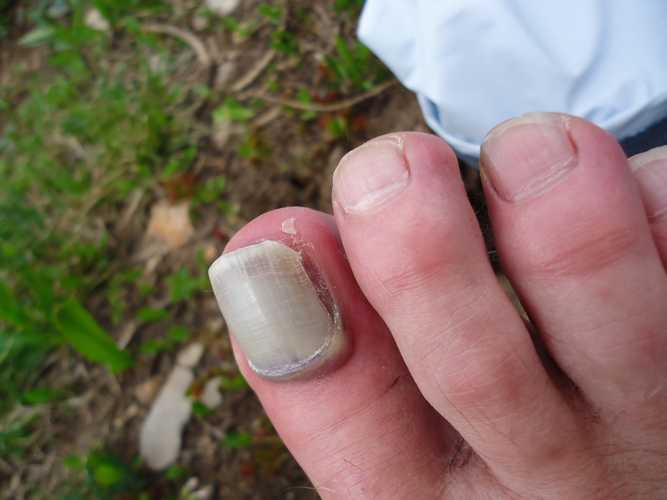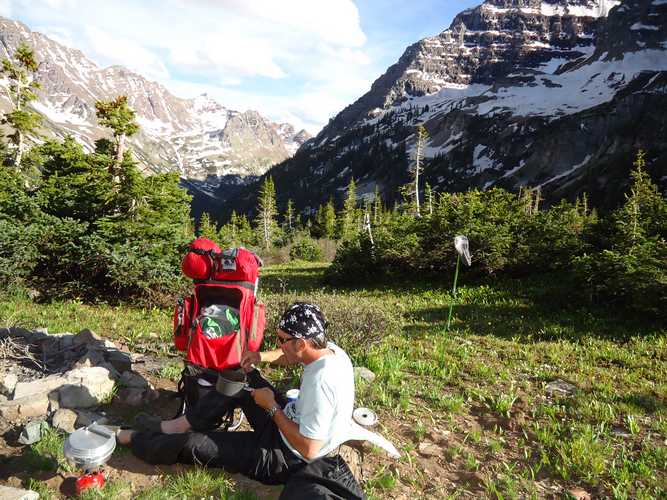 Once again, we bushwhack off trail at 11000 feet and find a great spot for the night.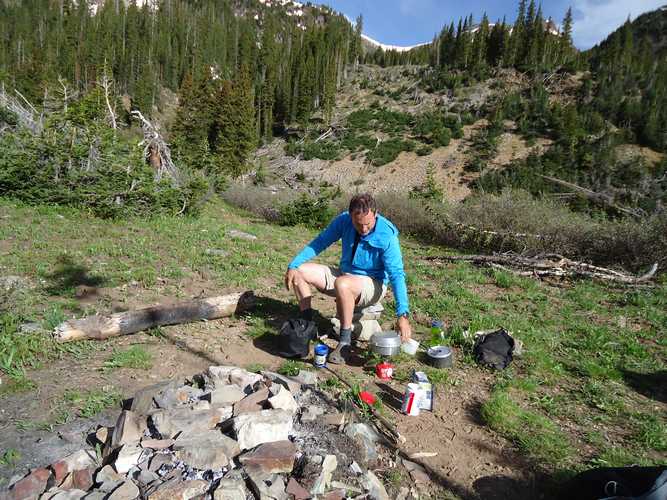 Along with a blazing fire, of course.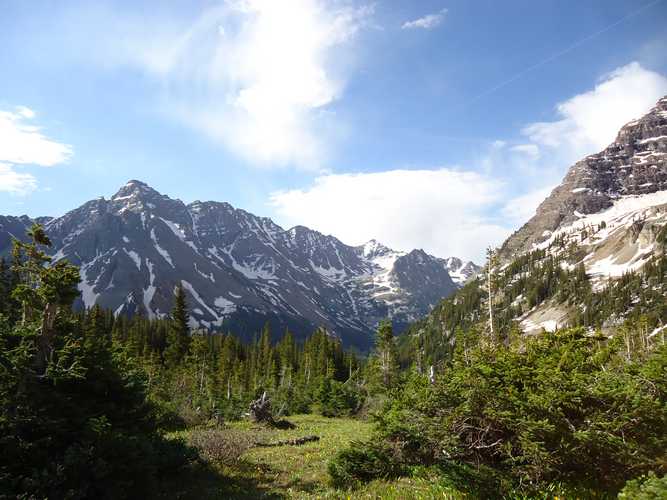 And a million dollar view.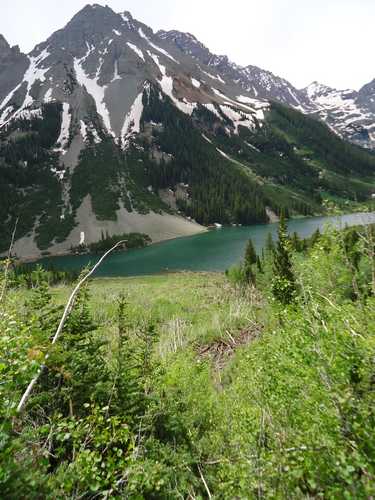 We were left with little choice but to descend back to Maroon Lake for our third night.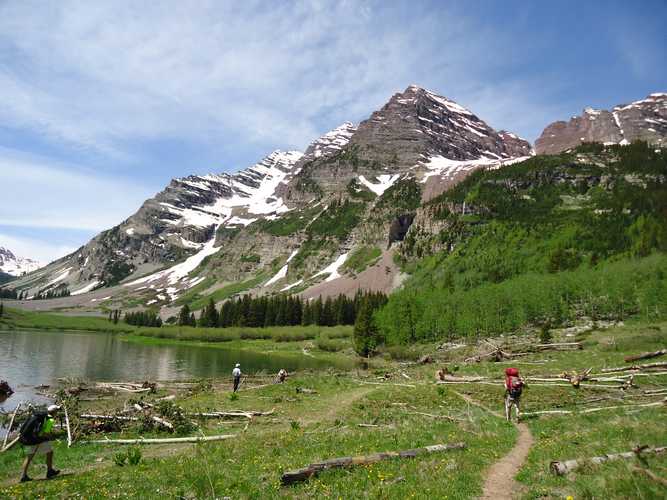 It was nothing for me to return to this beautiful lake for our last evening. Nothing. I mean free of fee nothing.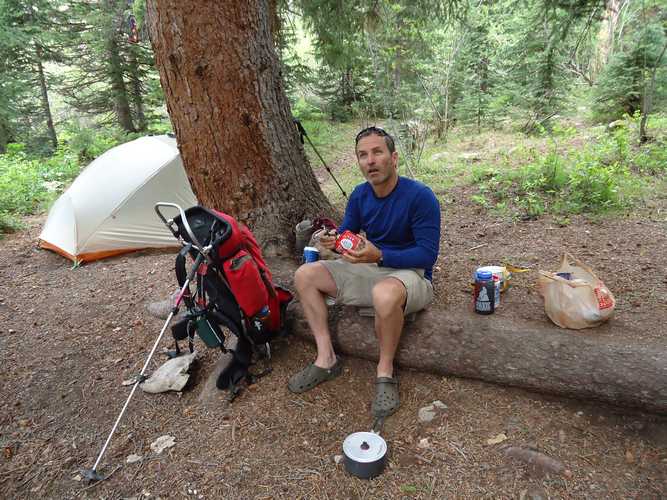 And soon we find the best camp spot in the area. Totally secluded although there were other backpackers nearby.
Yep, this was Heaven. Pure pine forest Heaven.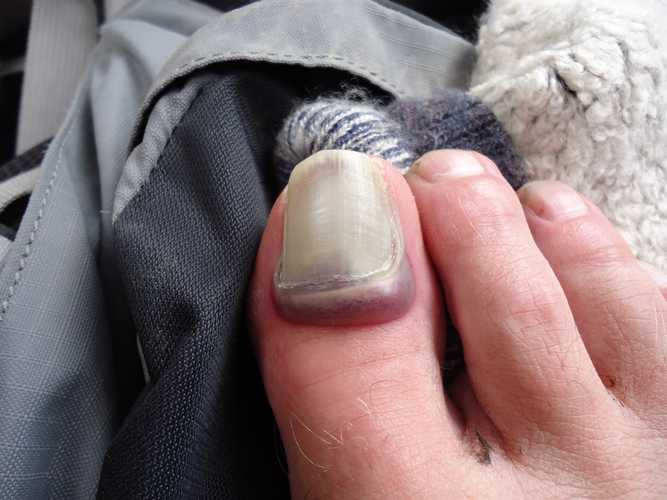 Of course we continued to monitor John's toe.
And I played amongst the Aspens.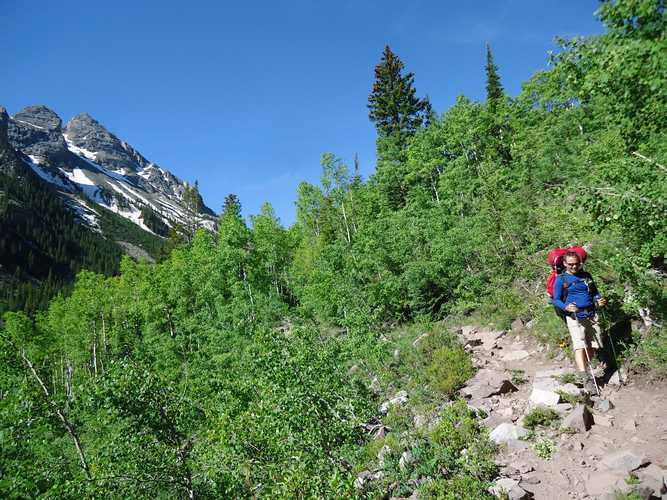 But you may have heard we had an encounter our last evening in the wilderness. As JD slept soundly prior to sunset, I ambled about the area, bushwhacking and taking photos. As I returned, this was the sight before our tent into which JD lay.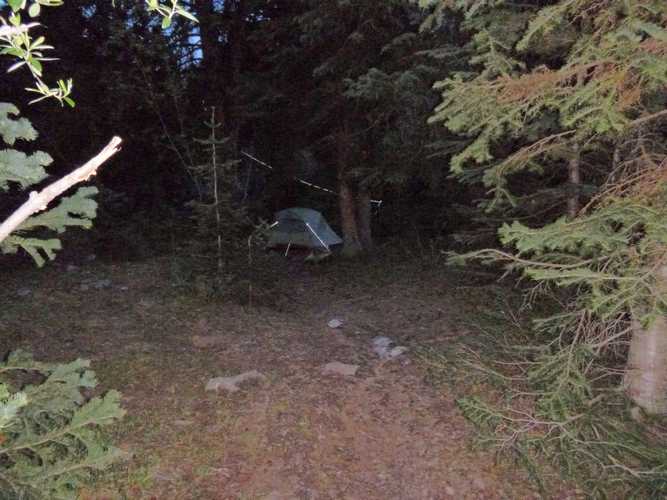 Do you see the creature at the bottom right of the tent?
This is a pic after it passed the tent.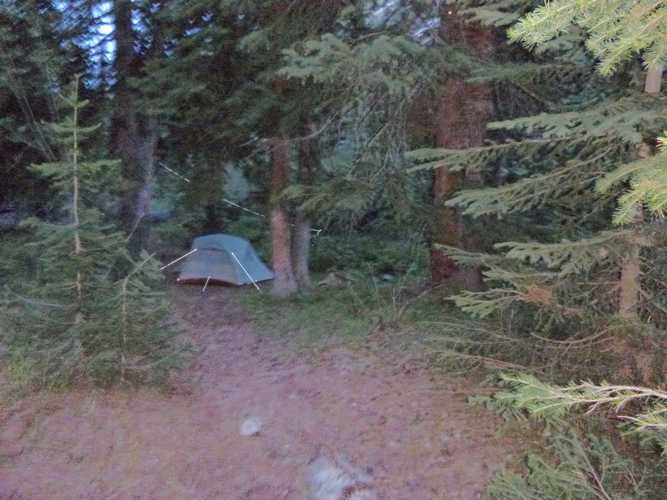 It is to the right of the two trees. It looks more like a porcupine in this photo but we have been told it was a badger. We are still doing a photo analysis. I can tell you it was a big sucker and had no fear of me. After the third flash, he turned towards me and I gave him a wide berth.
Here are cropped, blown up versions of the animal. Pay close attention to the nose and eyes and then look at the second pic. It looks totally different.
I call that a fine encounter and excellent sighting upon which to end our trip.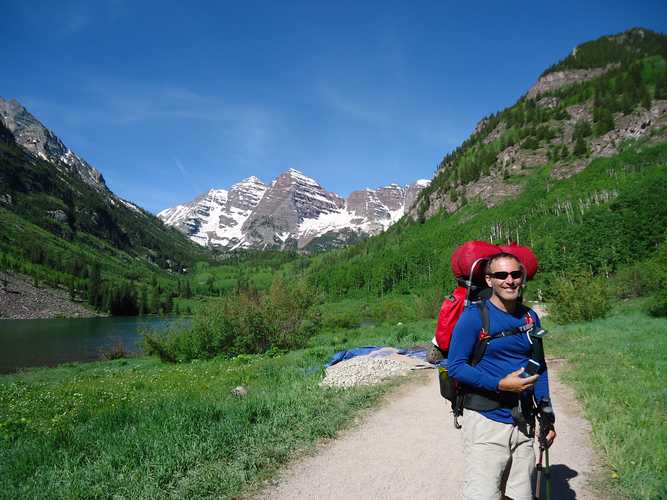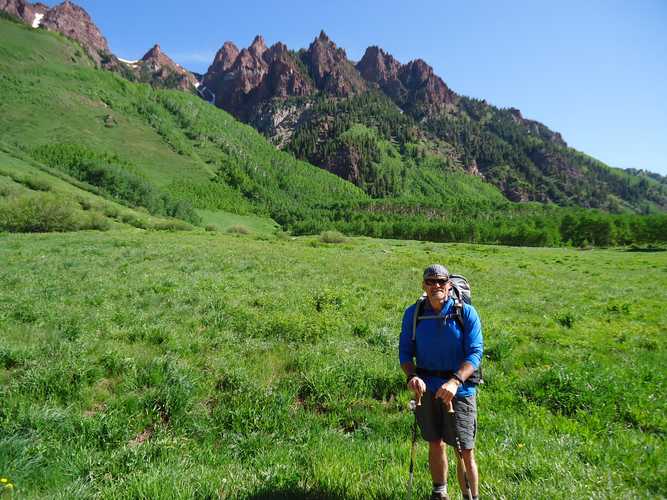 Here is a link to my low rent photographs. It was an outstanding experience and soon to be repeated. I will return to complete that loop. It is just too spectacular not to. Many thanks to JD for taking me out for a wonderful week of Colorado recreation.
Click here for more breathtaking photographs.