This is the first year in a long time I didn't make it over to Sithenge. The weather looked bad and we were all hoping to avoid an epic like the one I am putting out there below. CityView published a version of this story which is online this month but I wanted to publish my version that is longer, as the online version has been edited for brevity, which is a necessary thing with print publications.  So, without further adieu, I present the Eagle Creek Epic, featuring Richard Hatten and his exploits from a couple of years ago.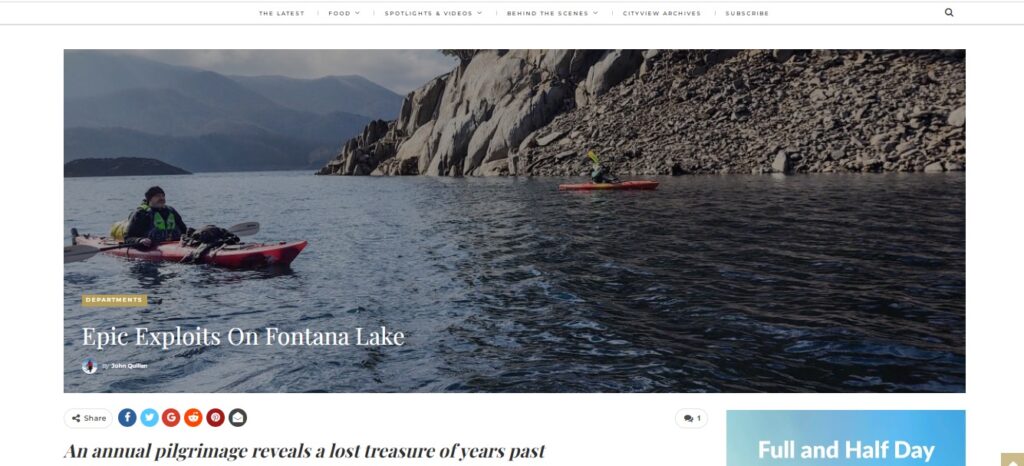 Few waves tickled the bow of my canoe this splendid morning as the autumn sun raised our chilled cores. Nothing but the occasional smack of a paddle interrupted a light breeze gently skimming Fontana lake. A black speck grew on the horizon, as if on cue, to remind us of our destination. Soon, not one but two eagles circled our small armada as we disembarked on the banks of their namesake creek.
 Our first night ashore in the mouth of this drainage deep in the heart of the Smokies delivered stars of unobstructed radiance. Over crackling embers in this remote backcountry site our solitude was broken only by laughter of experiences long past in this very special place.
Percolating coffee pulled the rest of us from warm bags Saturday as Richard Hatten wrestled his boat upstream over boulders. It was a sizable chore that found him wading over and through partially submerged rocks. We giggled over steaming mugs at his plan to take advantage of low water and be in position for a sporting whitewater exit on Sunday.
Our anticipated side trek to Hazel Creek was abbreviated. Light sprinkles morphed into a monsoon the likes of which I have rarely experienced. This growing storm found us huddling beneath a tarp our second afternoon into the thundering night. We took turns lifting the center with a shovel as gallons drained from straining plastic. Richard's Eagle Creek exit plan was starting to look like a suicide mission.
 Unplussed, and in between storms Sunday morning, our stalwart friend proclaimed, "It will be an adventure either way." We offered to carry his boat around but after several assaults on our masculinity we left him with the whitecapping river and all his gear. I had to navigate a 17 foot canoe, anxious friend, and most of the camp gear back across the lake before round two smacked us to the bottom of one of the deepest channels on the East coast. Two of our crew remained for safety and bear witness to an inevitable debacle.
Two years passed and the legend of Richard's subsequent exploits were shared around many a campfire. My favorite version has him almost making it down the whitewater tunnel as the video rolled along with his sit on top kayak and favorite  outdoor kit. He was Slim Pickens and the boat was the bomb. "Major Kong" was severely bruised and left to paddle back to Fontana marina with nothing but a flat shovel. Everything else was sacrificed to the river. Strangelove indeed.
Something glimmered from the sandy bank as Curt Roberts pulled his boat ashore.  Caked mud flaked from an object partially embedded. "Could this possibly be?"  he asked. Many a joke was made of the scuba tank diving rescue missions twice undertaken by Richard over the past 700 days. What compromising footage, we wondered, could possibly be on that SD card. I was certain Curt had found Richard's holy grail. Indeed, the salvagable footage was intact up to the point of impact. And we were spared any accompanying video indignities. Eagle Creek verified Richard's oft repeated epic, as he valiantly battled a raging river. The percolator may reveal next fall.