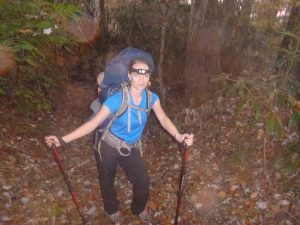 Headlamp Hiking means a late friday into a familiar spot. This is where I finished my last Smokies mile in 2007. It began a tradition for others to finish there. I spent many a night at this place in support of others who were completing their miles and this weekend was time to support Laurel and AJ who needed all of it.  At the very least, I was definitely improving my immune system through forest bathing.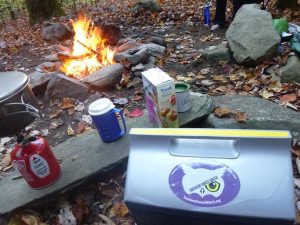 It didn't take long to set up camp before we were presented with a night time adventure that I will have to share around a campfire. It involved a couple of hours of extra night hiking. Fortunately for me, the night was warm and pleasant, perfect for roaming the Old Settlers trail with a headlamp.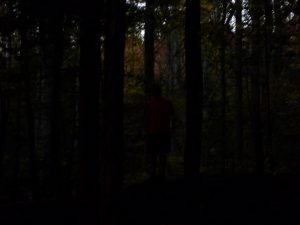 Because of that journey, Laurel was left to tend the fire and when I returned from about 4 miles of meandering, we retired for the evening.
I know this area well.  Many years ago, while sitting around camp waiting for some guys to come in and do their miles in different directions, I decided to explore some of the trails that branched off.  It was then I stumbled upon the "secret corridor" so oft used my my former associates today.  It is ironic that I should hand something so easy to a group that would never dare go offtrail previously.  Sometimes there is a pot of gold at the end of a rainbow for those who dare to explore.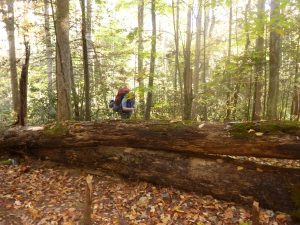 Next morning, AJ comes strolling into camp after doing the long section of the Old Settlers. It is about 11 miles from Maddron Trailhead. He was sweating like a wild boar but glad to be home. We soon said goodbye to Laurel who would retrace his steps in the other direction.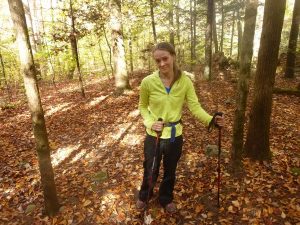 My plan was to do some more exploring. There was an old logging road that needed some attention, so I devoted my afternoon to walking up it while AJ recuperated from his journey.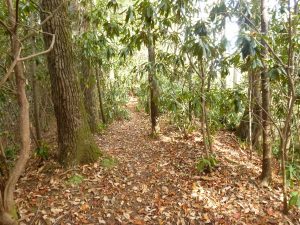 We hiked back out later in the afternoon, grabbed the car and shuttled back around to Maddron to pick up Laurel who knocked out the 11 miles in 3 hours. Amazing, huh? We also dropped AJ's car off at the other end in Greenbrier.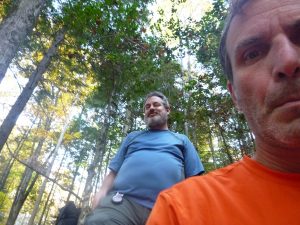 We had perfect weather for a fall outing with leaves and solitude. One of the things I like about Tennessee football is it keeps my mountains empty. Laurel and AJ hiked out and I picked her up at the Greenbrier entrance on Sunday. She clicked big miles along with AJ and they can check a box on the OST. I actually needed the miles back to Maddron but did not tackle it this weekend because my leg was infected from a whipper I took on Geebees at the Obed last weekend. In retrospect, I could have easily done so but messed around those logging roads and popping in and out of the campsite. It still was a glorious two days. Very restful time and with great company.