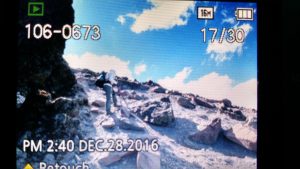 It was a grueling but worthwhile ascent of 14600 foot La Malinche. It's best described as two thousand feet straight up to the tree line. Then above the Treeline you get on a scree slope that is quite slippery . I would describe this as the the crux of the climb . You take one step forward and a half step back. When you gain the actual Summit Ridge at 14000 feet there's a bit of walking and a very small bit of rock scrambling to gain the true Summit . 7 hours and 4 thousand feet of pull produced this remarkable view.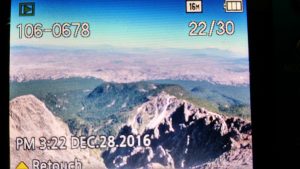 We could see for a good ways across Mexico and into the eyes of Popocatepetl and Iztacchuatel and our ultimate objective, Orizaba.
When we arrived at the crowded summit a group of Mexican climbers were resting. They asked where we were from and there was a pregnant pause until I related that I did not vote for Trump. At this juncture one of them said they would probably not have to sacrifice us to the mountain gods.
Then they allowed us to take as Summit selfie.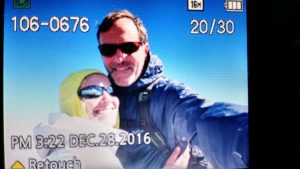 Laurel got to feel the pain of high altitude and it was truly a thin air experience for her but she prevailed and pushed on. We will spend a couple more days here in Puebla before catching a bus to Tlachichuca. Stay tuned. Below is a pic of the volcano from Puebla